These puzzle tips for families will help you tackle a complicated 1500 piece puzzle with your kids. Use these ideas for how to solve a puzzle together and take the time to connect with your kids.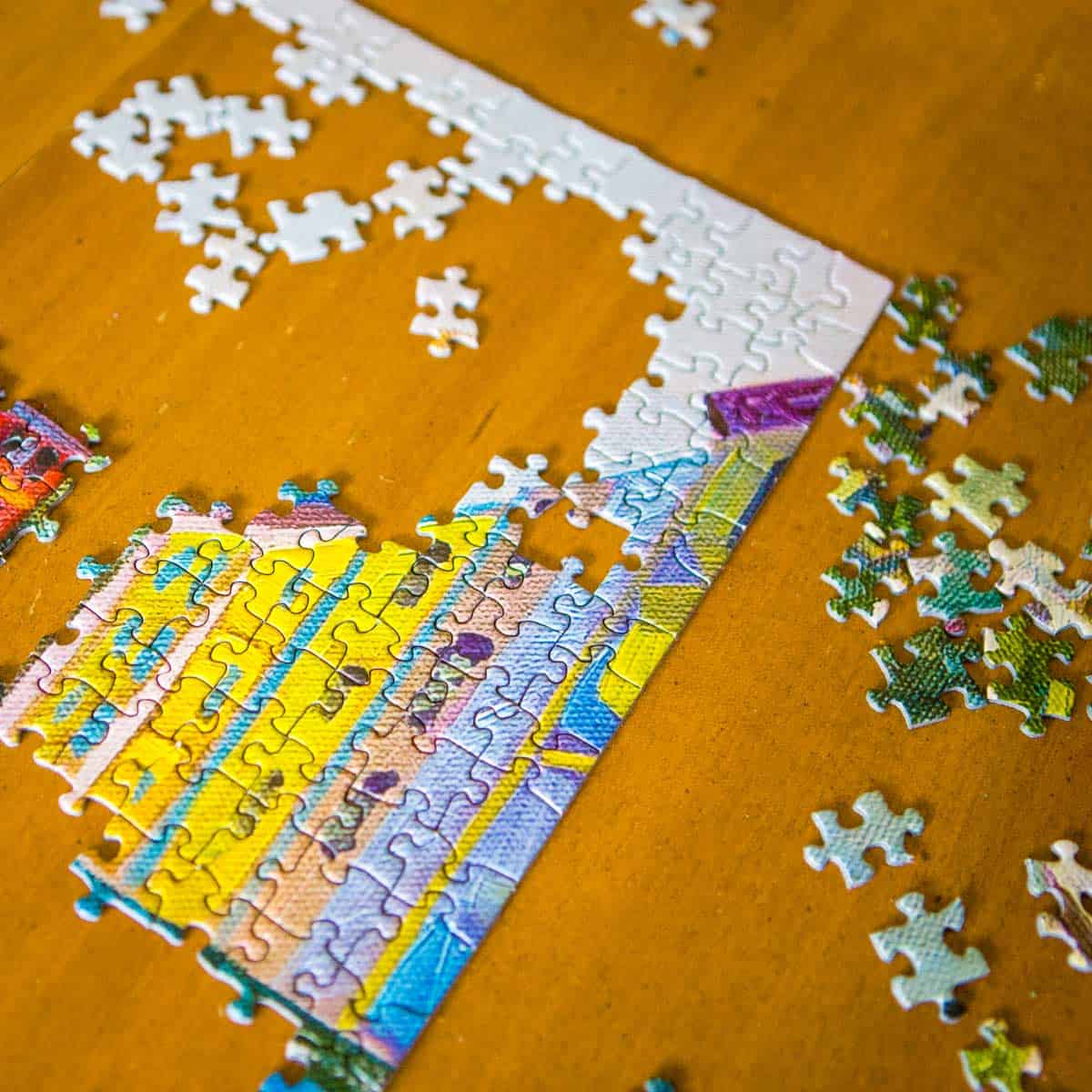 Monday brings the start of Screen Free Week, an annual event intended to help families rediscover the joy of being unplugged.
Our family has never participated in the event before because I have always felt we had a healthy relationship with screens.
My kids play outside more often than not, we read books together, television viewing is usually done intentionally, and the games on screens are usually educational in nature.
But something has changed in the last year.
The pendulum has swung and I decided that for the first time our family really needs this tweak in our routine to remind us to turn away from screens and towards each other.
Too often I find the girls retreating to separate corners of the house for YouTube Kids time on an iPad or endless Netflix on the tv.
The quiet helps me get dinner on the table but it also gives me an excuse to spend far too much time on Facebook.
The pocket of time between when the kids arrive home from school and when they go to bed is chaotic at best.
Homework, dinner, and bath routines mean we rarely have time for all of us to sit down together for an activity and screens have been filling in all the small pockets of time that make up our evening.
Over breakfast on Monday morning, I broke the news to the kids:
"We've been using our technology and the tv too much and I want to try something new. For the rest of this week, no screens are allowed but I promise I'll have something fun for us to try instead when you get home."
They were slightly skeptical but the announcement didn't even phase them.
I expected more of an uprising and was pleasantly surprised to discover my kids trust me enough to come up with something better.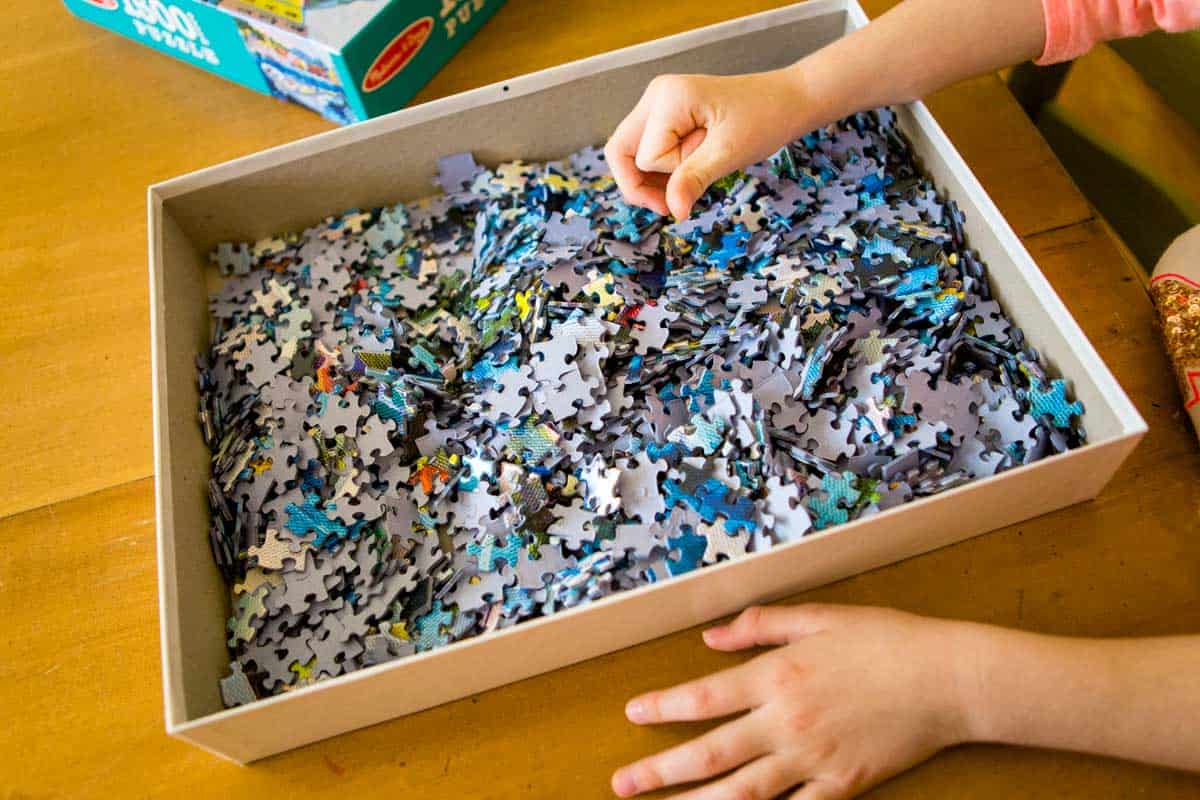 They arrived home from school to discover a tower of puzzles on the dining room table.
My girls loved puzzles in their preschool years but I couldn't tell you the last time we worked on one.
I purposely selected options that are well beyond their skill level/ages and their eyes widened when they saw the number of pieces on the box.
"MOM! We can't do these, look!"
That's when I told them this would be a family project for us to do together as a team.
They couldn't wait to dig right in.
I let them pick the one we'd work on and they chose the hardest one from the set.
First Things to Do with a New Puzzle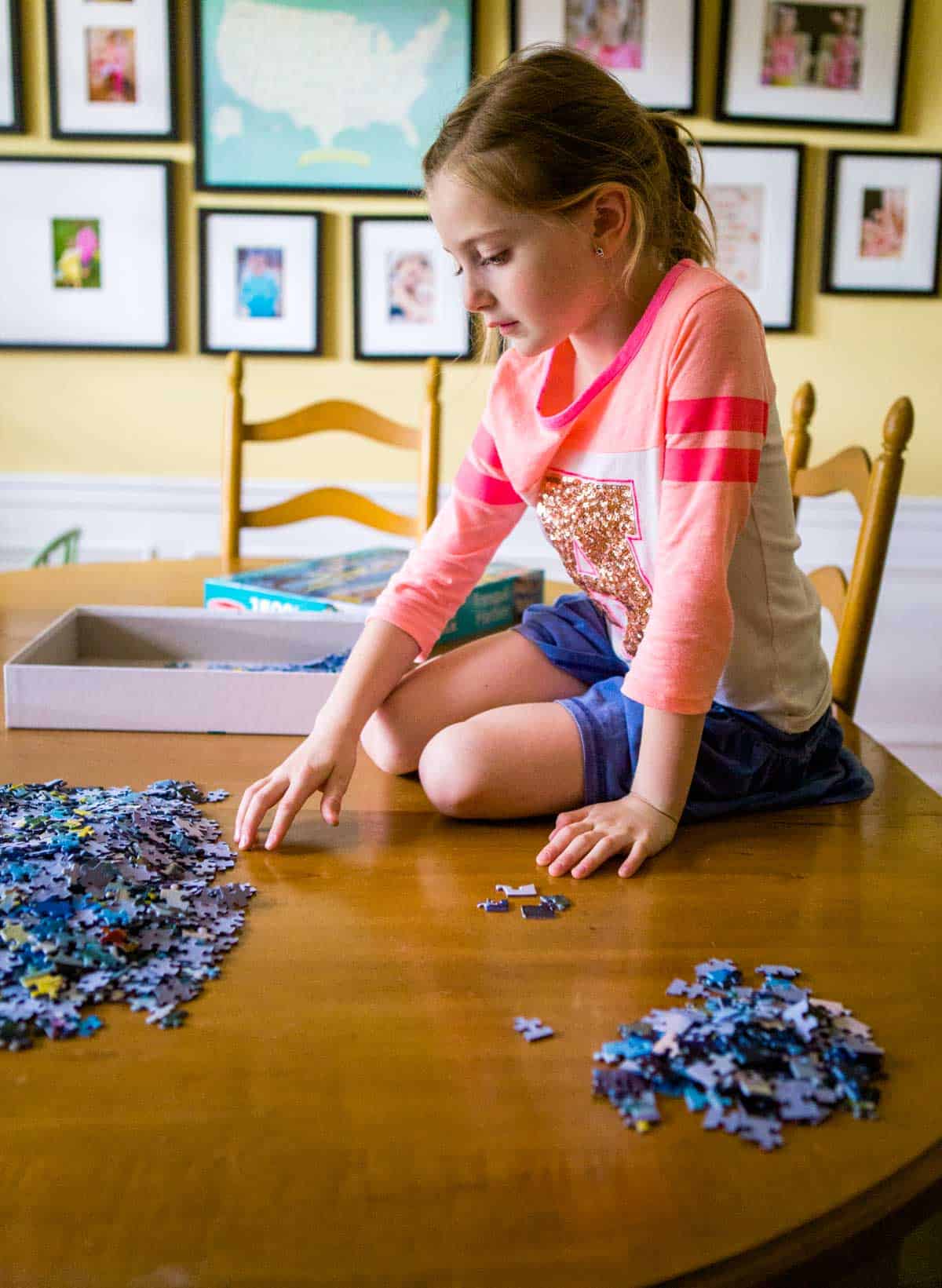 1. Sort the Pieces
The first step to doing any puzzle is to sort the pieces into piles of the 4 corners, all the edges, and finally all the middles.
Little Pea jumped right in with sorting all 1500 pieces into those crucial 3 categories.
2. Build the Frame
Once the pieces are sorted, take the 4 corners and use them to anchor the border of the puzzle.
The Peanut found enormous satisfaction in piecing together the frame of the puzzle.
3. Sort the Middles
While one family member builds the frame, another family member could be sorting the middle pieces by color.
This is the longest part of the set-up but will make the rest of the puzzle go faster.
I helped figure out the main color groupings and then we all worked together to sort the pieces into blues, yellows, greens, purples, and reds.
Turns out our fancy china set works for more than just holiday dinners! We corralled the pieces into random dinnerware I grabbed right from the china hutch.
Once the puzzle was prepped and sorted, we started piecing it together section by section.
I confess, a 1500 piece puzzle is difficult even for me. The work is slow going and can be frustrating at times but boy do I love a challenge.
Our dining room table is right by our front door.
The entire family walks right by it as we come and go all day. Having it out in a public place draws us to it when we have a few minutes of time.
I catch the girls hunting for pieces in the mornings before school and while they are waiting for me to finish dinner.
But, their favorite time to work on it is when I'm sitting right there with them. There is no way they can finish it without my help so it gives me zero excuses for wasting time on social media when I could be at the table spending time with them.
The puzzle has become the thing that pulls us to the table, but it's not really about the puzzle at all.
Working on the puzzle has been the gateway to slowing down together.
Once your family is hooked, you'll want to give Christmas puzzles as gifts during the holiday season. You can read more about our favorite Christmas puzzle tradition here.
5 Ways to Bond with Puzzle Time
Like I said, this experiment is not about the puzzle, it is about slowing down and connecting with my kids.
The puzzle is just an excuse to pull us together but I can make that time even more fun with a few handy tricks.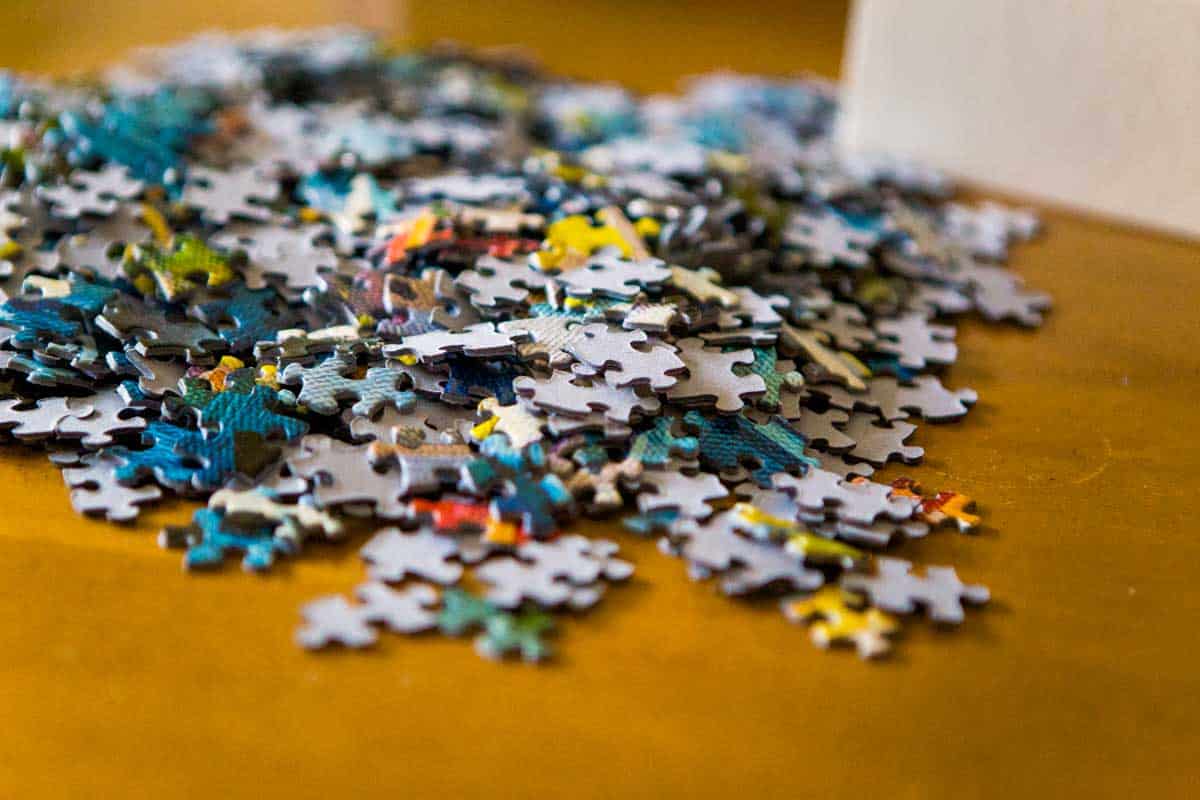 1. Listen to Music
Since most of the puzzle work doesn't require intense concentration, we play our favorite music while we did the sorting.
The Moana soundtrack is our current favorite and I love listening to the girls sing out loud--something they may have been to self-conscious to do if their hands weren't busy doing something else.
2. Independent Work
My youngest longs to be able to do things all by herself but the puzzle was more challenging than she could tackle on her own.
By breaking down the tasks and giving her her own job to do, she was thrilled to work independently but side by side with me.
We each had our own tasks we could do without assistance but we were all working towards the common goal of finishing the puzzle.
My youngest particularly thrived being able to do "big girl" work alongside mom and big sis and yet she did it all on her own.
3. Conversation Time
We all try to ask our kids how their days go at school, but sometimes the really listening is the hard part.
Working on the puzzle kept me in one place for an extended period of time without distraction.
I didn't have the oven beeping or the phone buzzing or a to-do list item popping into my head because my mind was focused on hunting for puzzle pieces.
My girls could give me tid bits about their day in smaller pieces of conversation without feeling the pressure to tell me all at once before I'm off and running to sort some laundry.
4. Checking In
Our evenings still have plenty of distractions.
We don't have the luxury of sitting down at the table all together to work the puzzle for hours on end.
But my girls happily report back when they make progress on a section.
We have a common goal to chat about together even when we work on it when no one else is around.
I've taken a few minutes of my lunchtime each day to work on it so they see progress when they get home at night.
It makes them excited to see the difference and inspires them to help find pieces, too.
5. Modeling How to Struggle
Last night the Peanut said, "Mom, are you ok?! You don't look very happy."
I laughed and explained that was my look of intense concentration.
Dangitall, but this puzzle is so hard!
The temptation has come a few times to put all 1500 pieces right back into the box but I love that this is an opportunity for the kids to see me struggle but not give up.
She came and sat with me while I stubbornly looked for a missing piece right before bed.
It was the perfect opportunity to talk about perseverance and hard work.
More Screen Free Ideas
If you're looking for more fun ideas to connect as a family during screen free week, why not try a family game night or read aloud book at night?
You could get the kids outside with these awesome backyard games or plant a butterfly garden together.