"Life is like a camera.
Focus on what's important.
Capture the good times.
Develop from the negatives,
and if things don't turn out – take another shot.
- Unknown"
I have learned something about myself the last few years:
You can tell the state of my happiness by the amount of photos I take.
In May, I shared with you my creative project idea for 100 Days of Summer. I had such high hopes for taking great pictures of our fantastic summer together. We started off great with day trips and family fun at home that I captured.
And then summer got hijacked. About three weeks into it, Gino hurt his back. The next three more weeks were filled with worrying and trips to the vet and the final decision that had to be made. The rest of the summer passed in a blur of grief. To be fair, there was a whole lot more going on besides just Gino that was weighing heavily on my mind. We've had some family challenges that are now finally improving, but in a nutshell: August can bite it.
I've been feeling this oppressive sense of sadness. Summer was not at all how I wanted it to be. I wish we could get a big do over, but it doesn't work that way. Then of course on Day 7 of back to school, the Peanut comes home terribly sick and has been home for a week with fever and cough that refuses to quit. Little Pea just came downstairs with the sniffles and a fever, so she's next. So here I sit on the morning of the last day of what would have been 100 Days of Summer and the kids are too ill to do anything that takes advantage of the fading season. How fitting.
For someone who tries to show the bright side here, I've been feeling that there's very little bright side to share. Looking through my photo library for the last three months, I see almost no pictures of the kids, know that I utterly failed at my photography project and I feel even worse.
But then I remembered something important:
Pull out the happy memories and put them together,
there is strength in numbers.
I dug through our entire summer collection and pulled out the best images from every session. I edited them up and put them in a quick collage. There are 16 images total. A far cry from the 100 I set out to capture, but more than 0. When I put them together I see laughter, hugs, love, silliness, and a sampling of some really great trips we took together.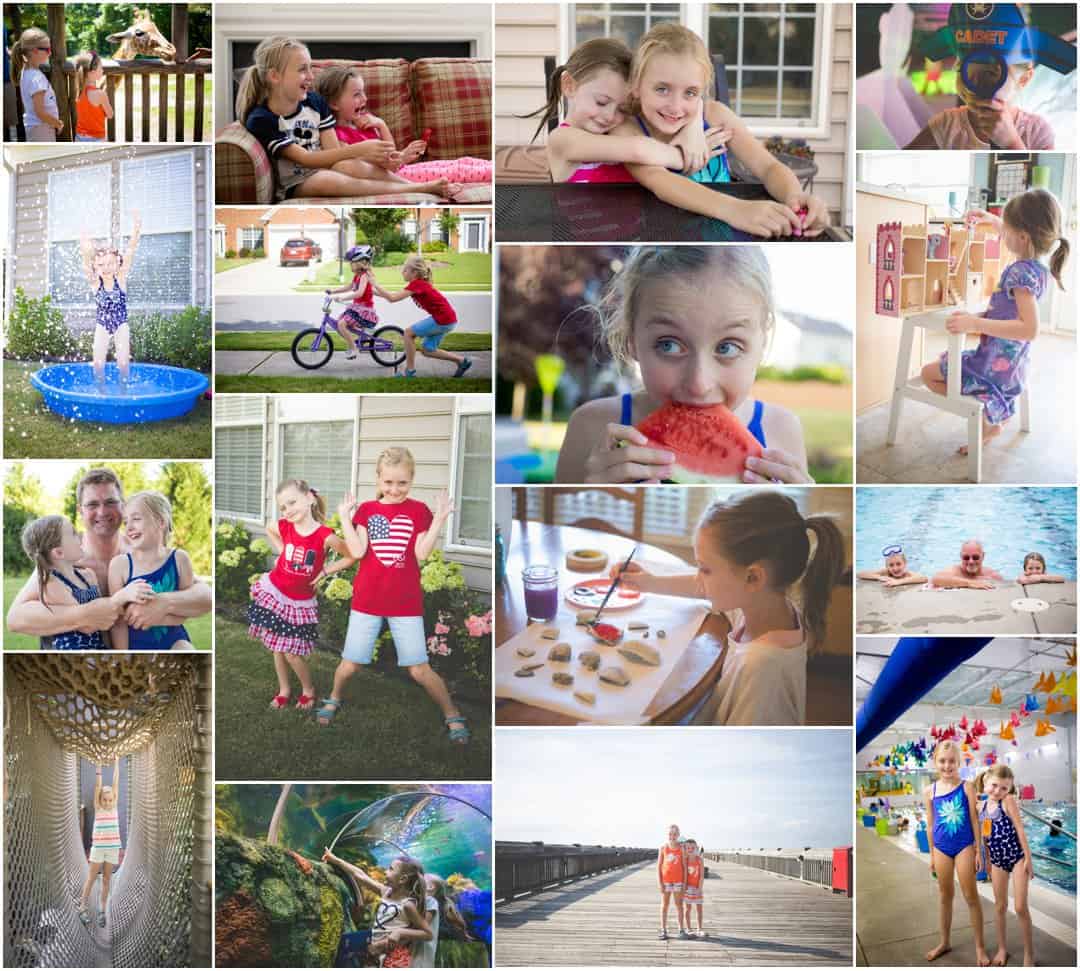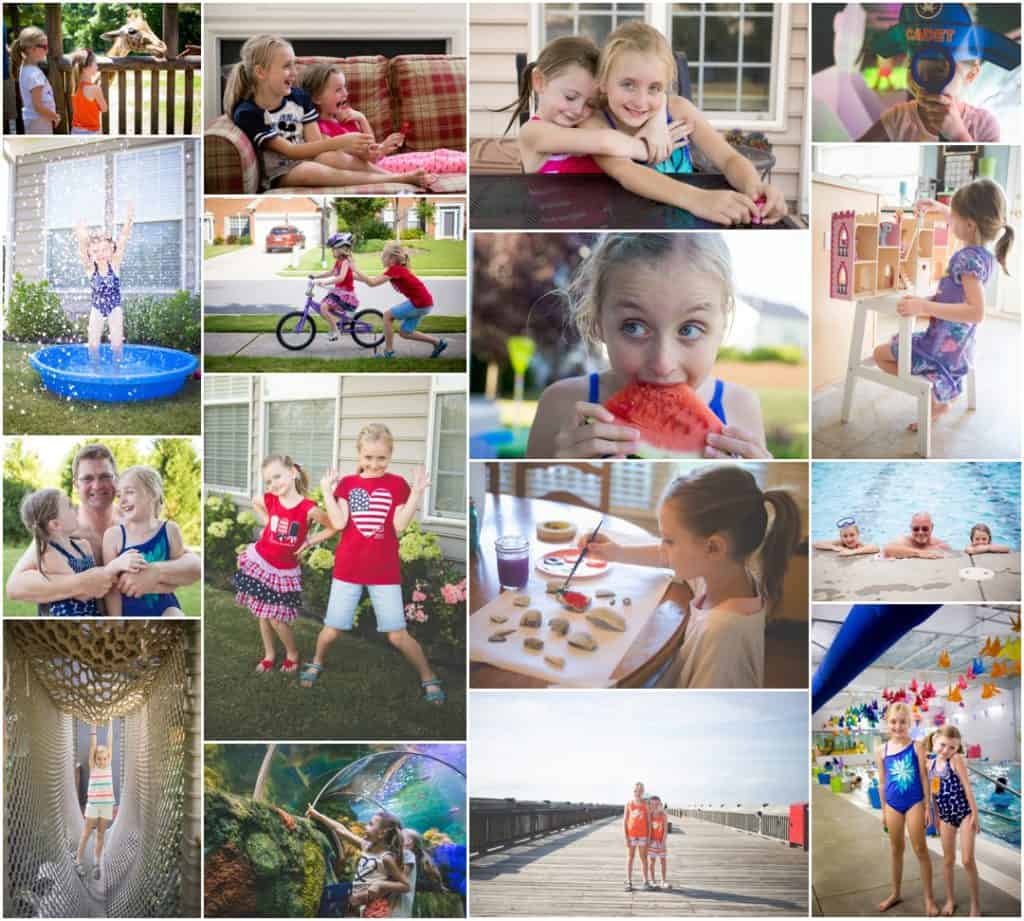 I remember laughing so hard I thought I'd pee my pants when the giraffe at the zoo stuck out his purple tongue.
I remember squealing with excitement over Little Pea taking her first pedals on the bike without training wheels.
I remember watching dolphins off the pier at Folly Beach during what was our very best weekend of the whole summer.
I remember celebrating when both girls advanced a level in swim class on the same week.
I remember snuggling up giant bowls of popcorn for our movie parties when it was just too hot outside.
Our summer wasn't a total bust after all. I wish I would have been easier on myself in the last few weeks and not got caught up in the guilt. Life happens and this won't be the last time I have a big hole in my photo library. The advice I'd give my future self would be simple:
Just keep picking up the camera, even if it is just the iPhone. You can find happy moments among the sad if you look for them.
When you're ready they'll be waiting for you to string them together.
And THAT is why I keep dreaming up creative projects. I'm quite certain that without the 100 Days project, I wouldn't even have those lovely 16.

P.S. Edited to add in spring, 2016: This experience from last year isn't stopping me. I'm getting back up on that proverbial horse and trying again. Will you join me? C'mon over and join the photography challenges Facebook group I've started!
We'll inspire each other to capture the joyful moments in between the difficult! Starting with a new round of 100 Days of Summer! It's never too late to start. Hope to see you over here!