I gave the Peanut a copy of "Fanny" for Valentine's Day because we loved it so much when we discovered it a few weeks ago. I knew we needed our own copy. It has been the favorite story before naps this week.
Despite the repeated read-throughs, I was still surprised when after the 4th or 5th time the Peanut paused to ask if Fanny made her dolly with her sewing machine. When I replied yes, she asked, "Can I get a sewing machine and fabric for my birthday?!" with such a sweet and quiet excitement in her voice. She seems to be in such awe that people can actually "make" something as wonderful as toys.
I told the Peanut that she is still too little to have a sewing machine all of her own. Fanny is a bigger girl and maybe when the Peanut is that big we can get her a sewing machine. Until then, would she like to make something special together with my sewing machine? Her eyes lit up and I got a very enthusiastic "Yes!"
A quick hunt on Etsy and I discovered Retro Mama's fantastic pattern for stuffed animals. I let the Peanut choose between the bunny, owl, and the elephant. The elephant won hands down.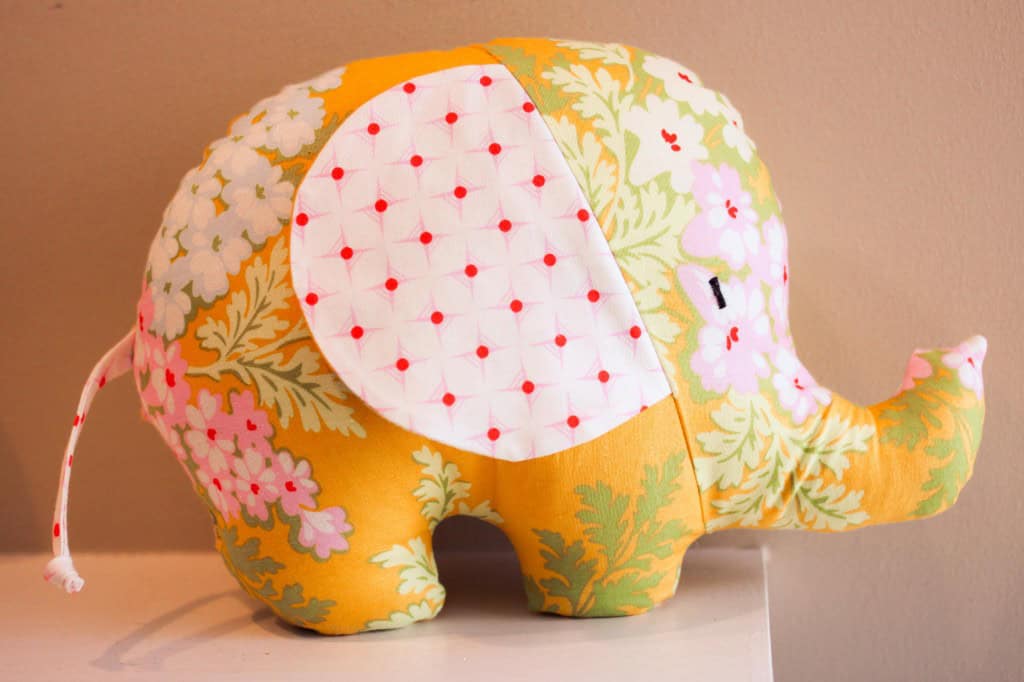 My to-do list was a mile long today, but she was not going to let this rest until we had made this elephant. Thankfully the pattern is super easy to whip together and that I had a nice little stash of extra fabric from recent projects.
I pulled out the fabric options and let the Peanut choose which color she wanted for the body and the ears/tail. This is entirely her doing. She's still too little to help with a lot of the process, but she sat next to me while I cut out the pattern pieces, traced them onto the fabric, cut the fabric and assembled all the body parts. We had a few moments of impatience with her wanting to help more than she could, but I promised that when it came to the stuffing, it would be all her job!
We stuffed her new elephant friend right up, stitched on some eyes with embroidery floss, and took a quick picture to share here.
They're taking a nap together as I post this. I've now been instructed to make one for Little Pea. Today. Why do I have a feeling we're going to have piles of elephants around our house??