These easy chicken enchiladas come together quickly with a pre-cooked rotisserie chicken.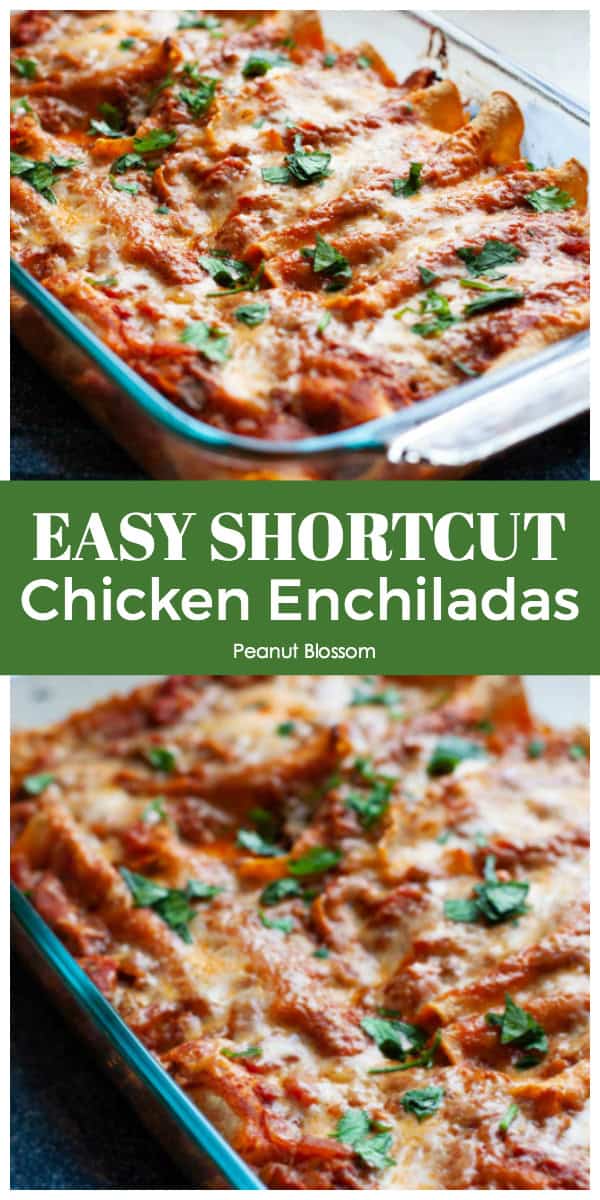 I have a love affair with rotisserie chickens. I use them in practically everything. When I'm looking to make a recipe easier and shorter and more likely to hit my table with the least amount of effort and planning, I rely heavily on this pre-shredded freezer staple.
One of my favorite recipes to use a rotisserie chicken is this delicious pan of chicken enchiladas. I have several shortcut tricks for making it an easy enough dinner for a busy weeknight. They are such a fun change of pace from our standard Taco Tuesday dishes.

The easiest shortcuts for making quick Chicken Enchiladas

Quick Tip #1: Use a shredded rotisserie chicken
I keep bags of pre-shredded rotisserie chicken in my freezer for tossing into recipes in a pinch.
If you don't use this awesome dinner shortcut, you can either:
add a rotisserie chicken to your grocery order and shred it.
order any boneless, skinless chicken you prefer: poach and shred it before making this dish.
Quick Tip #2: Prepare the chicken filling ahead of time
You can easily break this recipe up into stages. If you have extra time on the weekend, you can prepare the chicken filling and just store it in the fridge overnight or freeze it for later.
Simply thaw and warm the filling and all you'll need to do is assemble the enchiladas before baking.
Quick Tip #3: Prepare the entire pan of enchiladas and freeze
This is a great make-ahead dinner recipe for busy nights. You can prepare the entire pan of chicken enchiladas and then freeze.
Thaw them overnight and then just pop them in the oven the night you want to bake them.
Our favorite easy chicken enchiladas recipe: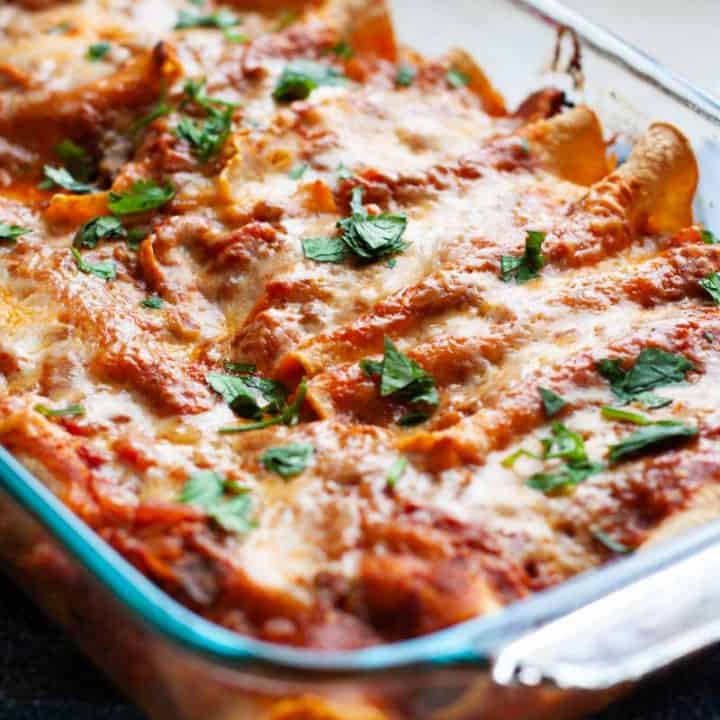 Quick Prep Chicken Enchiladas
Chicken enchiladas are always a hit with kids who love Mexican food but they usually take a lot of time to prepare. This easy recipe comes together quickly with several busy-mom shortcuts.
Ingredients
1 tbsp canola oil
1 onion, chopped
2 jalapeños, seeded and minced
3 cloves garlic, minced
3 tbsp chili powder
2 tsp cumin
1 tbsp sugar
1 (15 oz.) can tomato sauce
1 (15 oz.) can of diced tomatoes
2 cups shredded rotisserie chicken
2 cups shredded Mexican blend cheese
½ cup fresh cilantro, minced
12 8-inch corn tortillas
OPTIONAL: sour cream for serving, green onions for garnish
Instructions
Heat the oil in a large saucepan over medium heat. Add the onion & jalapeño, cook until softened, 8-10 minutes. Stir in the garlic, chili powder, cumin and sugar and cook until just fragrant.
Stir in the tomato sauce, diced tomatoes with juice and bring mixture to a simmer. If it is getting too thick, add up to a cup of water to loosen it up just a bit. Reduce the heat to low and add the rotisserie chicken. Stir to combine and cover. Heat just a minute or two to warm the chicken a bit.
Preheat the over to 425 degrees. Spray a 9×13 baking dish with cooking spray.
Using a slotted spoon, remove the chicken from the sauce and place it into a medium bowl. Add a ladle of the sauce, 1 cup of cheese, and the cilantro to the bowl. Stir to combine.
Stack the tortillas on a plate, cover with plastic wrap, and microwave for a minute. Spoon ⅓ cup of the chicken mixture evenly down the center of the tortilla. Roll tightly and place seam side down in your dish. Repeat with remaining tortillas & filling. I can usually fit 8 in one long row and the last 4 in 2 rows of 2 facing the other direction. It's ok to nestle them in there tightly.
Lightly spray the tops of the enchiladas with cooking spray. Place in the oven, uncovered, for 7 minutes until the tortillas start to brown slightly.
Reduce the oven to 400, remove the enchiladas from the oven, pour the sauce over the top, sprinkle with remaining cheese. Cover the dish with foil and bake for 20 minutes. Bake for a final 5 minutes to brown the cheese on top.
Serve with sour cream and chopped green onions.
Notes
MAKE AHEAD TIPS:
Assemble it up to the point where the sauce and cheese are put on the top. Freeze and then bake from there.
Prepare just the chicken filling in the sauce and freeze. Thaw the mixture and assemble the enchiladas the night you want to bake.