Don't miss these easy Easter recipes to make with simple substitutions for those times when you can't find what you need at the grocery store. Flexible Easter dinner ideas you can mix and match based on what's in stock locally this year.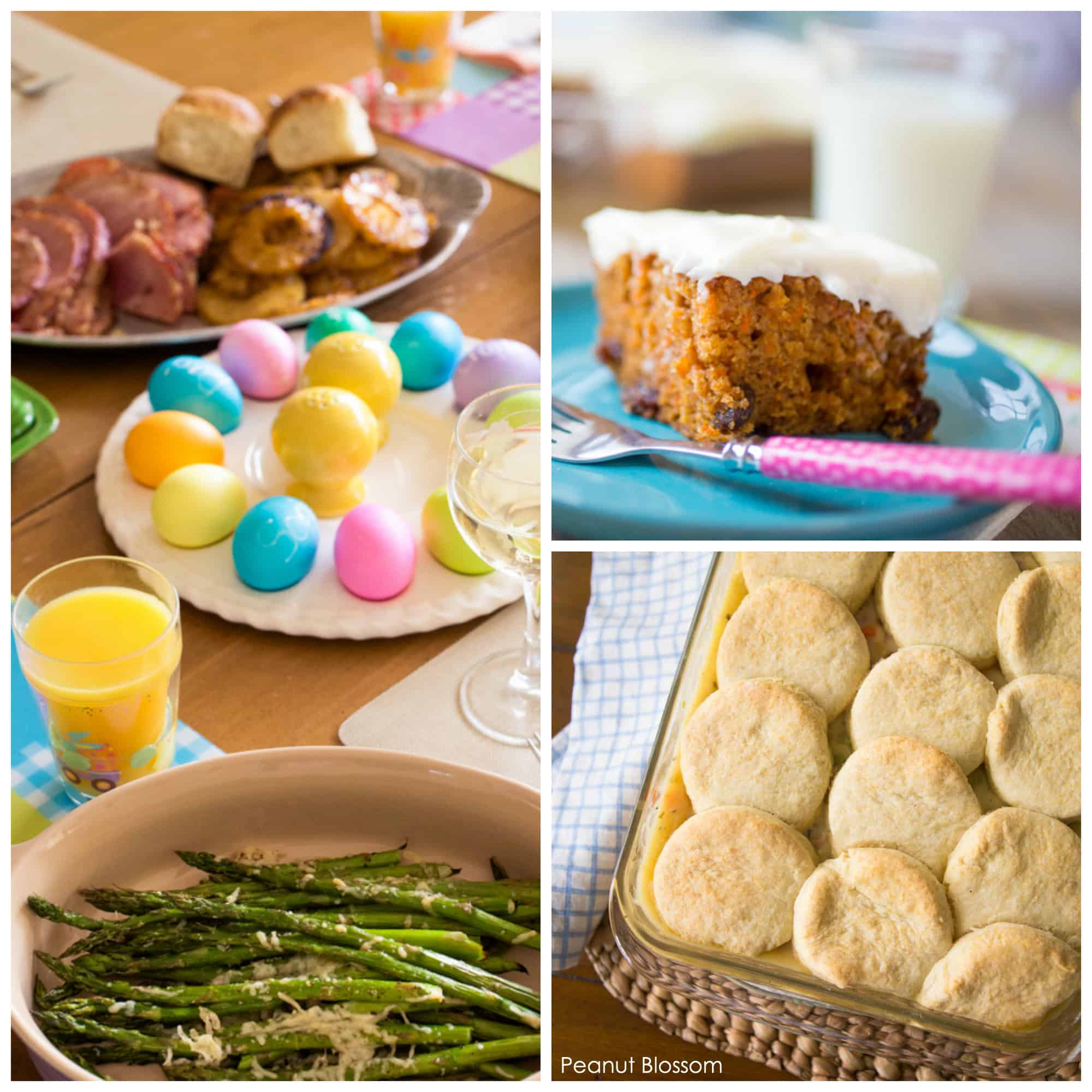 Sometimes the grocery store just doesn't have what you need to make your favorite Easter recipes.
When you need to get creative with substitutions for popular items that have sold out, these easy Easter dinner ideas are perfectly flexible and can be tweaked as needed with what you can find in the moment.
I pulled together several festive Easter recipes and listed all the possible substitutions to help you create an elegant meal around whatever you can find in stock at the store this month.
Don't worry, these recipes are very forgiving and you can easily swap just about any of the main ingredients as needed.
You can hunt for some of these items now and add them to your freezer or pantry just a little at a time. The chances of finding them all at once isn't guaranteed right now but with a little prep work you may be able to find everything you need.
The most important thing this Easter is to celebrate the special day with your family. Now, more than ever, our loved ones are what matters most of all.
Jump to:
Easy Easter Dinner Ideas
These flexible recipes can be easily adjusted to your family's taste and what you can find at the store:
1. Ham and Cheese Slab Pie
The base recipe for this eggs and ham slab pie is a delicious addition to an Easter brunch or dinner.
A sheet pan is lined with flaky pie crust and filled with fluffy eggs, diced ham, and cheese.
Options for the Meat:
Original Recipe: The base recipe suggests using chopped up ham steak or deli ham for this recipe.
Ham steaks have a much longer shelf life than deli ham will, so you don't want to shop the deli meat until closer to the holiday.
RELATED: Don't miss my favorite mustard glazed pineapple ham recipe. It uses canned pineapple and other simple pantry ingredients. You'll have tons of leftovers to use to make this recipe another day.
Substitution Ideas:
Can't find ham at the store? How about swapping in:
Cooked and crumbled bacon
Browned and crumbled sausage
Deli turkey
Chopped pepperoni
Options for the Cheese:
Original Recipe: Ideally you'd use a shredded Swiss cheese or gruyere.
Substitution Ideas:
Shredded cheddar
Shredded mozzarella
Shredded parmesan (not the grated kind in a canister, the bagged kind in the refrigerated section.)
Options for the Pie Crust:
Original Recipe: A homemade butter pie crust
Substitution Ideas:
If you don't have time to make your own from scratch or don't want to buy butter to make the pie crust, you could also try:
Refrigerated pie crust (may need to be baked in a pie dish instead of a sheet pan)
Puff Pastry (from the freezer section)
2. Ham Pot Pie
Not a fan of eggs? Your family may prefer a ham pot pie made with flaky pie crust or this biscuit topped ham pot pie recipe instead.
Easy Substitution Ideas:
Both of these recipes are quite flexible because you can mix and match the veggies you use inside the pot pie filling.
You can also choose between homemade pie crust, store bought pie crust, homemade biscuits, store bought biscuits, or even puff pastry, all based on the time you have and what you can find at the store.
3. Mix & Match Quiche
Quiche is such a flexible entree for a holiday, simply adjust the fillings to create a dish your family will love. I use the basic quiche recipe here.
For the Quiche Filling:
You can mix and match a total of 1 - 2 cups of chopped up fillings. Use whatever you can find or have on hand:
asparagus
peppers
onions
broccoli
peas
chopped ham
chopped sausage
chopped deli meat (turkey or ham)
shredded cheese (any flavor)
For the pie crust:
You can purchase and freeze a prepared pie crust from the store. If you can't find one, making a homemade crust is very, very easy. Check out my all-butter pie crust recipe here.
4. Spring Salad
Start with a base of whatever greens you can find. Then top your salad with a mix and match combo of any of these ingredients:
Sliced radishes
Sliced pea pods or sugar snap peas
Sliced cucumbers
Chopped green onions
Mandarin oranges
Sliced strawberries
Chopped almonds or pistachios
Salad dressing options:
Poppyseed dressing is usually made by several brands at the store. Raspberry or Mustard vinaigrettes would work lovely, too.
Our family loves this easy lemon parmesan vinaigrette and this delicious fresh strawberry vinaigrette.
5. Potato Side Dishes for Easter
If you have a giant bag of potatoes in your pantry, this will be the easiest thing to use for Easter side dishes.
We love both white potatoes and sweet potatoes with our Easter ham. Here are some easy make ahead potato recipes for the holiday:
6. Hot Cross Biscuits
This is one of my personal favorite Easter recipes. It's just not the holiday unless I have these flaky hot cross biscuits on the table!
They can be prepped the night before and baked fresh in the morning, but to pipe the crosses you'll need to let them fully cool first.
Easy Substitutions:
Currants: The original recipe calls for currants, if you can't find them you could use raisins. I suggest chopping the raisins into smaller pieces before mixing them into the dough.
Store Bought Biscuits: If you don't want to make the biscuits from scratch, you could also stock up on refrigerated biscuits, frozen biscuits, or pre-baked biscuits from your grocery store bakery and simply pipe on the crosses with this easy homemade cream cheese frosting.
7. Deviled Eggs
As I'm writing this, eggs are currently hard to get at the store. Unless that changes, we may skip this dish this year.
But for those of you with access to plenty of eggs, this is a super-easy Easter side dish to prepare that only uses a few ingredients and is full of protein.
Bonus: Make egg salad with any extra hardboiled eggs you have.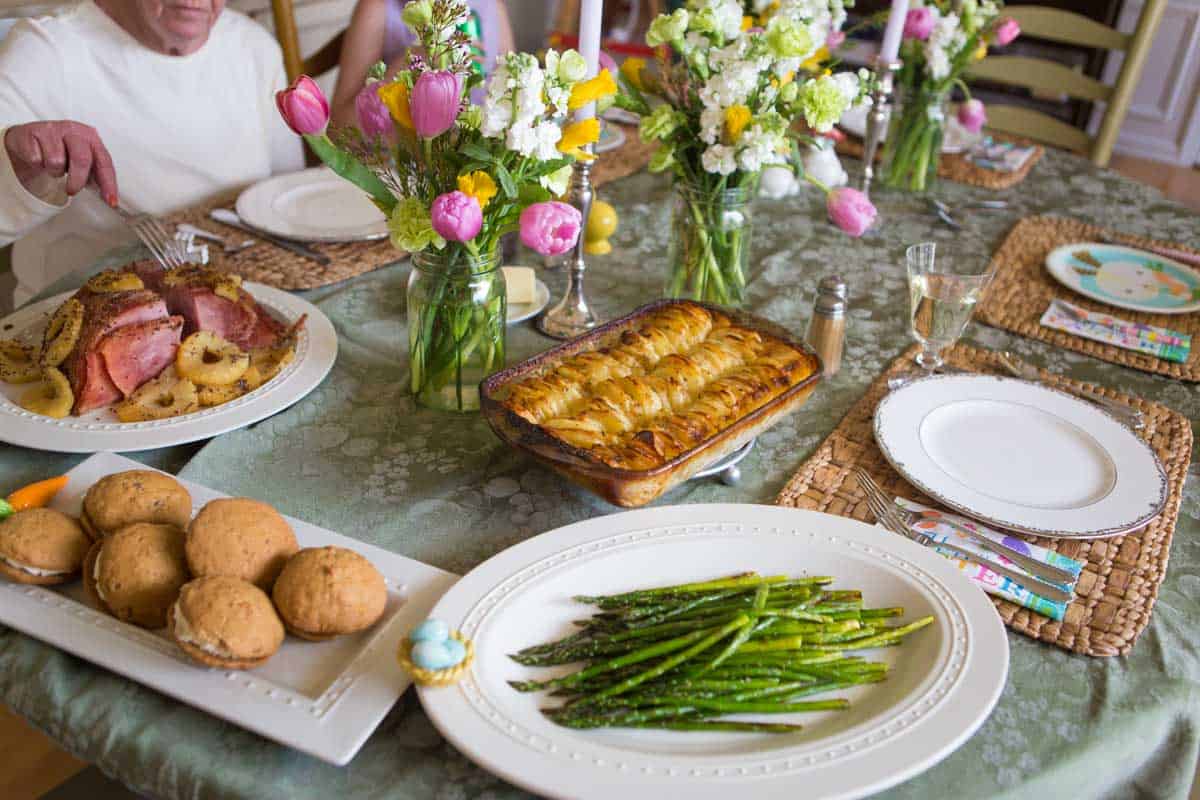 8. Simple Easter Fruit Platter
Play with the presentation and make a pretty platter of your favorite fruits:
fresh pineapple
fresh strawberries
grapes
sliced apples
cantaloupe
To make it extra-special, you could also make a simple fruit dip for dunking. A pretty pink strawberry cheesecake dip or this Pina colada fruit dip would both be perfect for Easter.
9. Pineapple and Cheddar Casserole
This is a new-to-us dish we discovered thanks to a friend just this year.
If you've got butter, canned pineapple, cheese and butter crackers, you can whip this together in no time. It's a huge hit with the kids. Get the recipe here.
10. Small Batch Carrot Cake
If your Easter guest list is looking a whole lot shorter than usual, you won't want a GIANT multi-layer carrot cake to go to waste.
Check out my super small batch 8x8 single-layer carrot cake recipe with cream cheese frosting. It is perfect for a small family to enjoy this holiday.
Don't want a cake? You could also take the carrot cake batter and use it to make carrot cake cupcakes instead.
11. No Bake Butterfinger Pie
If you're used to having tons of help with all the holiday baking but find yourself on your own in the kitchen this year, take your shortcuts where you can.
This easy Butterfinger pie is a no bake recipe you can easily make the day before to save the work. Get the kids involved and make it fun.
Substitution Ideas:
Can't find the Butterfinger eggs or Butterfinger bars at your store? You can use whatever chocolate you've got in the pantry:
M&Ms
Chocolate chips
Broken up chocolate bars
12. Delicious and Easy Easter Breads
Whether you serve these breads as an easy Easter breakfast or as a side dish for your Easter dinner, here are some of my favorite homemade breads to add to your table:
You can find these recipes and even more ideas for easy Easter bread recipes here.