Thanks to Huggies® for sponsoring today's conversation on getting kids outside and enjoying playing in the dirt!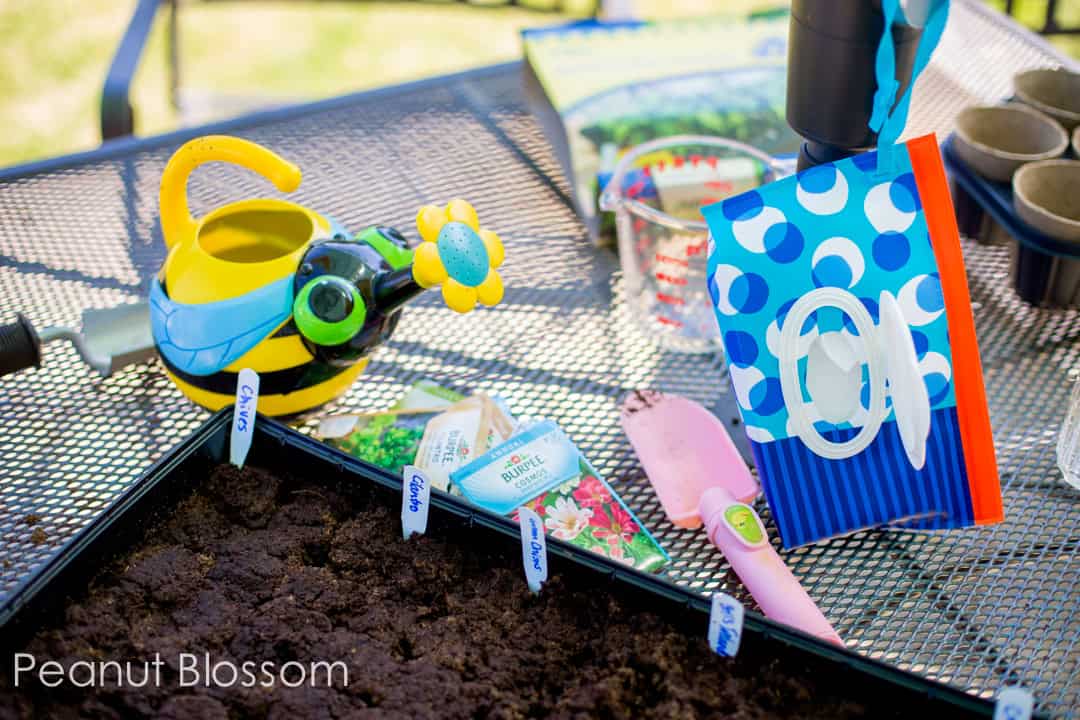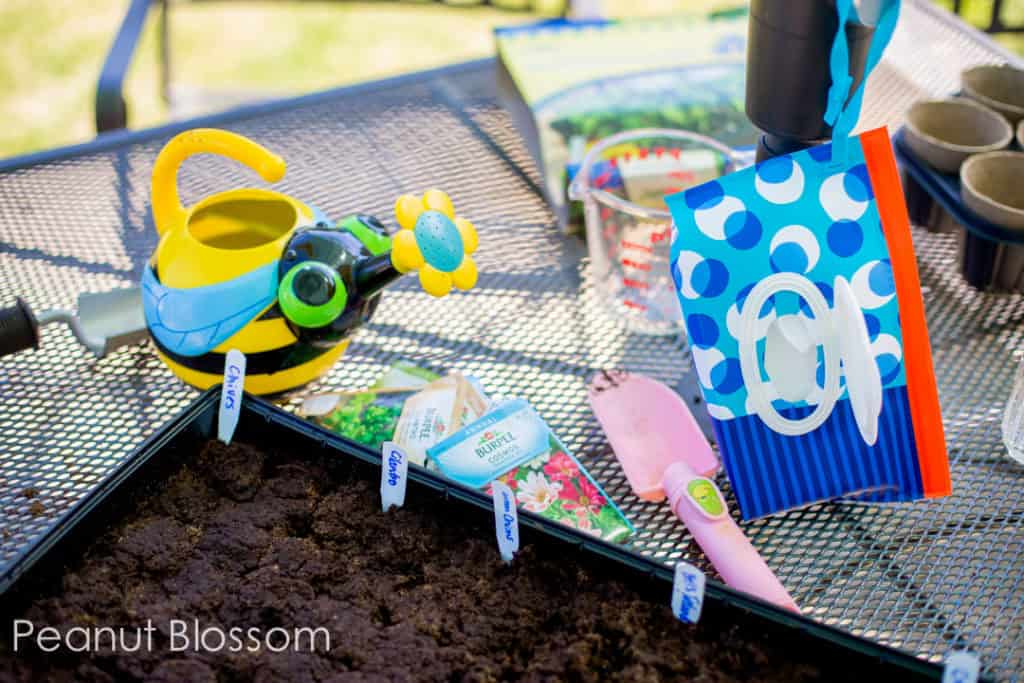 After 3 years in North Carolina, I've learned one important thing: Get the kids outside playing in the dirt and planting things in early spring! By the time summer vacation rolls around, it is too hot and everything is too dry to really enjoy it. But in late March and early April? The weather is cooler, everything is blooming, and we all have the itch to make things pretty in our yard!
So in honor of Earth Day this year, I wanted to help the girls get started with a little nature beautification.
1. Prep the pots:
Before you can get to planting seeds, you need a place to put the plants! We started with prepping the patio garden pots I keep year round in our back yard. My parsley and mint survived the winter and came back up from last year but the pots were loaded with weeds and dry brush. I handed the kids a garden clippings bag and let them at it: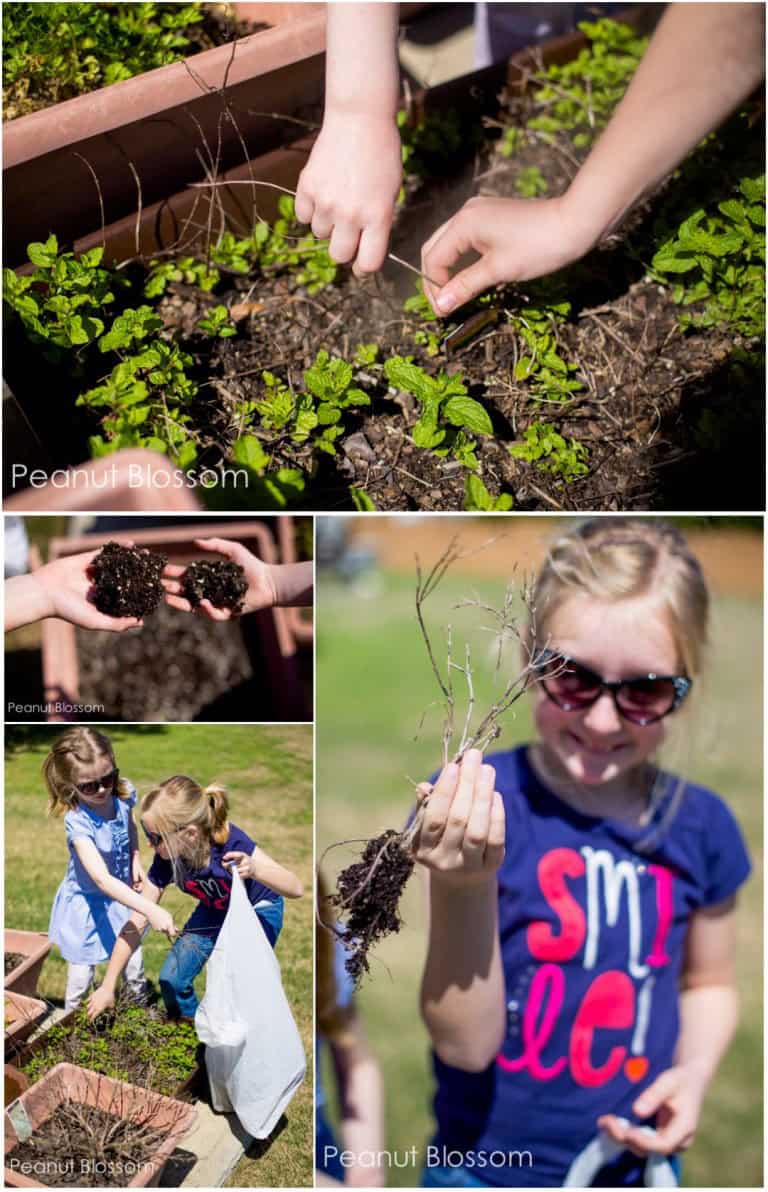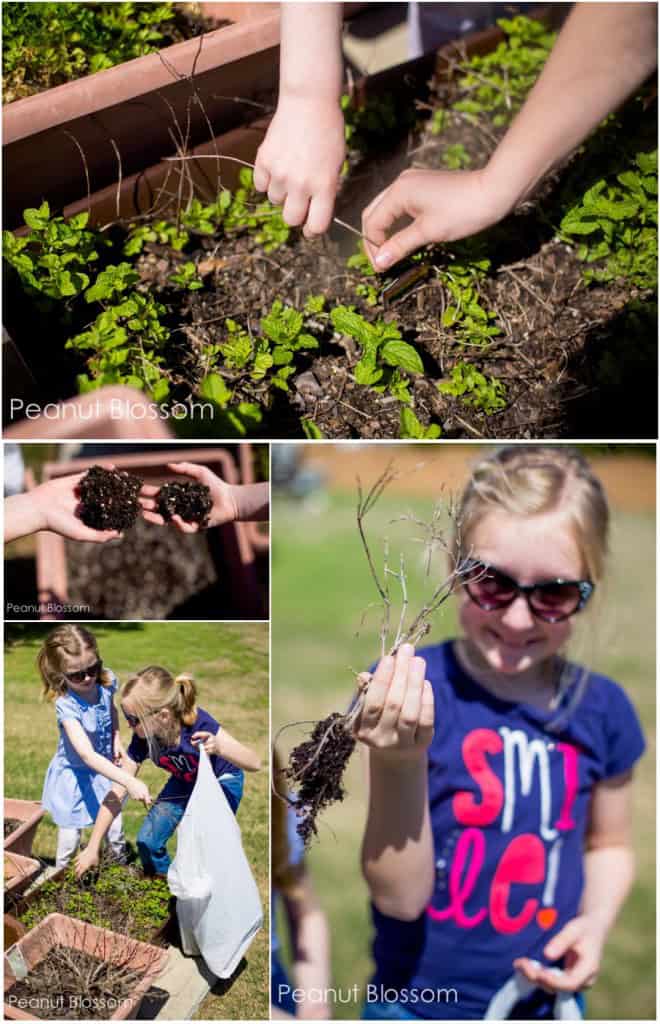 They were downright gleeful pulling things out of the ground. The mint had overgrown the container, so I had them clear away half of it to make room. We were all surprised to see the major root system that had grown!
2. Set up a seed-starting station:
It's still a little too cool overnight to plant the seeds directly outside and most of what we wanted to plant isn't available as starter plants at the garden center yet. I thought this would make an excellent opportunity for the kids to see the garden grow from seed to vegetable on our table!
I picked up a seed starter greenhouse and some natural material pots for flowers and let the girls decide which seeds we would grow.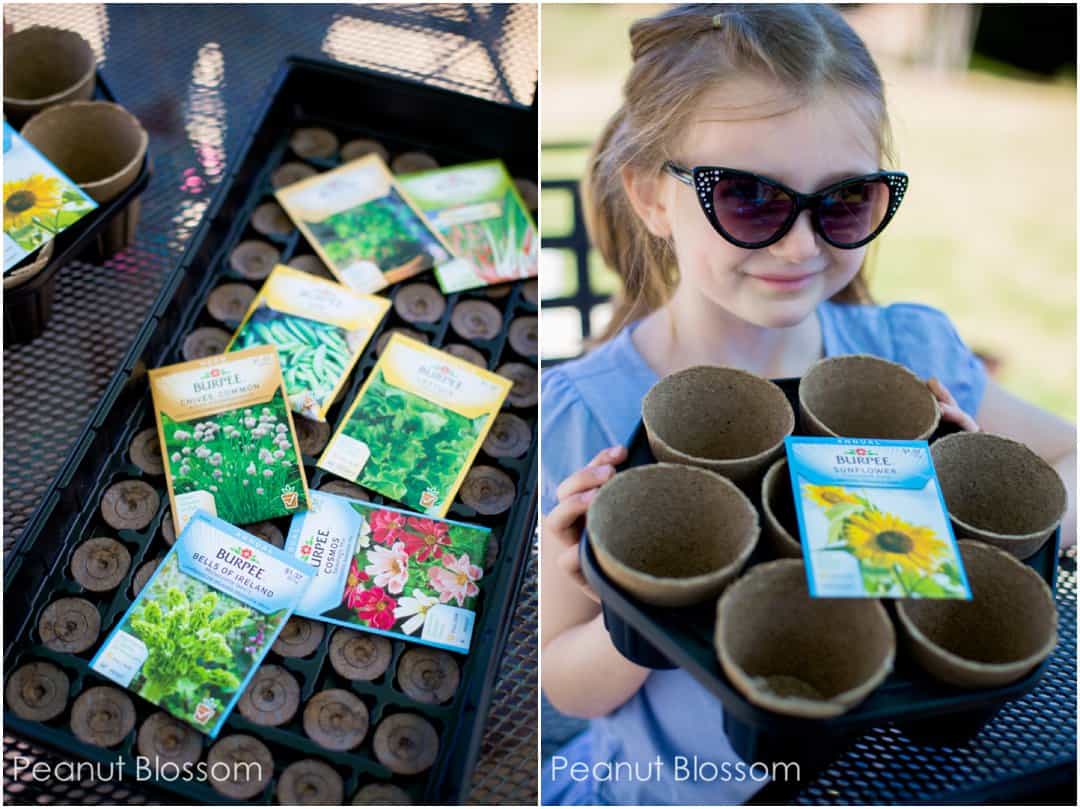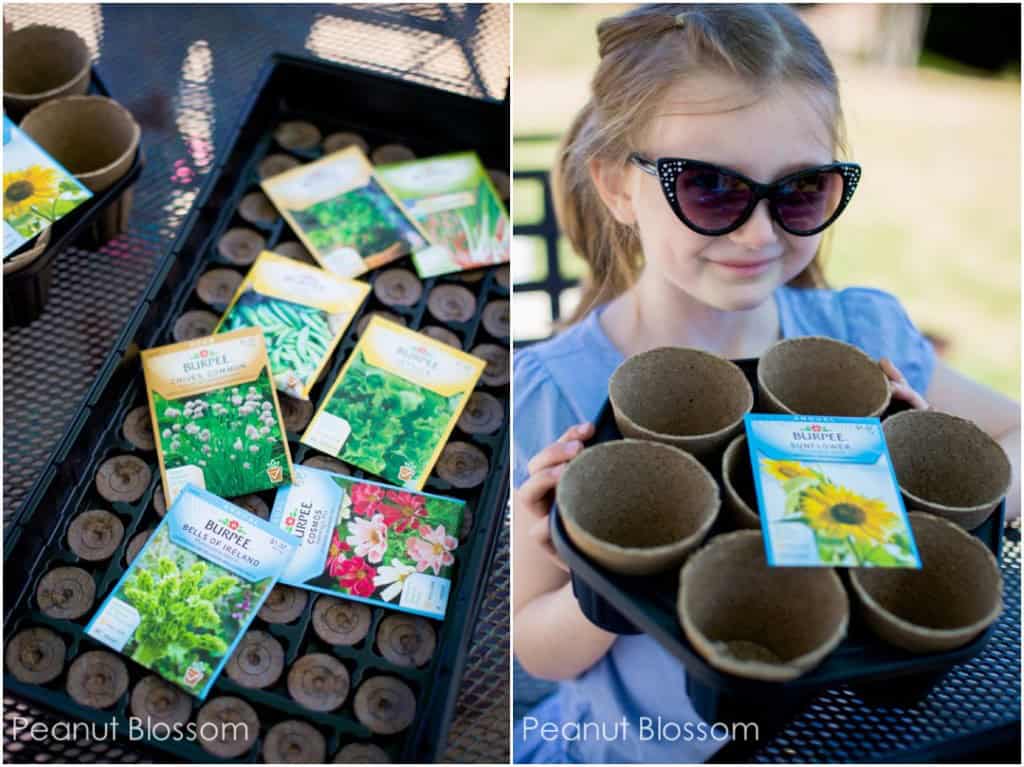 There were only 2 rules:
Each girl had to select 1 vegetable and 1 herb
Each girl was allowed to pick one flower
True to her nickname, Little Pea selected a package of sugar snap peas (her favorite from last year's farmer's market trips) and a packet of lettuce seeds. The Peanut decided to grow a "salsa garden" and chose cilantro, green onions, and tomatoes (which we'll pick up as a starter plant when the weather warms up.)
For the flowers, we chose cosmos, bells of Ireland for our yard and sunflowers for another project we want to do soon.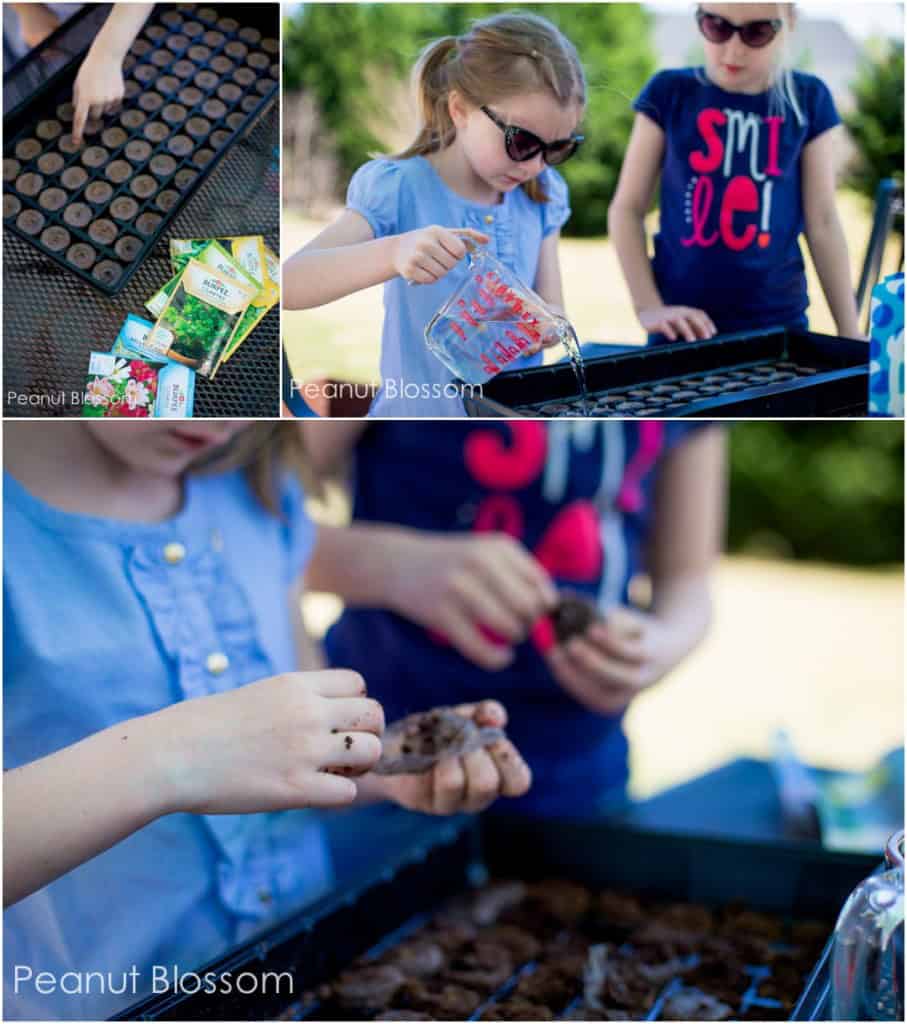 I measured out the water for the soil pods and let the girls get to work. They prepped the seed tray by watering the soil and fluffing it up with their fingers, planted the seeds in neat little rows, and "tucked them in to sleep."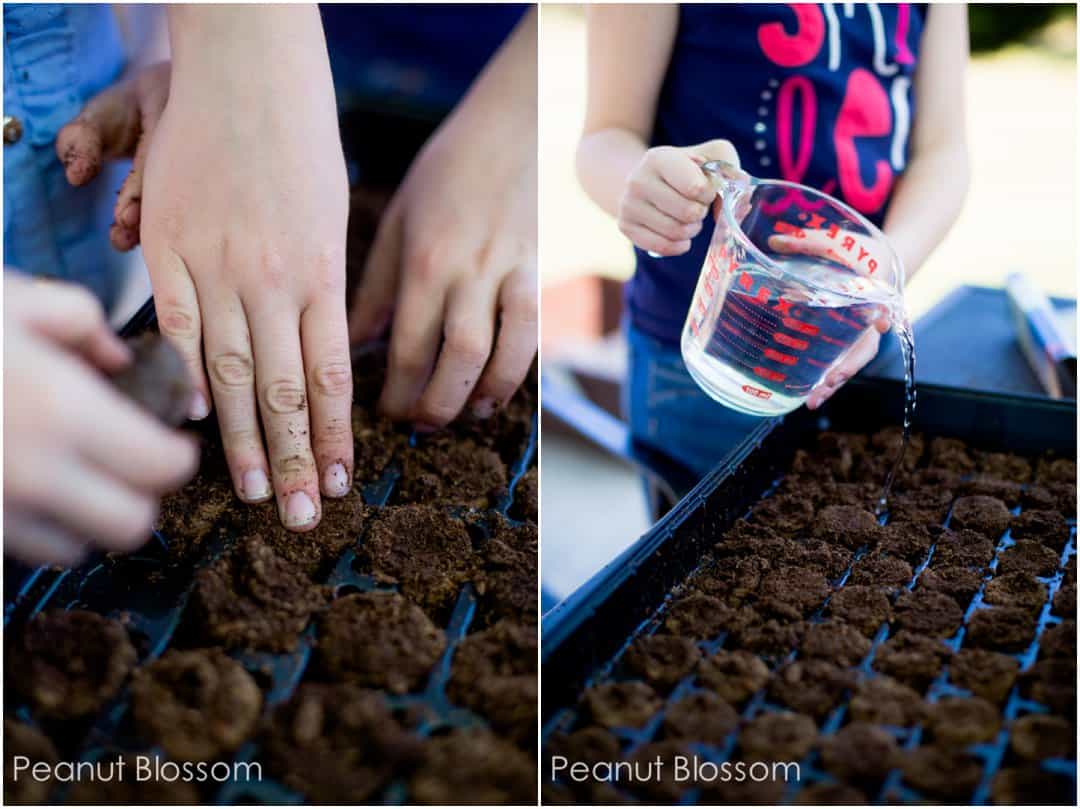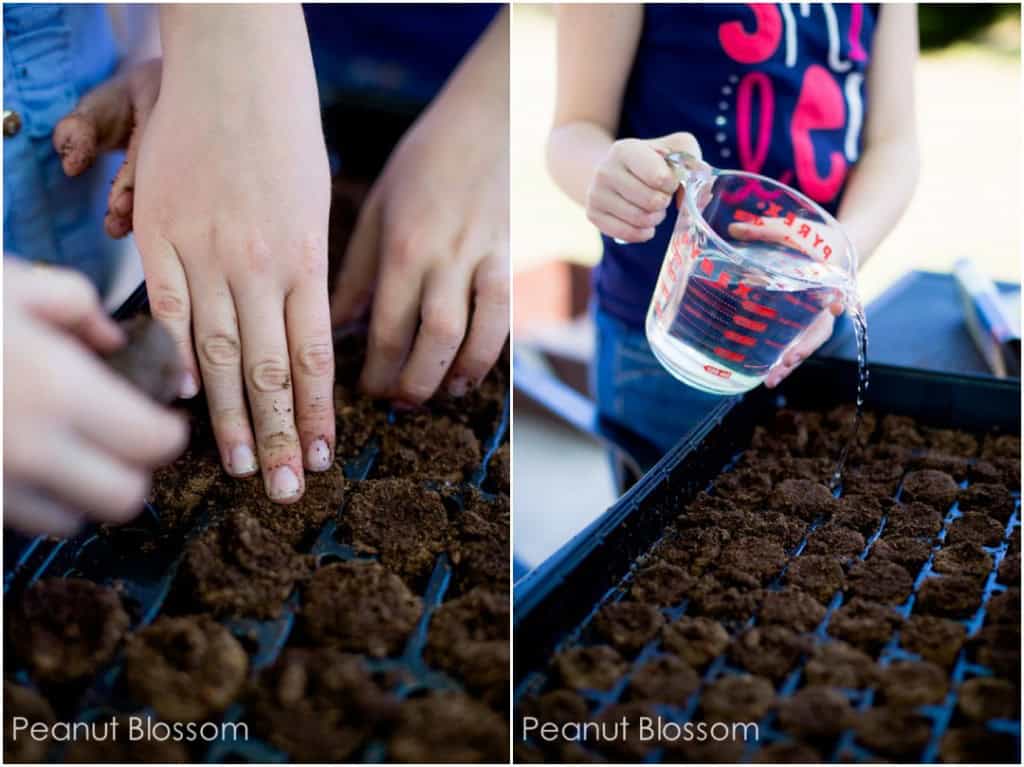 We joked that the whole process was very similar to making one giant mud pie in a pan!
3. Get them DIRTY and keep them outside!:
My ladies do not like getting dirty. I take the blame, I'm an avid hand washer myself. But not all dirt is made equal! It took a lot of coaxing and encouraging to get them to really get their hands into the mud. There were several pleas to run inside to wash their hands, but I was trying hard to keep the "in and out and in and out" trips to the house to a minimum.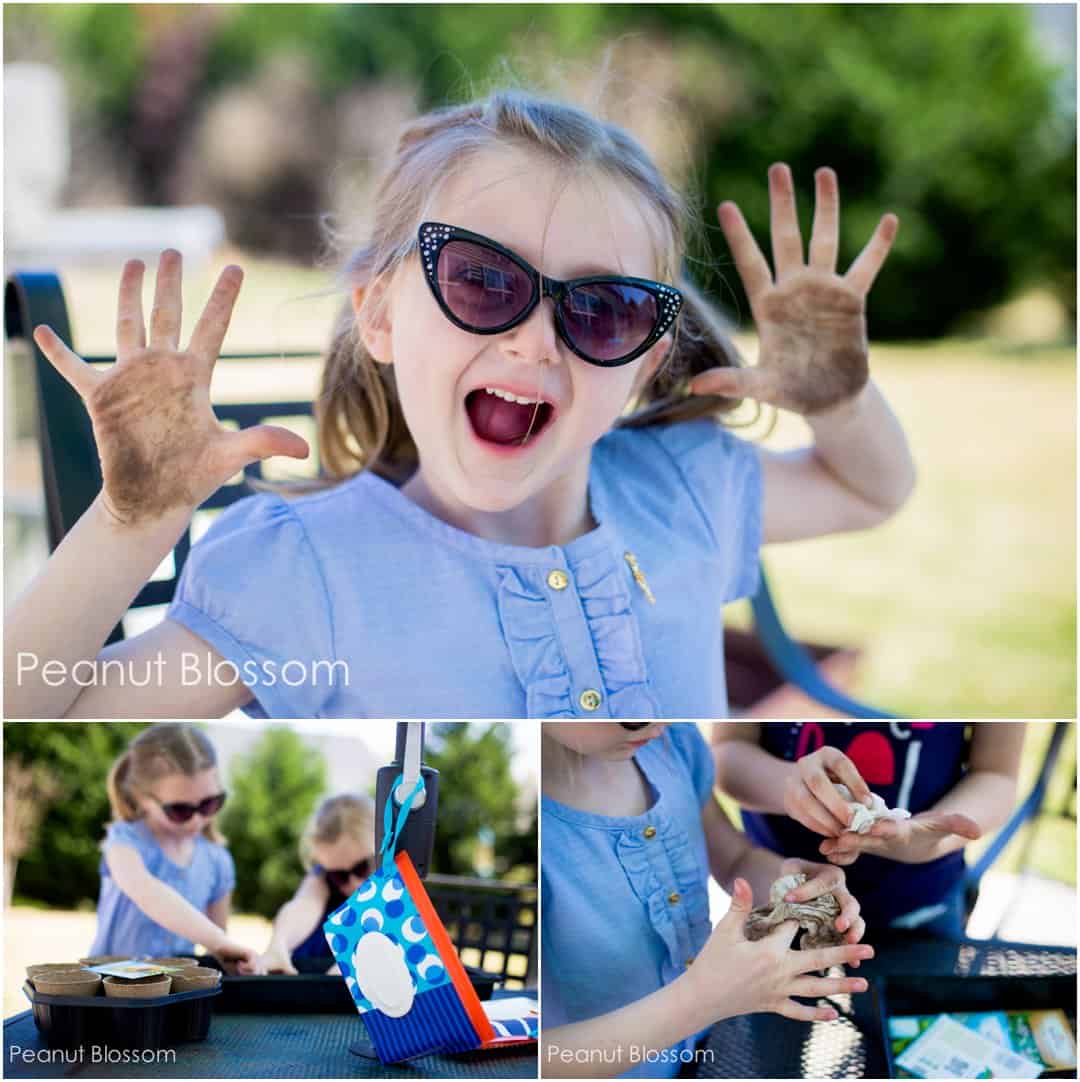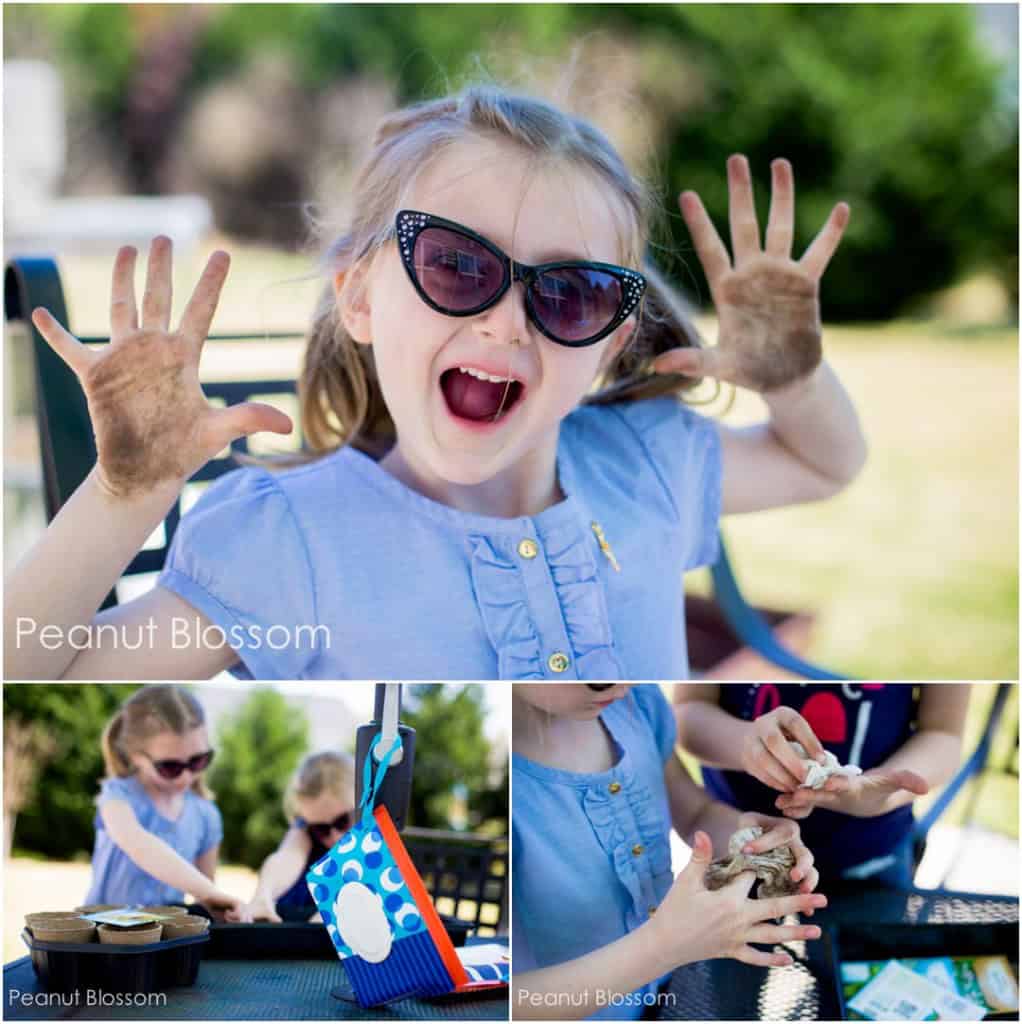 I came outside for our project prepared with a packet of Huggies® Clutch 'n Clean Wipes. I hung the packet by its strap on the patio umbrella stand for easy access and dolled out the wipes when the girls were begging to freshen up a bit between stages. Since the Huggies® wipes are made with triple layers, they are nice and thick and held up great to the thickest of muddy fingers! It saved us several trips inside and kept my girls outdoors enjoying the fresh air longer.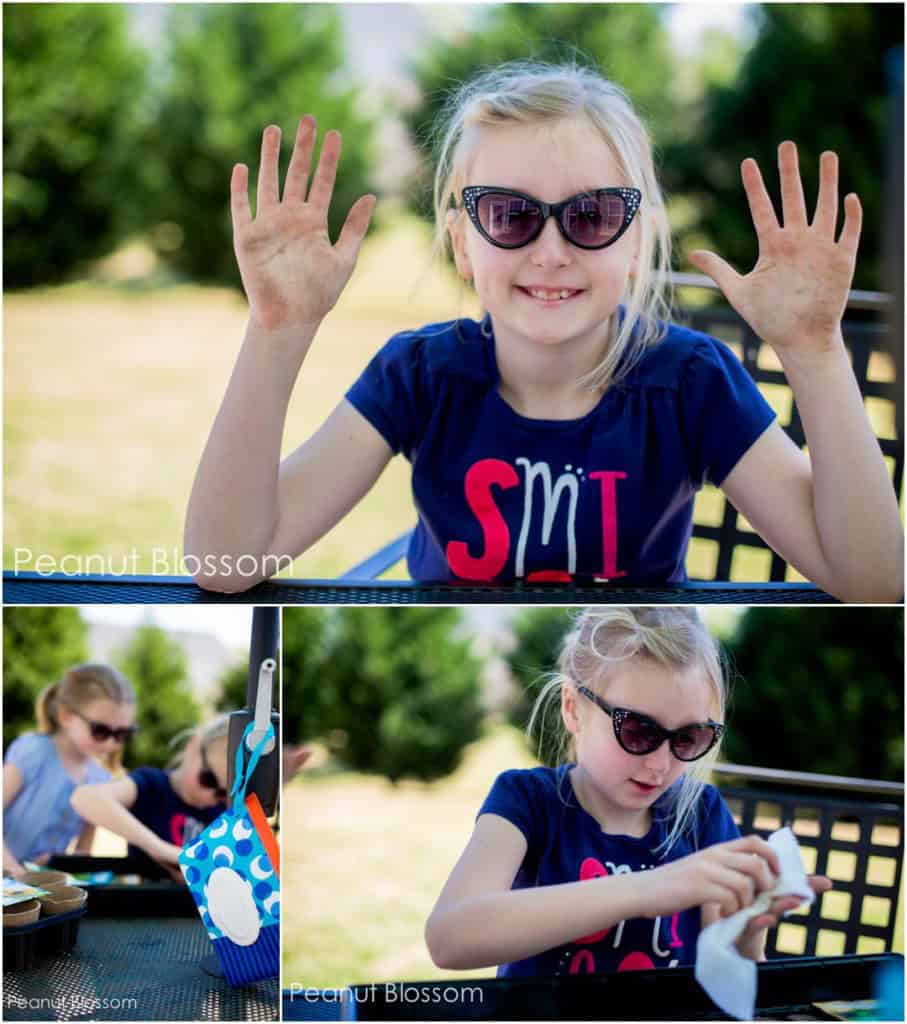 4. USE your plants!: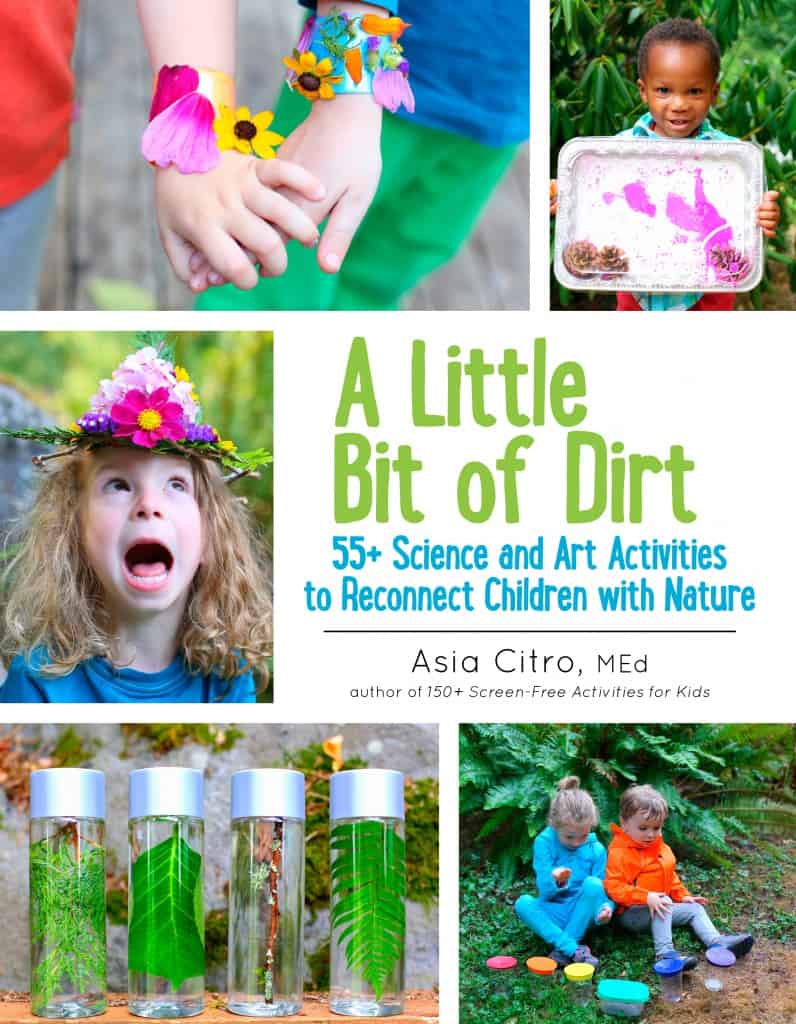 I've fallen into the trap that flowers and gardens are meant to be enjoyed just by looking at them. This year, I want to use and abuse our plantings! I will be highly encouraging:
picking the flowers on a whim
pinching herbs just because
pulling weeds and making piles
using scissors to cut and prune
plucking the vegetables and eating them straight from the vine
pulling up roots to see how they grew
In fact, I was so inspired by Asia Castro's book A Little Bit of Dirt that we'll be doing several of her recommended projects this year. I was immediately drawn to her Nature Cutting Tray project where you set your child up with a big old platter of cuttings from different plants and let them explore cutting them with their scissors. I know that Little Pea would have a blast with this!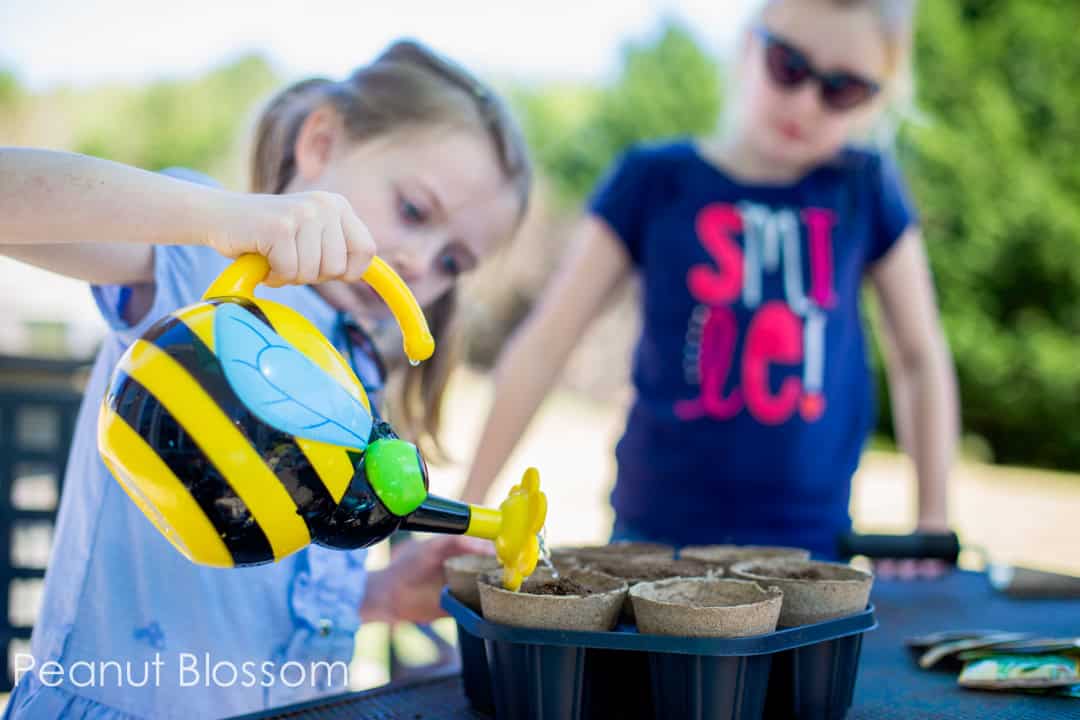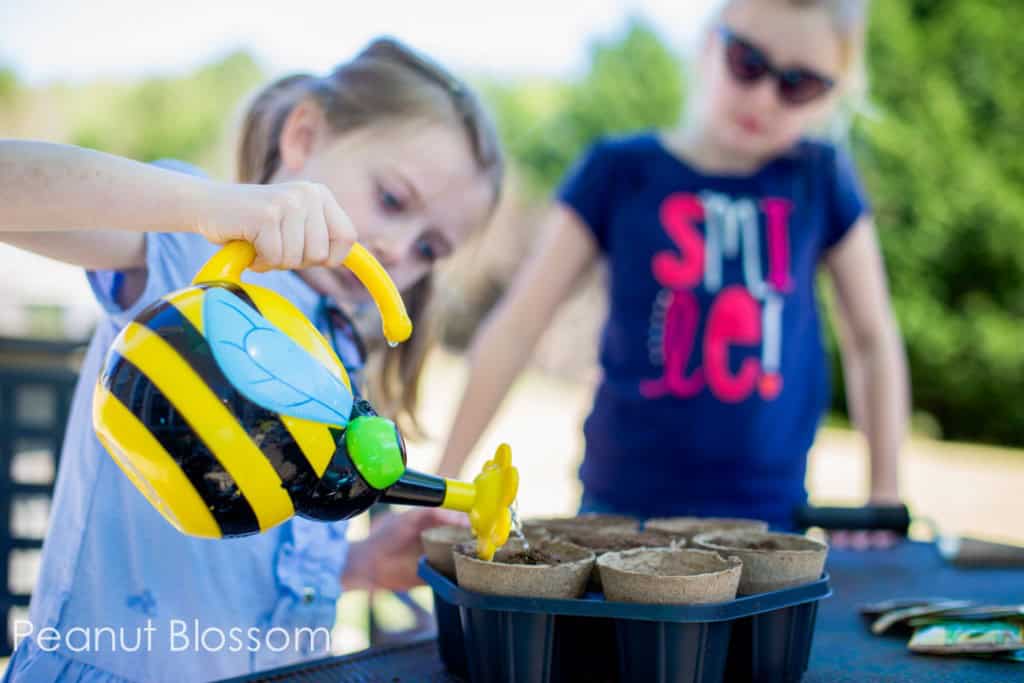 5. Journal the project: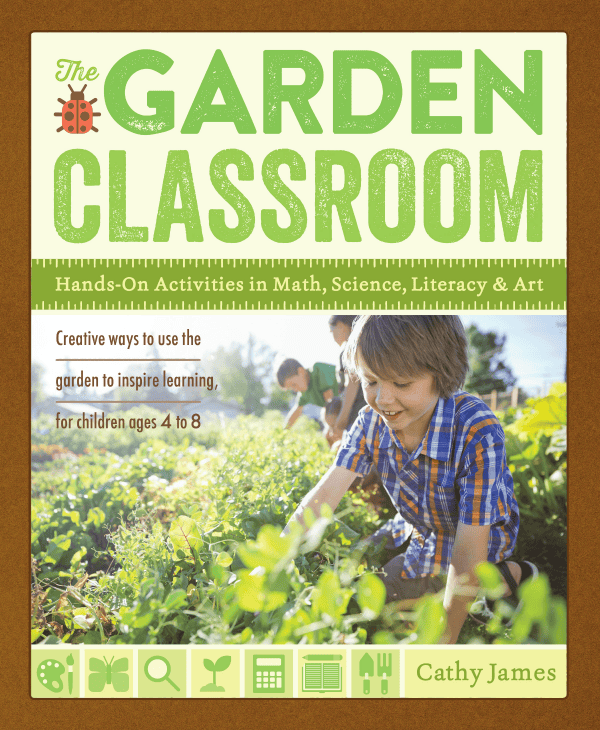 You can bet I'll be shooting tons of pictures of my girls with their garden as my own documentation of our messy fun, but I adore the idea of letting them track their own progress and experiments with a garden journal of their own.
Cathy James' book The Garden Classroom has plenty of hands-on activities for us to experiment with and you can even download a free garden journal on her site here. I love that it is perfectly age appropriate for both my kindergardener as well as my 3rd grader with a mix of fill in the blank journal writing and blank picture drawing pages.