Today I'm super excited to be sharing a post that is brought to you by Dyson.
The giveaway at the bottom is worth over $500!
I don't want you to miss it, be sure to check out all the details!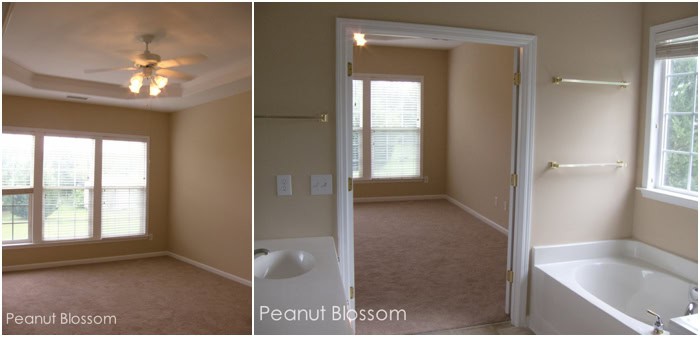 2 years in our new house and out of all the decorating we've done take one guess which room has been the most neglected??
I'm guessing it is the most neglected room in your house too. . .
Our sad master bedroom suite.
Those photos at top feature the room as it was when we bought the house, I took them during our walk-through. Little did I know then just how much our room would stay exactly the same from move-in day for nearly 2 years.
And when I say "exactly the same as move-in day" I mean that our bedroom, the place we are supposed to retreat for relaxation each night, was piled floor to ceiling with unpacked boxes, clutter, and chaos for well over a year. Our move was more stressful than I imagined and those last few boxes were filled with things I wasn't ready to get rid of and didn't know where to put. So there they sat, unattended for months until I finally worked up the courage to dig our way out.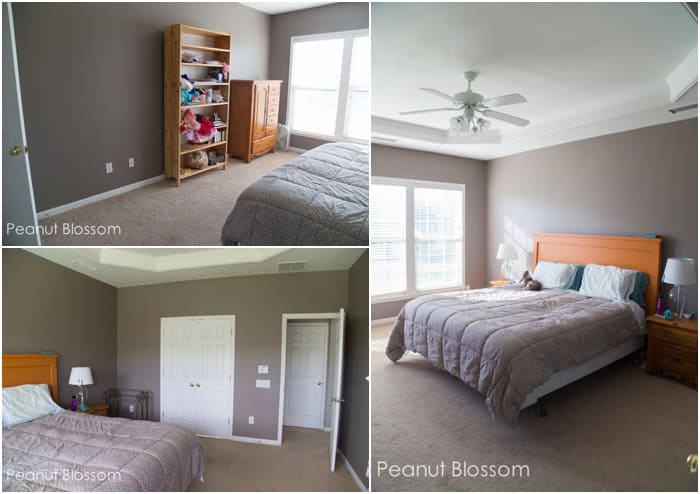 The first thing I did was to gut our room of everything I could lift and carry on my own and beg Handyman Tim to finally at least help me get some paint up on the walls. We finished that project at the end of May and we were blown away what a difference it made! Then summer hit and our budget was redirected towards the family adventures we've been having, not purchasing new furniture and decorations for our bedroom.
Over time the clutter has started to creep back in. I'm desperate to get rid of that huge bookshelf that holds laundry stragglers and random hardware from the bathroom redo we're attempting at the same time. I also want to get rid of the random cords peeking out and empty quilt rack taking up precious real estate.
The problem? I don't know what should replace those things! After living in that clutter filled space for so long, Tim and I were shocked to discover how uncomfortable the gutted bedroom made us feel.
Our room is an awkward size so a furniture layout isn't the easiest thing to arrange. I know we need something different in the room, but I've been torn which direction to go. It's been so daunting a decision, it's been left a standstill.
Then Dyson came along and asked me to describe my dream space and how this cool thing would fit right in. I thought this would be the perfect opportunity to get reinspired with what to do next for the bedroom project.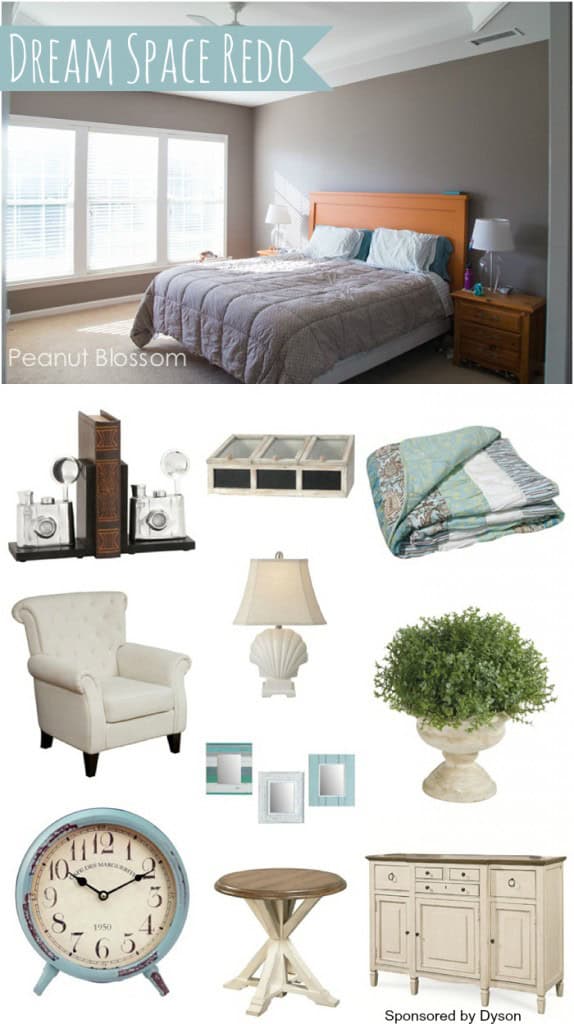 Though I'm not sure which pieces to make room for in our bedroom, I do know that I want a clean and fresh feeling space. We love the new paint color (Castle Gate by Benjamin Moore) and how clean it made the white trim feel. As a photographer, I love how the warm grey makes colors pop and I look forward to getting some images framed.
We were so inspired by our trips to the beach recently that I'd love to bring some of that feeling into the room without being quite so obvious as sticking a lobster up on the wall.
1. Entertainment Center: Our room doesn't have a television in it. Usually I'm very anti-tv in the bedroom but I think we're going to cave on that soon. I'd love a space to go watch something of my own while Tim enjoys a sporting event on the big tv in the living room.
I don't want a television stand or media center and once we get rid of that bookshelf, I'd love extra storage for the few books I want to keep in our room. Open shelving just begs for clutter so I feel in love with this closed door buffet in lieu of a dresser or shelving unit. I imagine that cute greenhouse could store the remote and other small objects and keep them tucked away.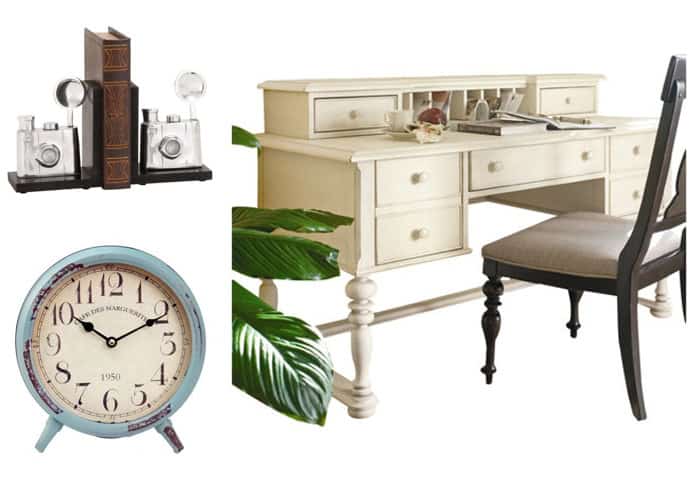 2. Writing Desk: Tim requested a working surface that one of us could sneak away into our room for some peace and quiet. We don't have a closed-door office anywhere in the house and it would be heaven to be able to do some writing at a laptop or take a work phone call in peace. I worry this would also be a magnet for clutter but love that the small size of the desk prevents a big computer being put on top of it. I love the idea of it being large enough to work at for a while but not so big that it becomes a permanent work space filled with stresses in our room.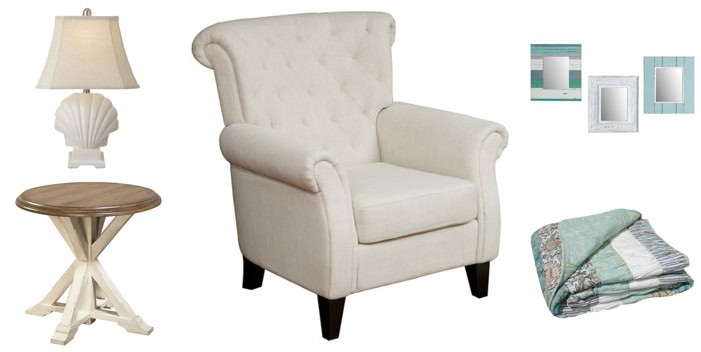 3. Reading nook: We both love the idea of having a comfy arm chair for resting with a book and cup of coffee. I love this simple style with a sleek table and lamp. The room doesn't have a specific corner where this would work well so I think it would be the trickiest to work into the space.
But have you noticed the word that keeps coming up as I write this??
"Clutter."
Clutter and piles and little messes that grow into big messes are my biggest battle in housekeeping. I'm a natural born pack rat. I haven't reached Hoarders level yet, but it is a daily struggle for me in keeping things neat.
When our house is cluttered, I hate to clean. It takes more time digging down to the surface than it does to do the vacuuming and dusting itself. I KNOW that if I can keep things neat cleaning would be so much easier for me to keep up with.
The most successful trick for keeping things clutter-free is to make them so pretty you don't want to mess them up. That is the approach I would love to take with our bedroom. Having the space styled and beautiful would help me want to get out that vacuum.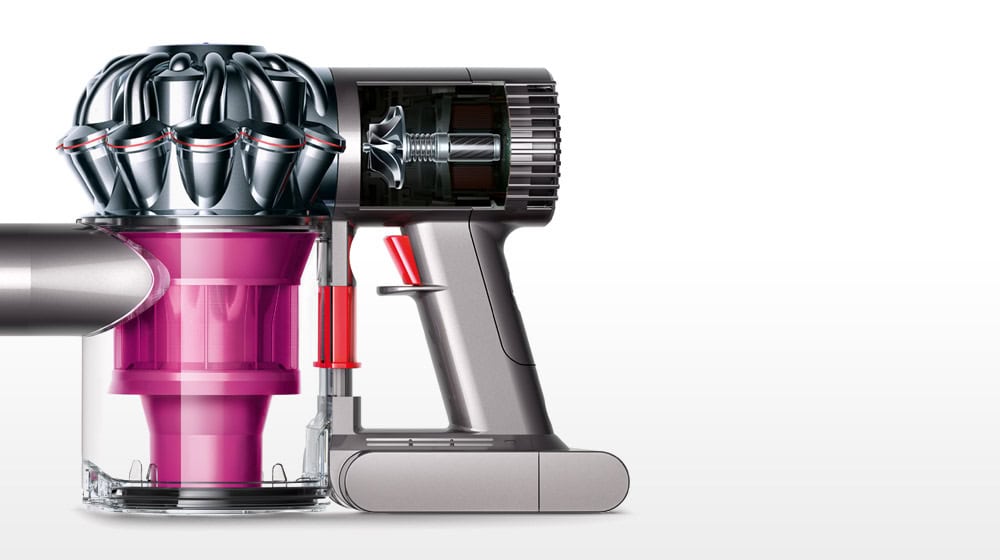 I've always coveted a Dyson vacuum but I am seriously lusting after the Dyson DC59 Motorhead. This thing is light, portable, and CORDLESS. It would be so easy to mount this on the wall in our walk-in closet and have it ready for touchups of the bedroom and bathroom at a moment's notice.
I love that it works as a floor model and a handheld all in one. Check out the three different positions you can set it into here.
The Dyson DC59 Motorhead works on carpets and hard floors and has fantastic attachments for our blinds and lighting fixtures. Which hard to reach spot would these attachments help you fix?
In celebration of their "Ultimate Addition to My Dream Spaces" campaign, we are actually giving away one Dyson DC59 Motorhead to a lucky reader from this campaign. All you need to do to be entered to win is answer the following question in a comment on this post:
What is your dream space and what Dyson DC59 Motorhead feature do you enjoy the most?
To enter:
1. Check out the full list of features for the Dyson DC59 Motorhead here.
2. Comment below with which feature you'd be most excited about!
Good luck!! I'd love to see one of my readers win!