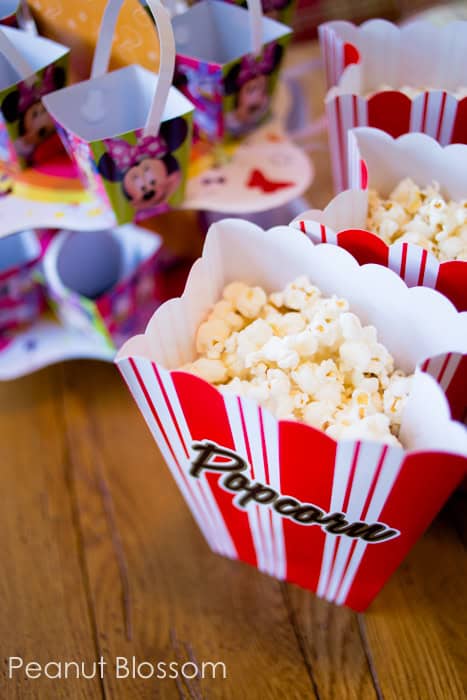 We are one lucky bunch. Not only were we asked to host a #DisneySide Princess Playdate last fall, but we were also selected to host a #DisneySide winter party for our friends with a #DisneySide @Home Celebration kit provided by Disney Parks!
Coming off the crazy holiday season, the last thing I wanted to do was to host an over scheduled, overly fussy event. We had such a blast with our last playdate, I've learned the trick is to keep things SIMPLE.
When I started to think about what kind of event would truly show our family's Disney Side, it came down to one easy thing: MOVIES!
Almost any given weekend, you will find our family snuggling up on the couch around a big bowl of home popped popcorn. We love to be active during the day but around 4 pm on Saturday, we love to settle in for some quiet time together. I wanted to share that exact feeling with our friends and rather than a "party," I wanted to invite them into our home and treat them like family.
We scheduled our event for 6 pm on a Saturday night so that the moms could feed a light dinner to their families before coming over. I instructed everyone to come in their jammies and bring stuffed lovies and blankies so the kids could just cuddle down and feel right at home.
We set the kids up with a flick and then the moms retreated to the dining room to chat over cocktails! I would venture to say it might be my favorite party we've ever thrown. It only took a few special touches to make it feel like a celebration: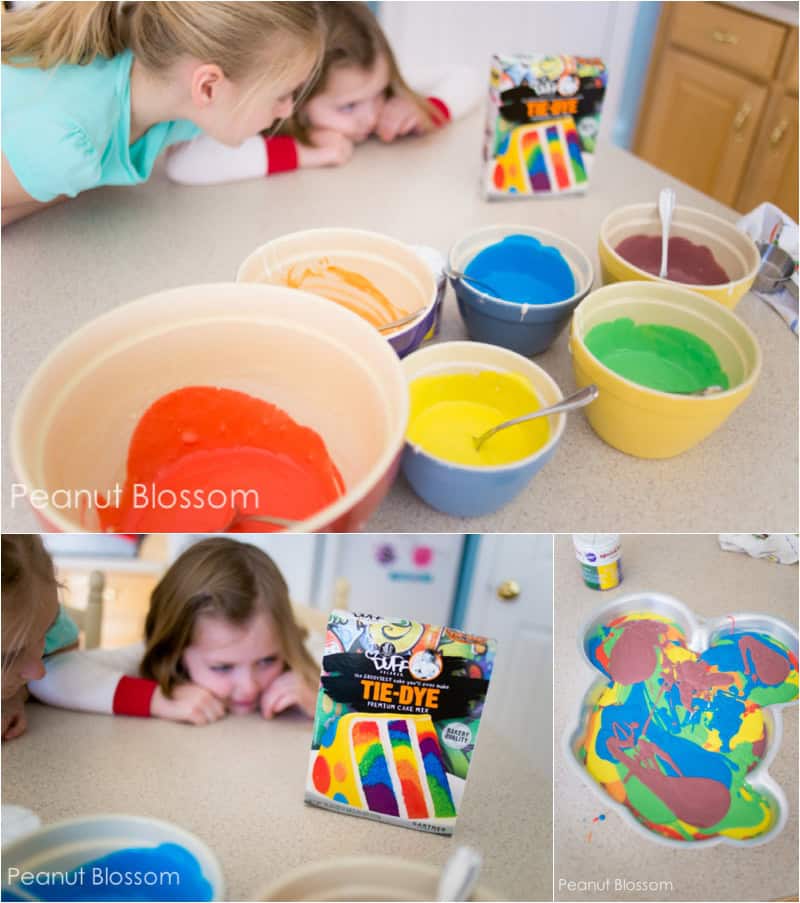 Our #DisneySide Celebration Kit came with an awesome Mickey Mouse cake pan and a box of Duff's Tie-Dye cake. My girls thought this thing ROCKED. We had so much fun mixing up the batter. It reminded me of the rainbow cake I made for the Peanut a few years ago, but much more simple to pull together. (A word of caution though: be sure to grease the heck out of the middle of the pan, our cake stuck because I wasn't careful enough and it was a scene right of Cake Wrecks.)
I am not a fan of black icing on cakes. Give me the rainbow assortment of dyes, but black just goes too far. I was thrilled when a friend from our #DisneySide group on Facebook suggested crushed Oreos instead. Done! I made the cream cheese frosting from this recipe and then just coated the ears and nose with Oreos.
The only other treats I planned were fresh popcorn and a few Junior Mints sprinkled into those cute Minnie & Daisy snack cups. To make it feel more festive, we picked up some simple popcorn containers and they were a hit with the kids: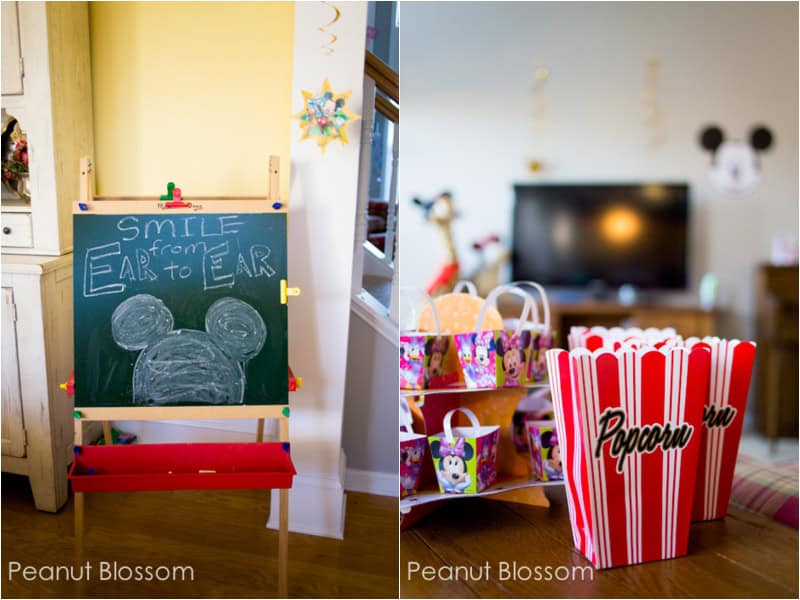 I took to our favorite Melissa & Doug easel with a piece of chalk and tried to recreate last year's sign by hand. Not quite as perfect, but it only took a minute.
Then we went and created an animal village with our favorite mouse ears: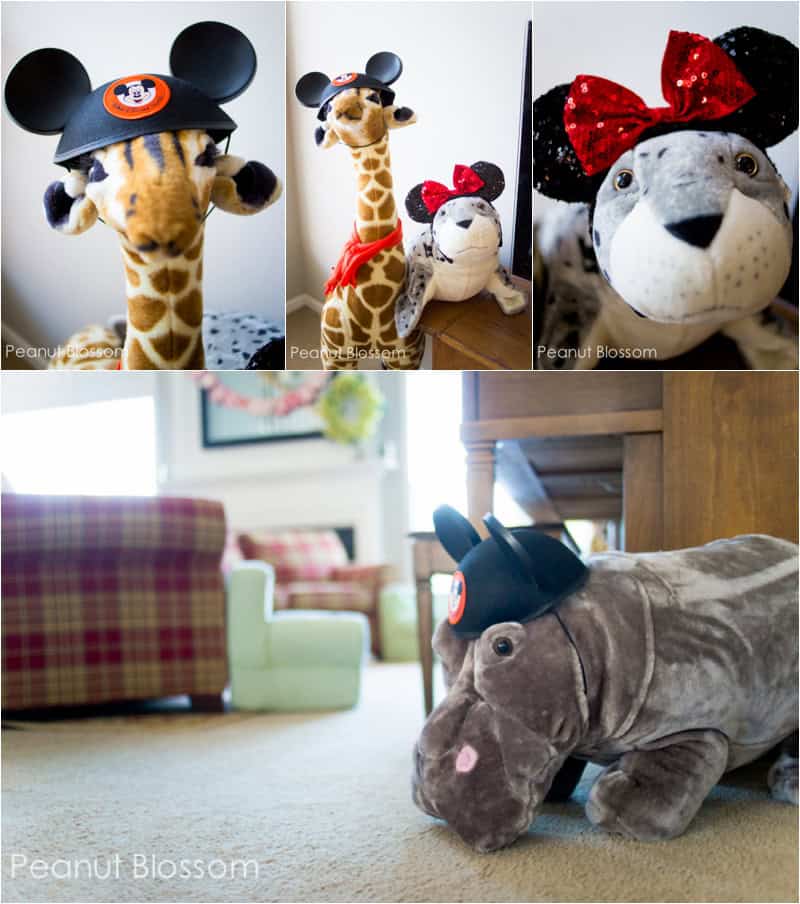 Knowing the kids should sit down and eat the cake before the movie started, I had the dining room set with a table cloth and plates before everyone arrived. Then this space transitioned to the Mom Zone for the rest of the evening. Since we'd be sitting there chatting, I swapped out all of our photos in our Change of Art frames to showcase our favorite Disney vacation photos. It was the perfect conversation starter for the moms: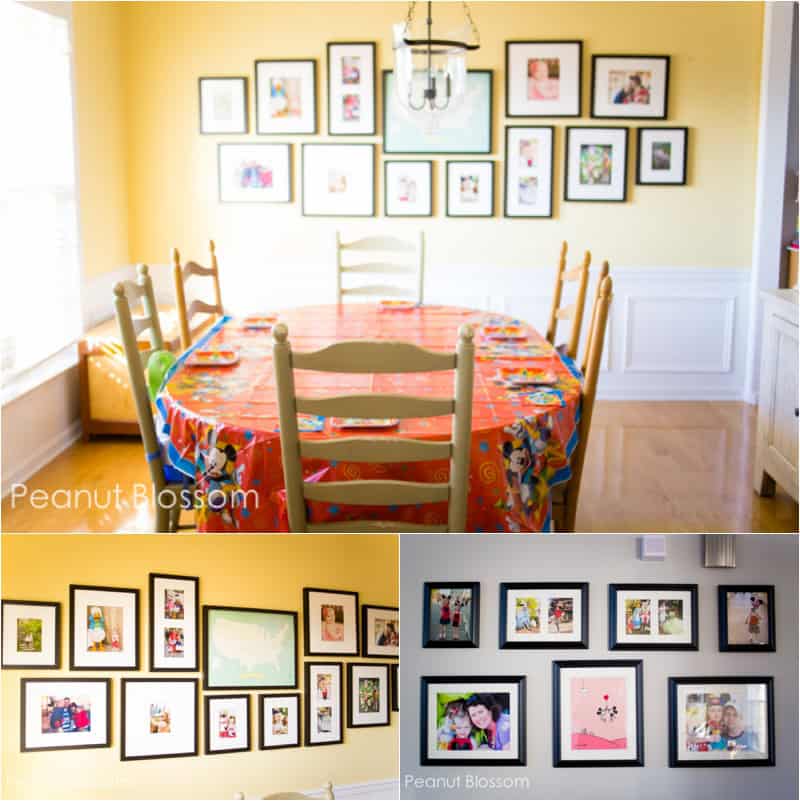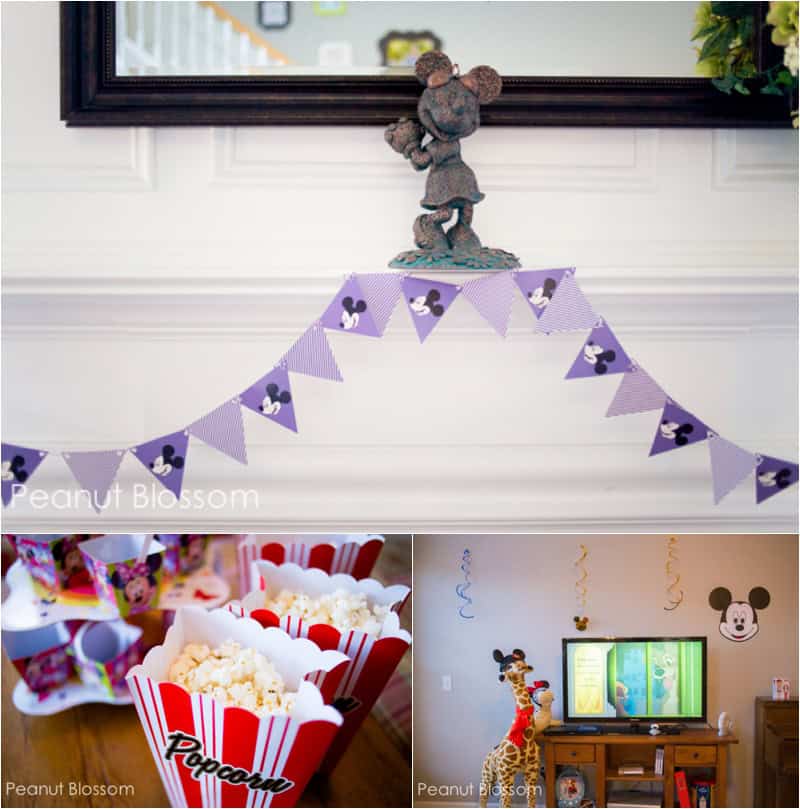 We debated long and hard over which movie to air during the party. Handyman Tim insisted it should be a Disney Classic but we wanted to be sure it was appropriate for the wide span of ages that were going to be in attendance (3 - 10). Not too scary, but still fun for the bigger kids. We finally settled on "Lady and the Tramp."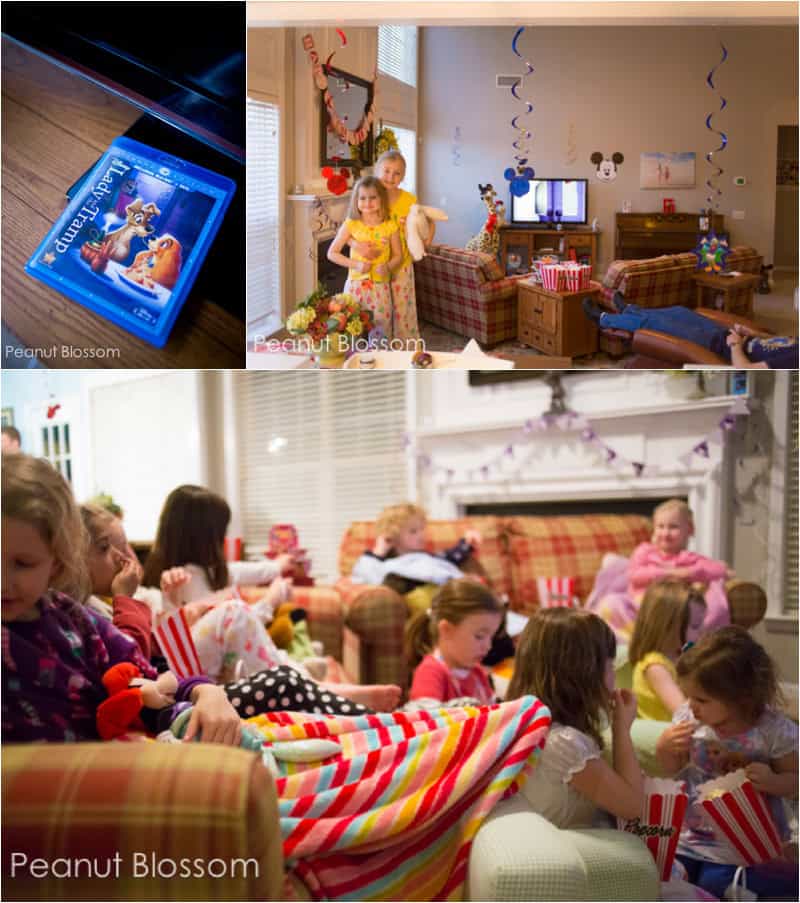 We filled super easy goodie bags with things from our celebration kit including: a Disney word search, a trivia worksheet, nail polish, Mickey pencils & stickers, and Disney Side luggage tags.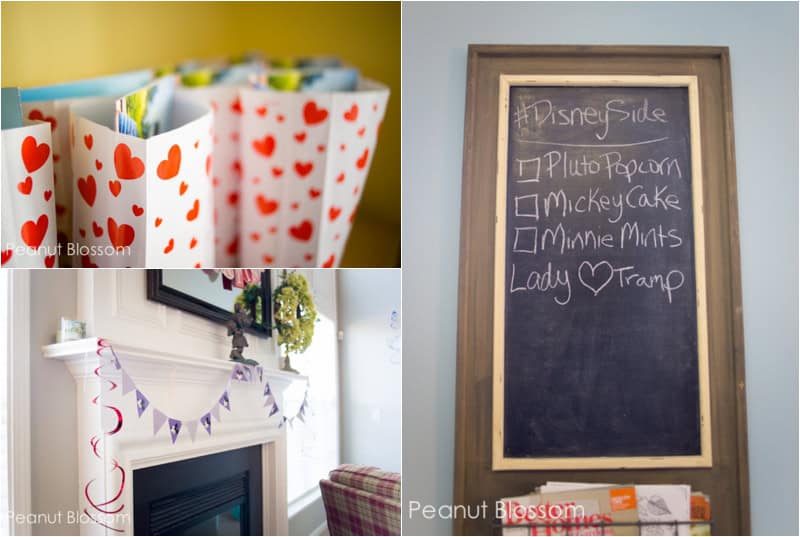 The kids were adorable all snuggled in for the movie. Our party format worked great for the littlest ones because anyone who was nervous still had mom right in the next room.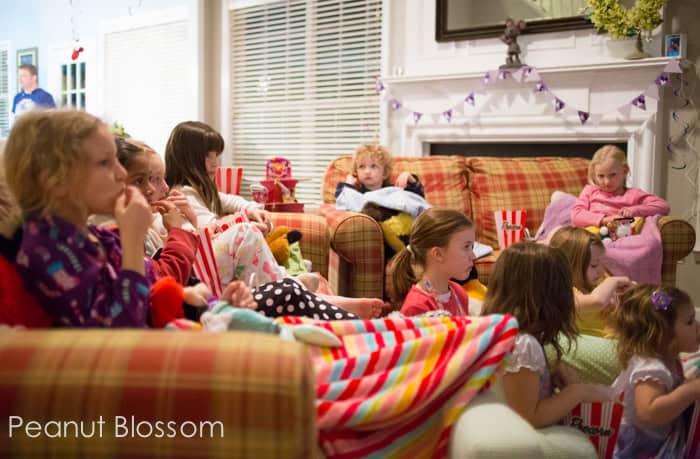 At some point, the sugar from the cake took hold and the kids couldn't resist playing with each other. The movie choice might have been a little long for our crowd and in hindsight, this Mickey cartoon DVD might have been a better choice. But a room full of smiling, laughing kids?? I have nothing to complain about!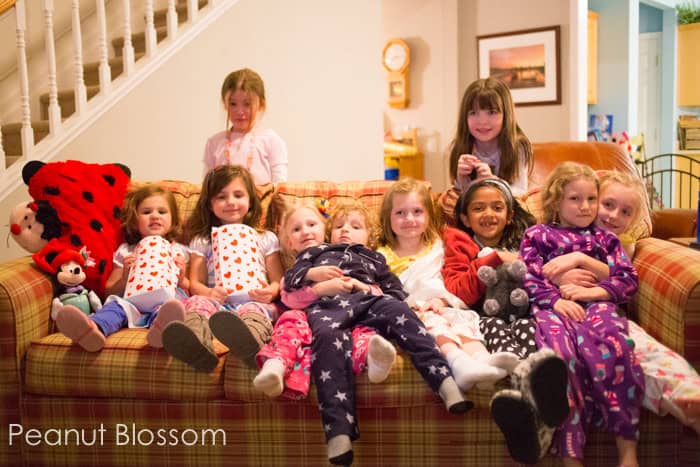 In summary, if you'd like to host your own Movie Party for the littles, here are my 4 favorite tricks:
1. Think late: After dinnertime is perfect, bellies are mostly full from dinner so you can keep things easy with light treats and popcorn.
2. Jammies for the WIN!: This was perfect for the kids AND for mom! Once they're all tuckered out from the festivities, they're all ready for bed! Simple teeth brushing session and done.
3. Mom Time!: By scheduling the movie for the kids, you're actually buying solid chunks of conversation with your mom friends! How many events have you been to where you were so busy engaging with the kids' games you didn't have time to catch up with the other adults? This was the perfect arrangement.
4. Simple Decor: You don't need much more than some mouse ears and those popcorn buckets. If you have chalkboards, you can do the sign. If not? Pretty sure the kids won't mind!
Thanks so much to the team over at Disney Parks and Mom Select for pulling together such fantastic party kits. If you're interested in hosting your own Disney Side @Home Celebration, you should definitely check out their web site here. You'll find tons of inspiration, activity ideas, recipes, and free printables to get you started with your own Disney celebration.

Peanut Blossom is proud to be part of the Disney Social Media Moms. We received a party kit from Disney Parks in exchange for hosting a magic-filled celebration for our friends. All thoughts and opinions are our own. You may view our full disclosure here.