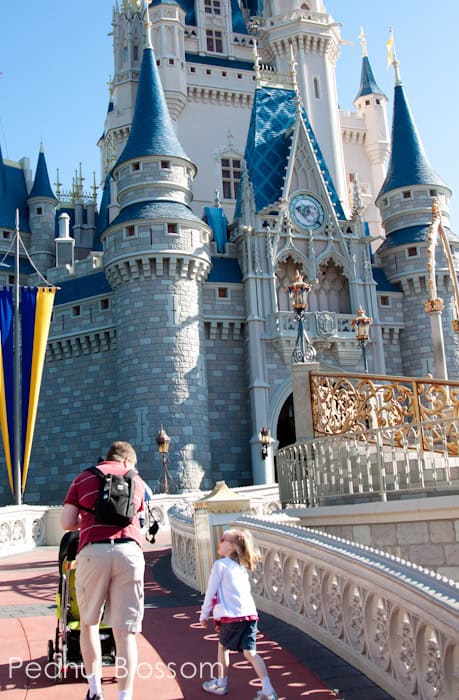 Psst: I've got a secret to tell you. I've been scared to say it out loud for fear that something might fall through but I'm taking my chances now. We are planning a return trip to Disney World this coming April.
After our trip last year, going back to Disney was the farthest thing from my mind. Not because I didn't want to go but because I didn't think it would be even remotely feasible for us for at least another year or two. And then I remembered One Crucial Detail:
We live within driving distance now!!!
DUH! I can't believe this hadn't occurred to me sooner. The cost of our airplane ride was more than half the cost of the trip last year and it would be worse this year since Little Pea is too old to fly as a lap rider and we'd require a 4th ticket. But driving?? Yes, gas prices are nutty, but even still we'll be coming out far ahead!
So we're braving it. We're going for a shortened length of time to cut costs even further and to save Handyman Tim's vacation time for other adventures this summer. Now with almost a year's distance between trips, I'm really wishing I would have blogged more about my planning so I'd remember more about what to do. Since I'm elbow deep in the planning a second time around, I'm not repeating that mistake.
I hope you find these tips as helpful as I do. This is the first of more posts to come on the topic but I thought it better to break into chunks.
What's your best Disney Planning tip? Please share with me in the comments. I don't know everything by any means and would love your helpful advice!

_________________________________________________________
Get Started Tips for Planning a Disney Vacation:
1. Get on the list: I highly recommend subscribing to the Mouse Savers newsletter. They include cost-saving tips for everything from making your reservation, buying your tickets, and seasonal updates & news.
2. Buy the book: I looked at several travel books before finally purchasing the "Unofficial Guide to Disney with Kids." There is some debate on Amazon between this version and the "non-with kids" version. I've looked at both and feel the thicker guide is just Too Much. If you're traveling with young kids like we are (ages 6 & 3 by our trip in April) you're never going to have time for everything listed in that thicker book. The "with kids" version dials it WAY down and has phenomenal information about the parks for families.
3. Get the app: Last time I subscribed to the Touring Plan's Lines app but this time around I'm going with the free Disney version. I'll report back which I feel was better after our trip. I love that you can access current park happenings, character sightings, and maps all from one spot. It even reviews the different attractions in case you need to be reminded which is which.
4. Assess your gear: This was the biggest selling point to me about why we should go again this year--we already have all the gear we need for this set of ages!! We will be hauling in our car the following items:
A double stroller--for the love of all things good, get the ultralight version. This was the world's BEST stroller to have at Disney for two kids. The Peanut walked along with us most of the time but could easily hop on for a rest and ride. It was big enough for both girls and had lots of storage for hiding our snacks and diaper bag. Everything of value came with us to the rides but the stroller spent a fair amount of time parked.
A diaper bag--this version attached side-saddle to our stroller perfectly. It allowed both girls to reach in and grab things as needed and we didn't have to go digging into the basket which can be a bit of a pain. It was perfect for storing snacks, water bottles, sunblock, wipes, extra straws and napkins, etc. All things we didn't care if they got stollen but we never had a problem. I LOVED not having to tote all of that stuff with us non-stop in backpacks. The stroller ended up serving more like a cart!
A portacrib--I know hotels have these but that creeps me out. I cringe at the thought of the germs. Now that we're driving, I'm tossing this in the back of the car. It allows us to comfortably all sleep in the same room because the girls don't need to share a bed just yet. This is probably the last year we'll get away with it. If we didn't already own one, I wouldn't have bought it but it will be super nice to have with us.
A tiny backpack--I searched for the smallest yet still useful backpack possible. This one was just perfect. Light, TINY, and can barely even be described as a backpack. Ours came in black and Tim wore it with just his wallet, our park tickets, sunglasses, keys, and any essentials from the diaper bag we felt we absolutely must have while the stroller was parked. This bag was never EVER out of our sight and was super easy to take on all the rides. (You can see him wearing it in the photo at top of this post.)
Want even more helpful Disney tips? Check out my full Disney Guide here.