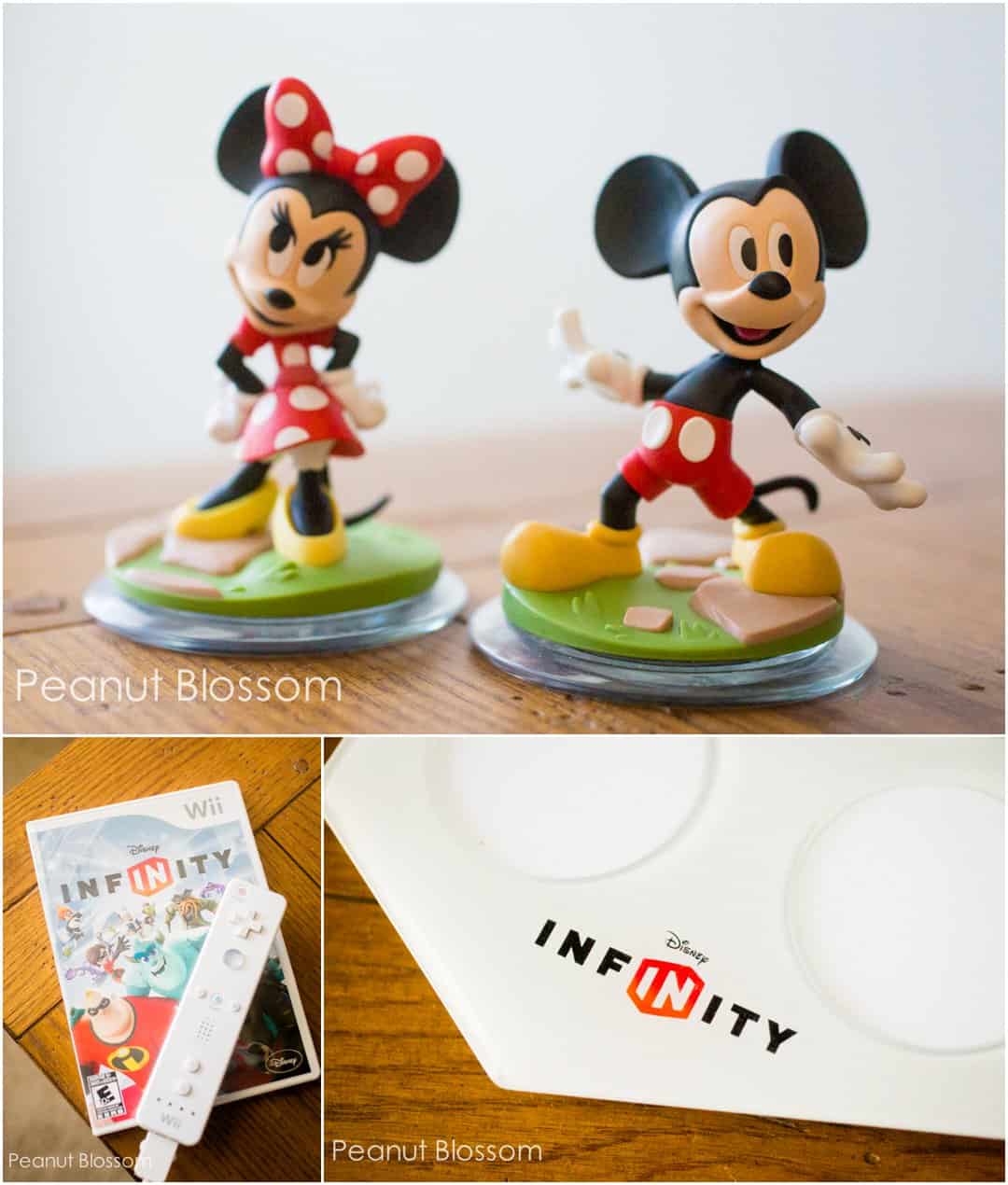 A few months ago we dipped our toes into the world of Disney Infinity. With the girls ages 8 and 5, video gaming has not been a very big part of our world. I didn't really want that to change, but I remember loving playing Mario & Tetris when I was younger. With boundaries and limits, I think video games can be just one more fun piece of the family entertainment arsenal.
When we visited Walt Disney World in May for the Disney Social Media Moms Celebration, we were given these adorable Mickey & Minnie figures to announce the arrival of Disney Infinity 3.0. We had so much fun playing "I Spy Mickey" in the parks with them during our visit so I thought it might be time to finally check out this game for the kids.
Turns out, that's easier than it might sound! Once I started shopping, I felt totally overwhelmed and confused. There are SO many options, so many pieces, so many bits of paraphernalia. What was necessary? What would make it more fun? How much is this all going to cost??
With the holiday season approaching, I know other moms will be in my shoes. I'm hoping this introduction to the game and explanation of all the elements helps you determine whether this is a right fit for your family and gets you started on the right foot!

p.s. I'm no expert in gaming or platforms. I'm explaining this based on the knowledge I gained while doing my own research. If you have any questions, please feel free to leave a comment on this post and I'll do my very best to help you figure it out!
p.p.s. If your eyes glaze over at the lengthy discussion below and you just want to know what you need to get your kids started, simply check out this:
Quick Start Shopping List:
A Gaming Console: I recommend this one, buy it here.
Disney Infinity Starter Set: I recommend this one but be sure to buy the one that is compatible with your console (Wii U vs. Xbox One vs. Xbox 360 vs. Playstation 3 vs. Playstation 4).
(Optional) A few additional characters: I recommend these or this one. All characters are compatible with all the consoles.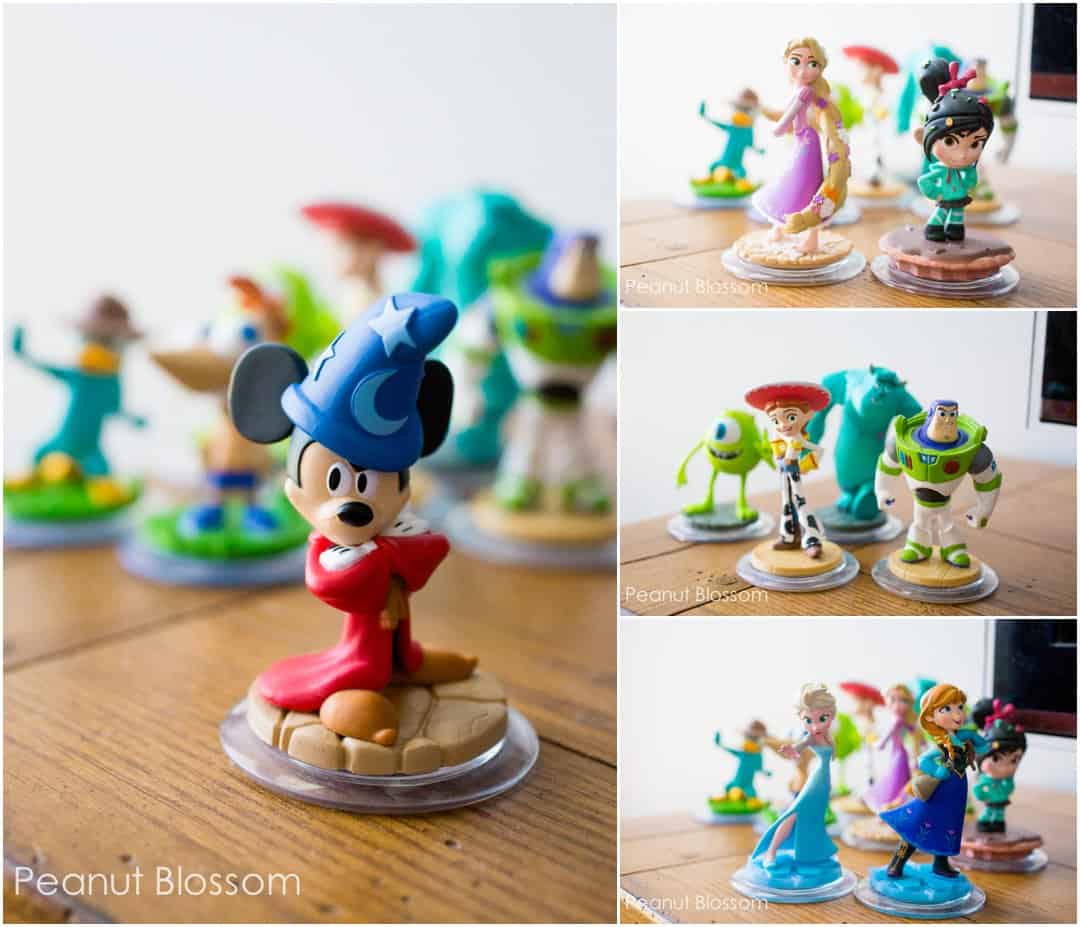 Disney Infinity Parents Guide to Getting Started:
Step 1: Determine your gaming platform
To play Disney Infinity, first you need a gaming console. The game has versions that are compatible with Wii U, Xbox, & Playstation. Which of those consoles is best for your family is discussion enough for an entire post by itself.
What I can tell you is this:
Our family has an old Wii, not the current Wii U. It turns out that ONLY Disney 1.0 is compatible with the OLD Wii's.
Disney Infinity version 2.0 & 3.0 will only work on the NEW Wii U platform.
What does that mean? It means that we can play version 1.0 on our current console but if we ever want to play 2.0 or 3.0 we need to upgrade our video game player. If you do not currently own a video game console, definitely consider the Wii U. (We're hoping Santa comes through and brings it for our family.)

Step 2: Determine which version of the game you want
There are three versions of the games currently available:
Disney 1.0 Starter Set with Sulley, Mr. Incredible, and Jack Sparrow (The oldest version.)
Disney 2.0 Starter Set with the Marvel super heroes: Thor, Black Widow, and Iron Man
Disney 3.0 Starter Set with the Star Wars characters Ahsoka Tano and Anakin Skywalker (The newest version.)
Even if you don't like the figurines that come with the games, you need to pick one of those starter sets in order to play.
The starter sets will include:
a flat base that connects the figurines to the game console
2-3 characters
a settings piece that opens up the worlds for the characters to play in
the video game disc itself
The remote controls you need to play are the same ones that came with your game console in step 1.
For us, we started with version 1.0 because it was compatible with our old Wii. If you have a console that works with all the versions, you probably want to start with version 3.0 because all the figurines currently available will work with the 3.0 game.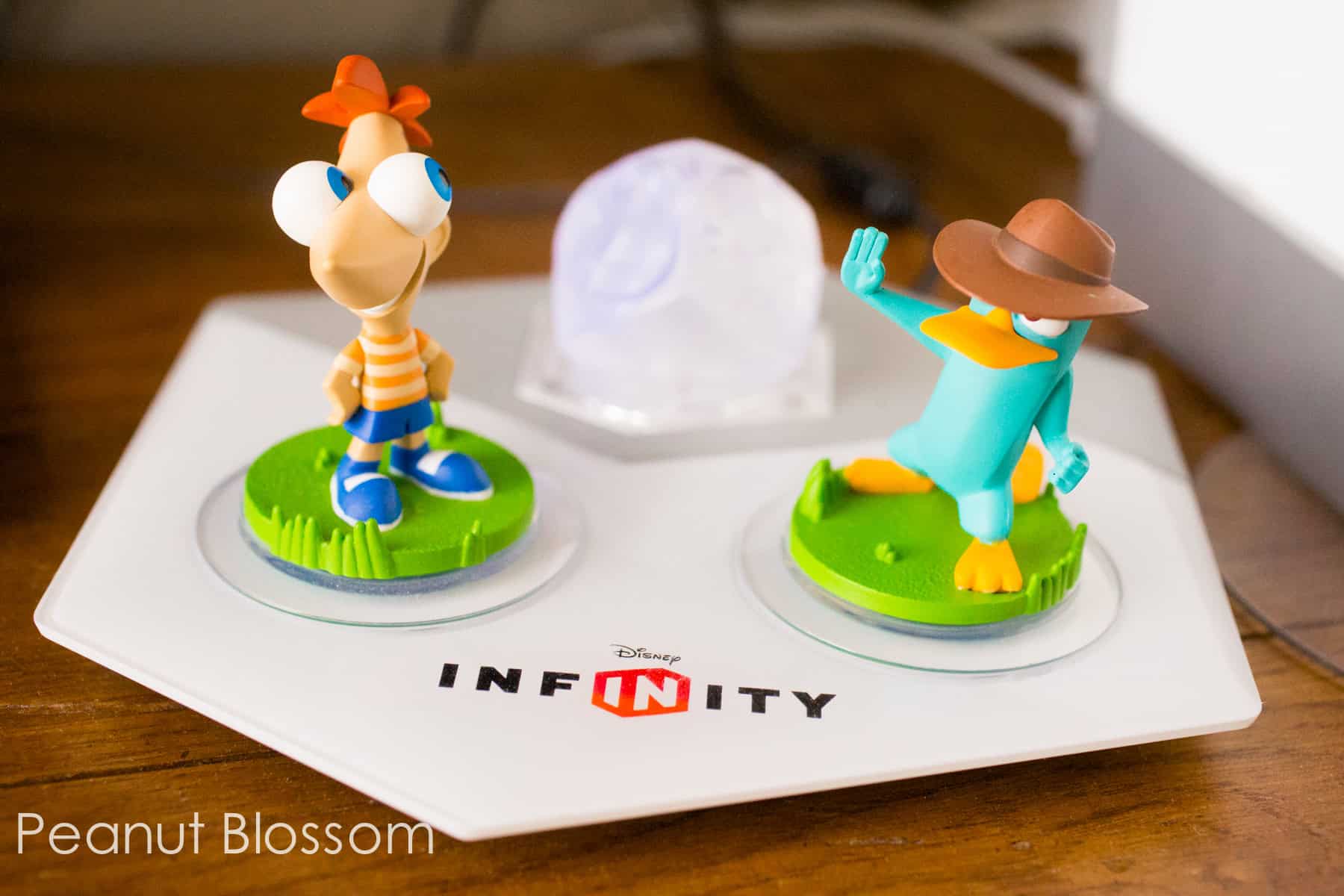 Step 3: Understanding the figurines
Each version of Disney Infinity was released with additional characters you could buy. The containers are clearly marked which version they belong to.
All the older characters will work on the newest version but the newest characters will not work on the older versions. That means that if you have a 1.0 character, it will work on all 3 versions of the game but if you have a 3.0 character, it will ONLY work on 3.0 and NOT on 2.0 or 1.0. Likewise, version 2.0 characters will only work on 2.0 and 3.0.
This only matters if you are buying an older version of the game. If you have the most current version, any Disney Infinity character will work on your game.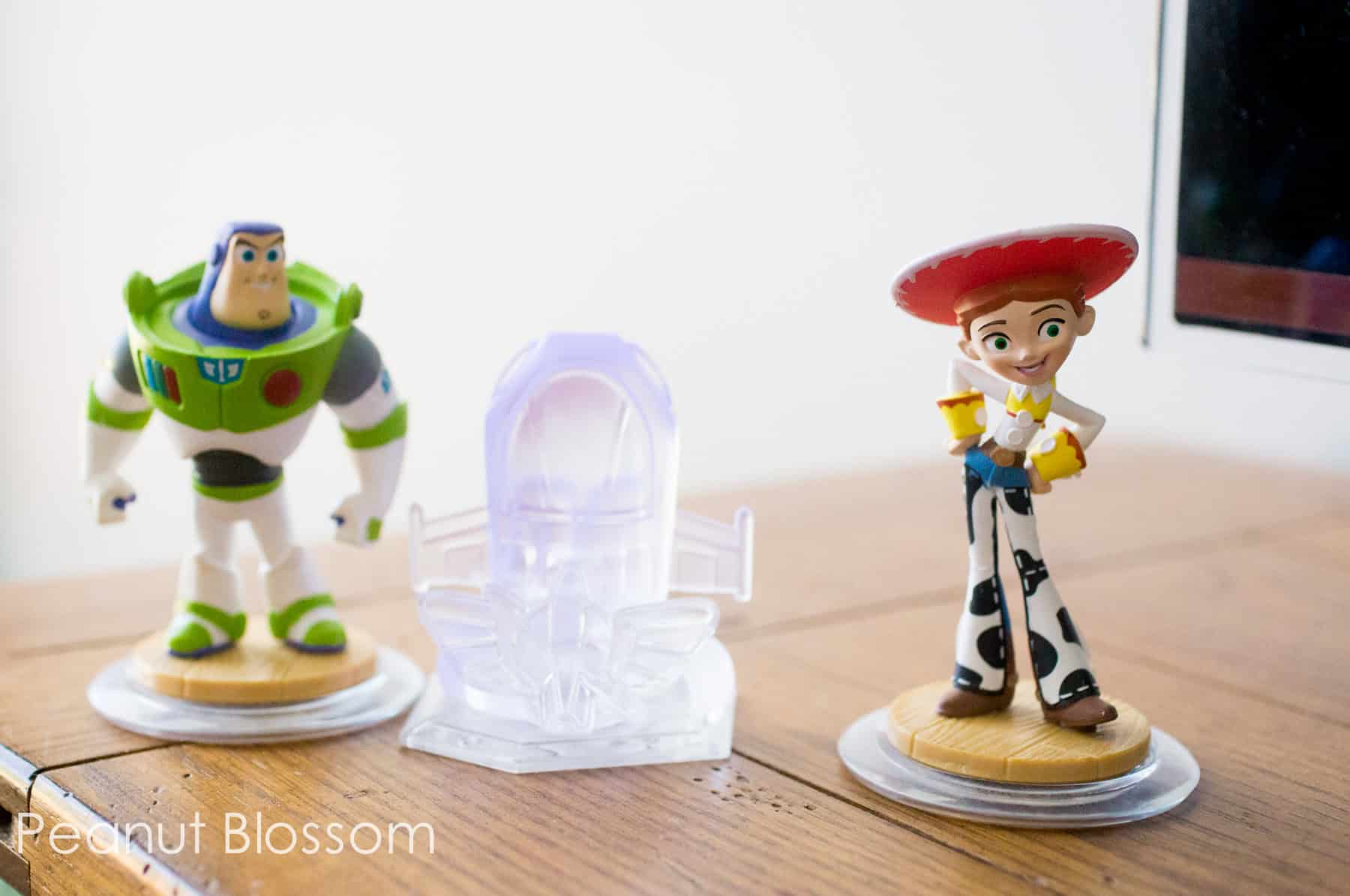 Step 4: What are the Play Sets or Toy Box Sets?
As you shop for characters, you will notice a few sets that combine 2 or more together. You can save a little money by buying the set if you like all the characters in it vs. buying them individually.
The PLAY SETS come with a special settings piece that unlocks new worlds for the characters that is only available for purchase as part of the play set.
A TOY BOX SET comes with special power discs that unlock features within the toy box section of the game.
Current examples of the Play Sets are:
Current examples of the Toy Box Sets are:

Step 5: What is the Toy Box?
Once you start playing Disney Infinity, you will notice 2 sections for the game. This was the hardest part for me to figure out.
The Toy Box section allows free play to build and create anything your child can imagine. It is similar to Minecraft but with Disney themed objects. My daughters were initially frustrated because they thought it would be more like a traditional video game with challenges to overcome and points to earn. But once they figured out how to build things, they had a fantastic time running characters through their built up worlds.
The other half of the video game is character-specific worlds with traditional video game challenges: road racing, hunting for hidden objects, etc. To access the character specific worlds, you need a character from that world to enter. For example, to enter Monsters University's campus, you need Mike, Sulley, or Randy.

Step 6: What are the Power Discs?
Power discs are not a necessary element to playing Disney Infinity. Rather, they unlock specific scenery controls, special powers, certain objects or characters, etc. They are stackable and can be used in groupings.
You can see a small example of the kinds of sets available here: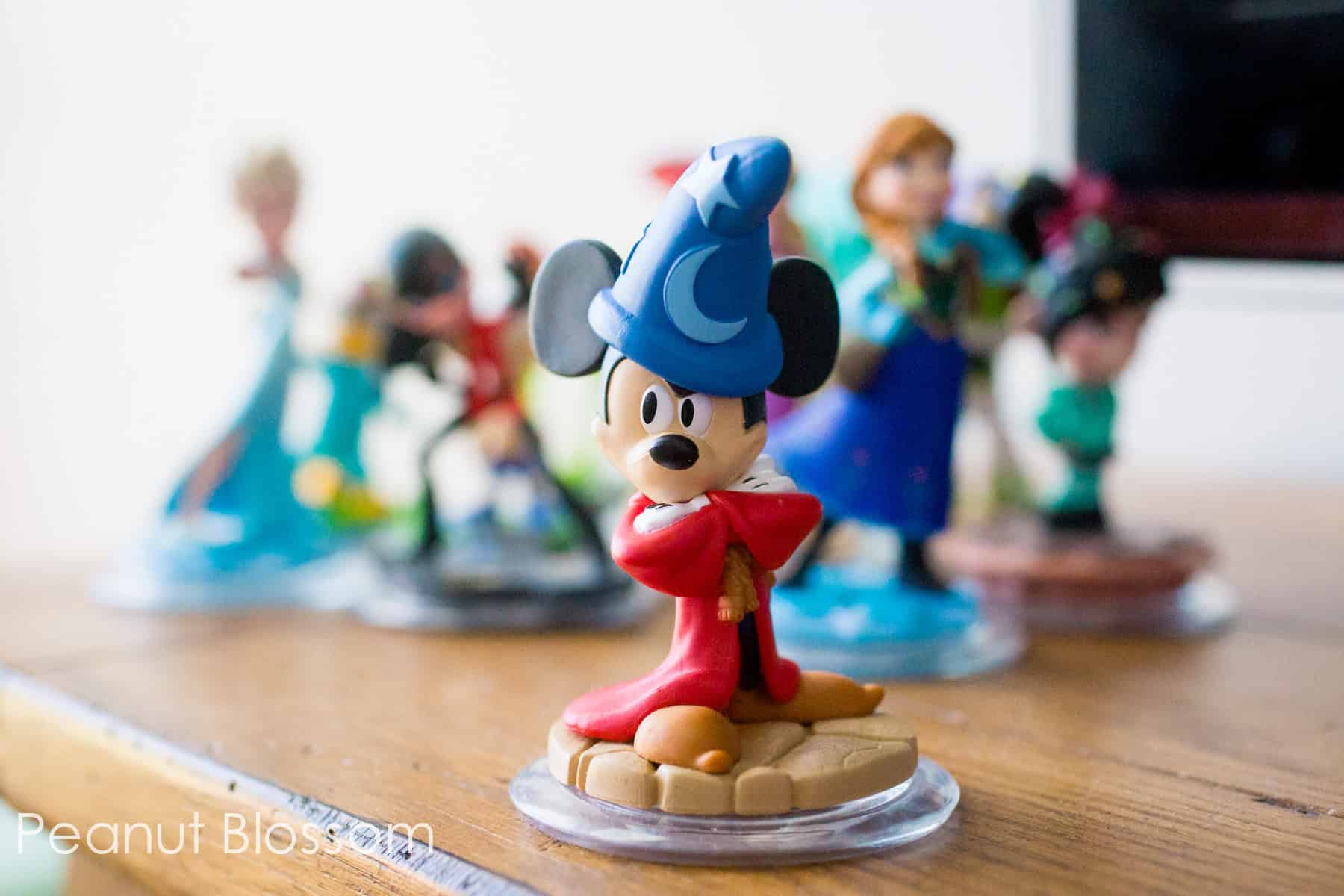 Notes from mom on Disney Infinity:
While I can only speak from experience on version 1.0, I have been very pleased with the game for my two girls. The Peanut at age 8 has much more fun with it than Little Pea at age 5. Their favorite characters so far have been Phineas, the Frozen sisters, and Buzz Lightyear.
When they play in the Toy Box there is zero violence to the game. It is playful, imaginative, and they love how they can mix 2 characters from different movies in their imaginary scenes.
In the character worlds, there can be a little more traditional video game violence: characters getting hurt during their adventures or attacked by the bad guys. There are some weapons available and combat scenes. The tamest play scenes we've encountered so far are in the Toy Story set.
If you are not comfortable with even mild scenes of violence, this is not the game for your family. That said, there is no blood or anything gruesome that we have encountered so far. If your family has watched The Incredibles movie, you likely won't find anything more intense than that in the game.
Disney Infinity Shopping List:
Are you ready to take the leap? Get started with suggestions from our shopping list:
A Gaming Console: I recommend this one, buy it here.
Disney Infinity Starter Set: I recommend this one but be sure to buy the one that is compatible with your console (Wii U vs. Xbox One vs. Xbox 360 vs. Playstation 3 vs. Playstation 4).
(Optional) A few additional characters: I recommend these or this one. All characters are compatible with all the consoles.