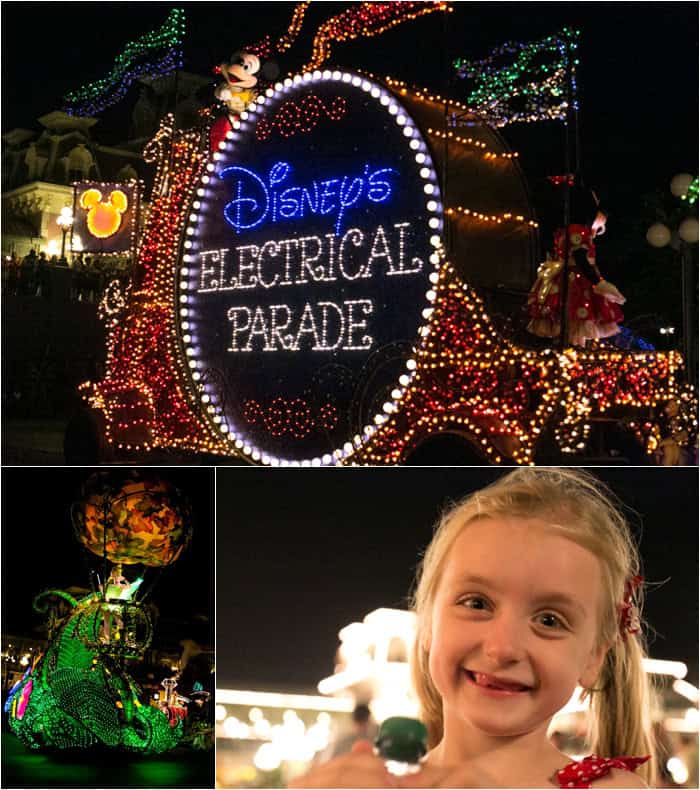 Disney vacations are just as much about reliving precious memories from your own childhood as they are making new ones with your own children. One of the things that has taken up permanent residence in my memory bank is Disney's Electrical Parade. It nearly killed me to have to skip seeing it during our first visit as a family in 2012 but the girls were just too young.
When we made our second trip in 2013, it quickly elevated to one of the top positions on my Must-See list. But there was one major glaring problem -- Little Pea was still only 3 years old and the Peanut just 6. There was no doubt that Little Pea was going to have to skip the late night event and I wasn't sure how the Peanut would hold up, if at all.
Spoiler: We went and it was AWESOME. Now 2 years later, the Peanut still talks about this as one of the highlights of her life.
Our plan? Divide and conquer. Handyman Tim suggested that he stay back at the hotel and watch a movie with Little Pea while the Peanut and I headed back to Magic Kingdom for the most epic Mommy Daughter Date of all time.
The experience was so incredible, I'm now a confirmed believer in spending one on one time with your kids during family vacations. You can read all about my thoughts on this over at Melissa & Doug (as well as see what Tim chose to do for his Daddy Date with her the next summer.)
So I'd love to share how we made the most of our special time together that night and our best Disney Electrical Parade tips.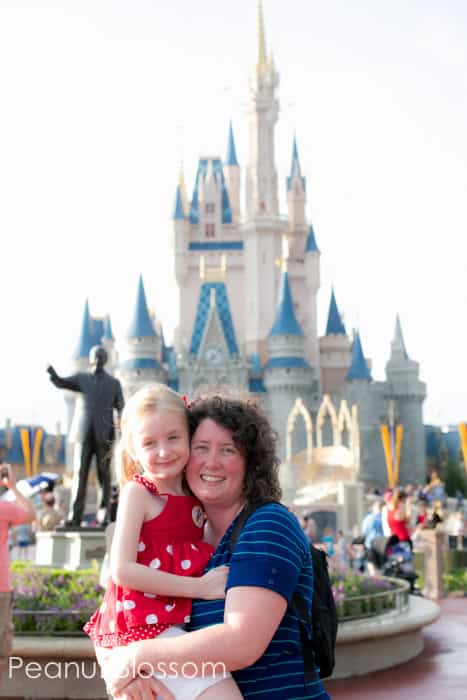 1. Nap, Nap, Nap!!!: I told the Peanut that if she wanted to be able to come with me that evening, she had to rest in the afternoon. Disney power naps are crucial to everyone's happiness. We darkened the hotel room at 2 pm and got back up at 5. We enjoyed a simple dinner at the hotel before hopping a bus back to Magic Kingdom. The time stamp on that photo of us together says 7:08 pm and we had just walked up Main Street towards the castle.
2. Keep it short: The idea is to not exhaust your young child (or yourself). We spent the majority of the day as an entire family, it was just a short pocket of time for us to be together on our own. By arriving at the park by 7 pm, we had just enough time to do a ride or two before parking ourselves on Main Street.
3. Look for the magic: When there are just the two of you, it is SO much easier to slow things wayyyy down and be mindful of the Disney magic around you. Stroll slowly and talk to each other about the details you find in the park. We were blessed to stumble across this gorgeous rainbow spotted as we were standing near the castle. Since our agenda was light, we took the time to stop and capture several photos. It remains one of the brightest rainbows I've ever seen!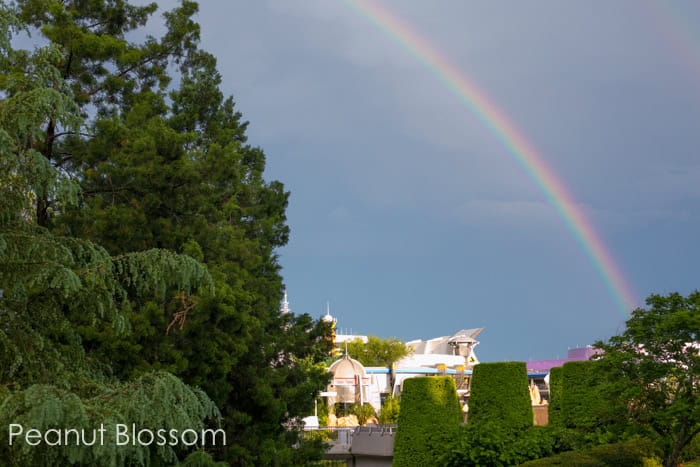 4. Enjoy Main Street before the sun sets: This area is so much more than just the entrance to the rest of the park. Main Street IS Disney to me, just as much as the castle is. And yet, we get so caught up in rushing off to the rides, I feel it gets short changed. By 8:00 we were heading into the Main Street Confectionery to get special treats for parade viewing. The Peanut picked cotton candy--blue, her favorite. We also stopped to chat with the balloon handlers who kindly offered to let her pose for a photo holding the balloon bundles.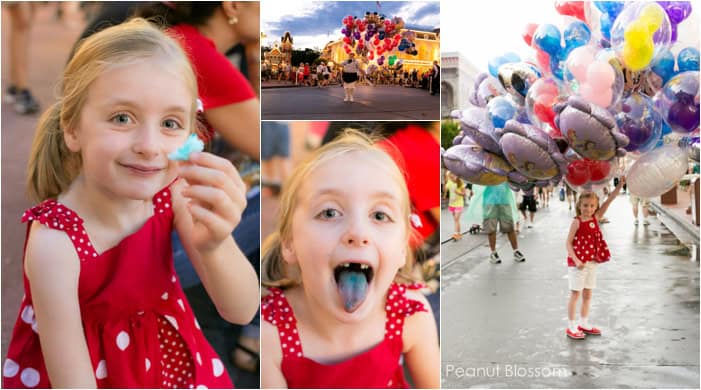 5. The perfect spot to sit: At 8:20, we still found perfect curbside viewing in the main square right outside of the confectionery. We didn't mind resting her little legs and using that pre-parade time to just be together and chat. I honestly think this was the part of the evening she remembers the most: Just the two of us sitting on the curb sharing cotton candy and people watching. But, if you don't want to sacrifice the time to sit and rest, I highly recommend Fast Passing seats in the Town Square. (We did this during our most recent trip this spring with the whole family and it was wonderful to just walk right up at the last minute and not have to be crowded in on the parade route.)
6. Exit Strategy: The best part about securing spots so near to the entrance of the park is that you can beat the rush to leave the park when the parade is over. The parade starts in the Town Square and then heads up Main Street towards the castle. Once the last float passes you buy, you can stand up and walk out with just a very small crowd in front of you. At age 6 even with a power nap, my little lady was so more than ready to go. She fell asleep on my shoulder on the bus on the way home.
I love that the Peanut and I have this sweet memory that we share. It makes viewing the Electrical Parade that much more magical for me.
Do you have a favorite childhood Disney memory that you can't wait to share with your kids? What is it?
Looking for more Disney tips and vacation planning advice?
Be sure to check out our very best tips in the FREE guide here: