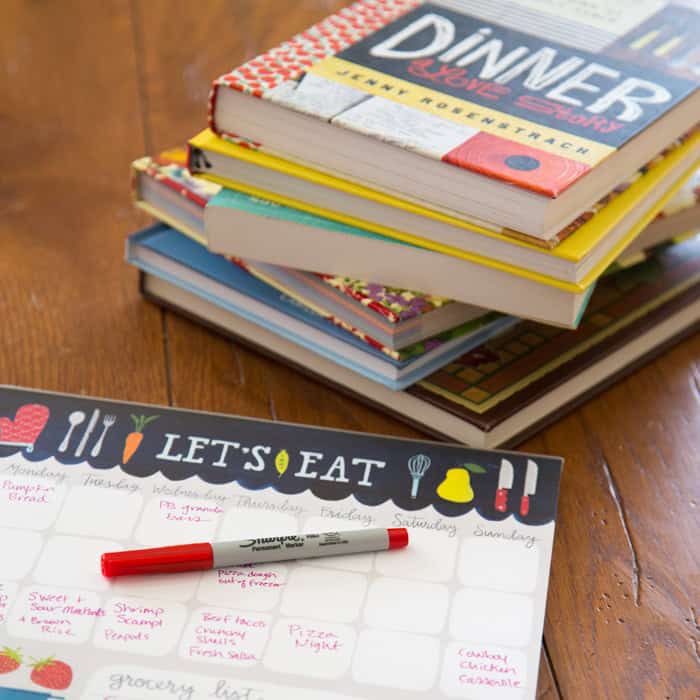 If you've followed along with my foodie adventures for any length of time, you've probably encountered me gushing over Jenny Rosenstrach's fantastic book, "Dinner: A Love Story." DALS (as her book is known by her devoted fans) is more love letter than recipe resource, but it has been a phenomenal inspiration to me as I try to feed my family and bring them around the dinner table at the end of the day.
When Jenny put a call out for reviewers to check out her next book, "Dinner: The Playbook" I leaped at the chance. I was thrilled to be selected as part of a team of 50 bloggers to take a sneak peek at the book and participate in a condensed version of her 30 Days of Dinner Challenge.
We were asked to make three brand new recipes for our family and share our results. When the book arrived, I couldn't wait to get going. I even dragged it with me to the swimming pool for a little leisurely reading:
As much as I adored her first book, this second one is a home run. It is far more strategy, how-to, and recipe inspiration. Jenny is the Queen of the Deconstructed Dinner so families with picky eaters will find her strategies particularly helpful.
The dates for the challenge fell during one of Handyman Tim's business travel weeks. I was left to my own devices with just the kids and myself to feed. To me, this was the perfect week for a challenge. When Tim is gone, we resort to mac & cheese, frozen pizza, or hot dogs far too often. Facing the dinner battle alone is often too much for me to bear. I figured if Jenny's recipes could get me cooking on the worst kind of night, then they were truly miracle workers.
And miracle workers they were. I meal planned ahead, shopped once, and couldn't use the "nothing's in the fridge" excuse. I tried her tricks of getting dinner going in the morning so things came together especially quickly when I was exhausted at the end of the day. That said, the Peanut was the only one willing to experiment with mommy's challenge. Little Pea was left to eat whatever carb + protein I managed.
For the three recipes we tested, I'm sharing only my thoughts and the Peanut's reaction. They are probably closer to what you'll experience in your own home because hopefully, you don't have as challenging of an eater as Little Pea!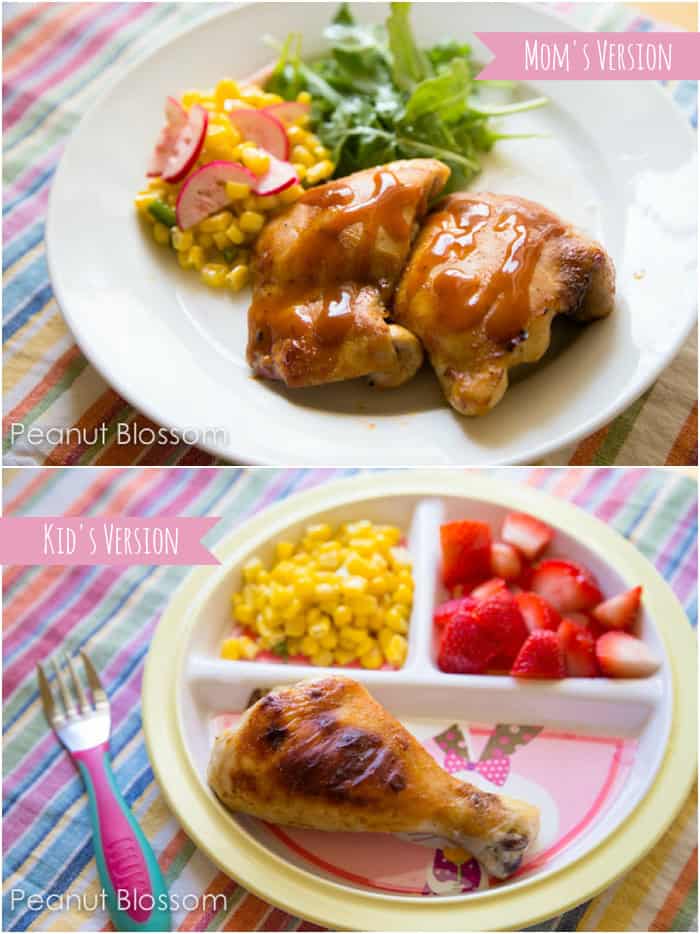 Night 1: Basic BBQ Roasted Chicken
The Peanut's favorite food in the world is chicken legs. To get her on board with our experimentation, I picked this one first knowing she'd have something on her plate she couldn't wait to try.
I couldn't find bone-in thighs and substituted boneless, skinless ones. Not the best idea. I think they would have been better with a crisped up skin. But dinner came together from start to finish in 30 minutes. I paired it with my favorite corn & radish salad, some fresh fruit for the girls, and arugula tossed with a homemade vinaigrette I already had in the fridge for me.
Mom's Grade: A- Definitely make it again, use a bone-in thigh next time.
Peanut's Grade: A+ because CHICKEN LEGS!!

Night 2: Shrimp Rolls
I took one look at this recipe and HAD to try it. The Peanut is obsessed with shrimp and it is a rare treat around here. I had hopes that maybe she'd be adventurous enough to try it mixed in with the veggies, dressing, and topped on a toasted, buttered hot dog bun.
Unfortunately, the filling mix was an absolute no-go for her. There was too much skepticism. But thanks to Jenny's Deconstructed Dinners strategy I was smart enough to have left some of the shrimp whole and not mixed into the filling. The Peanut was giddy to have such a pile of shrimp on her dinner plate and just requested the bun plain and on the side like a bread roll.
Trying not to be wasteful, I paired it with leftover corn salad for me along with some freshly sliced tomato from our farmer's market. It was the easiest, yummiest summer dinner! I could easily see making this again for myself and just serving up the shrimp on the side for the Peanut.
Mom's Grade: A+ I'm drooling as I write this review and want leftovers stat.
Peanut's Grade: A+ because ALL THE SHRIMP!!

Night 3: Pasta with roasted tomatoes
This updated version of buttered noodles features a healthier twist with the fresh tomatoes. Have you ever tried roasting them? They are just like Candy! I swear. Jenny called for spinach to be tossed in too but I knew that would be a deal-breaker for too many at our table. Even just the tomatoes are pushing it. Baby steps, I guess.
Again, trying not to be wasteful, I topped our pasta with leftover shrimp from the night before. The seasonings on it went perfectly with the simple pasta dish and boosted the meal with a little extra protein.
Mom's Grade: B+ This will be made in countless variations a million times over the coming years, I personally like a little more adventure with my noodle.
Peanut's Grade: Only just an A because no chicken legs but yes shrimp. Ha.
Little Pea's Grade: Yes! She actually ate this one! A+ because noodles and parmesan for the win!
So if you're already chomping at the bit to get "Dinner: The Playbook" in your kitchen.

Peanut Blossom was selected to review Dinner: The Playbook as part of the promotion of this new publication. We received an advanced copy and compensation for groceries in exchange for sharing our thoughts on the recipes in the book.