Book Club Kit for Delicious by Ruth Reichl includes a book club discussion guide and party menu.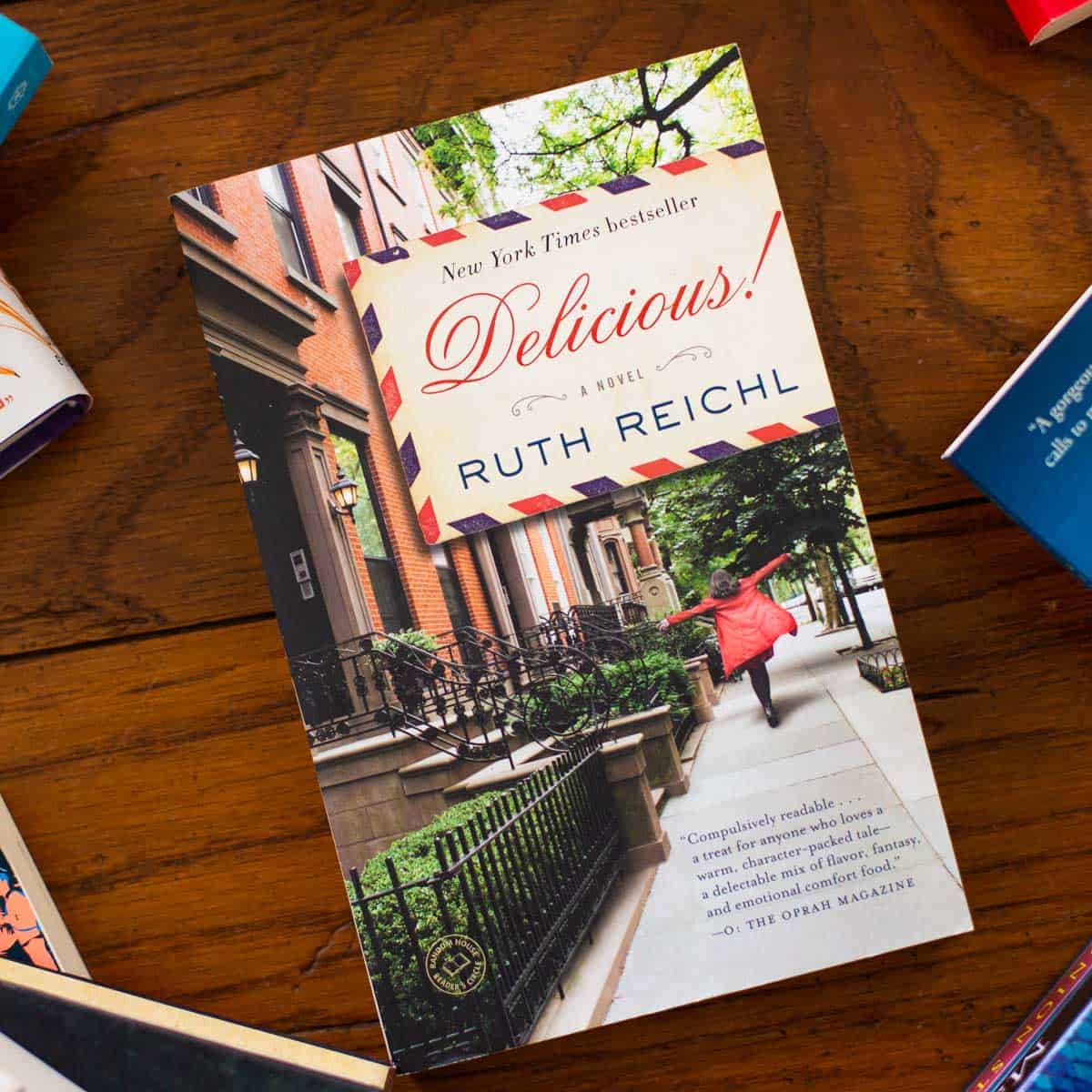 I confess that I started the Peanut Blossom Book Club for Recovering Readers as a way to ensure that I make time for reading myself.
Without our lovely group, it is quite possible I'd read less than 1 or 2 books in any given year.
Last fall I got ambitious and tried to read an 'in-between' book pick. I got several chapters in and loved it but had to pause to get to the official monthly pick by our deadline.
You can guess what happened next. . . that book is still sitting on my shelf unread.
Since I loved the first few chapters so much and want to see how it ends, I chose Delicious by Ruth Reichl as our November pick.
This cute foodie-centric book feels like just the right choice as we head into some of the biggest foodie holidays of the whole year!
Peanut Blossom Book Club
This book was our official November 2016 pick for the Peanut Blossom Book Club.
Want to see what we're reading today? Check out our book club book list here.
Want Free Reminders for Each Book?
Sign up for my book club newsletter right here:
What is Delicious About?
"Ruth Reichl is a born storyteller. Through her restaurant reviews, where she celebrated the pleasures of a well-made meal, and her bestselling memoirs that address our universal feelings of love and loss, Reichl has achieved a special place in the hearts of hundreds of thousands of readers. Now, with this magical debut novel, she has created a sumptuous, wholly realized world that will enchant you.
Billie Breslin has traveled far from her home in California to take a job at Delicious!, New York's most iconic food magazine. Away from her family, particularly her older sister, Genie, Billie feels like a fish out of water—until she is welcomed by the magazine's colorful staff. She is also seduced by the vibrant downtown food scene, especially by Fontanari's, the famous Italian food shop where she works on weekends. Then Delicious! is abruptly shut down, but Billie agrees to stay on in the empty office, maintaining the hotline for reader complaints in order to pay her bills.
To Billie's surprise, the lonely job becomes the portal to a miraculous discovery. In a hidden room in the magazine's library, Billie finds a cache of letters written during World War II by Lulu Swan, a plucky twelve-year-old, to the legendary chef James Beard. Lulu's letters provide Billie with a richer understanding of history, and a feeling of deep connection to the young writer whose courage in the face of hardship inspires Billie to comes to terms with her fears, her big sister and her ability to open her heart to love."
Go grab a copy of Delicious here.
Delicious Book Club Questions
I believe the best book club questions to spark a lively discussion in your group help readers make personal connections to the story.
You can read about how to write the best book club questions on your own here, but hopefully these will get you started!
Question 1:
What did you think of this month's pick? Would you have picked it for yourself?
Question 2:
Billie writes about Fontanari's as if it is a "way of life."
Do you have an establishment that you would describe similarly?
What is it and how does it make you feel? Share a link to their web site if you can so we can check it out!
Question 3:
Mrs. Cloverly's disastrous concoctions are even funnier because she's unfazed by failure.
Have you encountered such a cook? What is the most unappetizing dish you've ever been served (or maybe made yourself!)?
Question 4:
Diana's and Sammy's friendships help the formerly contained Billie become more confident.
Has a friend ever given you the courage to be more fully yourself? In what way?
Question 5:
Rationing during WWII changed the way Americans ate.
What would you make if you had no butter, meat, or dairy?
Question 6:
If you had a victory garden, what would you grow?
Question 7:
Lulu finds solace during hard times by cooking with Mrs. Cappuzzelli and for her mother.
Can you remember a meal that helped you get through a difficult time? Who made it for you and what did they make?
Question 8:
Which character or plot line did you enjoy most from Delicious? Why?
Book Club Party Menu
For the book club party menu, have a New York dessert party with these delicious treats:
You May Also Enjoy
If you enjoyed this book, you'd likely enjoy these other fun book club picks for foodies from through the years: