I'm sharing #lobsterworthy moments in my life as part of a Red Lobster sponsored series for Socialstars™.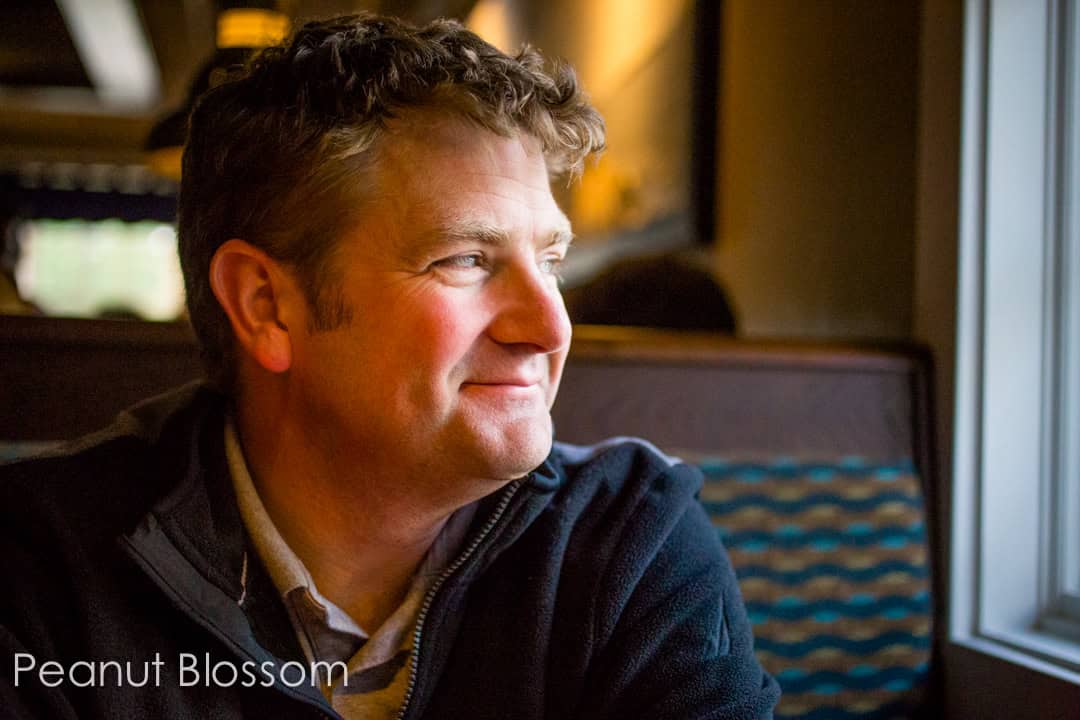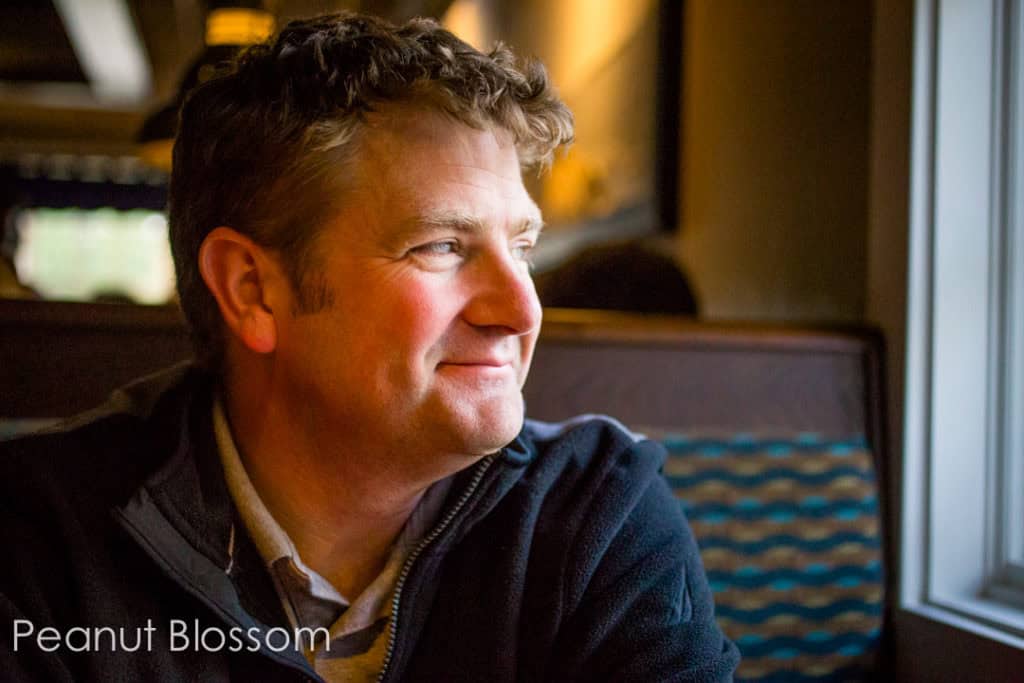 Date nights: Kind of like a rare unicorn with a sparkly rainbow mane, right?? I don't know about you, but it is just not often enough that my guy and I get out on the town sans kids. We've tried to make it more of a priority but dang doesn't life gets in the way?! Babysitters, work schedules, kid activities, and just plain exhaustion by the end of the week: it is HARD to date your husband.
Squeezing a date night into that whole mess just feels . . . daunting. Finding time for a consistent date night is something I just can't seem to figure out how to make work. And yet? When it happens, I always vow that we need to do it more often!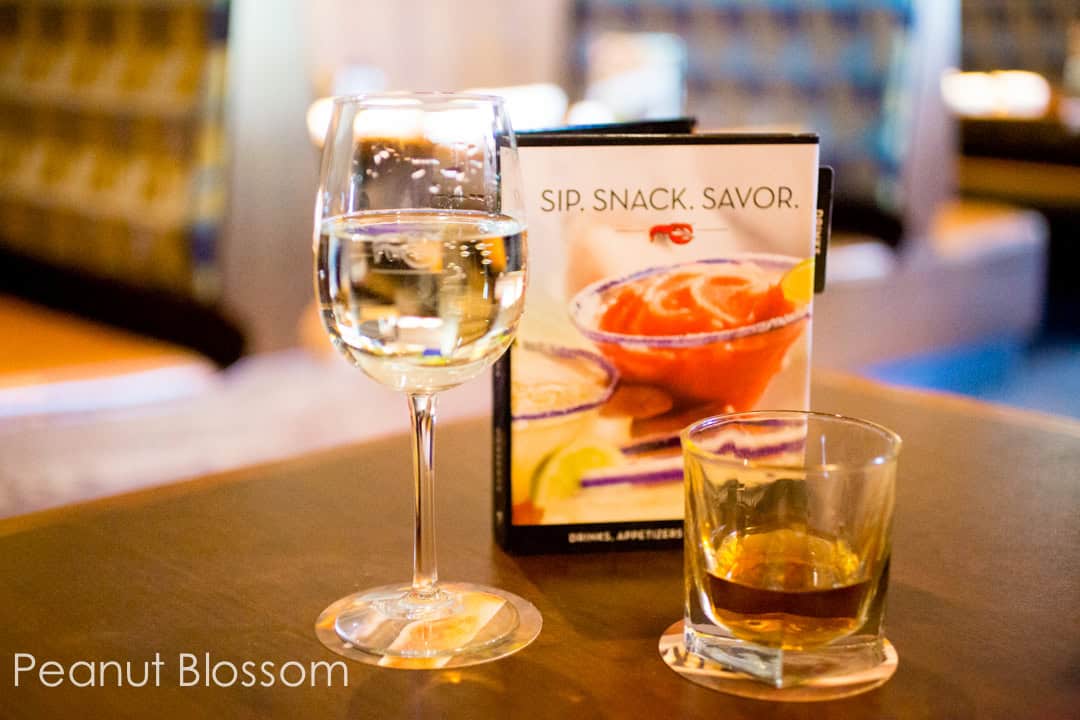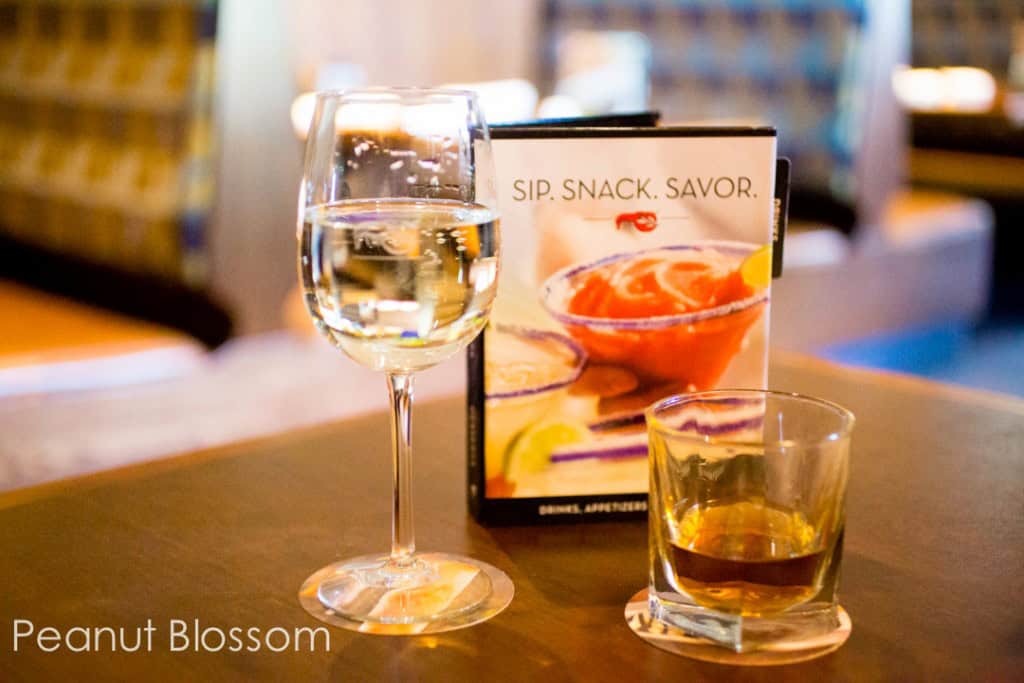 Last Friday in a fit of "We're not dead yet, we need to go OUT!" energy, I insisted Handyman Tim get home from work early so we could head out for dinner. It doesn't take much to make me happy, a couple of drinks to toast our week, a crazy appetizer the kids would NEVER touch, and not having to stop to cut up anyone else's food: BAM. Happy mama.
Tim and I headed to Red Lobster because I've been dying to try one of their shrimp or lobster filled appetizers. Funny fact: when we first got married, I seriously disliked all kinds of seafood. That man of mine, dragged me out to Rhode Island right after our wedding in 2001 and it took TWO YEARS for this midwestern girl to finally come around. Just as we were leaving RI to return to the midwest, I had turned into a hardcore fishy lover.
Through that whole experience until now? Tim has been adamant about not liking shellfish. That's right, the man who introduced me to and instilled a great passion for fish won't touch a shrimp, crab, or lobster with a 10 foot pole.
. . . until last Friday night.
I've been trying to eat more healthfully lately and eagerly ordered the Crispy Shrimp Lettuce Wraps, crispy shrimp tossed in soy-ginger sauce topped with jalapeños and served with fresh lettuce cups. Look how amazing they are: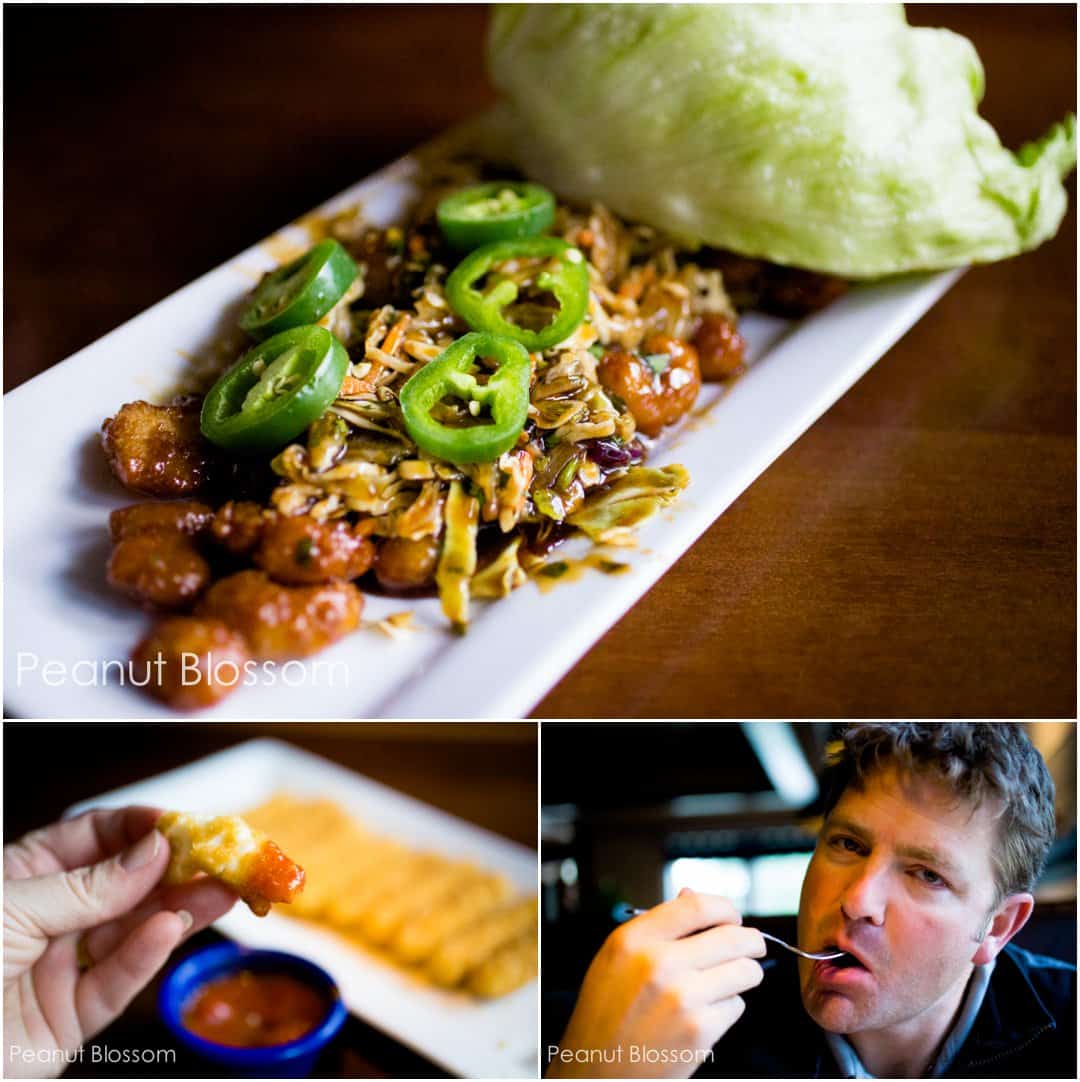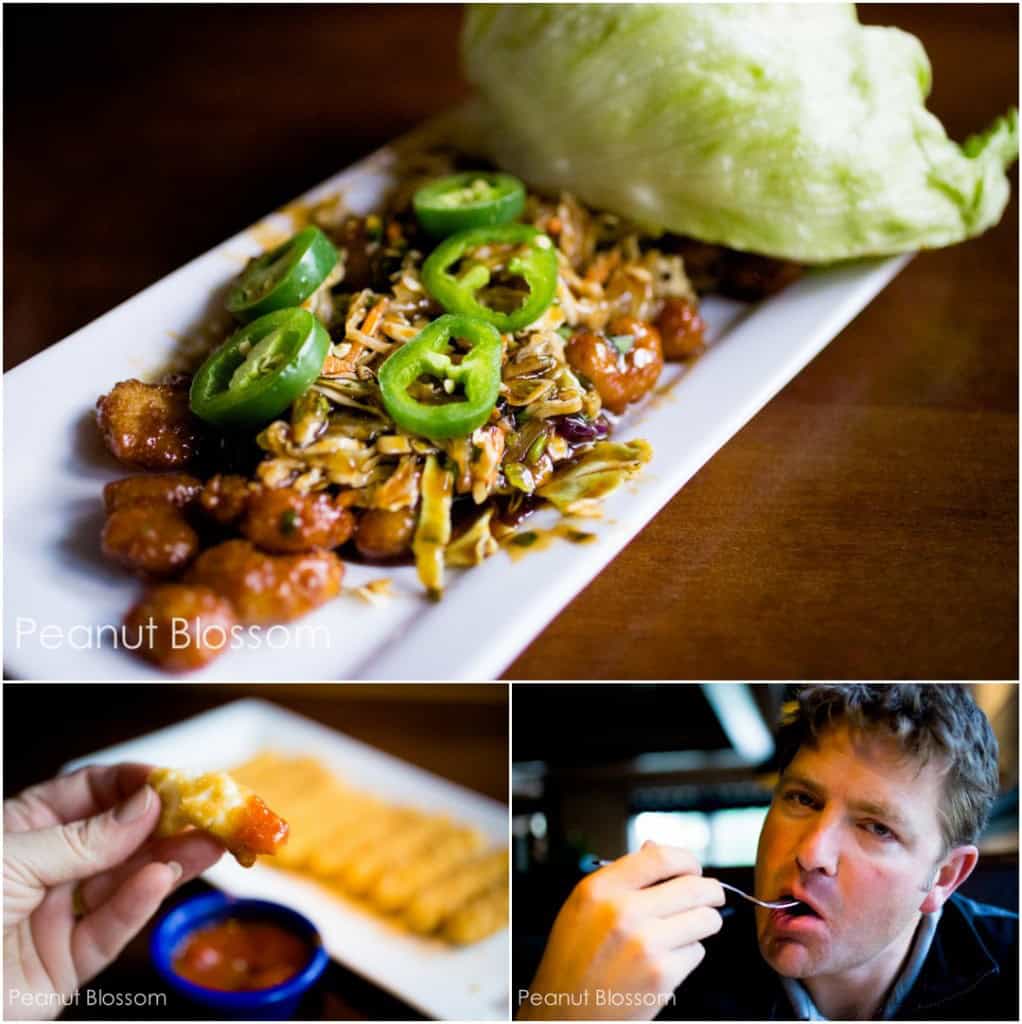 And to keep his options safe and predictable, Mr. Anti-shellfish ordered the mozzarella sticks. But when our appetizers arrived, apparently he was feeling a little bit on the Wild Side and stabbed himself a shrimp to FINALLY try it out!!
I nearly fell right out of our booth! The verdict? He begrudgingly admitted it was pretty tasty but I swore to not tell the kids he had branched out just yet. . .  Parents have to keep some secrets, don't we??
To keep things fairly light, I ordered these yummy fresh tilapia tacos for my entree. The fish is lightly seasoned and grilled and the tacos are filled with oodles of fresh veggies.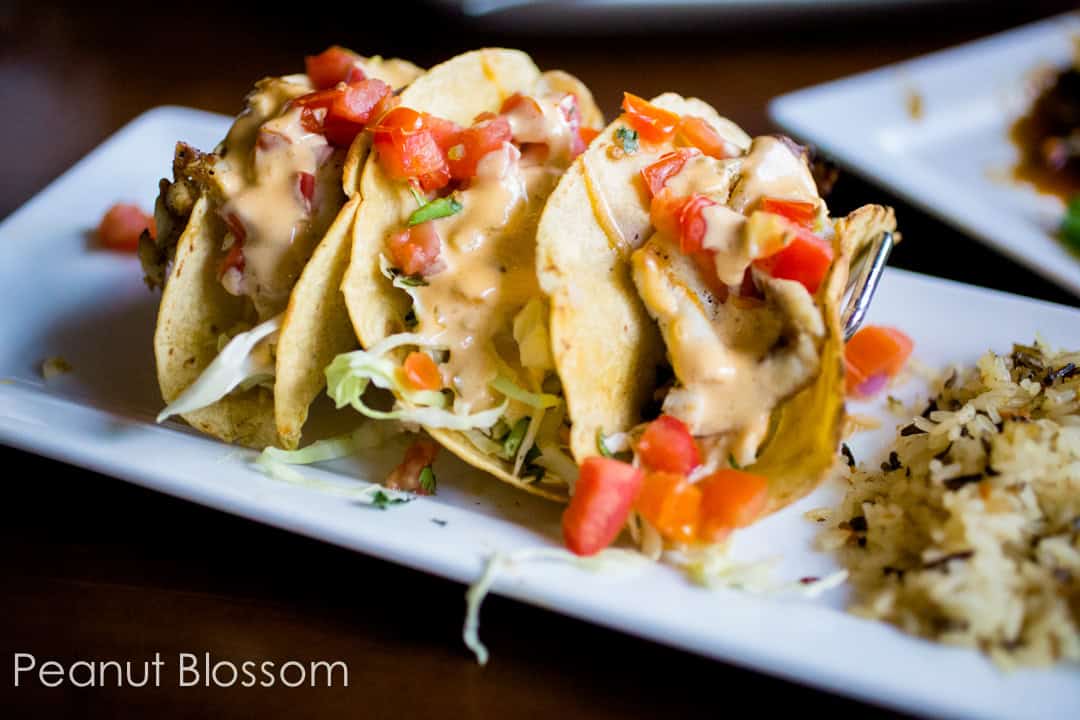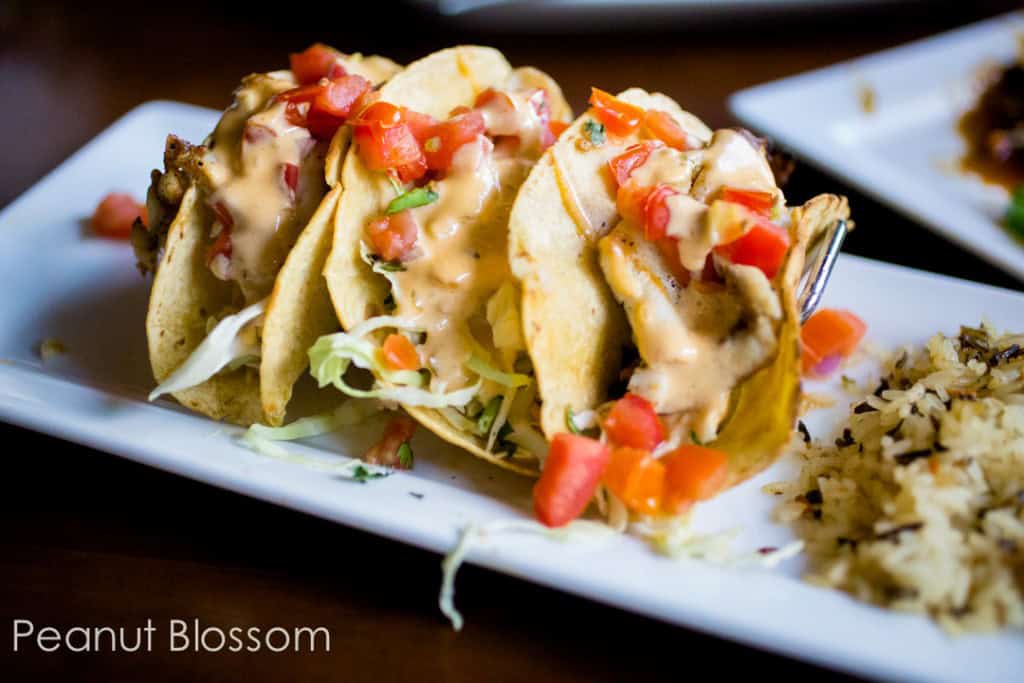 Our whole date night out lasted about 2 hours, including travel time, but I am amazed at how it recharged me from the week. As we were leaving the restaurant I jokingly mentioned we should document that it actually happened and Tim was game:
The truth is, I look at that picture and I see a more relaxed Tim and Tiffany than I've seen in a very long time. And it took just TWO HOURS (and a couple of cocktails and appetizers) to get those legitimate smiles. I'm not dressed up fancy (there's jeans and Keens just outside that photo frame) but I took time to actually slap on 2 minutes worth of make up and a new red lip gloss before we left the house.
That simple cell phone selfie is getting printed and added to our bedroom wall gallery asap. It will be the first new addition to the wall gallery in almost a year. THAT is a sad fact in and of itself. Seriously?? A whole year has gone by without one photogenic moment for the two of us? We really do need to make an effort to spend more "us" time together!
In order to make that happen, I'm making a list of 5 reasons you should get out without the kids asap. This list is just as much a reminder for ME as it is for YOU.
5 reasons to date your husband that only moms will understand:
He's funnier than you remember. When work is dragging him down and home life is surrounded by little ears that require filtering of vocabulary, it can be hard to see the funny guy you married. My guy can compete for a stand-up comedian when he's free to say what's on his mind, minus the kiddie filter.
He'll branch out and try something risky when the kids can't see him fail. What dad wants his kids to see him spit out a new food he tried but discovers he truly hates when everything is about convincing them to not be picky eaters?? A little risk? Very sexy.
You will have his full attention. Anyone else dealing with interrupting kids?? Seems like lately we can't get through a single conversation without someone tiny butting in. It felt darn near LUXURIOUS to be able to complete full thoughts and sentences.
You don't have to be the taxi driver. I spend my life behind the wheel of my car driving kids to and fro. Date night? I get a full fledged driver and door opener. It's the little things! Bonus points: We get to listen to music that has all the dirty words.
Date Night Selfies: I say we make this a thing. When the kids are around, they are our focus. They fill our photo frames. Without them around?? Hey, we're a good looking pair! Even if you have no intention of sharing publicly on social media, you deserve to have some fun snaps with you and your hubby. I'm a little shocked how cute ours turned out.
Hint: Hold that camera WAY UP over your heads and stick your chins towards the phone! Instant Fountain of Youth. 🙂
So if you and your sweetie need a quick and easy night out, I highly recommend a visit to Red Lobster during Lobsterfest. Be sure to share your lobster worthy moments to social media with the hashtag: #lobsterworthy!