We finally finished our little Valentine's crafty project! Instead of a single afternoon, it did end up taking about a week with my little helper. I'm happy to finally be able to show the result and tips on how to make one yourself.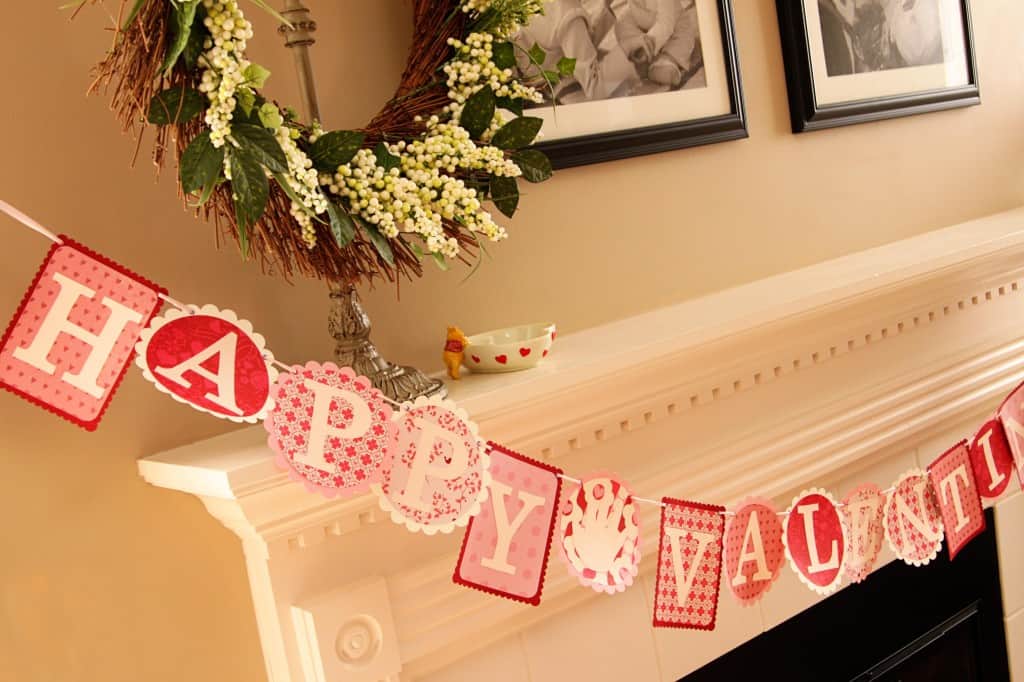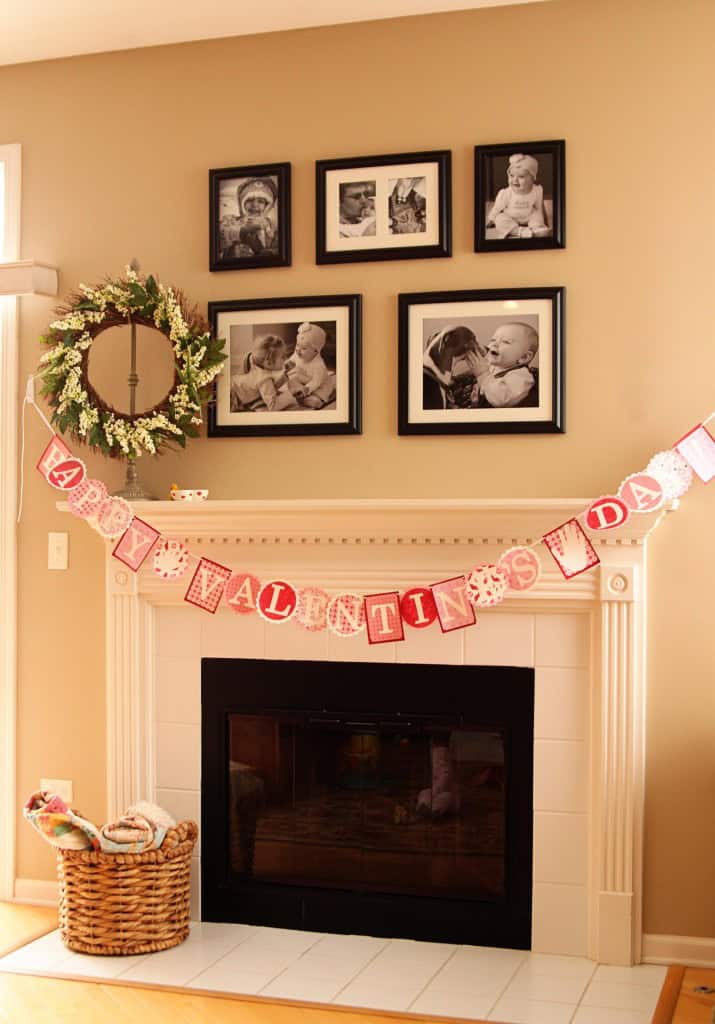 Materials:
- Die-cut scalloped cardstock shapes approximately 5 inches in diameter/width. I found ready-to-go cards at my local scrapbook store and chose solid ones in pink, white, and red.
- 6 sheets total of 12 x 12 scrapbook paper each one in different but coordinating patterns.
- 3 sheets of solid cardstock. I chose a very pale pink.
- Mod Podge
- sponge brush/applicator
- paper trimmer, circle trimmer, corner rounder: scrapbook tools. I used all Creative Memories products but whatever you have or can find will work.
- scissors
- pencil
- spool of thin ribbon or baker's twine
- hole punch (or if you're crazy like me, you can use metal grommets)
- computer/ printer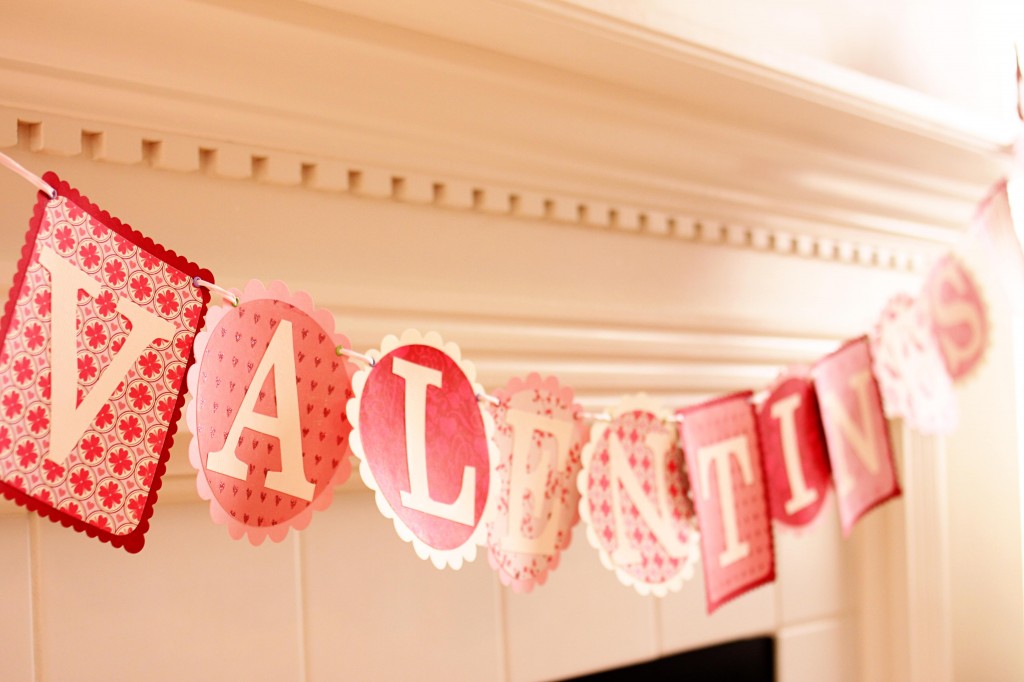 Instructions:
1. Trim your paper: The scallop cards are going to be the base of each letter in the sign. Measure the ones you have in particular. For my 5 inch cards, I trimmed 4 ½ inch circles out of the coordinating scrapbook paper. I mixed in some rectangle cards as well. For the rectangles, I trimmed matching 3 ¾ inch x 4 inch scrapbook paper rectangles and then used the corner rounder tool to finish them off.
2. Glue the scrapbook paper to the die-cut cards: Using the Mod Podge and sponge brush, apply a thin even coat to the back of each piece of scrapbook paper. Mount on one of the die-cut cards. Smooth out any air bubbles and firmly press on all edges. My cards started to curl as they dried, so I placed them under a heavy serving platter while they dried to help keep them flat.
3. Prepare the letters: On your computer, type out your message in the blank document of a word processing program. I used the font "Century" in 300 pt. and bolded it. Print the file. Using your scissors, cut each letter out by hand. These will be your templates. Now trace each letter onto the solid cardstock with the right side of the paper facing down. (This will help your trace markings be on the back of each letter so you don't need to worry about being too neat.) Cut out the cardstock letters and set aside.
4. Apply the letters: Once they are dry, lay out your die-cut cards in a pattern that mixes up each design. Using the Mod Podge, apply another thin coat to the back of each letter and mount on the cards. This was significantly messier than the circles/rectangles so I used a paper towel to help press down and seal each letter. The towel absorbed the excess glue that oozes out the side and kept things from getting sticky. Place under another heavy tray to dry.
5. Punch hanging holes in each card: If you're a normal person who has a hole punch, you can quickly do this step. For some crazy reason, I had no hole punch in the house but I DID have access to metal grommets and the necessary hammering tools required to use them. So I spent the time hand punching each hole and applying the grommets. In the end, I do like how it looks and it helped the ribbon slide through the holes much more easily. I think you could skip that step if you don't have grommets though. No need to buy them just for this.
6. Thread the finished cards onto a long ribbon: I used a cheapie spool of ¼ inch ribbon I bought for a $1 ages ago. You could also use baker's twine if that's what you have on hand.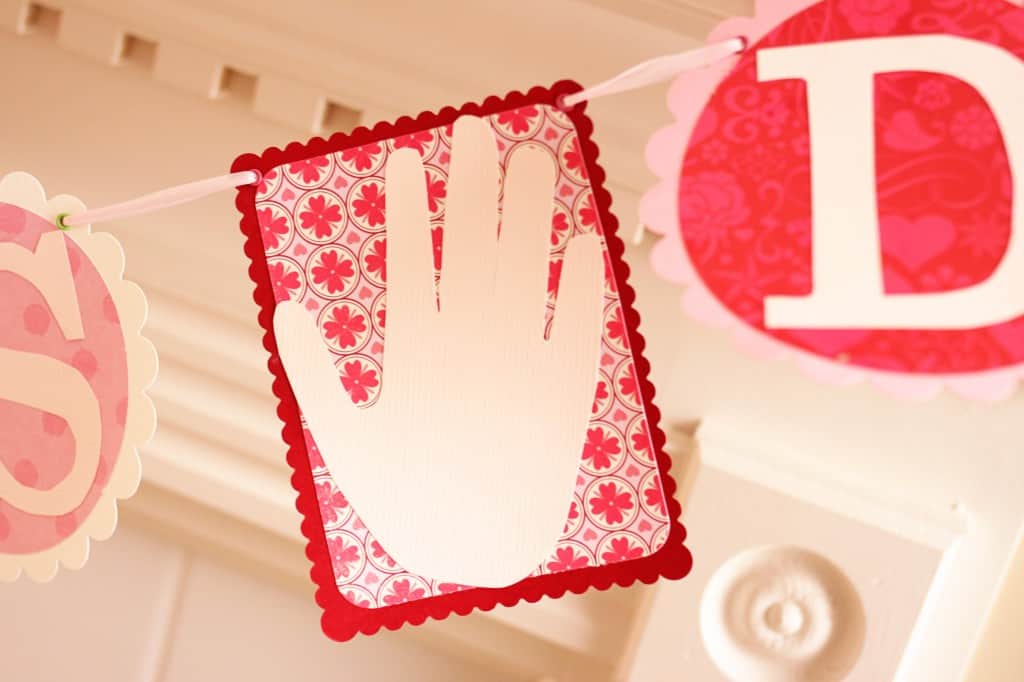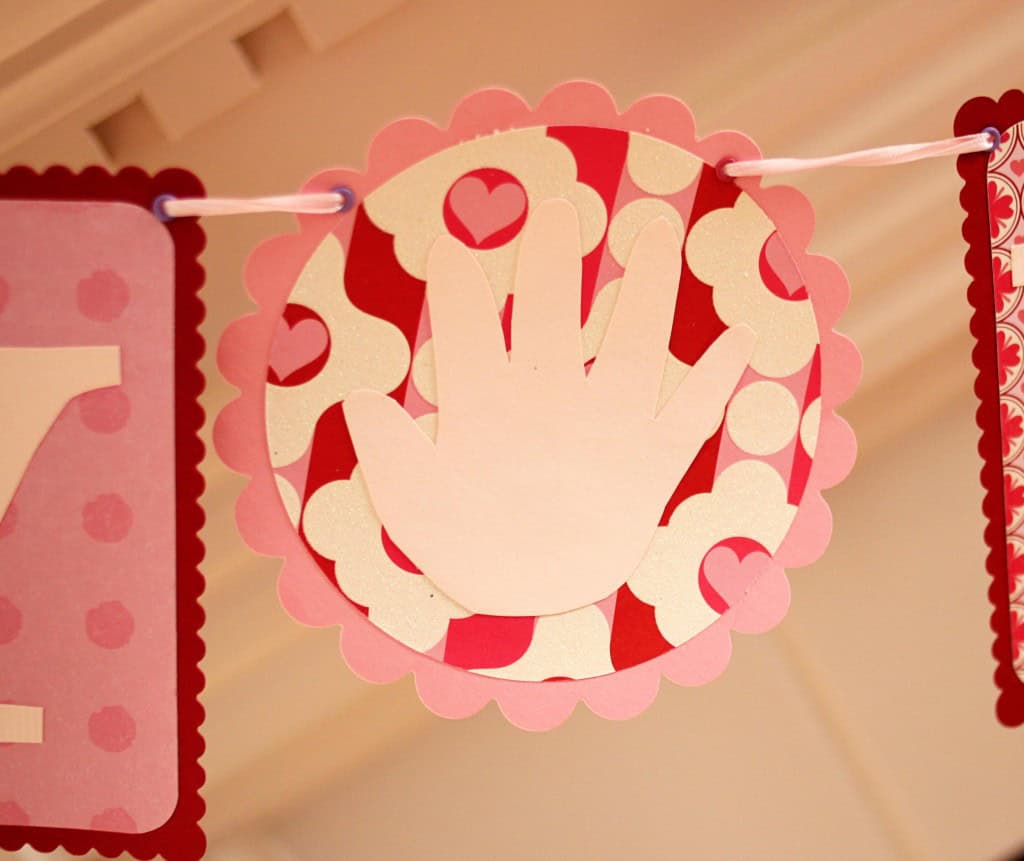 7. Hang and admire. As a spacer between the words, I traced out the Peanut and Little Pea's handprints. I love that personal touch to our little sign. I planned on hanging this on our fireplace mantel only to discover it is far too long of a sign to fit in that space. You might want to count letters and measure the space you plan to display this before you start. Just a thought.
The Peanut was a fantastic helper. While I prepped all the paper, she had fun using a decorative punch on some scraps. She helped me do all the gluing of the circles and rectangles but let me be in charge for the letters. She also enjoyed helping me string them on the ribbon and supervise the hanging of the sign. Definitely a fun project for us to work on together and now we are both equally proud of it. I can think of a few upcoming holidays we just might have to make another one for, but next time I'm using a shorter phrase!