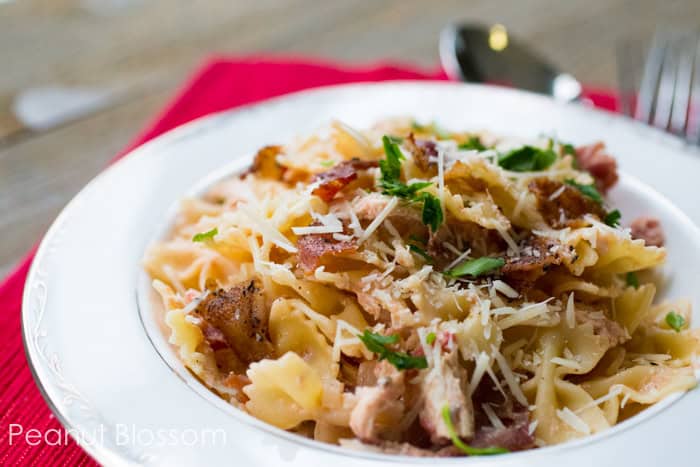 Balancing the needs of various dietary restrictions for your holiday guest list can cause an extra level of worry. Last year, Tim gave up eating dairy products to see if some of the digestion issues he was having might be linked. For this born and raised Wisconsin girl, it was like someone had tied my two hands together in the kitchen. I had NO idea what to make for dinner. I didn't realize how often I rely on dairy products for our dinners until I was forced to cook without sour cream, yogurt, milk, and cheese.
Thankfully over time, Tim found a healthy level of dairy that he can tolerate and as long as I stick to the safer choices like yogurt and hard cheeses, I've been able to mix my favorite ingredients back into the rotation. But there is just something about the holiday season that has me craving richer and creamier dishes for our celebratory meals.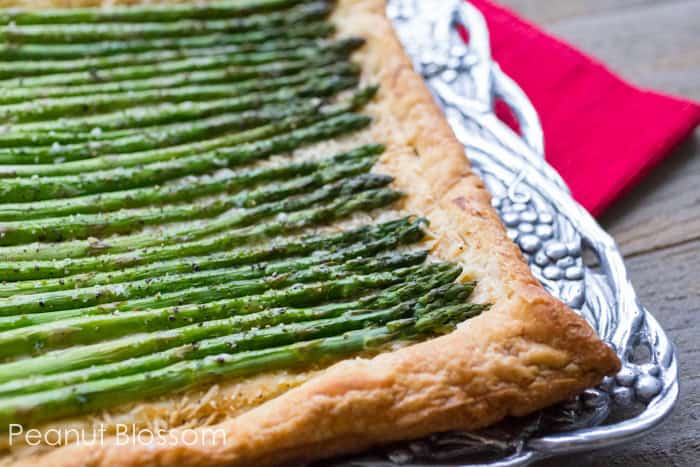 When the National Dairy Council asked me to share a couple of lactose intolerant friendly recipes for Christmas, I knew this would be a fun challenge. I loved the idea of helping other families find safer picks for their special family and friends so that everyone can feel comfortable at the table.
I hope you enjoy the two recipes I pulled together for this challenge. If you'd like to learn more about dealing with lactose intolerance, be sure to scroll down to the bottom for a great list of tricks for re-incorporating dairy into your life and visit EatConfidentlyWithLI.org for more great information from the National Dairy Council.

Creamy chicken & cracked peppered bacon pasta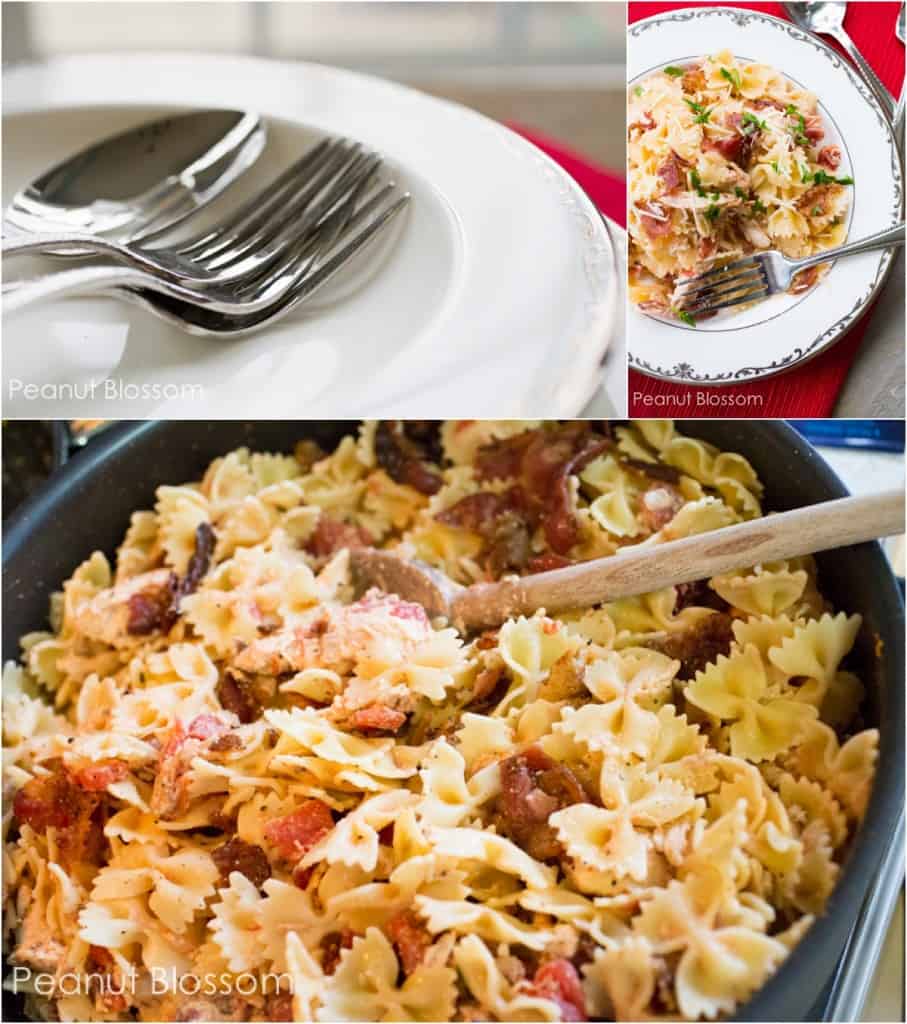 First up is this decadent pasta dish. I loved the festive holiday colors, if you added a half a cup of frozen peas, you'd even have the red & green color combo for Christmas! The sauce relies on a cup of greek yogurt to give it creaminess but is balanced out with savory seasoned tomatoes. While yogurt can feel like a lightened diet short cut, the bacon brings the richness we crave for a celebration.
Just note, this is not a dish to make ahead of time. The pasta quickly absorbs the sauce when left to sit in the fridge or pan. If you have leftovers, you'll want to rehydrate it with a bit of chicken stock.
My husband gave this a hearty two thumbs up and took it to work for lunch the next day.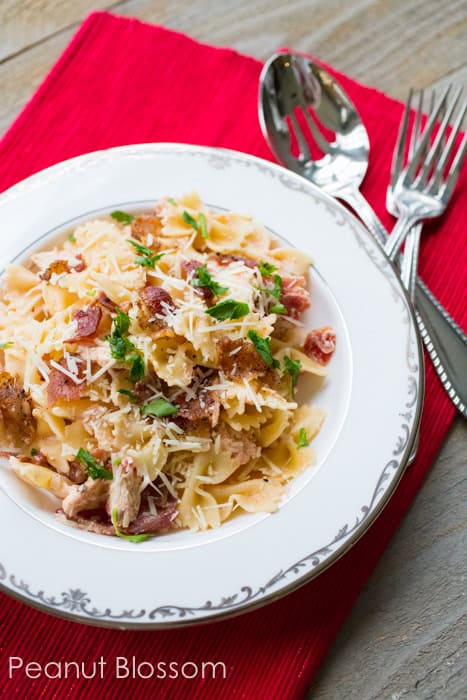 Ingredients:
1 box farfalle pasta
2 boneless skinless chicken breasts, poached & shredded (Or use rotisserie!)
1 package of bacon, baked and crumbled and sprinkled heavily with fresh cracked pepper
2 tbsp olive oil
½ onion, diced
1 can Italian-style diced tomatoes, undrained (If you have only plain tomatoes, add 2 tsp basil and 1 tsp oregano.)
1 cup greek yogurt
½ cup of chicken stock
¼ cup mozzarella cheese
½ cup peas, optional
shredded parmesan for topping, optional
Method:
Cook the pasta according to package and set aside.
In a large saute pan, heat the olive oil and cook the onions until translucent. Add the tomatoes and heat through. Add the yogurt and chicken stock and heat through. Add the peas if using, then add the chicken and bacon, stir to combine. Add the mozzarella and stir. Finally toss the sauce with the pasta.
Serve immediately with parmesan for garnish.
Asparagus & Parmesan Puff Pastry Tart:
One of our all time favorite veggie side dishes is roasted asparagus with fresh parmesan. For the holidays, I decided to kick it up a little and turn it into a full blown appetizer or hearty side dish by using puff pastry to make a tart.
You can bake this as one whole tart or cut the puff pastry into small portions to make individual tarts for your guests. One sheet of pastry could make up to 6 individual tarts. I think this particular tart is just as delicious hot as it is at room temperature which makes it perfect for hanging out on the table while you finish up other portions of the meal.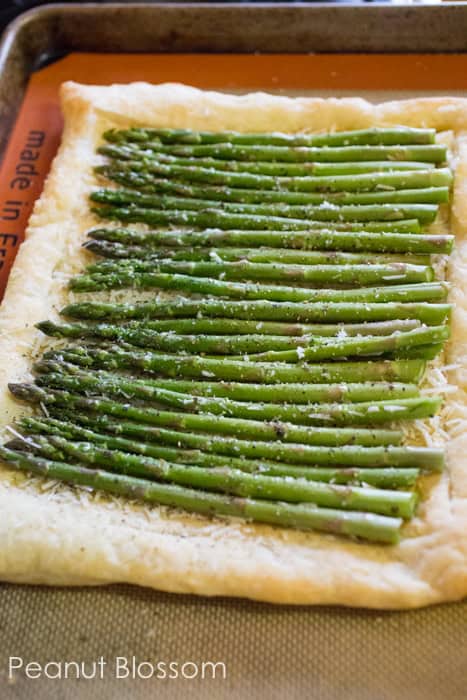 Ingredients:
1 sheet of puff pastry, thawed and rolled out to approximately 10 x 14 inches
2 tbsp dijon mustard
1 cup shredded parmesan
1 bunch fresh asparagus: Look for thin, even spears!!
Drizzle of olive oil
Kosher salt & fresh cracked pepper
Method:
Place the pastry on a parchment lined baking sheet. Using a paring knife, gently score a half-inch border around the perimeter to form a crust edge. Using a fork, score the inner portion of the pastry to keep it from rising. Bake at 400 degrees for 10 minutes.
Spread the dijon mustard evenly over the inner portion of the pastry. Top with the shredded parmesan. Create one asparagus spear as a guide, trim it so that it fits neatly on the inner portion of the crust. Use that spear as the measure to trim the rest of the spears and line them up neatly across the filling in a single layer.
Drizzle just a touch of olive oil and smear it across the asparagus (especially the tips!!). Sprinkle evenly with kosher salt & fresh cracked pepper. Bake for an additional 20-25 minutes until the pastry is golden brown and the asparagus is tender.
Serve with an additional sprinkle of parmesan cheese for garnish.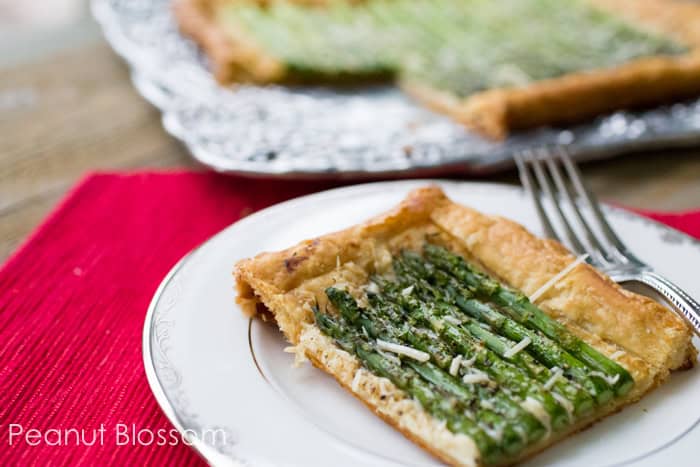 More great tips from the National Dairy Council on incorporating dairy into your lactose-intolerant lifestyle:
Try It. Opt for lactose-free dairy milk and milk products. They are real dairy milk products, just without the lactose. They taste great and provide the same nutrients as regular dairy foods.
Sip It. Start with a small amount of milk daily and increase slowly over several days or weeks to determine tolerance.
Stir It. Mix milk with other foods, such as soups and cereal/oatmeal; blend with fruit or drink milk with meals. Solid foods help slow digestion and allow the body more time to digest lactose.
Slice It. Top sandwiches or crackers with natural cheeses such as Cheddar, Colby, Monterey Jack, mozzarella and Swiss. These cheeses contain small amounts of lactose.
Shred It. Shred your favorite natural cheese onto veggies, pastas and salads. It's an easy way to get the nutrients and benefits of dairy and it contains minimal amounts of lactose.
Spoon It. Enjoy easy-to-digest yogurt. The live and active cultures in yogurt – both regular and Greek style - help to digest lactose
__________________________________________________
Peanut Blossom was proud to create these recipes thanks to the sponsorship of the One to One Network on behalf of the National Dairy Council. All thoughts and opinions are our own. You may view our full disclosure here.