I had the best of intentions for the peanut's Halloween costume this year. After some deliberation with Handyman Tim, we decided she would make the perfect Little Red Riding Hood with a cameo appearance of Tim as the Woodcutter and Gino as the Big Bad Wolf. (I was staying clear of it myself.)
Then came the business trip from the underworld. Our Woodcutter had to miss trick-or-treating with the peanut which still breaks my heart the morning after. Knowing this was on the agenda, I just couldn't find it in me to sew her costume this month. I've been staring at the red gingham fabric since September and never even got to the washing phase of preparation. It all was just too distressing for me.
I finally made the decision to cut corners this year and save myself some of the self-imposed stress. A quick trip to a holiday superstore and this year's costume was discovered: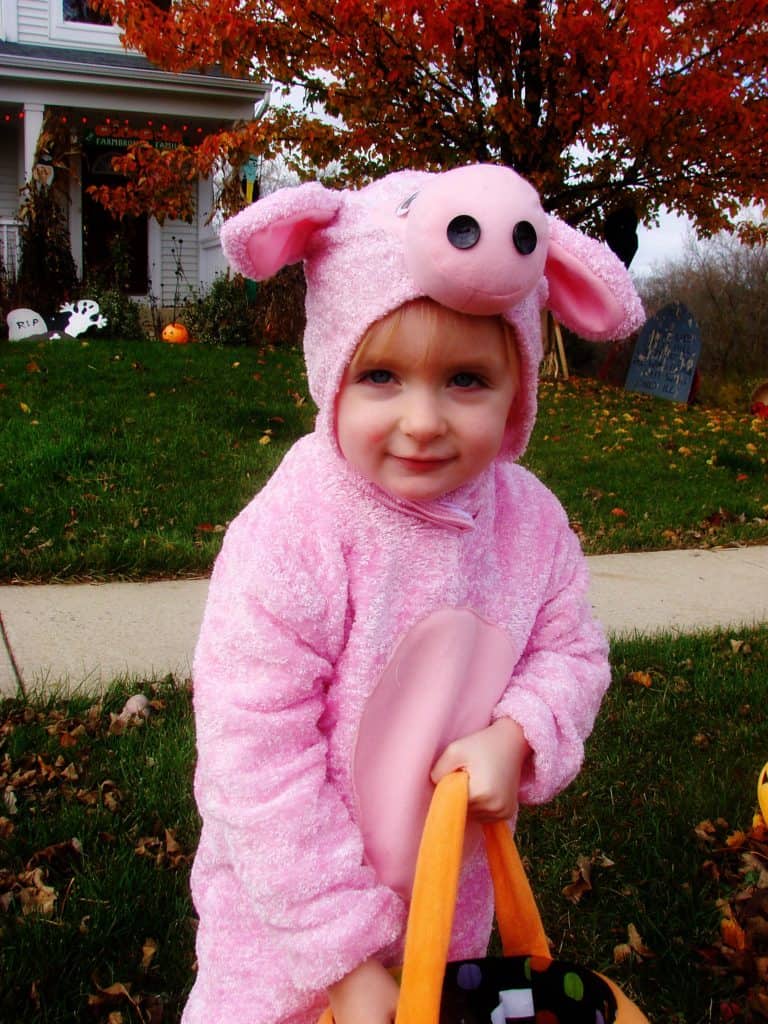 This may look like your run-of-the-mill piggy costume, but the peanut will assure anyone who listens that she is "Puds" from "Toot and Puddle". I think we have seen every episode of this adorable show at least 25 times each. We've read every book from the library, twice. To say the girl has been obsessed could possibly be an understatement.
At the end of trick-or-treating, I have to say I'm pretty thrilled we went this route for her costume. It was far warmer than the dress I had planned. Much more appropriate for such a cold and blustery day. The pride I heard in the repeated, "I'm Puds!" announcements was more than enough to soothe my guilt.
So, I may not be able to take any credit for the creation of this costume but it was definitely an exercise of turning lemons into lemonade.
Now I'm just left with the question of what to do with 3 yards of red and white gingham. . . There's always next year.