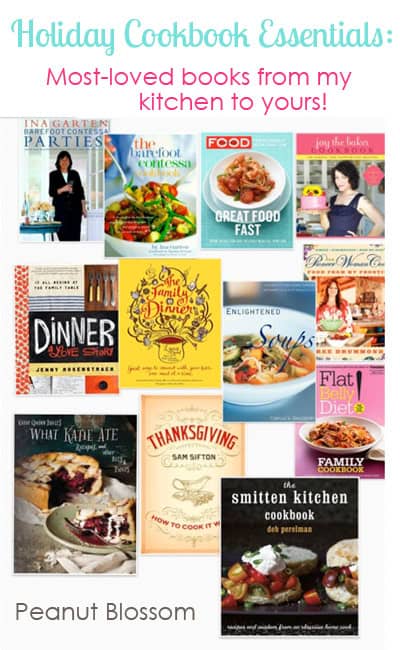 I am a self-proclaimed cookbook junkie. I could honestly spend hours in this department of my favorite bookstore. My favorites I can read like novels and have a place of honor in my new kitchen. Despite my addiction, I am VERY selective over which ones made it to that small shelf near my stove as opposed to being stored in other areas of our home.
So for the cookbook lover on your gift list or for a much-needed burst of inspiration before you start your own holiday entertaining, I offer you my 2012 list of Cookbook Essentials!
Books I actually own, adore, and use day in and day out to feed my family:
1. Barefoot Contessa Parties!:
This is my all-time favorite cookbook. If I was forced to give up everything else in my collection, this would be the one I would keep. We received it as a wedding present 11 years ago (Thanks Aunt Lee!) and I have used it for almost every important event we've ever celebrated. Absolutely no kitchen is complete without what I consider to be Ina Garten's absolute best work. You can find a copy here.
2. Barefoot Contessa (the Original):
This cookbook completely changed my approach to food and claims sole responsibility for my attempts to feed my family all-natural, from scratch type meals. Anything by Ina is good, but these first two rise far above the rest. You can find a copy here.
3. Everyday Food:
If not the cookbook, the magazine subscription. I own (and subscribe to) both, I love them just that much. Seasonal, healthy, wholesome, and easy easy easy. This is your survival guide to cooking in between those holiday feasts. You can find the cookbook here or subscribe to the magazine here.
4. Joy the Baker, the Cookbook:
Joy is mind-blowingly awesome. I've been a long time follower of her blog and I adore her approach to life and baking. I bought her book the day it came out on the market and her chocolate chip cookies recipe is by far the best I've ever had. My girls squeal when this book comes off the shelf because they know it means awesomeness in our kitchen. You can find a copy here.
I love this book so much it makes me want to cry. It is my new favorite and I spent a Sunday afternoon reading it like a novel. It is more like reading a mom's personal diary of how feeding her family evolved over time. I laughed out loud, nodded in understanding, and rushed to the kitchen to try her pork ragu with pappardelle. AHmazing. Every Mother I Know Should Own This Book, if not necessarily for the recipes, but for the commiseration that we've all been there at those stages and here are tips to surviving them! You can find a copy here.
Picking up this accidental find at a bookstore last winter was an epic lightbulb moment. This book manages to put into words absolutely everything I'm trying to do with this little site in regards to food. The inspiration and tips I read in this book only encouraged me to continue on in my attempts at bringing my family back to the dinner table. I believe wholeheartedly in families sharing that time together and this is like the ultimate handbook towards that effort. Encouraging, realistic, and absolutely inspiring. You can find a copy here.
Forgive me for geeking out for a moment, but in the words of the Ned Stark: "Winter is coming." Make sure you have a pot of soup ready when it arrives. I love love love this book of soups. The Peanut and I selected several last winter and each one was a huge hit. The recipes are so easy, do not take long (many 30 minutes or less), and involve fairly basic ingredients combined into light and deliciously fresh combinations. You can find a copy here.
8. The Pioneer Woman: Food from my frontier:
If you've got a man in the house you need to own this book. This is my go-to resource for what to do with a big fat cut of meat. When we're hungry for down home, stick to your ribs, comfort food, this is the one I grab. It is much better than her first book in every respect: Better pictures, better recipes, better quality of publication. Whole heartedly recommend. You can find a copy here.
Don't laugh. I actually did not buy this as a "diet" book at all. I was hoping to find a family cookbook with healthy guilt-free recipes that all my picky eaters would appreciate. After a ton of research, I settled on this because I felt confident that the approach to nutrition was something I felt comfortable feeding my growing girls. With it's emphasis on olive oil and healthy fats, this book is going to be hitting our rotation much more heavily in the coming months. I love that the flavors are kid-friendly so that everyone is enjoying the same meal at the same time. You can find a copy here.
Books that appear on my very own Christmas Wish List (a.k.a. ones I have not yet had the pleasure to read but easily feel comfortable recommending):
10. What Katie Ate:
My stomach churned with envy when I discovered the What Katie Ate blog. Her food photography is unbelievable and inspiring. This is eye candy for me as an aspiring food photographer. I can only hope to be this good someday. You can find a copy here.
11. Thanksgiving: How to cook it well:
After reading a review of this book on Dinner, A Love Story and knowing that Jenny served as one of the editors on it, I'm absolutely sold. I may not be able to hold off purchasing it until Christmas for obvious reasons. You can find a copy here.
12. The Smitten Kitchen Cookbook:
I got the chance to page through this breathtaking book at a local store the other day and it immediately jumped onto this list. I admit that it was the food photography that caught my eye but the recipes looked intriguing and like something my family would actually appreciate. You can find a copy here.
How about you? Did I miss your favorite? Please share the title in the comments below, my family is always looking for gift ideas for me! I'll send Handyman Tim this way soon.

P.S. Am I the only one who just can't seem to get behind eBook versions of cookbooks? Two of the ones listed above I own copies on my iPad vs. the hardcopy and I'm honestly considering buying them a second time so I can have the physical paper version. I know it would save me space to go digital, but sheesh I just love the nice "thunk" they make on my kitchen countertops. . .