Don't let summer slide complicate what will already be a very difficult school year ahead. These fun tricks will help keep your child engaged all summer long.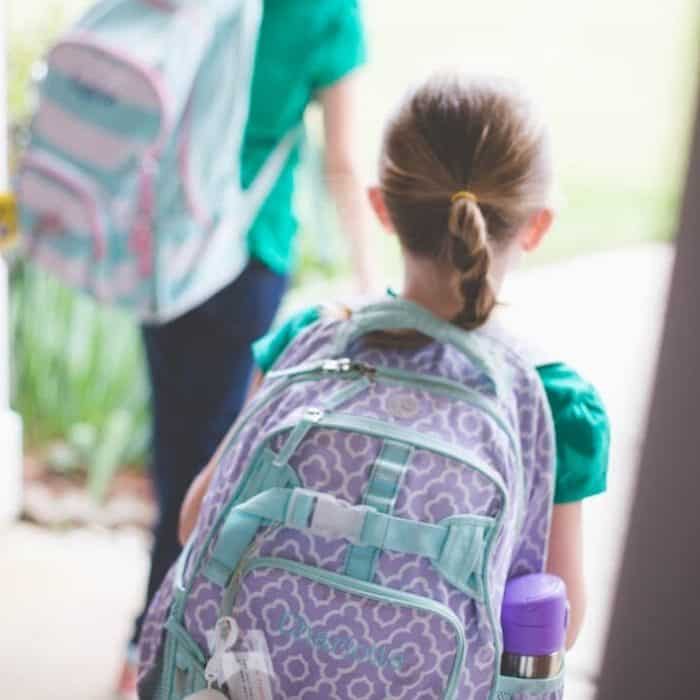 Two weeks. That's all it took.
She looked up at me with tear-filled eyes:
"Mom, I don't think I can take the summer off. I wish we had taken homeschool to the beach."
At the end of the craziest school year ever, I let my girls take a few days of summer freedom. That was followed by one week at the beach for our family trip.
This morning, we picked up where we left off with our homeschool reading and math lessons. I thought, "we'll just work for 20 minutes on each subject and be done."
What I didn't expect was that she had almost completely forgotten how to do the division problems she had earlier mastered and that she would struggle and fuss through the new vocabulary in her reading book.
It only took 10 work days away from lessons for us to suddenly feel like we were right back at the beginning of our homeschool year where frustration dominated our days.
Those endless days of summer break just aren't worth the very real pain of summer slide.
We all know right now that our kids are facing a difficult school year ahead. Why complicate that with overwhelming frustration of regaining lost ground?
Engaging your kids' brains over the summer doesn't have to be difficult, boring, or cause arguments. It also doesn't require a cookie-cutter workbook of monotonous worksheets if your kids don't enjoy doing them.
Summer can be a time to remind your kids that learning is fun and to try things that the schools don't have time to work into the standard curriculum.
Below I share my plan for my kids this summer along with the tips you need to keep things light and fun. It is summer vacation, after all.

How to combat summer slide and prepare your kids to jump back into school this fall:

STEP 1: Helpful tips to prevent arguments
1. Pick the right time of day: For our family, first thing in the morning after breakfast is the golden hour. If I try to do school work at any other point in the day, the kids respond extremely poorly. Afternoons are for the pool or playing outside, not for summer school. Maybe in your family, afternoons are better when it's too hot to go out?
2. Kids love routine: This is usually the biggest complaint from families at the end of summer, "We miss our routine!" You can have the rest of your summer schedule be completely flexible and lax, but having a consistent timeslot for school gives a tiny bit of structure to the day. When your kids know what time school work will be done, they will be less likely to argue with you about it vs. you surprising them with it at random times each day.
3. Keep it FUN: Summer learning doesn't have to be about drilling facts into the kids. They can practice reading, writing, and math in ways that enforce the practical application and keep it fun. What are your kids interested in? Let them explore subjects and topics that captivate them. They are far less likely to argue if they look forward to learning about a topic they got to pick.
STEP 2: Fun ways to learn without a workbook
Before we dig in, just know that if you did nothing but READ, read, read this summer, you'd already be on the right path to combating summer slide. Read out loud with the kids, keep a book in your bag (or on your phone with the Kindle app) wherever you go, listen to audiobooks in the car, look up information on the internet together to answer curious question that comes up.
1. Set a reading time but add some flexiblity: 
We have 30 minutes of daily reading time that is required every morning. The kids are welcome to read absolutely ANYTHING they want--graphic novels, comic books, picture books, chapter books, magazines, etc. Audiobooks are absolutely allowed, even while playing with LEGO or small toys or working on a craft project. When my struggling reader listens to an audiobook while playing, she feels like she's "getting away with" something. She always listens way longer than she would ever sit and read on her own.
More reading tips to help inspire your kids:
2. Start a "Golden Lines" journal:
My middle schooler was familiar with this phrase, otherwise known as a "commonplace notebook" or what I've always thought of just as a "journal of book quotes." Give your child a notebook and ask them to record just one line from every reading session every day. They can pick any line they liked for any reason. That's it. You don't need to add any more pressure to the reading assignment, you simply want to encourage a thoughtful reflection at the end of the daily reading. This is also a great way for kids to absorb proper spelling and punctuation through copywork.
To give the assignment more purpose, make a habit of writing a line from whatever you are reading that day, too. Have everyone share their favorite quotes over dinner and talk about what you're reading. Our kids are usually fascinated by the plots of the books my husband and I read.
3. Get in the kitchen:
I cannot stress this enough: Cooking and baking with your kids are the best uses of your time outside of reading books together. The list of skills they can practice and learn in the kitchen is nearly endless.
Reading: reading and following the instructions and lists of ingredients
Writing: making out the grocery list
Math: interacting with the ingredients, doubling a recipe, and serving out the portions allows them to encounter measuring, quantity, fractions, multiplication, division, addition, subtraction
Science: chemistry especially and even physics can be discussed. Especially with baking. Learning how to read a thermometer, how heat impacts food, etc.
Social studies & History: explore world cultures, the history of a dish, and the cultural impact of the food. Cook recipes for things you encounter in books you read that you've never tried before. We made potato soup for the first time after reading about it in a fiction book.
Time management & Organization: how to plan out the timetable of dinner prep or waiting for dough to rise
Not sure where to start?
I created The Ultimate Kids' Cooking Class for you to use right at home. This digital bundle will walk you step by step through using The Ultimate Kids' Cookbook and/or The Ultimate Kids' Baking Book as a home-based "home ec" class for your kids this summer.
Start with whichever book calls to your kids first. You can always add the other one to your library later.
I picked the best recipes from each book, laid them out in a curriculum for your child to follow, and shared my tips for parents for keeping cooking sessions fun.
You can print off the curriculum checklists and keep them right on your fridge for the kids to check off as the summer progresses.
GET THE COOKING CLASS BUNDLE HERE
4. Make the kids your personal "Stenographer" team:
To practice writing and spelling, dictate anything you need to write down and let them be your list-makers and note-takers. Everything from grocery lists and to-do lists to bucket lists or recipe notes. Encourage them to listen and record what you say, they can ask for spelling help. This is not a test. Jotting down lists helps work in writing in small bursts throughout the day and will expand their vocabulary and spelling over time.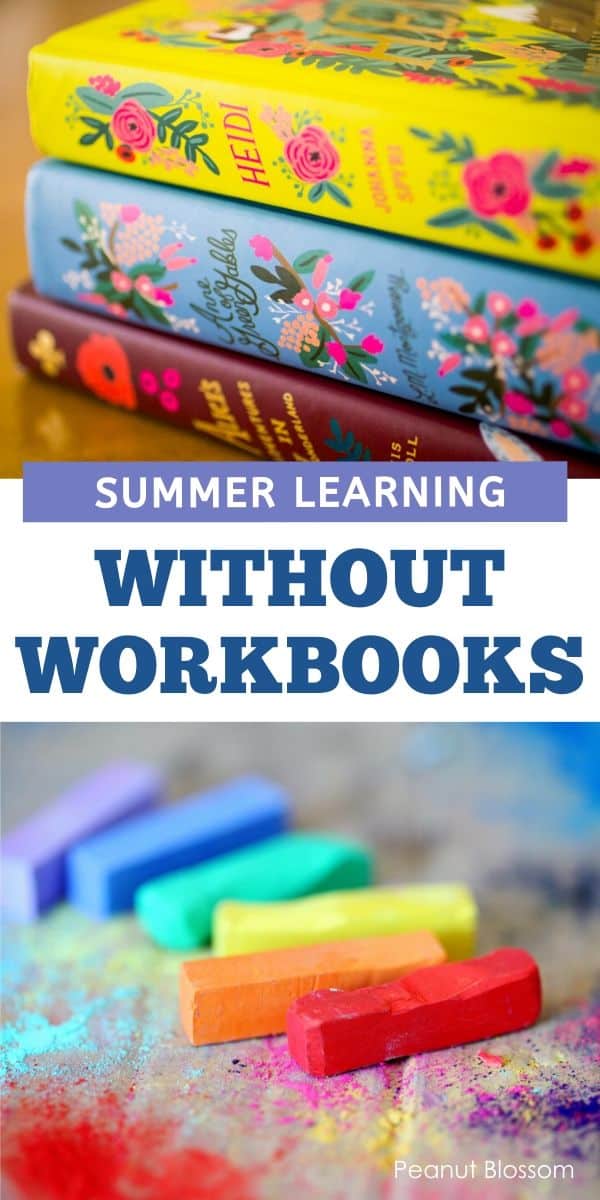 5. Learning through games:
I instituted a requirement for the kids to play one game with each other every single day. My kids gravitate to the same ones over and over, so I decided to pick the game for them to play to ensure they hit the skills I want them to practice. So far they haven't argued, you may need another strategy to ensure they rotate through the different options you want.
Board games that help with math:
Shut the Box: (a family favorite!)
Yahtzee: excellent for number sense and strategy
Clumsy Thief: perfect for practicing quick addition/subtraction facts and money
Sequence: great strategy game
Tenzi: perfect for number sense, there are a million ways to play this game
Board games that help with geography:
Board games that help with language arts:
6. The best purchase I made all year:
The best investment I made in our homeschool this year was a simple big whiteboard and set of dry erase thin-tip pens. I cannot even begin to explain the excitement my kids get in using it for school work. I can get them to do almost anything as long as they get to do their work on the whiteboard.
Do a daily math challenge and have them work out a problem on the board.
Have them write as many multiplication facts as they can in 5 minutes.
Look up word problems and then change all the words to silly things. (Charlotte gathered 10 unicorns for her rainbow ranch. Then she added 5 pegasus to the pen. How many magical animals did she have in all?) Have the kids draw a picture to illustrate the math.
Challenge your kids to show each other the hardest math problem they know how to do. My middle schooler LOVES this and the elementary student feels challenged to learn how to do it, too.
Write a silly sentence or paragraph with NO punctuation in it and have the kids correct it.
Write a list of spelling words, some with mistakes and some without, and have the kids correct it.