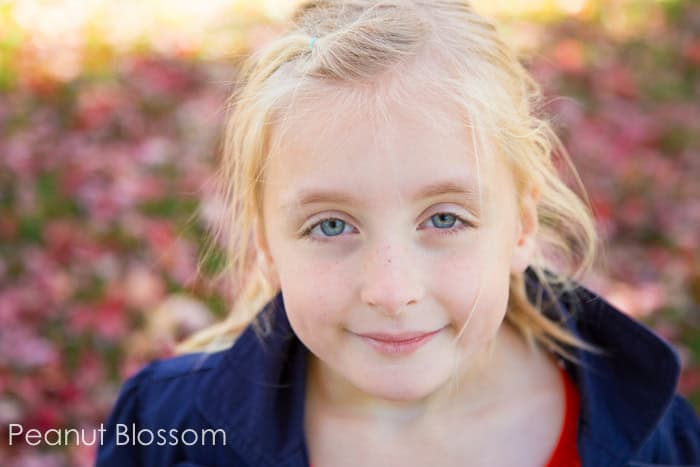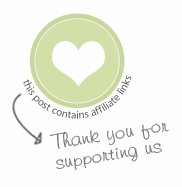 My kids wait all year for their annual fall portrait session with me. They beg and plead for weeks, "Mommy WHEN will you be taking our pictures??"
They know that:
Fall = Mommy's photo session for her new Erin Condren planner = Shameless Bribing for Excellent Smiles
Yes, I pay my kids for their time as models for one single session every year. The going rate is $5 to spend at Target (or the Disney Store, or the book store, or whatever floats their boat.) I suspect some inflation is going to have to happen to get the Peanut's cooperation next year, but for the last 3 years running I've made out like a bandit.
This session has a lot riding on it for me. I use the photo on the cover of my planner (check out my very favorite style here) and will have to stare at it for 12 months straight. It is worth $10 to me to know I will have their full cooperation.
To get legitimate smiles from the girls, I need to move like lightning. No time fiddling with the camera is allowed or they get fussy. The most important thing is to be prepared and to know that I have picked exactly the right spot for the picture.
But how to find the right spot? I've developed these little tricks . . .
1. Be familiar with your location options: I took my girls to our local botanic gardens. I've been there several times before and was familiar with many of the nooks & crannies I wanted to test. But everything changes depending on the sun's angle so I didn't know exactly where we'd stop when we arrived that afternoon.
When I find a spot that is in the running, I always take a quick test shot to see how the background might look before I ever place the girls there. This open field would allow for gorgeous backlight but I wasn't sure if there was going to be enough color for my taste: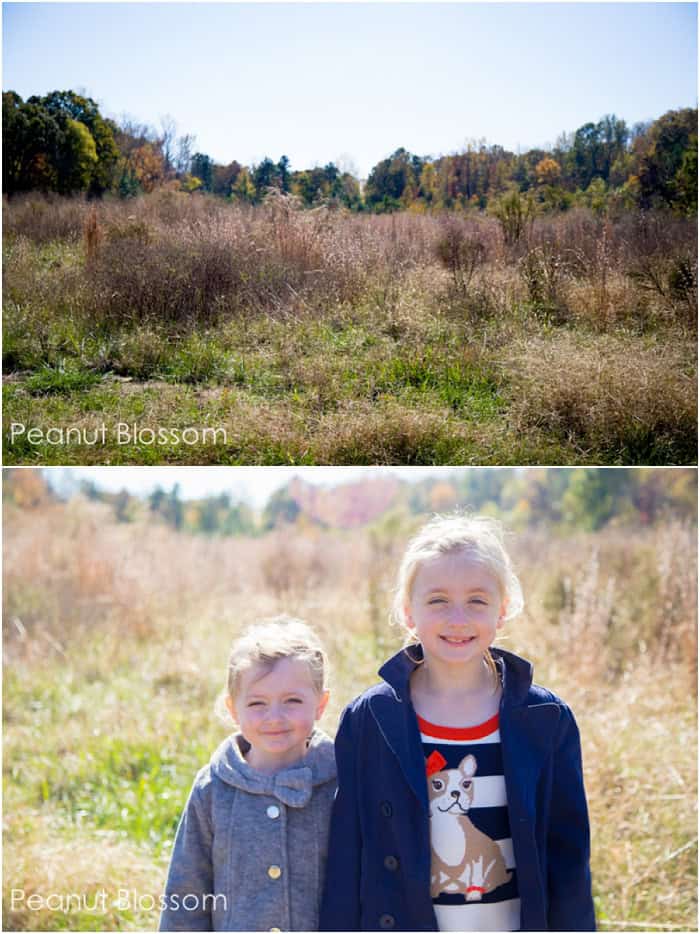 I knew it had potential so I had the girls stand there for 2 seconds for that 2nd test. My camera settings were all ready to go, so there was no posing or waiting required. The background is lovely but my blue eyed ladies always squint when there's this much light. I wanted to see their open eyes in the final shot and knew this would be a tricky session to get smiles through the squinting so we moved on.
2. Backgrounds can be found up high or down low: As we walked the gardens I was hunting for more color for the background. I had really hoped to find a pop of bright red or orange or yellow leaves on the trees but all the colorful trees I found had foliage that was too high for me to capture in the same frame as my peanuts. We found this shady grove with tons and tons of bright red leaves covering the ground: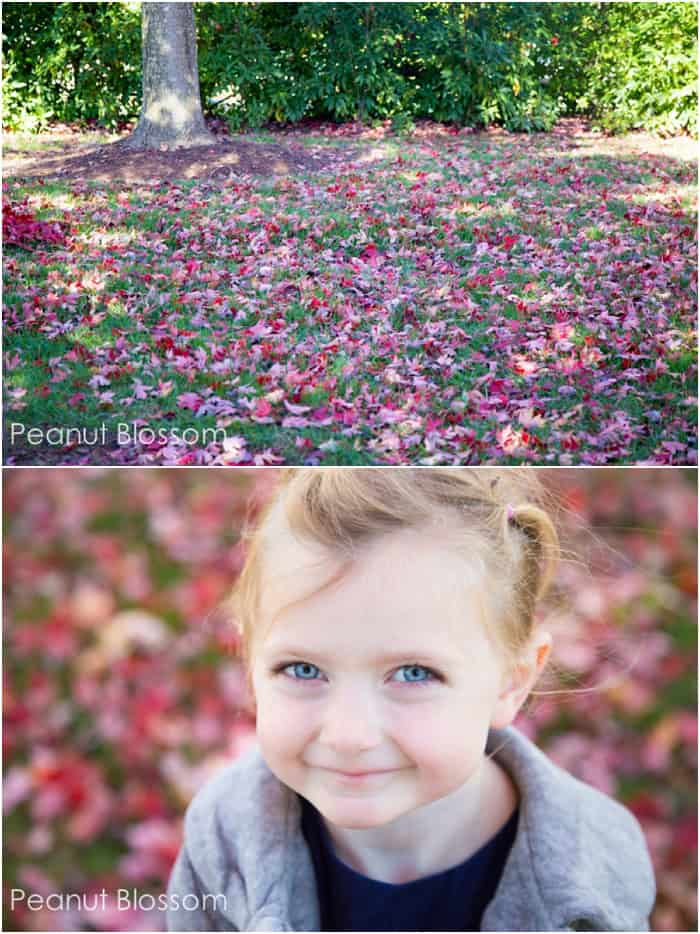 So with a simple tilt down of my camera, I was able to capture this pretty backdrop with my girls able to comfortably look up at me with wide open sparkly blue eyes. (If your subject is taller, this is a great opportunity to try them lounging or fully laying on the ground.)
I love both of the photos I took of the girls individually by the red leaves but decided it looked too "fall-ish" for my calendar cover. It wasn't worth staging a shot with both of them in it, so we moved on.
3. Look for even light: Open shade is one of the prettiest lights ever for portraits. It is especially true for my blue eyed girls. But the trick is to find a pocket of shade where the background is also fairly evenly lit. You don't want your subject in the shade and your background to be fully lit, it looks off.
I found this shady pathway at the gardens that had a mix of shade and hot spots. You can see how uneven the light is across the whole path in the shot on the left: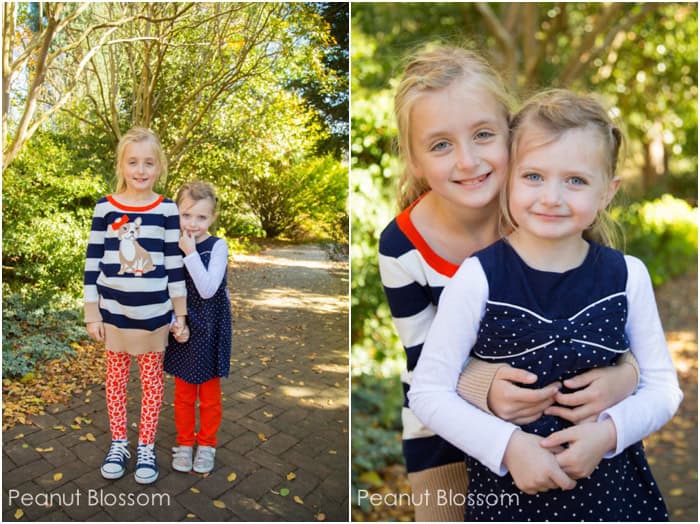 I placed my girls in the evenly lit shady part. The hot spots do not directly shine on their heads or bodies and are minimal in the background. I knew from that test shot on the left that if I had the girls cuddle in close and zoomed in with my lens the hot spots would become sparkly bokeh in the background.
While not as colorful as I initially intended, I love the bright happy green sparkly trees. I love that I can see their wide open eyes with some catchlights in them.
For my girls? This was literally a walk in the park. For me, it was a 5 minute photo session once I found the perfect spot. We played around and got a couple of fun goofy outtakes that eventually lead to the winning cover shot.

P.S. If you'd like to see my full review of my very favorite planner ever, you can check it out here. I even included photos of the inside pages for you.
If I didn't love my photo cover so much, I'd really struggle with picking one of these adorable options instead:

Like this post? Pin it!