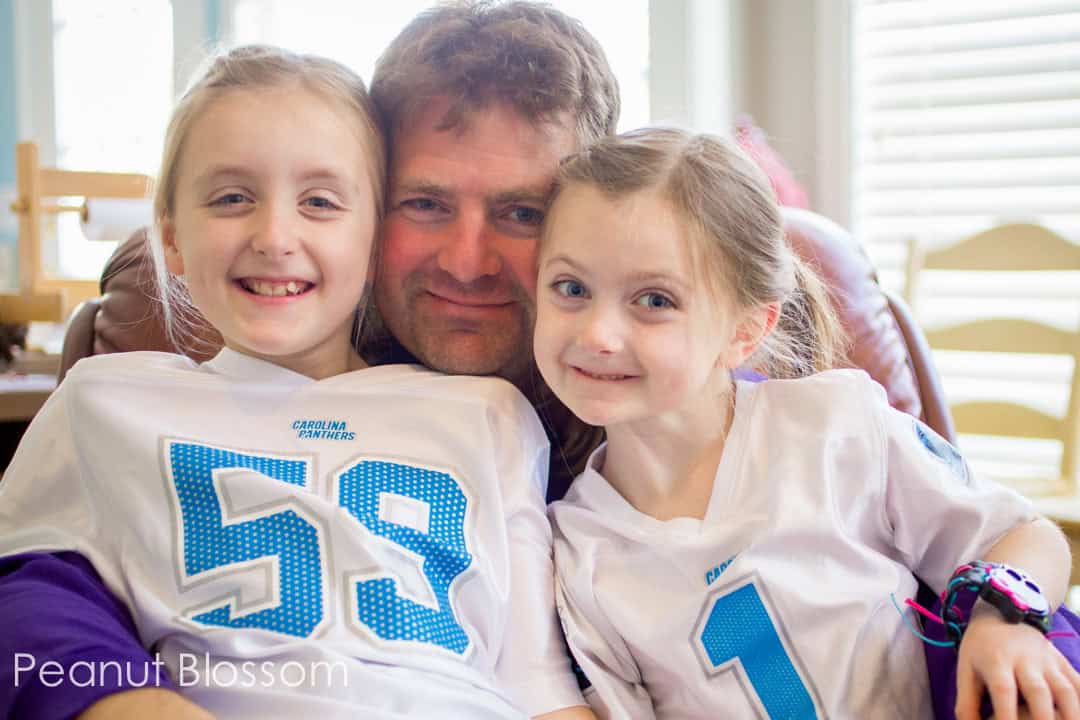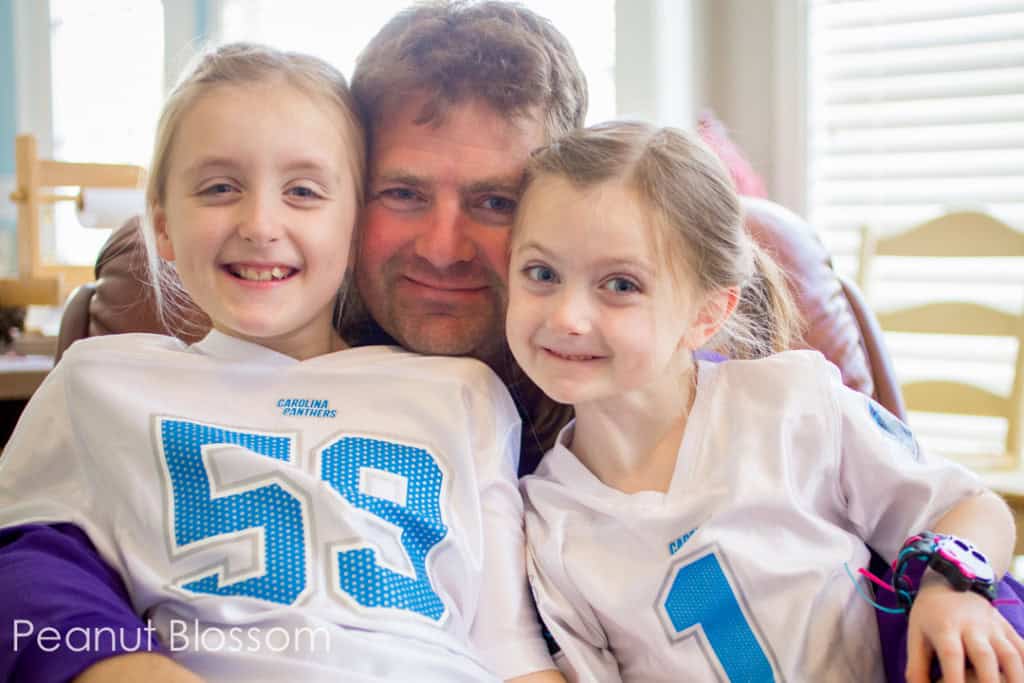 Living here in Panther Country football mania has taken hold of our family! Until our move to Charlotte, we were a house divided: Handyman Tim cheered for the Vikings while my family is full of die-hard Green Bay Packer cheeseheads.
The Peanut was too young to really have an affinity one way or the other when we moved and as soon as she started Kindergarden became enamored with the Carolina Panthers. I still remember the pure glee when we handed her a tiny Panthers jersey which she has proudly worn every football Sunday since.
This season has been spectacular. Nearly undefeated, we tune in each week to see our new hometown favorites pound the competition. As we get nearer and nearer to the final game, our team spirit has been ramping up.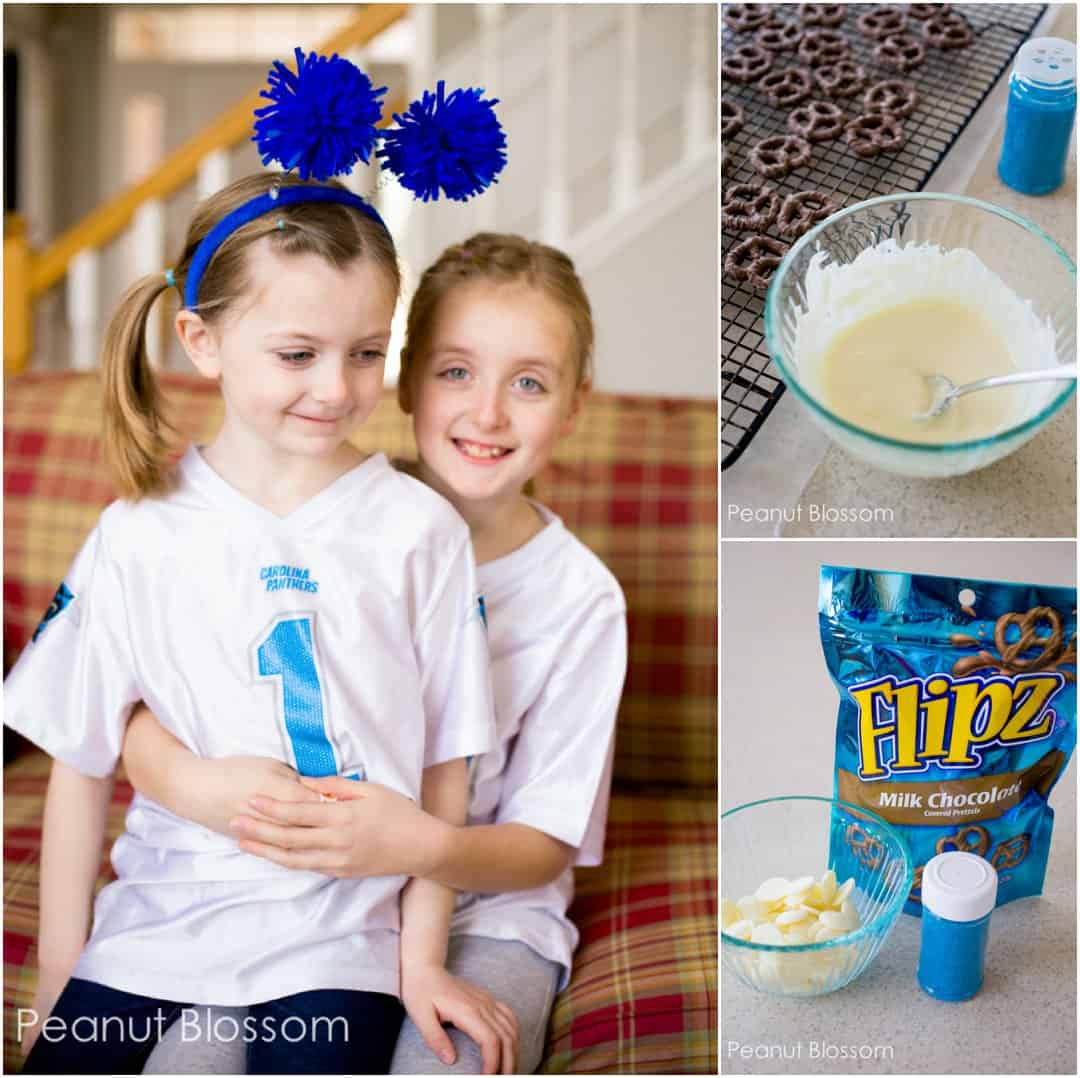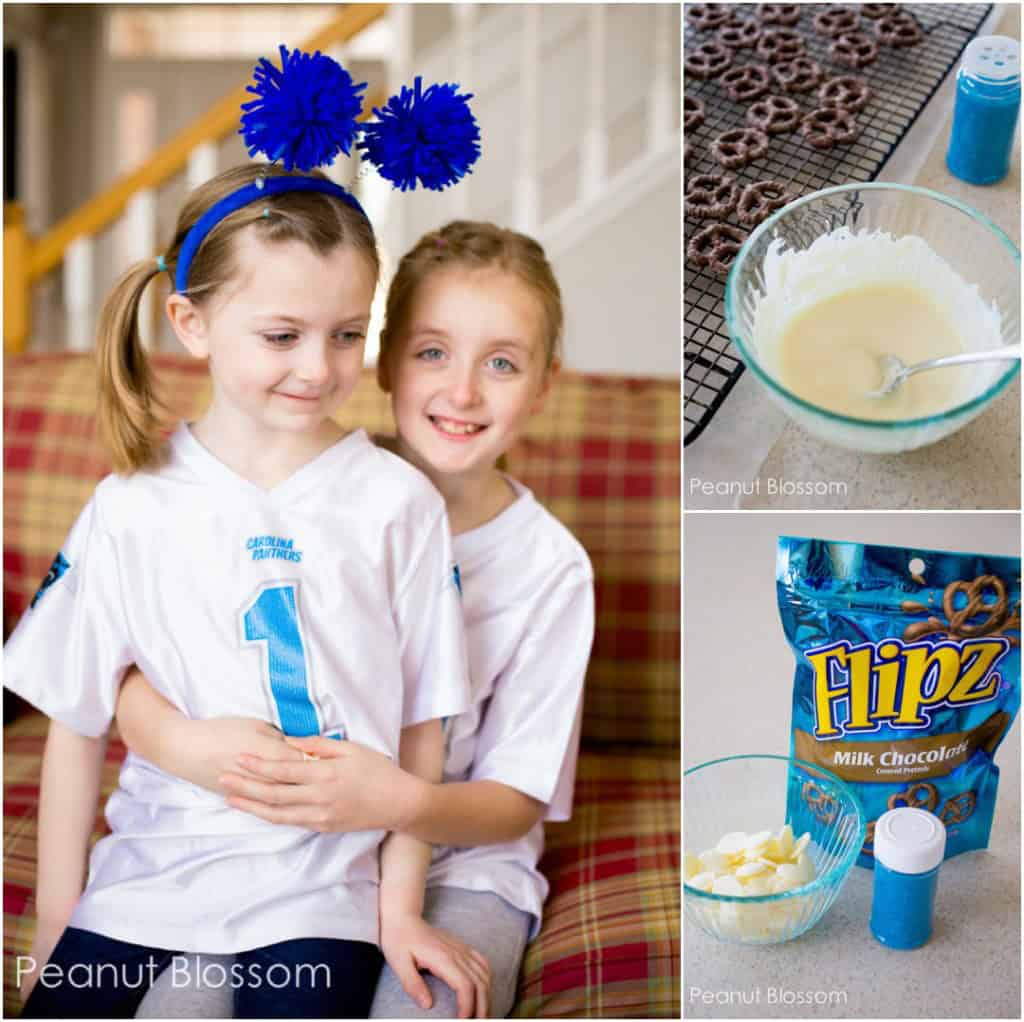 Truth be told, I am not a football fan. (Give me a basketball game any day of the week!) But, I love how football games are something that Tim enjoys with his girls. I try to encourage this family time by doing what I do best -- making sure the girls have the appropriately sporty clothes and providing the football snacks.
The Peanut is obsessed with Carolina blue so I thought it would be fun to whip up a batch of "Panthers Pretzels" for the playoff game. Since our focus is on family time, I don't want to spend the whole afternoon in the kitchen. So to keep things easy, I used these three simple ingredients:
2 packages of FLIPZ® Chocolate Covered Pretzels
a package of white melting chocolate discs
a container of sparkly blue sprinkles.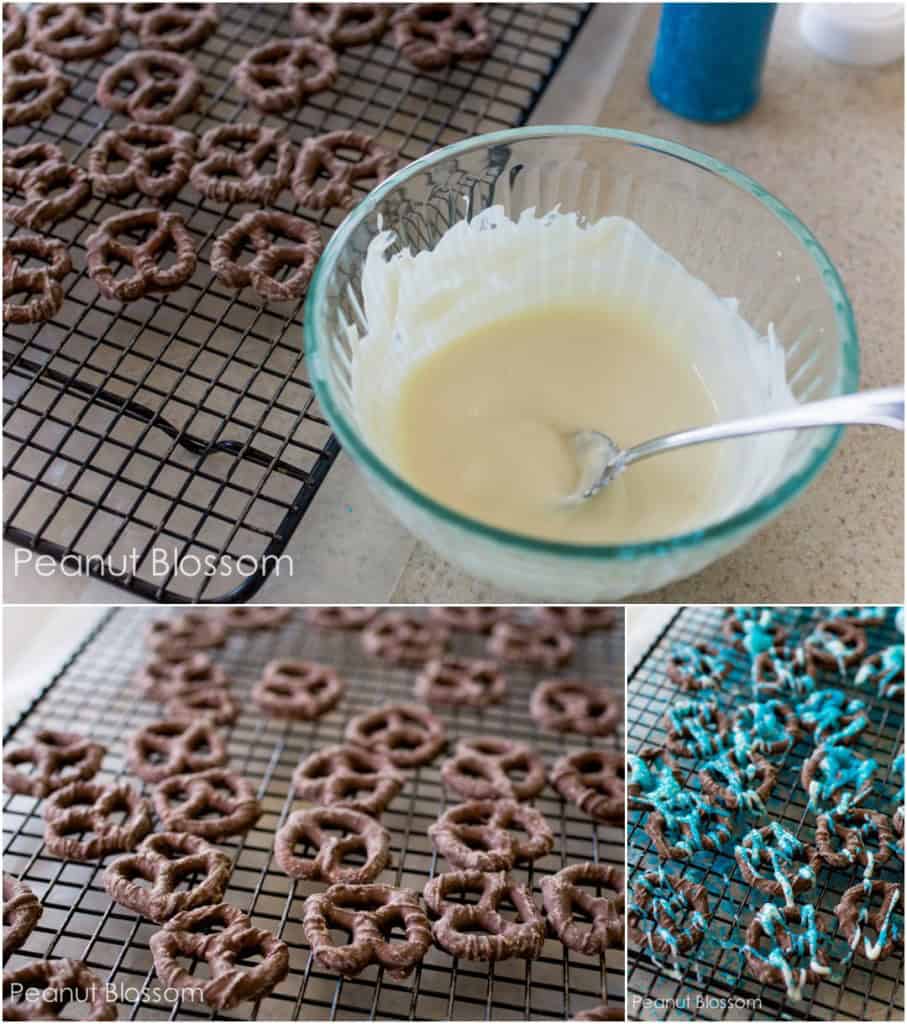 I lined up the FLIPZ® on a wire rack placed over a sheet of waxed paper. In a microwave safe bowl, I melted a cup of the white chocolate melting candies for 30 seconds on 30% power. Stir and repeat until the white chocolate is smooth and drizzly.
Using the tip of my spoon, I drizzled the white chocolate over the FLIPZ® and then quickly followed with a dash of the blue sprinkles before it had a chance to dry.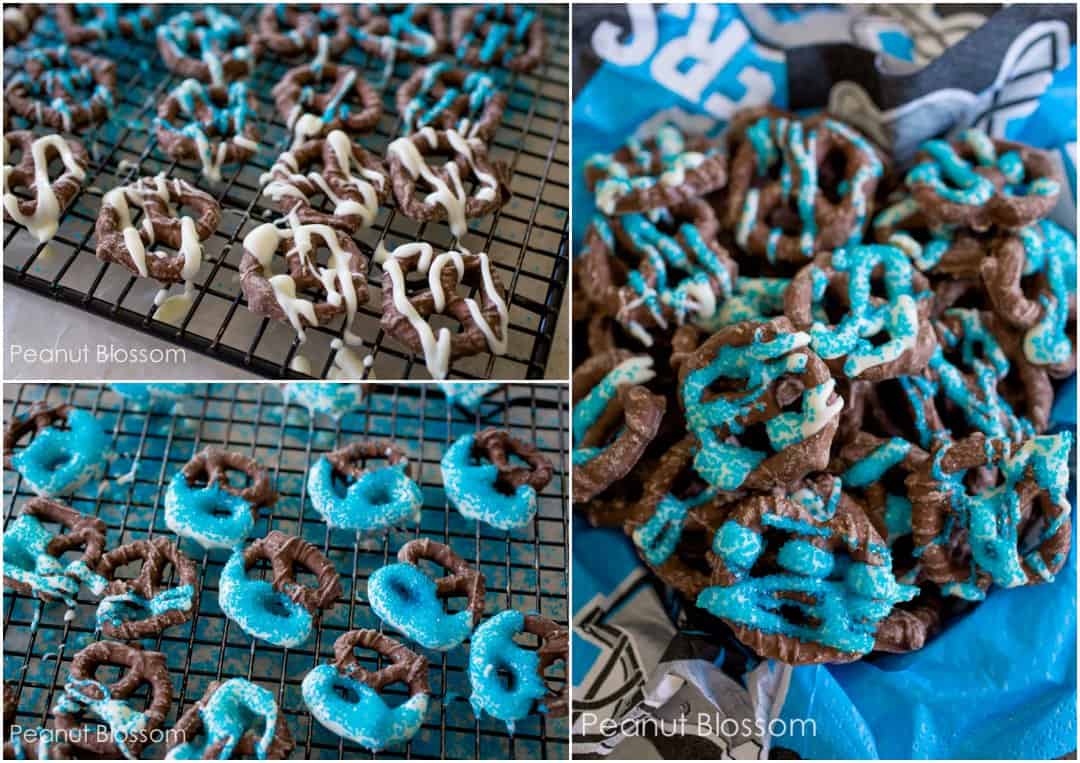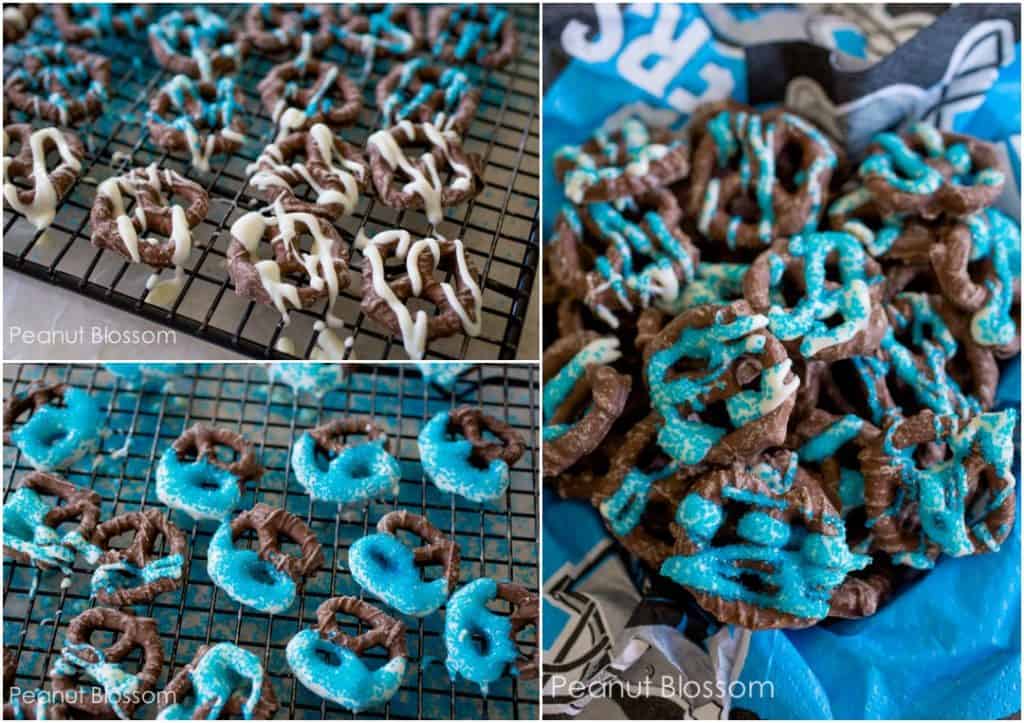 Our team colors are blue and white so I could have easily left some of the pretzels white striped but the Peanut begged me to make them all blue. We had fun experimenting with the drizzle effect vs. dipping them half & half. She loved the extra coating of sprinkles on the later, but I think I prefer the striped effect.
You could easily add a few drops of gel food coloring to the white chocolate to mix and match the colors you need to represent your team.
Since the FLIPZ® are already covered in chocolate and all I had to do was put the finishing touches on them, the whole project took me less than 10 minutes. I love that they are completely portable if you wanted a fun festive treat to bring to a potluck party for the big game.
Here's hoping I get to make these yummy snacks again before the season is over! Go Panthers!

This post is sponsored by FLIPZ® Chocolate Covered Pretzels. All thoughts and opinions are our own.