This easy 30-minute one-pot recipe for chipotle chile mac is a fast way to get dinner ready on a busy weeknight.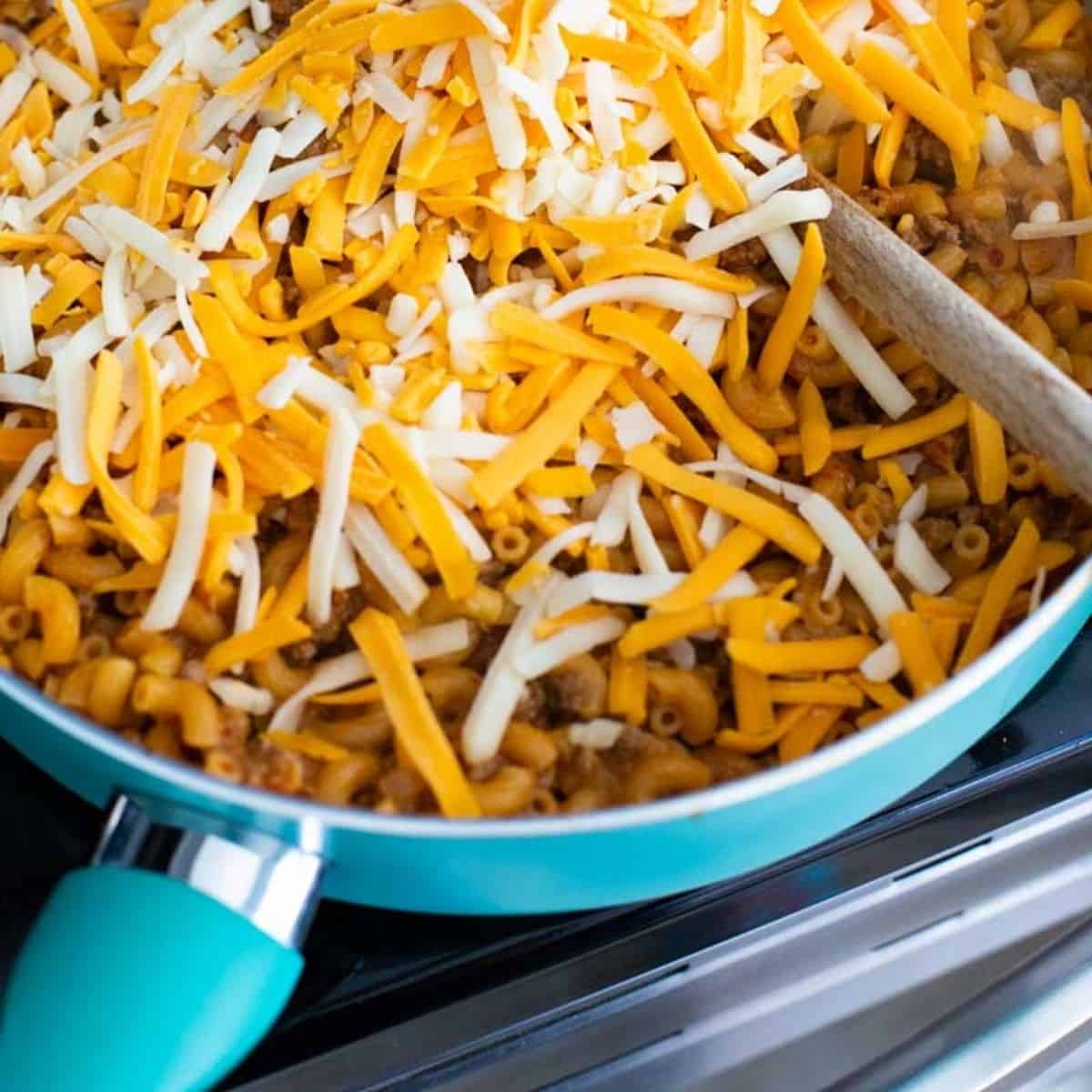 As we ease into the new school year, everyone I know is struggling to juggle the new routines for their kids. Between remote learning or figuring out what in-person school looks like, we've all got more than our fair share of stresses to handle.
By the end of the day, we're all exhausted. The kids are just done with being in front of a screen and I'm worn down from being their live technical support all day. The first few weeks of school night dinners were . . . pathetic. I just really struggled to get all my ducks in a row to make it happen.
Believe it or not, even I struggle with what to make for dinner when I'm under pressure. I was flipping through a 30-minute recipe booklet I received from Tastefully Simple and the Peanut saw the photo for this Chipotle Chile Mac and almost swooned:
"MOM, what is that?? It looks amazing."
I happened to have all the ingredients on hand, so we gave it a go. Her gut reaction was spot on. The dinner was a huge hit with the entire family and it was so easy to pull together.
If you haven't heard of Tastefully Simple, be sure to pop over to my Instagram feed for more info. I'm hosting a little giveaway over there with a few things I know you'll love-- including the spices you need to make this amazingly easy dinner.

Easy One-Pot Chipotle Chile Mac for Busy Weeknights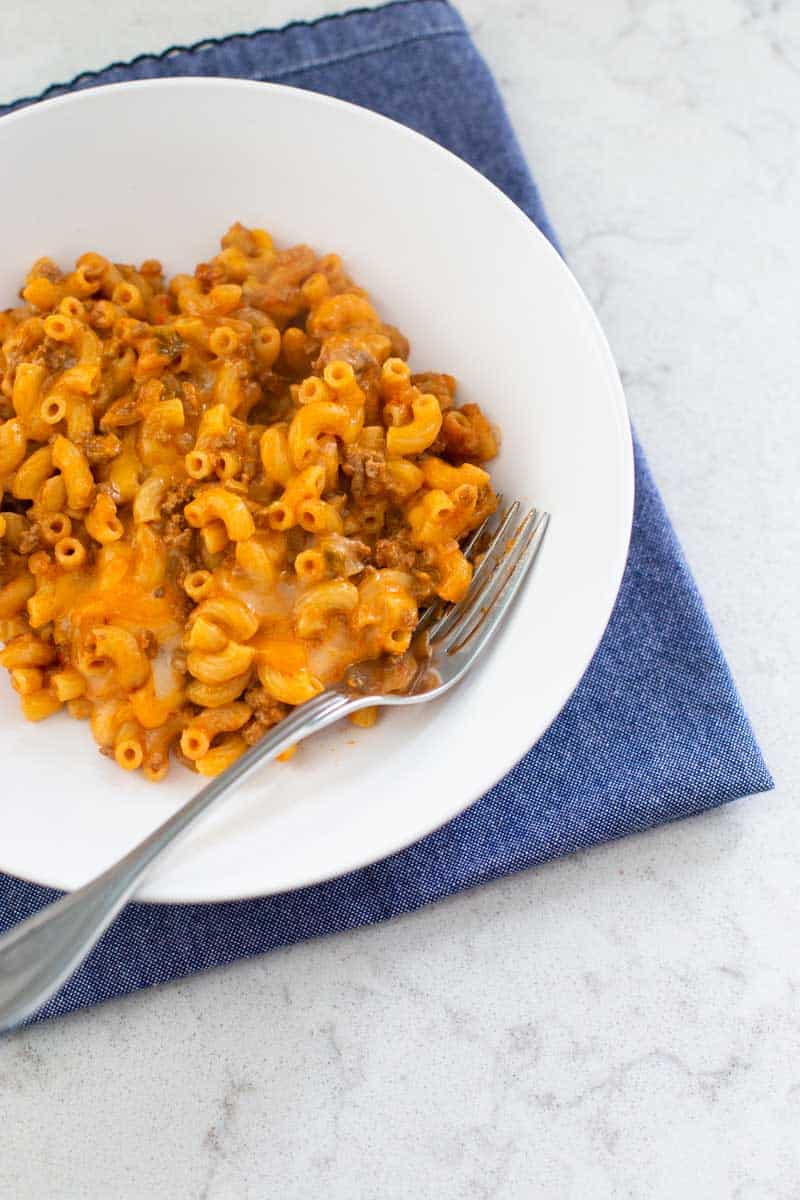 This chile mac recipe is perfect for anyone that feels nostalgic for Hamburger Helper. My husband is strangely obsessed with that classic packaged food. This version is almost from-scratch and miles away tastier but truly not much more difficult.
Make It in 30 Minutes
I am always suspicious of recipes that claim to be "30-minute" meals. There's usually more time needed for prep or my meat won't cook as fast. But this chile mac is for certain true to its name. I was blown away by just how fast and easy the entire dish is to make. Truly, you'll be done in less than 30 minutes.
How to Avoid Mushy Pasta
So many one-pot meals result with overdone pasta, one of my biggest pet peeves. The pasta in this dish came out 100% perfectly al dente. I was thrilled.
To make sure your pasta is the just-right texture, you'll want to compare the time listed on your pasta package to the recipe results. Go by the pasta box over the recipe below. Choose the lower number on the time range and subtract a minute. You can always simmer it another minute longer if needed, but you can't fix mushy noodles.
Will picky eaters like this dish?
It's no secret, my family is one of the pickiest out there. Every last one of them practically inhaled their dinner.
The sauce is perfectly thick and creamy without being too spicy. It is pure comfort food.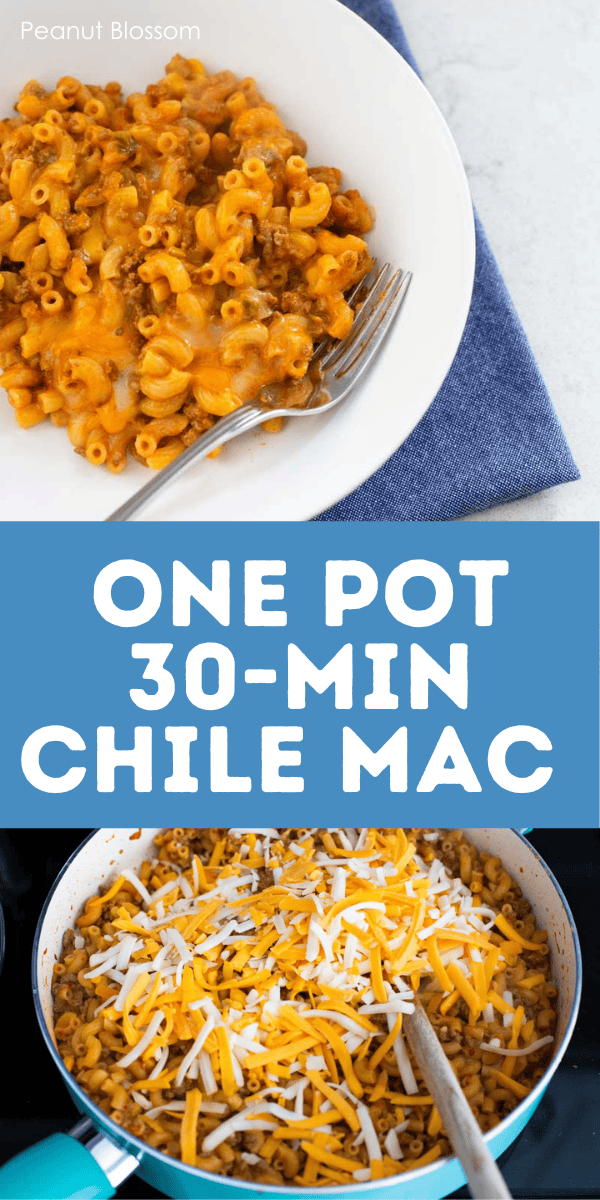 Make Ahead Tips
I personally preferred the dish the evening I first prepared it. However, it made more than the four of us could eat at one meal so we had leftovers for lunch for a couple of days. It reheated shockingly well but the pasta got a little softer with each passing day as it continued to absorb liquid from the sauce.
For the very best texture, I would make it the night you plan to eat it. If you know you'll have leftovers, be very careful to cook your pasta for the least amount of time possible the first night because it will soften overnight.
📖 Recipe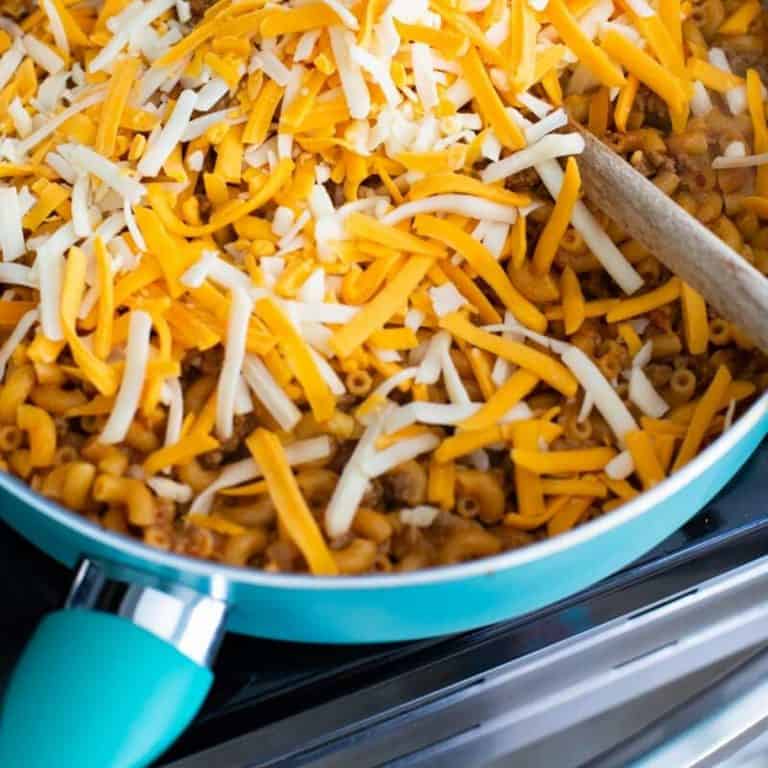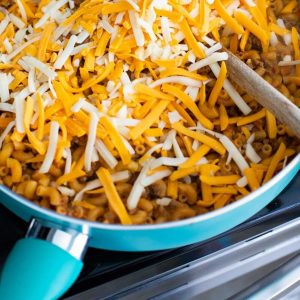 Chipotle Chile Mac
This easy one-pot chile mac recipe is perfect for fans of Hamburger Helper but who want an easy, healthier, homemade version.
Ingredients
1

pound

lean ground beef

1

small onion

chopped

1

(15 oz) can tomato sauce

1

packet Chipotle Chile Cheese Ball Mix from Tastefully Simple

1

(16 oz) box of elbow macaroni

2/12

cups

milk

1 ¼

cups

hot water

2

cups

shredded cheddar cheese
Instructions
Set a large skillet over medium-high heat, add the ground beef and chopped onion. Brown the beef, crumbling it as it cooks, until no longer pink, about 6 - 8 minutes. Drain the liquid from the pan.

Add the tomato sauce and the packet of Chipotle Chile Cheese Ball Mix to the beef, stir to combine. Let simmer for 5 minutes. Add the pasta, milk, and water to the pan, stir to combine. Place the lid on the skillet and bring the liquids to a boil. Reduce the heat to medium-low and simmer for 10 - 13 minutes or until the pasta is tender. Stir occasionally.

Remove the skillet from the heat and stir in the shredded cheese. Serve immediately.
HELPFUL TOOLS
Save This Recipe to Your Recipe Box
Find this delicious recipe next time you visit by saving it to your very own recipe box on my site. All your favorites stored in one easy place!