Book Club Kit for The Charm Bracelet by Viola Shipman includes book club discussion guide and party menu.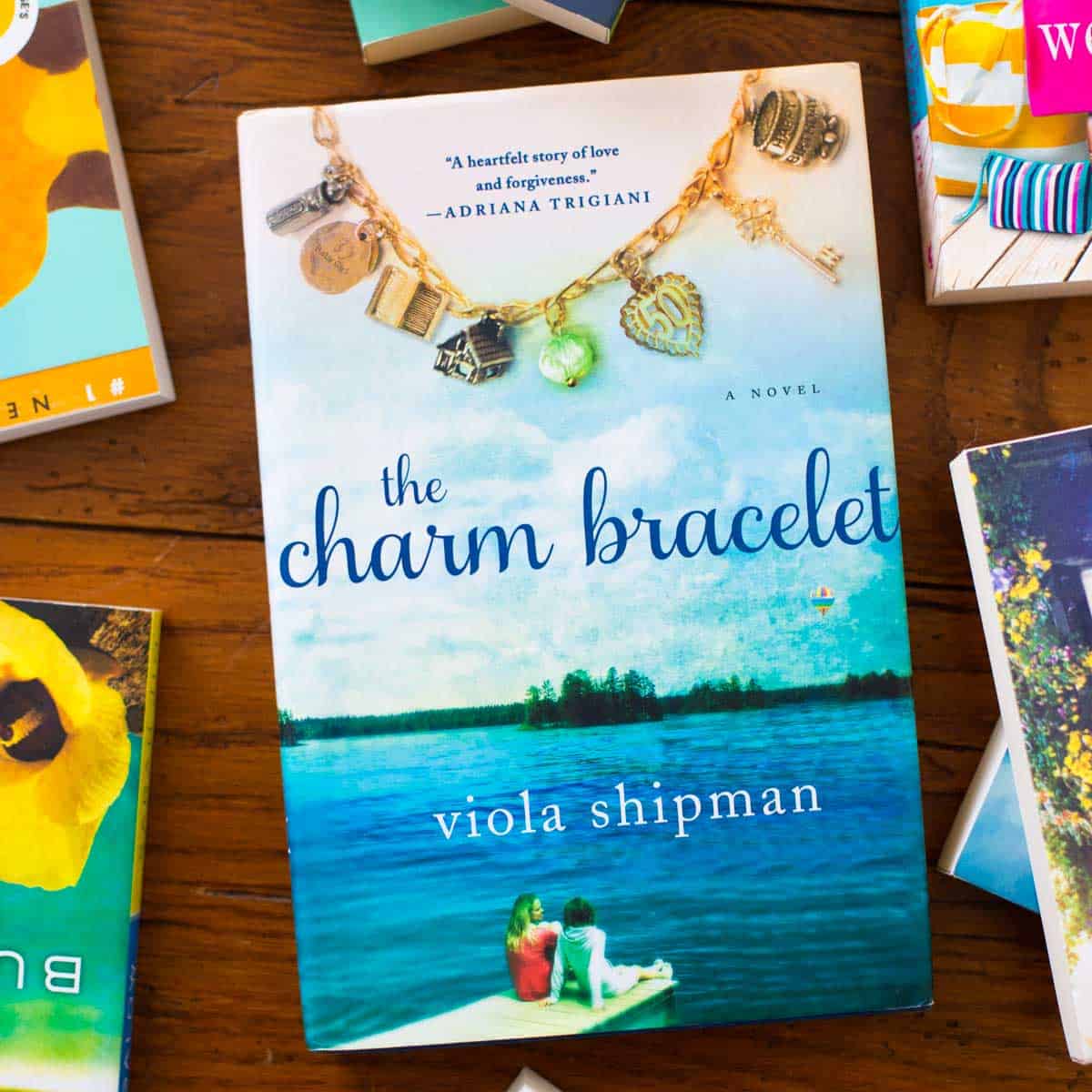 I try to pick books for our monthly book club that follow the theme of the season when we'll be doing the reading and discussion.
For May, I wanted to focus on books about mothers and went hunting for options.
When I couldn't decide between The Charm Bracelet by Viola Shipman or The Atlas of Love by Laurie Frankel, I put it up to a vote in our private Facebook group.
It was nearly a 50/50 tie.
Everyone seemed just as intrigued by the pair of books as I was.
We finally chose The Charm Bracelet because it was easier for most to find from their libraries.
Peanut Blossom Book Club
This book was our official May 2017 pick for the Peanut Blossom Book Club.
Want to see what we're reading today? Check out our book club book list here.
Want Free Reminders for Each Book?
Sign up for my book club newsletter right here:
What is The Charm Bracelet About?
Check out the full book description for The Charm Bracelet here:
"Through an heirloom charm bracelet, three women will rediscover the importance of family and a passion for living as each charm changes their lives.
On her birthday each year, Lolly's mother gave her a charm, along with the advice that there is nothing more important than keeping family memories alive, and so Lolly's charm bracelet would be a constant reminder of that love.
Now seventy and starting to forget things, Lolly knows time is running out to reconnect with a daughter and granddaughter whose lives have become too busy for Lolly or her family stories.
But when Arden, Lolly's daughter, receives an unexpected phone call about her mother, she and granddaughter Lauren rush home. Over the course of their visit, Lolly reveals the story behind each charm on her bracelet, and one by one the family stories help Lolly, Arden, and Lauren reconnect in a way that brings each woman closer to finding joy, love, and faith.
A compelling story of three women and a beautiful reminder of the preciousness of family, Viola Shipman's The Charm Bracelet is a keepsake you'll cherish long after the final page."
Go grab a copy of The Charm Bracelet here so you can join us for our book club discussion!
The Charm Bracelet Book Club Questions
I believe the best book club questions to spark a lively discussion in your group help readers make personal connections to the story.
You can read about how to write the best book club questions on your own here, but hopefully these will get you started!
Question 1:
What did you think of this month's pick? Would you have picked it up on your own?
Question 2:
Do you now or did you ever collect charms?
How did you get started?
When did you add new ones?
Which one is/was your favorite?
Question 3:
Do you and your family have a special place you return to year after year like the visitors to Scoops?
Question 4:
Did you know that Viola Shipman is a pen name for a man named Wade Rouse?
He honored his grandmother by using her name for this book which was also inspired by her own charm bracelet.
Does knowing the author is a guy change your perception of the book?
Question 5:
What did you think about the development of the budding romance between Jake and Arden?
Question 6:
Lolly, the grandmother, and Lauren, the granddaughter, appear to have a much closer relationship than Arden, the mom in the middle, does with either of them.
Can you relate to this family scenario?
Or are the generations in your family all equally close?
Question 7:
Has your family had experience with dementia or Alzheimer's?
Have you had to serve as the caretaker for the patient?
Question 8:
Lauren wants to follow her passion and be a painter rather than complete business school.
How would you handle if your child wanted to do the same?
Question 9:
What are some of your favorite family summer traditions?
Book Club Party Menu
For the book club party menu, why not host a potluck and ask each book club member to bring a dish that their mom or grandmother loved or that reminds them of their special women?
My mom absolutely loves my fresh cherry crisp or warm peach cobbler with a scoop of vanilla ice cream.
She asks for this chocolate flourless torte or a lemon meringue tart for her birthday desserts each year, too.
You May Also Enjoy
If you enjoyed this book, you'd likely enjoy these other fun book club picks from through the years: