Create a gorgeous family photo wall to display your favorite family memories where everyone can enjoy them all year round. Great tips for the perfect picture frames, which pictures to print, and where to hang your gallery.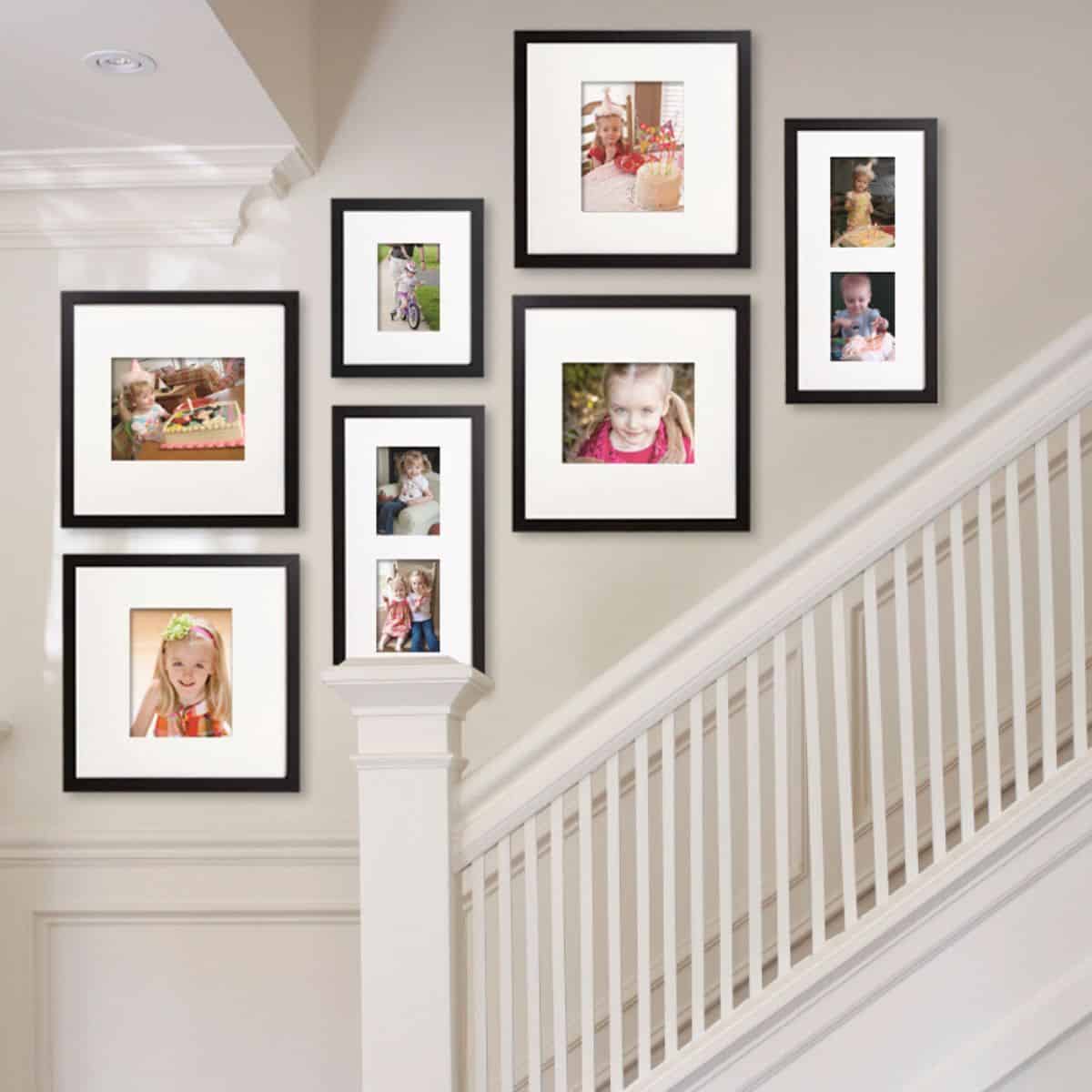 As much as I appreciate art, what truly makes our house feel like a home is the display of family photos in special wall galleries sprinkled throughout the place.
I love to rotate our pictures for the seasons and for special occasions throughout the year.
It's a fun way for the kids to enjoy and appreciate special moments from our family adventures and we love to connect over shared memories the photos help spark.
If you want to learn how to create a stunning family photo wall, I have all the tips and tricks you need to pick the right frames, choose the best photos, and find the perfect spot for this beloved family display.
Jump to:
Supplies You Need
I love decorating our home with family photo wall galleries because you need so little to complete the project!
Wall Gallery Frames: You can read more about my personal preferences below.
Printed Photos: A variety of picture sizes for your frames. You can learn more about the best place to print your photos here.
Hammer and nails or picture hooks
Important Design Notes
To give the wall gallery a cohesive look, you want to be sure to pick one of these rules to follow:
Same Color Frames: Buy all the same color frames (all black, all white, etc.). This is an especially good choice if you want to mix and match black and white photos with color photos.
Same Style Photos: If you have mix and match photo frame styles (solid white mixed with gold carved, etc.) then be sure to keep your photos consistent with all color photos or all black and white photos.
Same Size Frames: Choose frames in the same color and size for a pleasing grid-like design.
The Best Wall Gallery Frames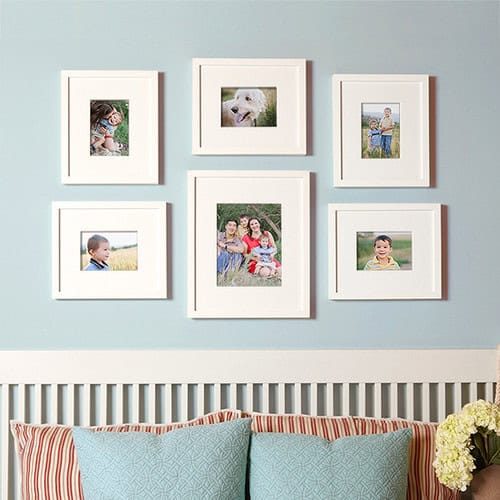 My personal design preferences it to buy all the same color frames so I have more flexibility with the photos that I put on the wall.
In the entry way and dining room we have all black frames. In my daughter's bedroom we have all white frames.
I look for plain wooden frames with a variety of photo size openings:
I avoid frames with 4 x 6-inch openings, they are just too small for a wall gallery.
You can even find wall gallery frame sets that include everything you need all in one kit:
11 x 14-in Frames Kit: This is great for photos sized 8 x 10 with mat.
9-Grid Square: This would be so fun for printing Instagram photos for your home!
Perfect Basic Set: This awesome wall gallery set has frames all in the same color. You can choose black, white, grey, or natural.
6 Family Photo Wall Ideas
Now that you've got your frames, you need to decide which family photos to put on your wall!
Here are a few of my favorite themes for my rotating wall gallery:
Birthday Photo Wall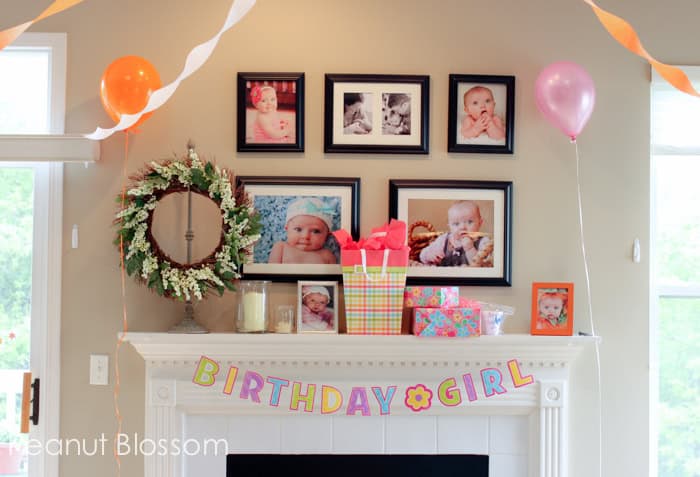 Oh how I love to celebrate my baby girls' birthdays.
Every year so far we've had so much fun decorating the house and having a big family hoopla in their honor.
When Little Pea turned one, I decided to deck the house out with photos from her first year.
I filled my very favorite wall gallery with my favorite images I'd captured that year and it was a wonderful way to personalize her party and to marvel at how far she'd come in such a short amount of time.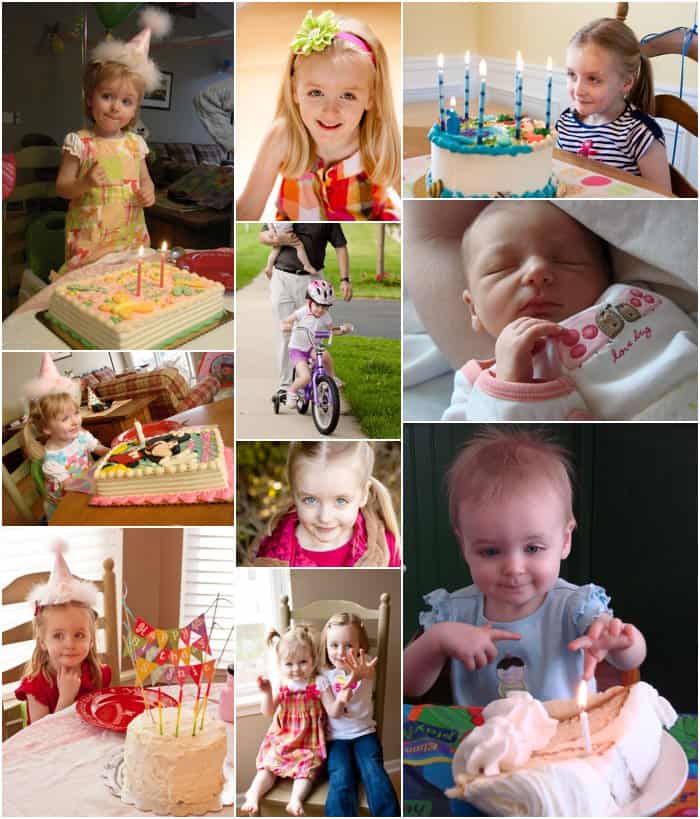 Romantic Wall Gallery
Mix and match photos of just the two of you along with personal objects and art that represents your love.
We have a special family wall gallery in our master bedroom, no kid pictures allowed!
You can see more pictures of our couples wall gallery here.
School Days Photo Gallery
If you plan ahead and do this adorable graduation photo tradition, you could fill the family photo wall with pictures of your high school (or college) senior wearing their class tee.
If you didn't plan ahead, no worries. Just dig up your favorite school photos from throughout the year.
This would be a fun display to put up for back to school season or to keep up all senior year or just for the graduation party.
Christmas Family Photos
After Thanksgiving, I swap all the photos in our wall gallery to display my favorite Christmas family photos from throughout the years.
I have a mix of pictures of the kids along with joyful detail shots I took of our Christmas tree, Elf on the Shelf, and other fun Christmas traditions.
Easter Pictures Gallery
Just like with Christmas, I take a ton of fun and festive shots of our family during the holiday season.
It is just the fun pick-me-up our house needs when I refresh the wall gallery frames with the sweet Spring photos of my girls in their Easter bunny ears.
Summer Vacation or Family Travel
Family photo walls are the perfect place to display your favorite summer vacation memories.
Whether you did a staycation at home or you went on a fun family trip, print the latest family vacation photos from your adventure for the wall!
Don't miss my best beach photography tips here so your pictures turn out wall-worthy!
Wall Gallery Placement
With your frames and prints ready to go, the final step to creating the ultimate family photo wall is to decide where and how you plan to display it.
Here are some sneak peeks from my house: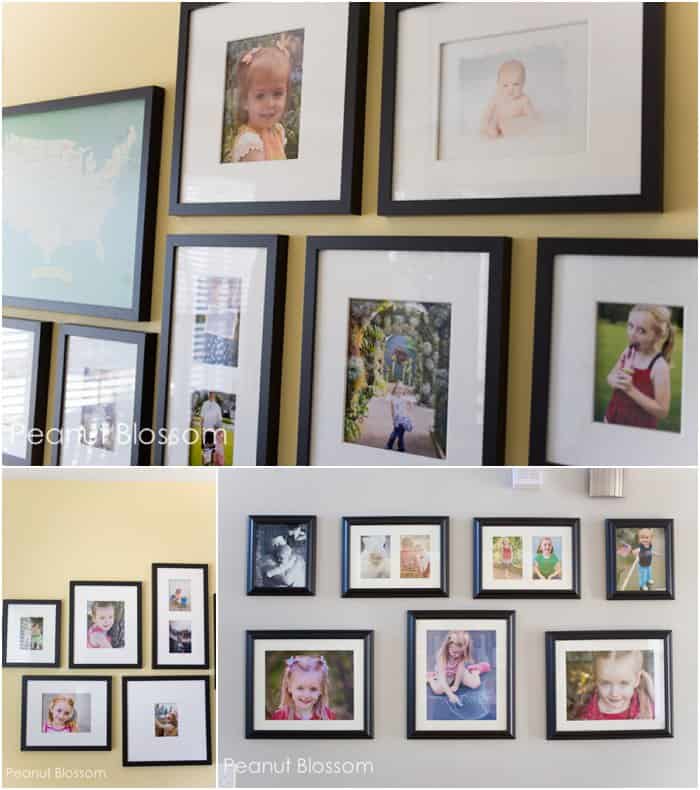 My favorite spots in the house to put our photo wall includes:
Dining Room: We keep one gallery right in the dining room as a conversation point over meals. This is where we celebrate holidays and special occasions so rotating the photos there always gives us a sense of season.
Master Bedroom: Our romantic wall gallery just for us hangs on the biggest wall in our master bedroom.
Child's Bedroom / Nursery: I had a very small 4-frame gallery in each of the girls' nursery. It was a fun spot to display milestone photos as they grew.
Above the Fireplace: If your fireplace has room for art above the mantle, this is a wonderful spot to display a photo wall.
Stairway Gallery: The trickiest spot to lay out the designs but one of the most visible wall galleries in our house. Check out the fun arrangement examples below!