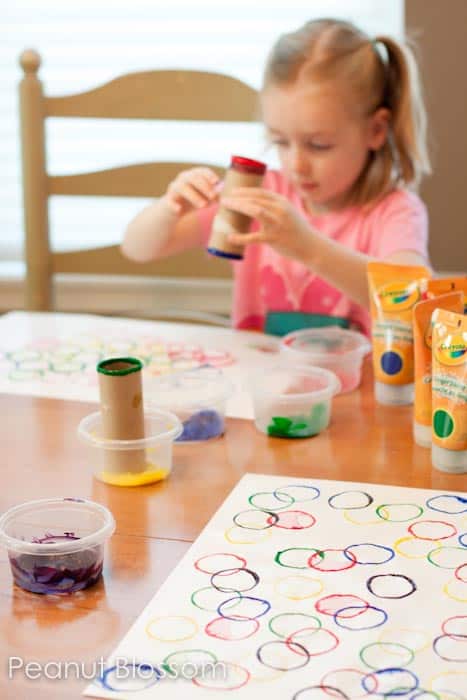 Ever since visiting Barcelona's Olympic stadium months before the 1992 Olympics while on a school trip, I've had a love affair with the summer games. There was something so special about touring the grounds where all those athletes competed just shortly after that has stuck with me all these years.
While the Olympics may be fraught with political issues, the idealist in me loves all that they stand for: peace, friendly competition, and the celebration of the dedication and perseverance of the athletes.
At age 5, the Peanut is finally old enough to enjoy her first Olympics. We're in the middle of our big move so things are an insane mix of packing and sorting. It is likely we'll miss the closing ceremonies so I tried to make the start of the games as special as I could for both my girls. If your life has been crazy too, it's not too late to do these activities--you can make the Closing Ceremonies just as fun!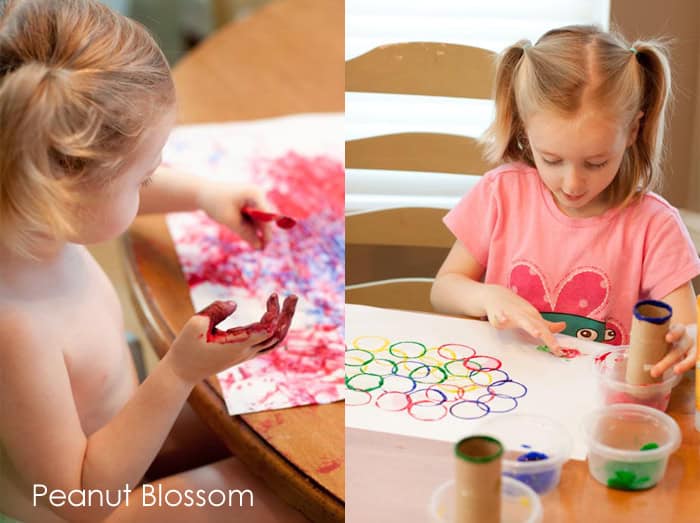 My favorite lessons for my daughter from the Olympics:
A  new awareness of the far reaches of the world where the athletes call home
The powerful message of strong women playing sports she may not have considered for herself
Considering what it is to be a good winner, watching sportsmanship in action, and witnessing the agony of defeat
A fabulous pictorial introduction to London
To extend these lessons and build on the excitement for something she didn't initially understand, we had a build up to the Opening Ceremony the other week. Thanks to Pinterest, I found inspiration for these toilet roll paper Olympic rings paintings. I was able to chat with her about how the colors represent every flag in the world. We did painting after painting and hung them up in our living room for our viewing party. They were so proud of their art gallery!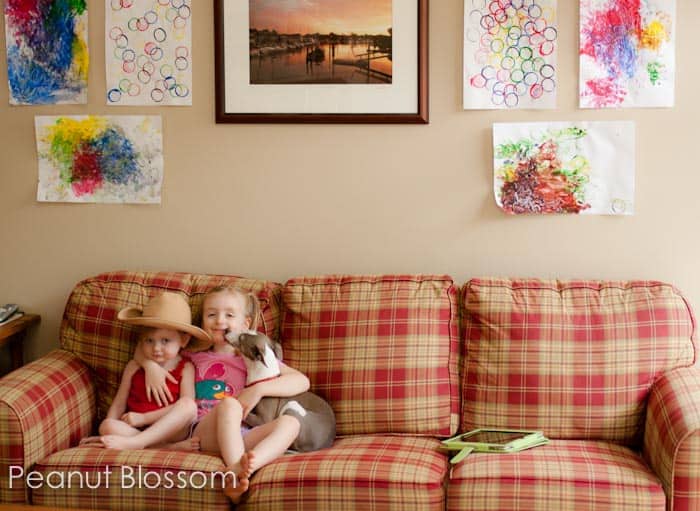 I let my girls stay up way past their bedtimes, popped a big bowl of popcorn, and cranked up the volume on the ceremonies. They only made it to the parade of nations before crashing, but it was still an exciting way to kick-start the sports viewing.
We've also been enjoying the following books from our library:
1. "G is for Gold Medal: An Olympics Alphabet" by Brad Herzog: This fantastic choice has tons of historical information about the games that would be appropriate for an older child but is still written with a simple alphabet series style for my 5 year old. This is the kind of book a child could definitely grow into.
2. "Winners Never Quit" by Mia Hamm: Fantastic book about sportsmanship and how you should behave even when you're losing. While it may not be about the Olympics, it allowed me to introduce a famous female Olympian to my daughter.
3. "Dream Big Little Pig" by Kristi Yamaguchi: This book started out so fantastically and was a great story of a pig trying out different activities one after another to find what she is good at. The lesson that we must work hard and practice to develop our talents was wonderful. I was disappointed in the final pages, the story missed an opportunity to end with a bang but I'd still feel comfortable recommending it. Again, while it doesn't discuss the Olympics specifically, it allowed me to introduce another famous female Olympian.
4. "A Walk in London" by Salvatore Rubbino: Another book that has a simple story to read to a younger child with tons of historical information in call-outs on each page for an older child to enjoy. I wanted my daughter to have the chance to learn as much about the host city for this games as we could.
We've been keeping the games on in the background more often than not this past week. The funniest lesson for me is how my daughter despises commercials--something she has not been exposed to until now. She keeps asking that I fast forward through them and it makes me laugh to consider how far television viewing has come since my own childhood.
If you'd like to see the one book I felt necessary to purchase for our own home library, you can read all about it here. I talk about the book that inspired a love of travel for me as a child and the series I have discovered that I'm hoping to use to instill that same love in my own daughters.