Milestone photos aren't just for babies, capture the precious memories of your big kids, too! Here are some great photo ideas to help get you started documenting all the memorable things you'll want to look back on when your kids are grown.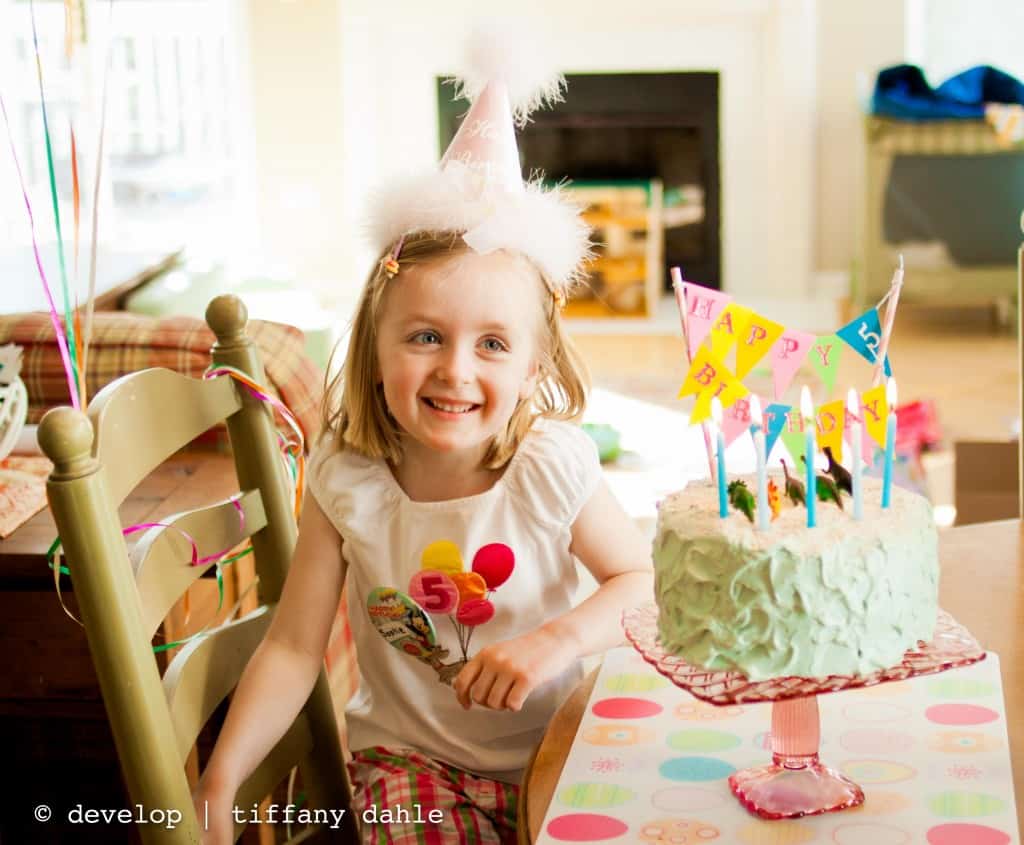 "My kids are growing so fast and so big." Isn't that every parent's constant lament?
Too often as our kids age and move past diapers, we lose our zest for capturing the milestones of their growth. I often hear from friends with children ages 8+ that big gaps of time can pass without pausing for photos. As a mom to two "somewhat still little" ones, that makes me sad for the future and I want to find another path.
I'm proud to be joining the Melissa & Doug Capturing Childhood series this spring and thought this would be the perfect opportunity for me to share my five favorite tricks for capturing milestones as children age.
How old are your kids? Have you found yourself picking up the camera less? I'd love to hear your favorite times for capturing your own kids, leave me a note in the comments!
5 Photo Prompts for Big Kid Milestones: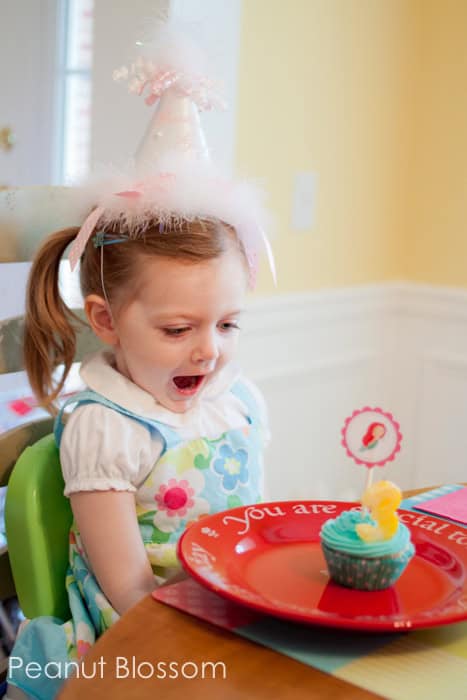 1. Signature Clothing:
The key to capturing growth is including an object in the image that's size remains stable. Clothing is perfect for this.
Each of our girls have a special birthday hat I purchased for their first birthday. They've worn them every year since. And yes, I'll be that mom begging them to indulge me at 18 with their pink boa fringed cap. I hope I'm raising girls with a good sense of humor.
Alternatives:
college t-shirt from your alma mater
a special baseball cap
daddy's favorite jacket
mommy's favorite high heels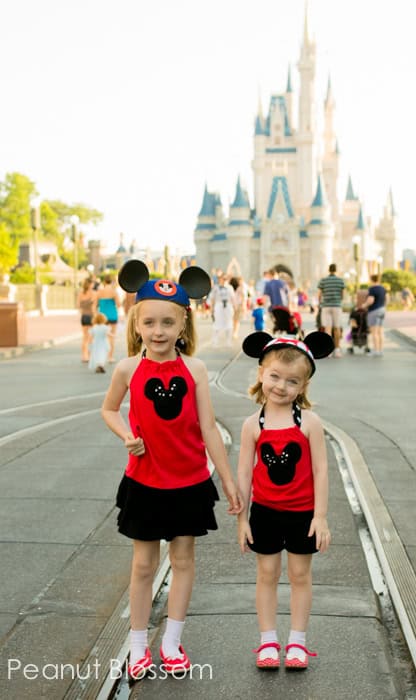 2. Use a Landmark:
Does your family take an annual vacation to the same spot? Is there a family-favorite park or historical statue near your house?
We've been blessed enough to have 2 trips to Disney World 2 years running and I love seeing my girls get bigger in front of the castle.
Alternatives:
a local monument
fountain
statue of any kind
big rock at a local school ground, perhaps with a painted message!
3. Hold a Special Sign or Prop:
Back to School time is rife with signage. I totally jumped on board with our easy chalkboards. This series is quickly growing in my archive and it is so fun to see the first days of school with the kids inching upwards every year.
But you don't need to wait until Back to School season for this trick. What about using a sign for the first day of an annual summer camp? Or a Halloween sign? It's an adorable way to include a caption right within your photo.
Alternatives:
birthdays
holidays
random milestones like tying shoes, first lost tooth, rode a bike without training wheels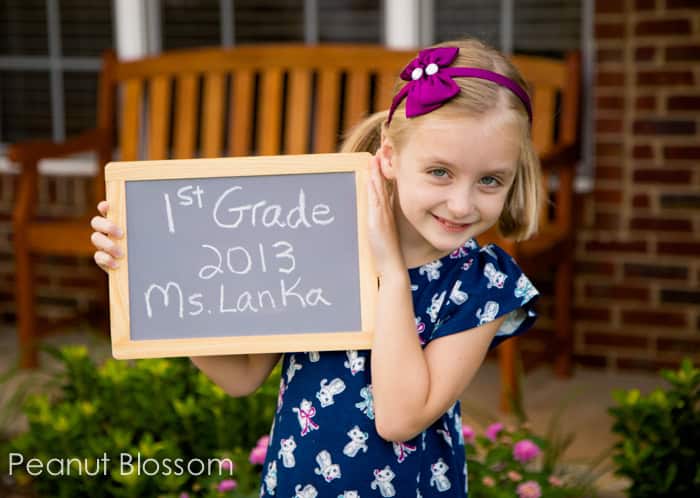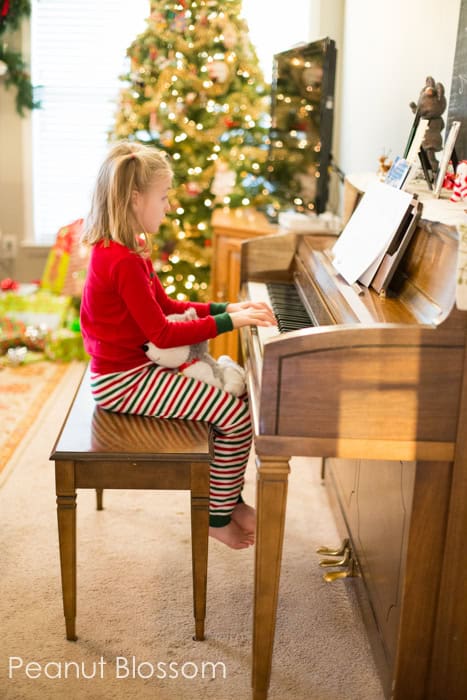 4. Favorite Furniture:
When we purchased our very first piano last fall it was an enormous milestone for the entire family. I'm thrilled my girls will grow up in a house filled with music and I look forward to the years ahead of us full of lessons and practice.
My mom is the one who actually suggested this photo opp. Apparently my grandmother (my father's mom) had formal portraits taken of each of her sons dressed up in tiny suits sitting in front of her beloved organ when the boys were little. Mom suggested I capture my tiny girls sitting at the piano when we first got it.
I loved the idea and captured this of the Peanut on Christmas morning. I love how her little feet don't even reach the floor and that she has a stuffed animal on her lap. It may not be a "formal portrait" but the piano makes the shot meaningful in a whole new way.
Alternatives:
daddy's armchair
their bed (as it changes bedding and accessories)
a child-sized chair or beanbag
their first desk for homework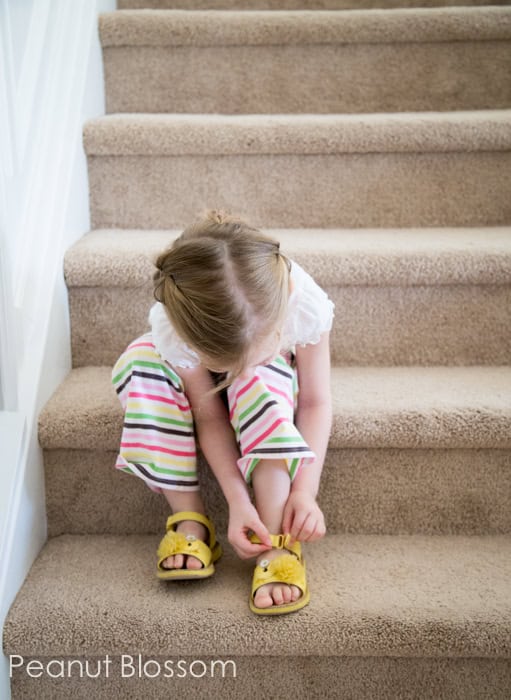 5. A Certain Sunny Spot in the House:
When I was growing up, we had countless shots of my sister and I in front of the fireplace. Every time there was a special event, it was documented with this image of us by the mantle.
Where does your house get good light? Is there a particularly pretty spot? Claim that corner for your milestones and special events go-to solution.
In our new house, we get fantastic light on our steps. I captured this image of Little Pea putting her sandals on all by herself for the first time. I had a flash forward moment of her dressed in a Prom gown with corsage getting ready to head out for the night. Our stairs may not be fancy, but I can tell already that they'll be the background for many images to come.
Alternatives:
fireplace
front door
backyard garden