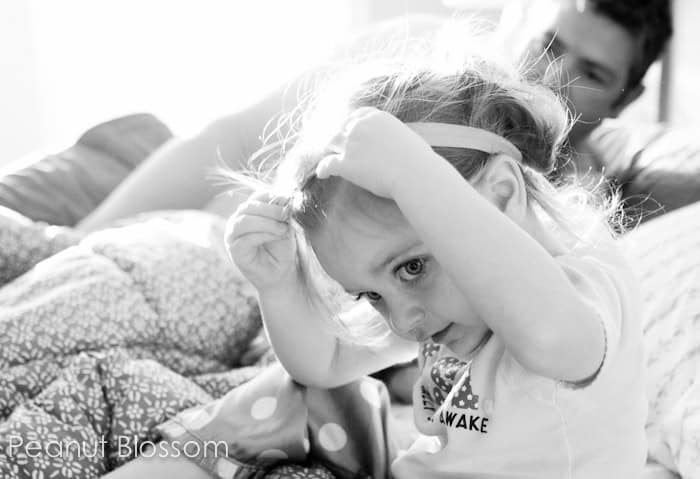 Why didn't someone tell me I had this kind of light in my bedroom? A typical weekend morning, the girls pile into our bed and wake us up. They are so crazy cheerful and energetic and as I enjoyed the giggles and jumping I happened to notice the light streaming in through the window.
I have dozens of photos of the girls and Handyman Tim in our bed at our old house. 2 months in and I still hadn't thought to capture the new location. I hopped out of bed, grabbed my camera, and caught a few spur of the moment goofy poses.
I've been thinking a lot about this photo. It is nothing terribly remarkable except for the fact that it is a very real and unstaged moment--something I have not been doing a good enough job at capturing since the move.
I signed on for several creative photography projects this year and for the first time since picking up my DSLR 2 years ago, I feel like I have massively failed in keeping up. In the bright shiny newness of January they all seemed do-able and perfect but I had no idea the impending chaos that 2012 would bring. Travelling husband, massive surgery, cross-country move, real estate drama, settling in to a new home, new schools, new routines, and building a support network from scratch. 2012 has been physically and emotionally draining and I struggle daily to keep up.
And then along came this photo.
I've been doing a lot of thinking and 2013 can't come fast enough. I have a very deep need to start fresh NOW. I've always been a proponent of breaking your own rules when it makes sense so this year I'm breaking a big one. I've got something brewing with Zina from Let's Lasso the Moon but this time I'm being more cautious with it's launch. I'll have more details to share in the coming weeks but wanted to give you a peek into the thought behind it now.
Sometimes admitting a mistake and letting go leaves room for something bigger and better. I'm confident this is one of those times.