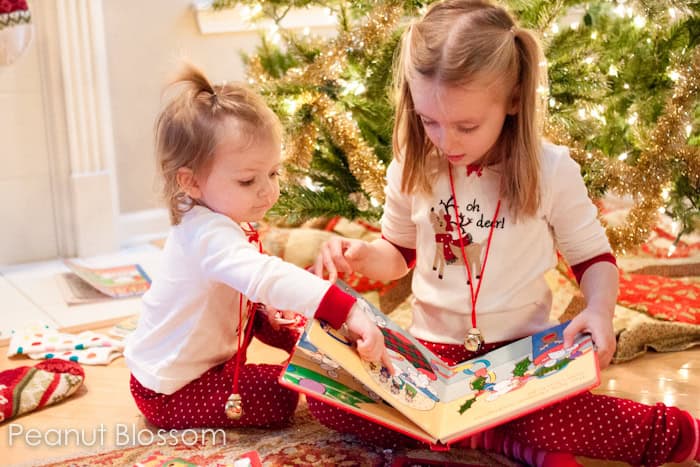 Every year I share my pitfalls and lessons learned while shooting our family Christmas card photo but I've never stopped to talk about how to capture the real holiday itself. The key to my favorite shots from last year's holiday season is practice. With that in mind, I've decided to share my tips now so you can be prepared when the season is in full swing a few weeks from now.
1. Start Early
Christmas starts on the day after Thanksgiving for us. That's the day we stop and decorate the entire home and put up our tree.
While I am usually too busy in the kitchen on Turkey Day, I pick my camera up that Friday and it lives an arm's reach away for the next several weeks.
I'm on the look-out for all the little festive moments that make up our holiday. If I have to run too far for the camera, the moment won't get captured.
2. Pull Back and Show the Environment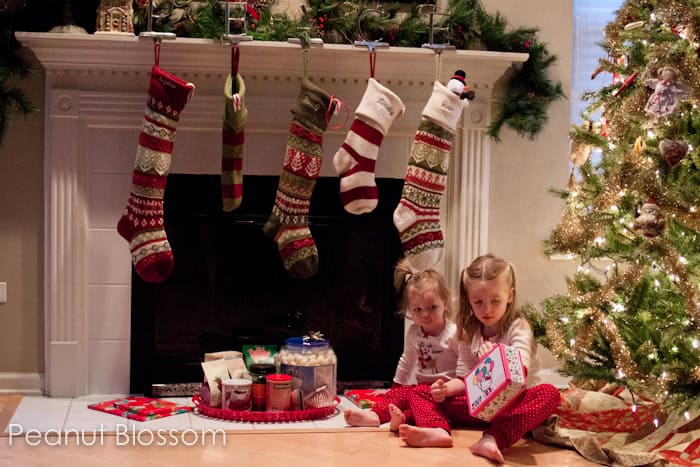 As a parent to super cute young kids, you'll be tempted to zoom in close to their faces for every photo.
While their reactions to the gifts are priceless, once they're older, you'll all enjoy getting a better peek at the beautiful home you work so hard to make special this time of year.
Be sure to include some environment shots in your photos.
This photo of St. Nick's morning was possible because St. Nick was smart enough to leave treats right where I wanted the girls to sit for a photo. I knew just where to stand to snap this as they sat down and then moved in closer for the stocking reveals.
3. Be Ready for Fast Reactions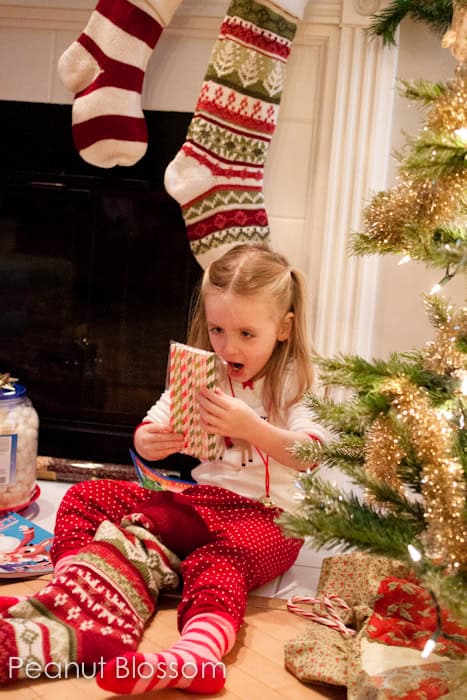 If you're using a DSLR in manual mode, be sure to keep your shutter speed up.
If you're shooting in aperture priority mode be sure that the camera is staying at 1/200 or higher so the kids' expressions aren't a blur.
Young children's reactions can come and go so quickly, if it is a special gift be sure to have your camera pointed and ready to go. I laughed when I saw the Peanut's excited expression over  a simple package of straws, sometimes you just never know what will trigger it.
4. Practice the Camera Settings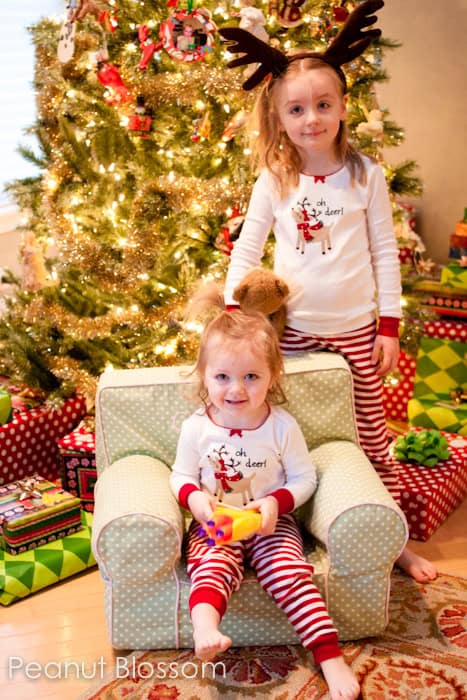 This chair is more than a prop, it's a placeholder.
Knowing we'd open our gifts around 7:30 a.m. on Christmas morning, I practiced my settings in front of the tree at that same time a few days ahead of the holiday.
I placed the chair in this exact spot and snapped a few of the girls watching tv. It gave me the chance to see how high or low I could go with my aperture and shutter speed, helped me find the right ISO.
Then before I went to bed on Christmas Eve, I put my camera at that settings range so I could relax and enjoy capturing their reactions to the presents without worrying about missing a shot from fumbling with the buttons.
5. Capture the Small Details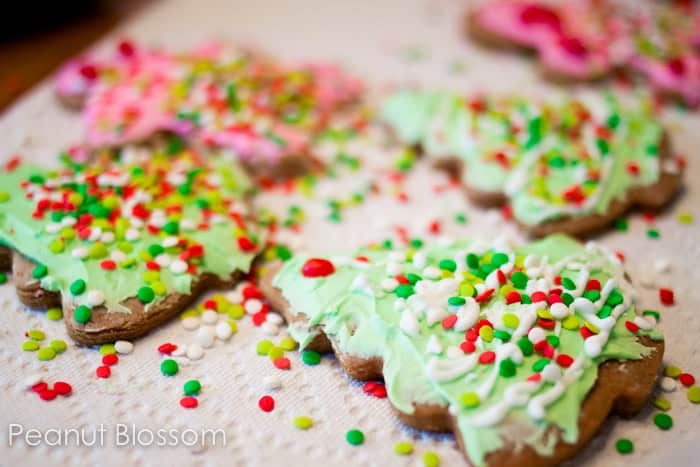 Don't forget the cookies, wrapped presents, mugs of cocoa, family games, ornaments, and other holiday events.
Taking these photos give texture to your albums and trigger a whole different set of memories.
For prettier food shots, use natural light whenever possible. There's nothing particularly awesome about this set up, the freshly decorated cookies are on some paper towels sitting on a cookie sheet. I took the sheet towards an open window and used a smaller aperture number to give a little blur.
Don't go crazy though: Food generally looks best at f/3.5 or higher.
6. Relax and Enjoy the Mishaps: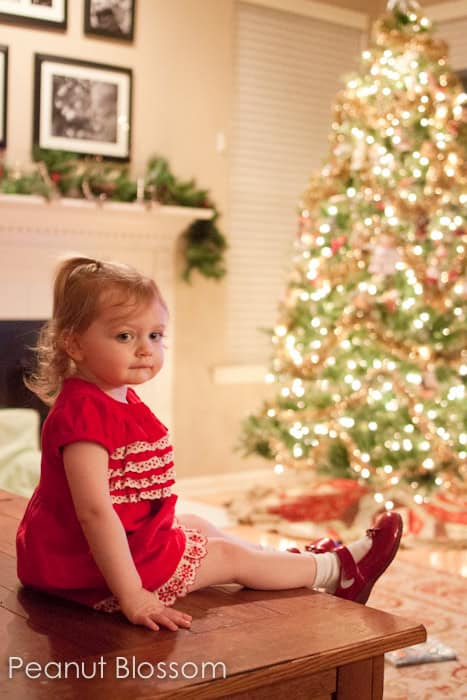 This is actually an "outtake" shot. Little Pea is chilling out on the coffee table wearing the Peanut's shoes.
We had just finished our holiday card session and this ended up being one of my favorite photos from the whole month.
It doesn't need to be a formal event or a staged moment to be beautiful. In fact, the real moments are the ones you're going to cherish most.
Do you have any great photography tips for the holiday season? Let's chat in the comments!