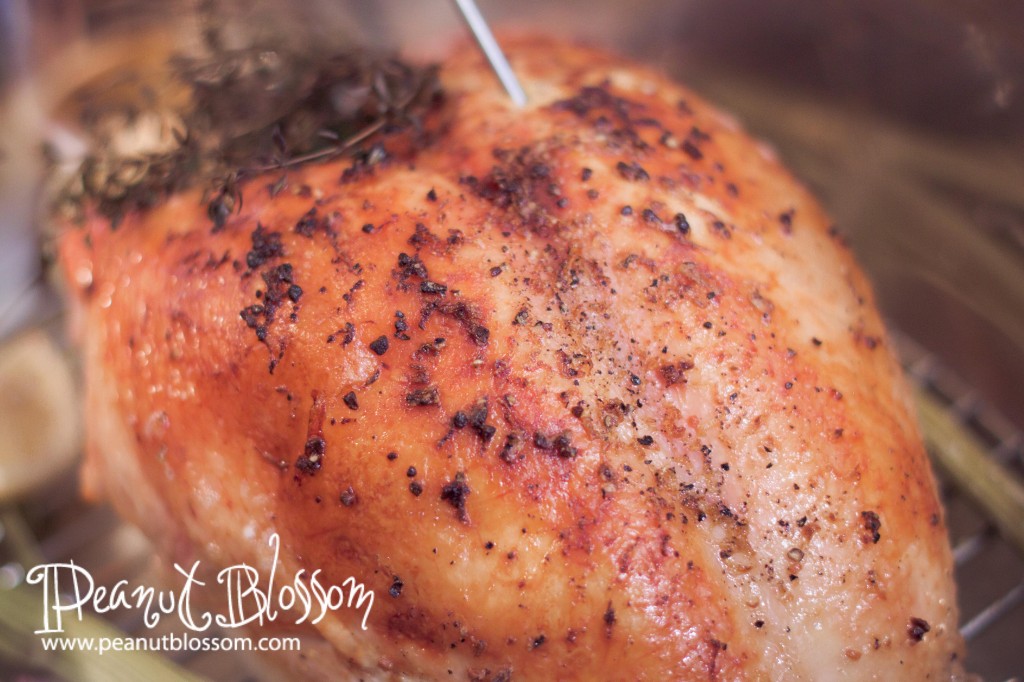 Dear Summer, I'm done with you. Please no more grilled food, popsicles, and salads. I want roasts, casseroles, chili, and homemade bread. I'll keep your ice cream though. Thanks.
But, it's only August. We still have Indian Summer to hit in September. It's a little early to be doing cold-weather foods. I just couldn't help myself. I HAD to have a roasted turkey breast this week. I never make turkey outside of Thanksgiving, but for some reason the idea of it planted itself firmly in my brain and would not be deterred until I donned my plastic gloves and got up close and personal with this poultry breast.
Oh. My. Gosh. Best decision ever. This is going to be a new end of summer tradition round these parts. To keep the turkey from tasting too Thanksgiving dinner-y, I went with a more summery treatment: butter, garlic, lemon, and thyme. I nearly cried when I tasted my first ever batch of homemade gravy. The lemon was a stroke of genius. And best of all, I'm now the happy owner of turkey leftovers for sandwiches for the rest of the week! I'll be sharing my sandwich recipe in a few days because I swear it is the best I've ever tasted. Today, we'll just focus on the bird itself.
_______________________________
"Bye Bye, Summer" Roasted Turkey
adapted from "5 Ingredient Fix" by Claire Robinson
Ingredients:
1 3-pound fresh skin-on, bone-in turkey breast
4 tbsp butter, room temperature
2 cloves minced garlic
1 lemon
2 shallots
3 stalks of celery
salt and pepper
Big healthy sprig of fresh thyme
2 cups chicken stock
2 tbsp flour
2 tbsp butter (for gravy)
Method:
Preheat oven to 375 degrees.
Dry the turkey and place meat side up on a roasting rack in a roasting pan. Mix 4 tbsp of butter with the garlic and zest of the lemon. Rub all over the top of the turkey. Sprinkle with salt and pepper.
Peel and slice the shallots, sprinkle in the bottom of the pan. Wash the celery stalk and just trim the base end, throw in the pan. Quarter the lemon, toss in the pan. Pour 2 cups chicken stock into the bottom of the pan. Wash the thyme, place in the cavity of the turkey.
Insert a meat thermometer probe and place the pan into the oven. Bake until it registers 165 degrees and the juices run clear. (My 3.5 lb bird took 2 hours and 15 minutes.) Remove from oven and place bird on cutting board covered in aluminum foil to rest.
Using a slotted spoon, remove the solids from the pan drippings. (Celery, shallots, etc.) Squeeze the lemon quarters into the drippings to add that extra bit of leftover juice. Pour roasting pan liquids into a sauce pan (or if you're lucky like me to have a pan that can go on the stove top, just leave them there.) Add the flour and remaining 2 tbsp of butter and cook the drippings until everything is bubbly and thick. Season with salt and pepper as needed.
Slice the turkey and serve with the gravy. I threw in a pan of baby carrots coated with olive oil, salt and pepper, to roast for the last 45 minutes of baking time. The sweet carrots made an excellent veggie side with the bird and lemony gravy!!