Whether you homeschool or just want to encourage a healthy curiosity of the world in your kids, every home library should have these great educational books on hand.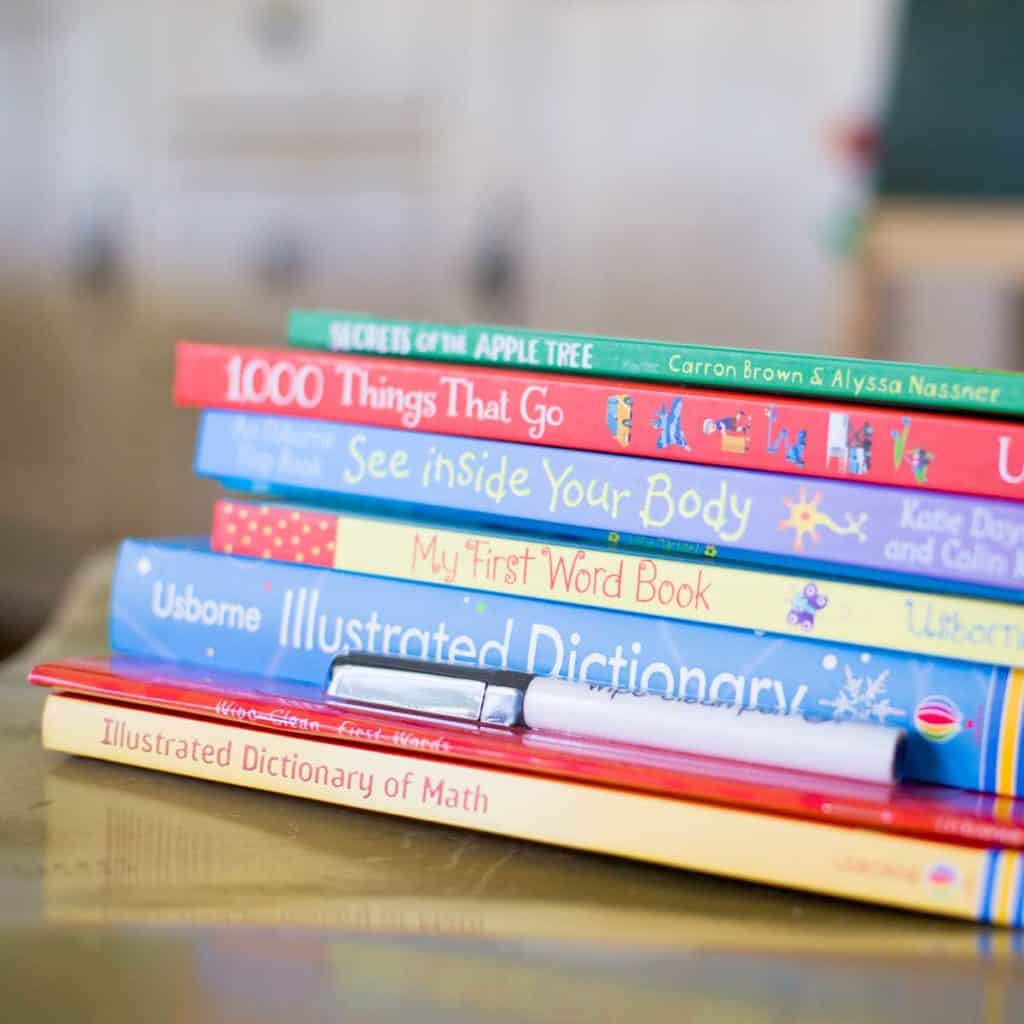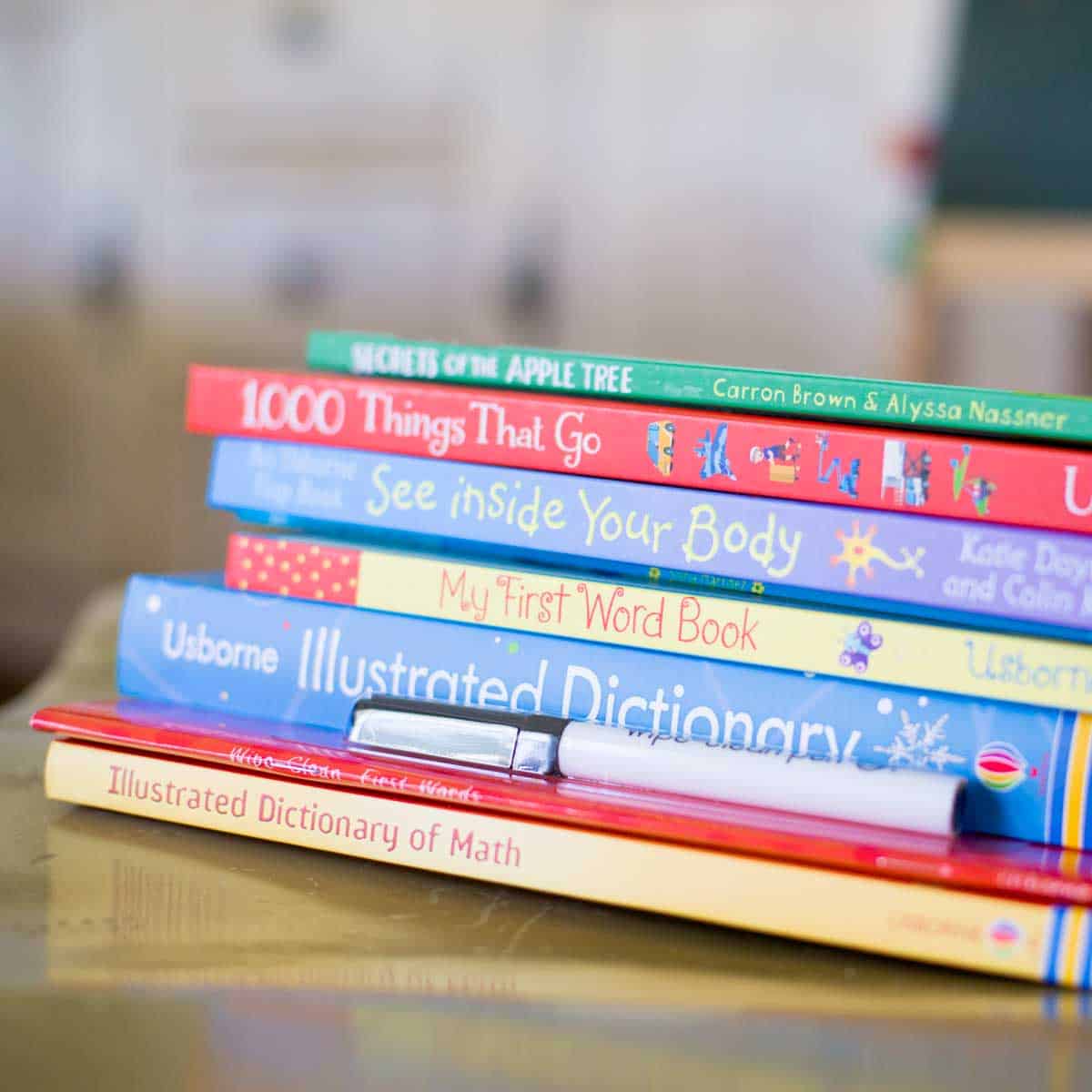 I recently shared my thoughts on the simple trick my parents used to ignite a lifelong love for books.
The simple answer is:
They made sure I had access to books in a fantastic home library.
I am a long time obsessive fan of Usborne. I stalk their titles at local gift shops and online. My girls have enjoyed a wonderful collection of the books since I discovered them five years ago--when the Peanut was just 2 years old! I am thrilled to introduce them to you over the coming months.
If you are not familiar with Usborne, you are able to view the full collection at my book shop here.

Today I'm sharing some of my favorite Back to School titles that I hope you'll find helpful as your kids enter their new grades. Take a peek at the list below and let me know what you think! Which one do you think your kids would love?
18 Back to School Home Library Books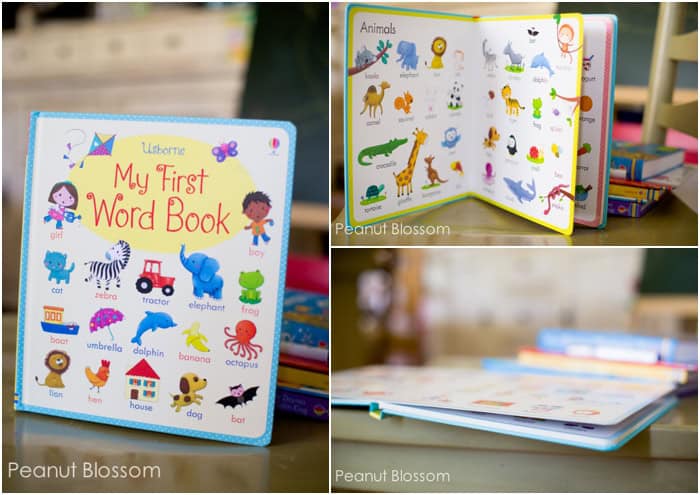 Pre-Readers:
The quality that stands out about Usborne books more than any other is the insane quality of the printed materials. These pages are thick and sturdy and feel amazing. (Can you tell I'm a total book nerd??) They know their audience well and kids are not exactly known for being gentle. These adorable options are perfect for your preschooler or Kindergardener:
My First Words
Wipe-Clean First Words workbook
Lots of Things to Spot at School
Wipe-Clean Ready For School

Number Sense and Making Math Fun: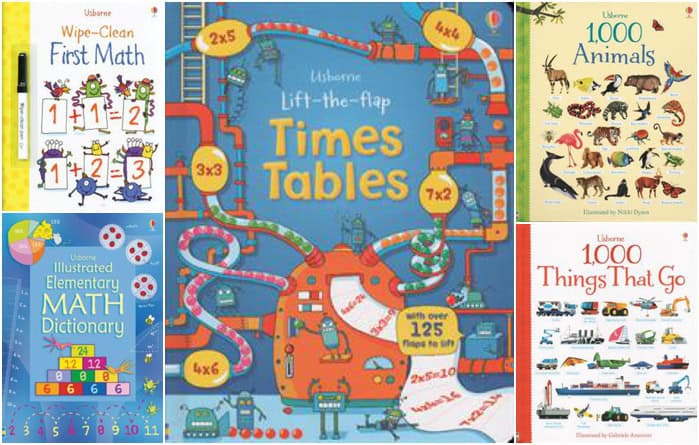 Disguised as brightly colored storybooks, these math titles are wonderful for inspiring an interest in math. I am not kidding when I say my HUSBAND was obsessed with "1,000 Things That Go." These are the kind of math books I wish were available when we were kids:
1000 Things That Go
1000 Animals
First Math
Lift the Flap Times Tables
Illustrated Elementary Math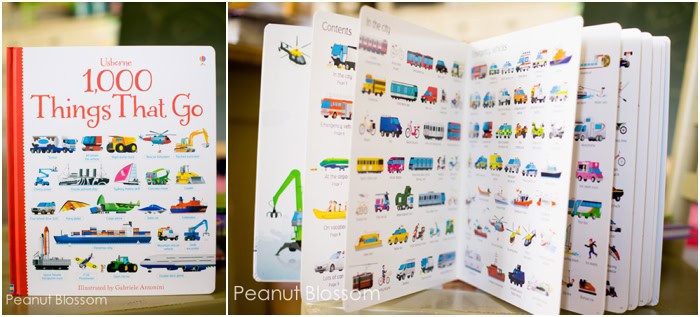 In Lieu Of Encyclopedias: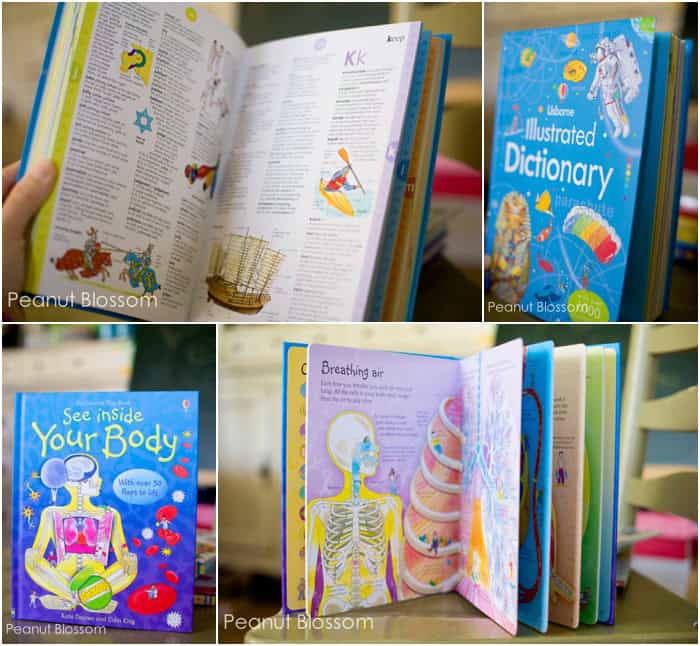 I talked about how I was obsessed with our family encyclopedia set in this post here. I think it is so sad that families don't have those anymore. I was downright giddy while turning the pages of "See Inside Your Body" and the "Illustrated Dictionary." All those memories of snuggling up with the "Letter M" from the encyclopedia set came rushing back:
The Usborne Illustrated Dictionary
See Inside Your Body
Illustrated Science Dictionary
See Inside Planet Earth
Lift the Flap World Atlas

The Nature Lovers:
My girls and I have always been drawn to the illustrators behind the Usborne books. They handle nature and science so very well. These books are absolutely lovely and help inspire an interest in nature:
Secrets of the Apple Tree
Caterpillars and Butterflies
Lift the Flap Colors
Peek Inside Animal Homes