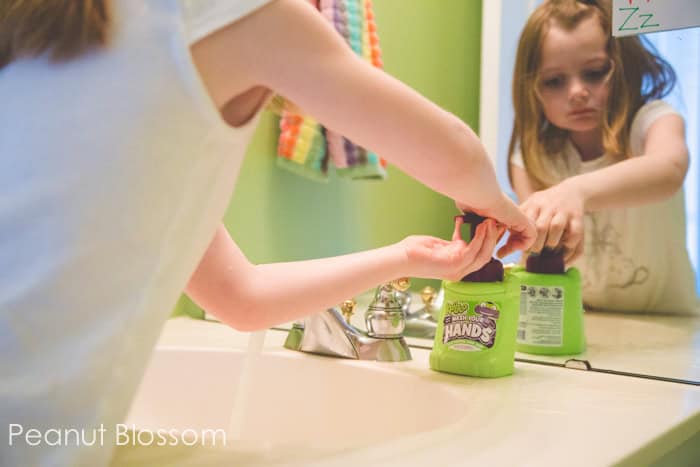 The kids' bathroom. Possibly one of the most trafficked rooms in the house. For any mom who's ever gone through potty training, you KNOW how much time of your life will get spent in this room. It may not be the most glamorous of spaces, but you know what?
Potty training, loose teeth pulling, nightly tooth brushing giggles: the memories made here aren't necessarily the ones you'd put in a scrapbook but the bathroom is a big feature in their childhood.
So how can you make the most of what you've got when you don't have that big renovation budget? It is still possible to have reasonably fun spaces for very little investment of time or resources.
4 Tips for Budget Friendly Kids Bathroom Decor: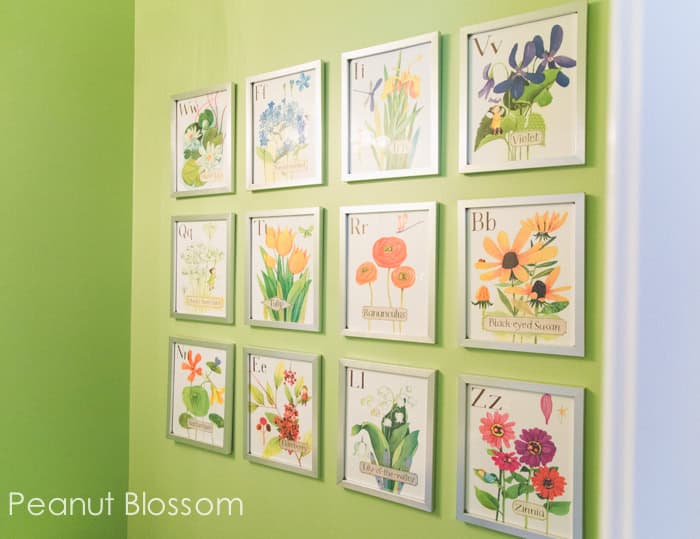 1. Don't be shy about color:
It's a bathroom, not your living room. Don't be scared of a fun surprise pop of color hidden behind that door. Our entire home is painted neutral grey. When you walk into one of our bathrooms there is a happy burst of color waiting for you.
For our powder room off the kitchen, I chose a vibrant green (stem green by Benjamin Moore) as the backdrop knowing it would flatter a wide variety of bright colored accessories.
For the upstairs full bath that both guests and the girls will use as they get older, I chose Italiano Rose by Benjamin Moore picking up the same color accent in the shower curtain.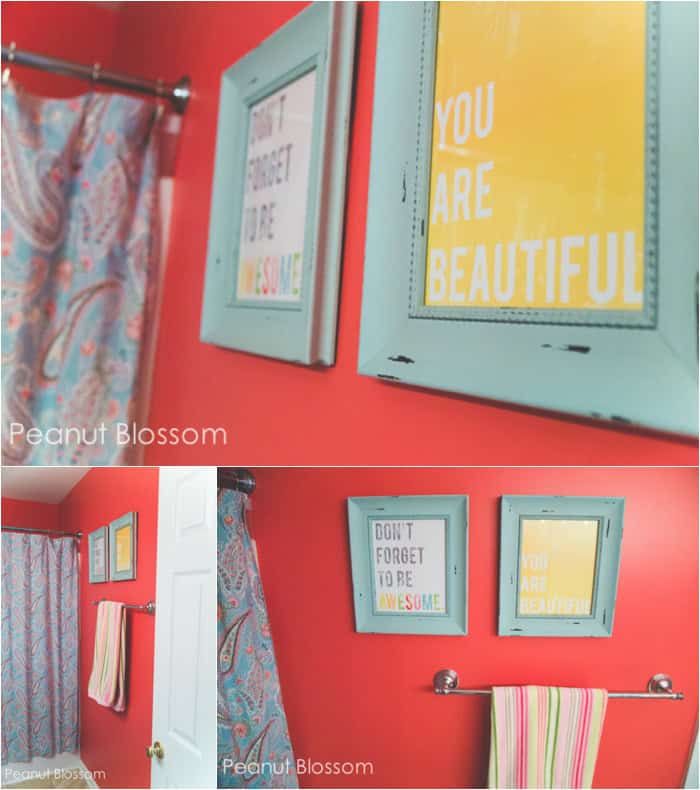 2. Unique art pieces on a budget: It's a bathroom, not an art museum. You can have fun with very affordable decorations. I had tons of spare cards left over from this eeBoo set of alphabet wall cards after framing the girls' initials for their bedrooms. I loved the illustrations and thought the floral theme would be perfect for the powder room against that pretty green. It was an easy way to bring in additional accent colors and though the art is whimsical, I don't find it to be overly babyish.
I picked up the simple silver frames in the clearance bin at Target for 50 cents a piece. They are cheap frames meant for decorating a dorm room, so be sure to check late August for the best deal. Using cards I already owned + $6 for the frames, I was done. Even if you had to buy the cards, they are currently going for $25 for the entire set.
For the upstairs bathroom, I scored these amazing prints from Zulily and framed them up in painted & distressed wall frames from Hobby Lobby. Our guests use this space most frequently right now, but it is the bathroom my girls will learn to put on makeup and do their hair in various styles. "Don't forget to be AWESOME" and "You are Beautiful" are messages I want my ladies to see first thing in the morning every day they live under my roof: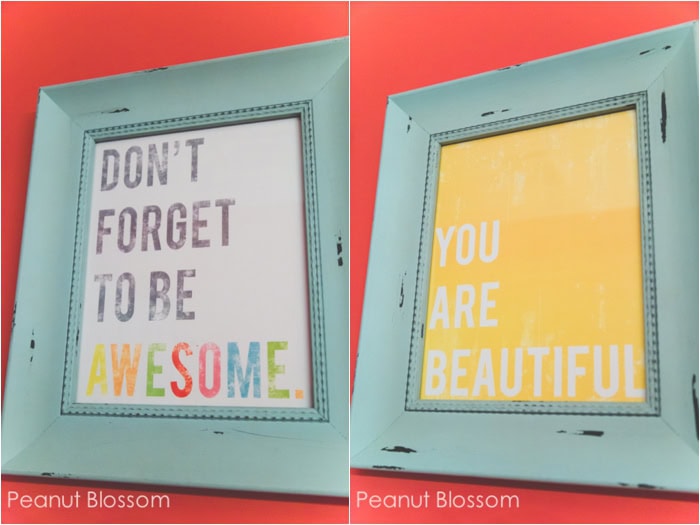 3. Bright and happy accessories: I used the linens as another opportunity to bring in accent colors. When your wall is such a bold choice, the accents help to tone it down just a notch and bring balance to the space.
I sought out cute striped and polka dot towels to go into rotation. Target, Pottery Barn Kids, and Garnet Hill are my favorite spots to hunt for sales. I have one set for spring/summer, and another for fall/winter. It's one of the easiest things to swap for the seasons.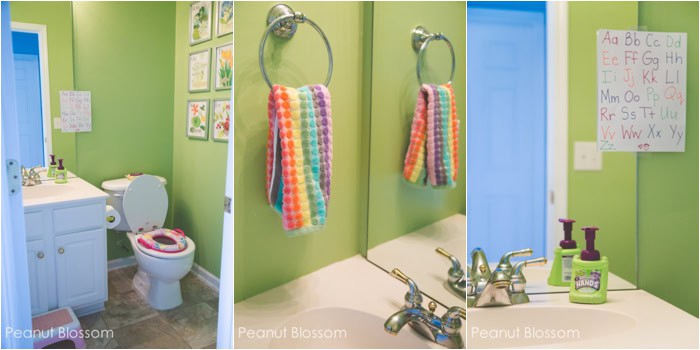 4. Healthy Habits: Having an attractive room may help get the kids in there but it is important to encourage those next steps of independence. First it is crucial to stock it with everything they need to get the job done on their own.
I put a package of Kandoo flushable wipes and bottle of Kandoo foaming hand soap in their bathroom. Little Pea loves the fun color of the soap and squealed with surprise when it came out pink! I love that the flushable wipes help get things cleaner than regular paper which helps ensure that she stays fresh.
Secondly, we always sing the ABCs when we wash our hands to help the kids recognize how long they should scrub. When Tim's Aunt Colleen, a kindergarden teacher, came to care for the kids, we came home to find this BRILLIANT sign hanging on the girls' bathroom mirror: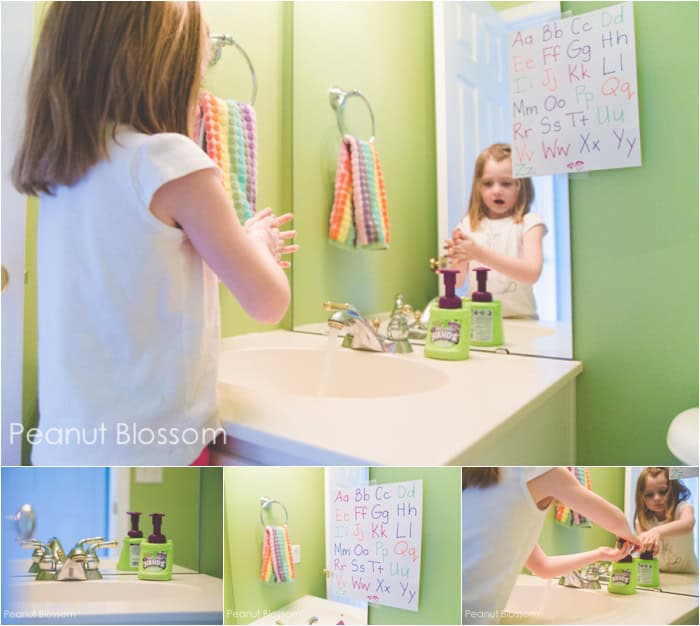 In her gorgeous teacher handwriting she made a colorful reminder for Little Pea to use while washing her hands. It enforces the washing timetable along with the upper case and lower case letters! We've kept it taped to the mirror for 2 months and it isn't going anywhere soon.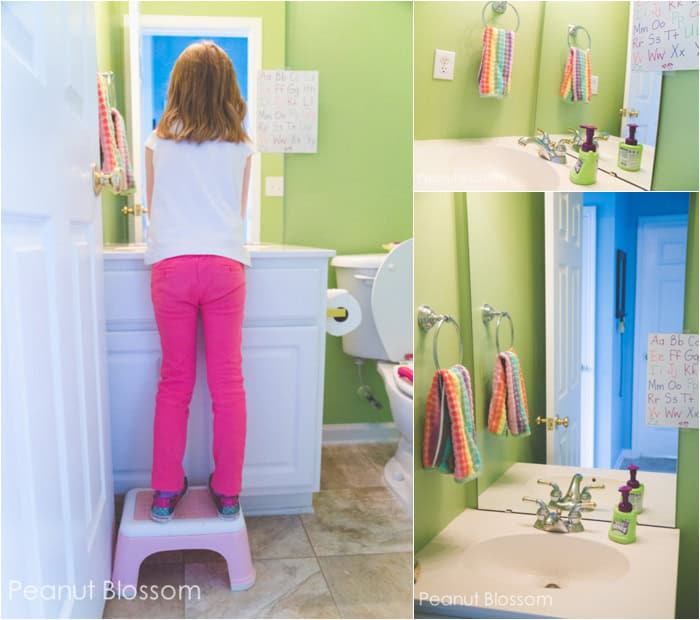 And if you're one of the lucky moms still in the throws of potty training, you'll love my potty training tips and tricks here!