One of the happiest side effects of having attended the Disney Social Media Moms Celebration in April is that I finally connected with another blogger who lives right here in Charlotte! Yes, I had to fly clear across the country in order to meet someone in my own back yard. Making new friends as an adult after a big move like ours is not an easy task. Nearly 2 years in and I still hadn't met anyone in the blogging community in our new hometown!
Jennifer from MommyB Knows Best is one of the friendliest, savviest bloggers I've met. I was thrilled when she suggested we try to grow a blogging group where we could meet and support other bloggers that live here. Over the summer, a handful of ladies have joined together to form the #BlogCharlotte group and we've been gathering once a month to bounce ideas off one another and support our businesses.
Thanks to this group, I am super excited to be adding a local flair section to Peanut Blossom. My hope is to start sharing reviews of my favorite spots here in Charlotte. We had our 2 year anniversary last week and I can truly say I LOVE living here. I'm excited to share a sampling of what Charlotte has to offer.

P.S. Be sure to scroll down and check out my review of Bonefish Grill below!
Our #BlogCharlotte group gathered at the Bonefish Grill up in Huntersville a couple weeks ago to sample their new menu. I'm always excited to get together with these ladies for a Mom's Night Out and I was curious to see how the Bonefish here in town compared to my last experience with them several years ago in a different state, which wasn't altogether positive. Spoiler Alert: It was a Night & Day Difference and I can't wait to take Tim back SOON!
Tim and I really enjoy seafood but a good fish place has been the one restaurant we haven't managed to find since our move. We both order fish specials from other restaurants, but I miss having a dedicated seafood spot on our roster of restaurant picks. I'm giddy that this has finally changed.
Bonefish served us an amazing sampler of dishes from their new menu and we sampled them family style: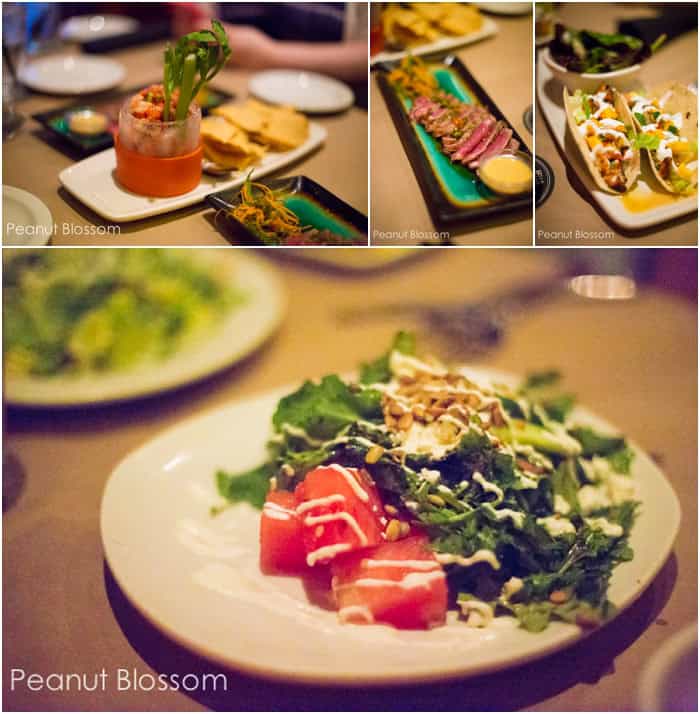 I loved how fresh all the ingredients were and how seasonal the specials are. A peek at their new menu and you can see that they are also trying to reach out to the non-seafood loving friends of fishy lovers. They have several steak options that are expertly prepared. Tim and I would definitely stick with the fish but I love knowing that if one of us just isn't in the mood, Bonefish would still be an excellent option.
Out of all the dishes we sampled, by far my favorites were:
Cold Snap Shrimp Cocktail (Featured above): served in a frozen glass made entirely of ice with shrimp, onion, cucumber, peppers, cocktail sauce, celery stalk  + warm tortilla chips
Watermelon Salad (Featured above): salsa verde mixed with arugula, English cucumbers, Feta cheese, pepitas, creamy Feta dressing
Baja Fish Tacos (Featured above): three warm tortillas, mango salsa, lime creme and shredded lettuce. I am a fish taco Fanatic! I order them whenever I find them and seriously these are some of the BEST I have ever tried. Without hesitation this would be the first thing I order the next time we go back.
Lobster Grilled Cheese: cheddar, smoked mozzarella, North Atlantic lobster chunks with fresh greens lobster bisque. You guys, there is So much lobster tucked into this sandwich and soup you feel like you are getting an entire tail. They are crazy generous with the lobster and it was to die for.
S'mores Flatbread: creamy chocolate, toasted marshmallow + sliced almonds, sprinkled with graham cracker crumbs
And an item that deserves it's own special call out is their Crab Fried Rice. I was so in love with this side dish that my blogging friends generously allowed me to take home the leftovers. I DEVOURED it for lunch the next day:
Go to @BonefishGrill order crab fried rice & have server package it immediately for lunch next day. You're welcome. pic.twitter.com/E3tu4753Qq

— Tiffany Dahle (@tiffdahle) August 6, 2014
If your mouth is watering and you are dying to get to a Bonefish Grill, there are 3 locations in the Charlotte area:
Huntersville *Where our dinner was served
8805 Townly Road
Huntersville, NC 28078
Charlotte *Where I'll be taking Tim asap
7520 Pineville Matthews Rd
Charlotte, NC 28226
Matthews
10056 E. Independence Blvd.
Matthews , NC 28105
If you're not from Charlotte, you can find a location near you here.
___________________________________________
#BlogCharlotte was given the opportunity to sample the new Bonefish Grill menu selections as part of their media outreach. Dinner was complimentary but Peanut Blossom was not compensated in any other way for this post. All thoughts and opinions are definitely our own. You may view our full disclosure here.