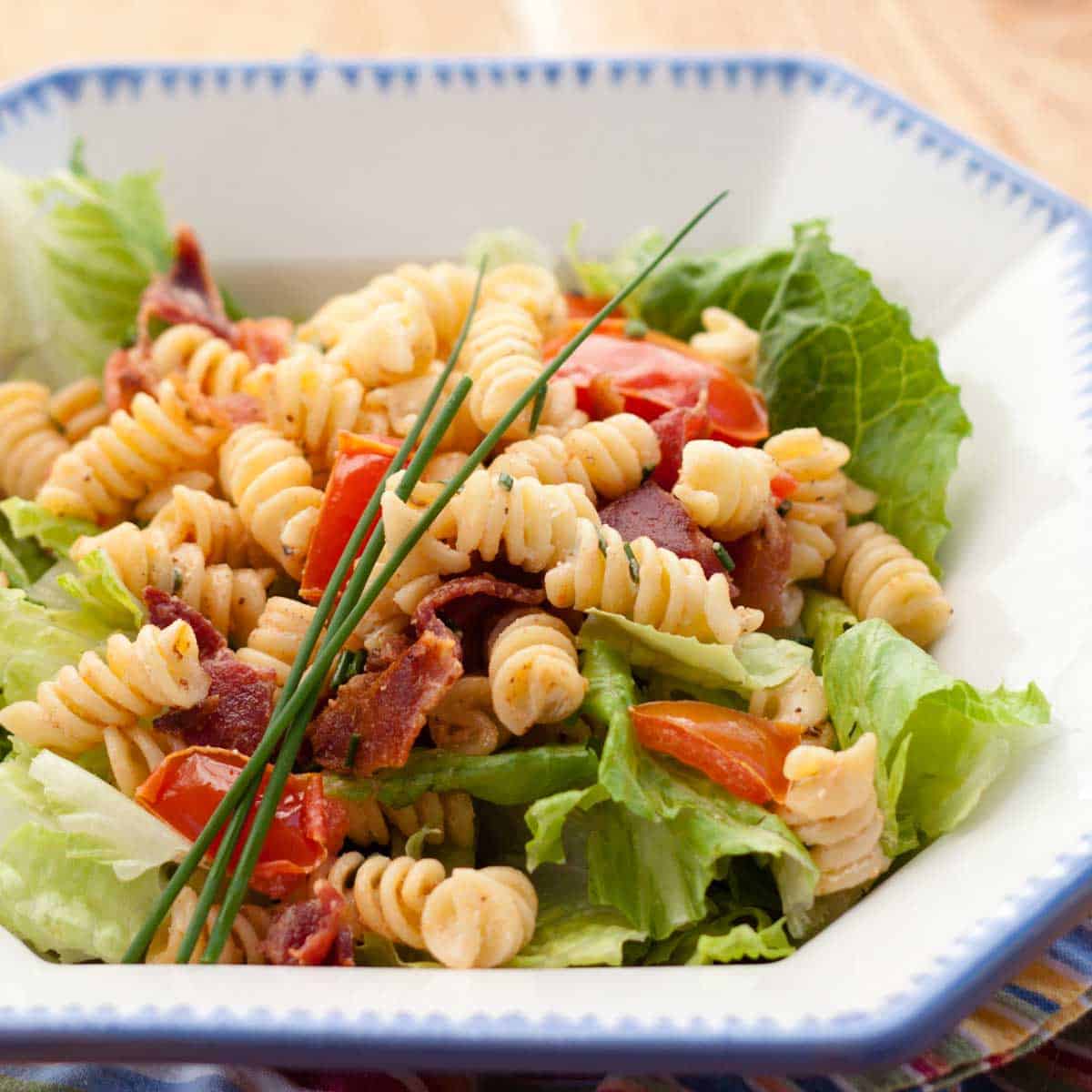 I have grown herbs in my garden every year for at least 7 years but I've never enjoyed them quite as much as this year. I keep finding delicious fresh recipes that pull ingredients from my herb stash. I'll share a better update on the garden later this week but today I wanted to give you this recipe for BLT pasta salad.
Fresh tomatoes are one of the veggies Handyman Tim can't stand finding on his plate. This recipe calls for sauteeing them in bacon fat. If ever there was a way to get him to like them, I was sure this would be it. Sadly, no such luck. He may not have appreciated the salad, but I loved it.
I used the full box of pasta instead of the 12 oz the recipe originally called for so next time I will up the dressing a little bit. I'd also go heavier handed with the chives but that's just a personal preference. I've adjusted the recipe below with the tweaks I'd definitely make next time.
I can't wait till I have fresh tomatoes from our garden to try this again. Come to think of it, I'm actually growing all the fresh produce involved in this recipe. It will definitely be on our menu again later this summer. Poor Tim.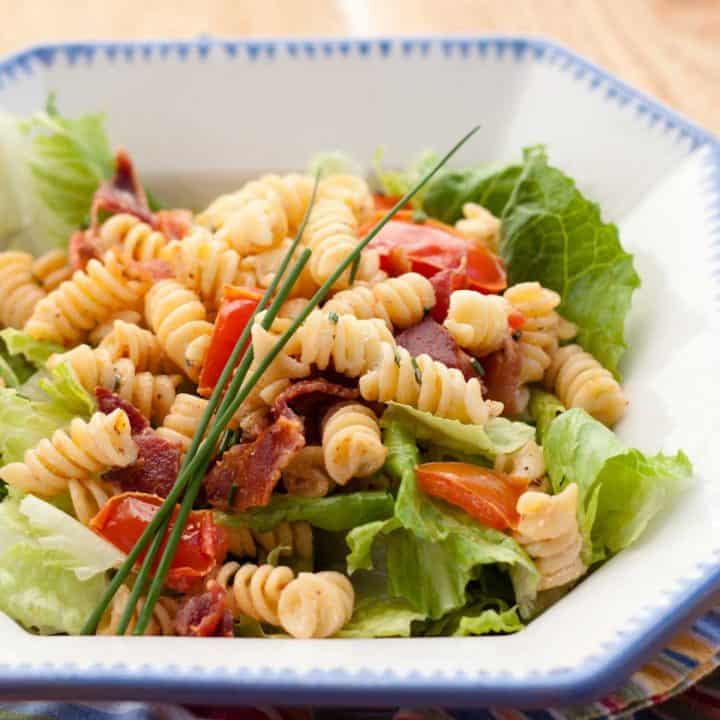 BLT Pasta Salad
This chilled BLT pasta salad is the perfect refreshing lunch for a hot summer day.
Ingredients
1 (1 lb) box of corkscrew shaped pasta
½ cup milk
12 oz bacon, cooked and crumbled
4 medium ripe tomatoes, cut into chunks
1 tbsp fresh thyme
1 tsp minced garlic
⅓ cup mayo
⅓ cup greek yogurt
⅓ cup sour cream
6 tbsp fresh chives, chopped
2 heads romaine lettuce, washed, drained, and chopped
Instructions
Cook the pasta in a large pot of salted boiling water as the label directs. Drain and toss with the milk in a large bowl; set aside.
Meanwhile, cook the bacon in a large skillet over medium-high heat until crisp. Drain on paper towels. Discard all but 3 tablespoons drippings from the pan.
Add the tomatoes, thyme and garlic to the pan and toss until warmed through; season with salt and pepper.
Crumble the bacon into bite-size pieces; set aside ¼ cup for garnish.
Mix the mayo, yogurt, sour cream, and chives together in a small bowl. Gently combine with the noodles. Fold in the tomato mixture. Season with salt and pepper.
Serve over prepared lettuce salad. Garnish with reserved bacon and additional chives. Best at room temperature but I did enjoy leftovers cold for lunch the next day.