Book Club Kit for The Bette Davis Club by Jane Lotter includes book club discussion guide and party menu.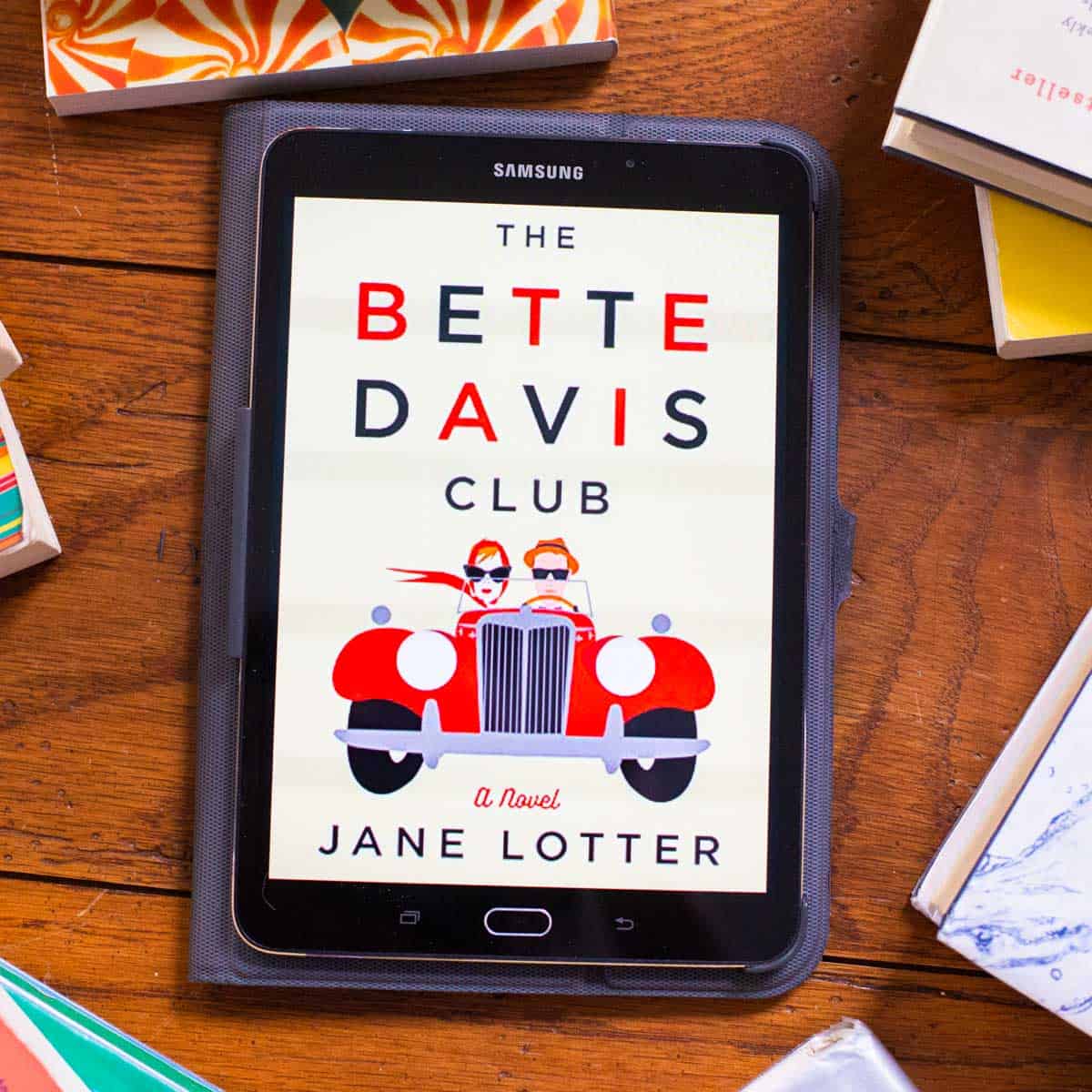 Who's excited for summer?? I am counting the seconds until I can do some beachside reading.
Picking our summer lineup is my favorite task from all of book club and I'm so excited to announce the first book of the season.
Our June selection will be The Bette Davis Club by Jane Lotter.
Peanut Blossom Book Club
This book was our official June 2017 pick for the Peanut Blossom Book Club.
Want to see what we're reading today? Check out our book club book list here.
Want Free Reminders for Each Book?
Sign up for my book club newsletter right here:
What is The Bette Davis Club About?
Check out the full book description for The Bette Davis Club by Jane Lotter here:
"The morning of her niece's wedding, Margo Just drinks a double martini and contemplates the many mistakes she's made in her fifty-odd years of life. Spending three decades in love with a wonderful but unattainable man is pretty high up on her list of missteps, as is a long line of unsuccessful love affairs accompanied by a seemingly endless supply of delicious cocktails.
When the young bride flees—taking with her a family heirloom and leaving behind six hundred bewildered guests—her mother offers Margo fifty grand to retrieve her spoiled brat of a daughter and the invaluable property she stole. So, together with the bride's jilted and justifiably crabby fiancé, Margo sets out in a borrowed 1955 red MG on a cross-country chase. Along the way, none of what she discovers will be quite what she expected. But it might be exactly what she's been seeking all along.
From acclaimed humor writer Jane Lotter comes this madcap, laugh-out-loud adventure, The Bette Davis Club."
Go grab a copy of The Bette Davis Club by Jane Lotter here.
The Bette Davis Club by Jane Lotter Book Club Questions
I believe the best book club questions to spark a lively discussion in your group help readers make personal connections to the story.
You can read about how to write the best book club questions on your own here, but hopefully these will get you started!
Question 1:
What did you think of this month's pick? Would you have picked it up on your own?
Question 2:
The Bette Davis Club was self-published just before the author's death.
The preface mentions she was able to hold a printed copy in her hands the day she died.
She didn't live to see the publisher picking it up for print.
Did this fact change your perception of the book or affect your reading of it in any way?
Question 3:
How did you feel about Margo's character? Was she likable or relatable to you?
Did your feeling about her change at any point in the book?
Question 4:
Margo has a phobia of airplanes and refuses to fly.
She and Tully head off on Route 66 in her dad's classic convertible.
What's the longest road trip you've ever done? Have you been on Route 66?
Question 5:
Charlotte insists that Margo bring back 3 personal items that Georgia "stole" from her.
Were you surprised by what the items were?
What did you guess she had taken?
Question 6:
The title of the novel is finally explained during the backstory about Margo and Finn.
Have you or any of your friends ever been part of "The Bette Davis Club" at any point in your life?
Question 7:
Do you agree with Dottie?
Did Finn permanently hurt Margo by maintaining their relationship all those years?
Question 8:
"But aside from genetics, the number one requirement for being a drunk is self-pity." - Tully, Chapter 18
How much of what has gone wrong in Margo's life is due to self-pity?
Do you think her reactions to her family are warranted or did she let their bad behavior control and consume her?
Question 9:
Did anyone else think Tully had run off with the script on the morning Margo woke up and he wasn't in the apartment??
What was your reaction when the real script went up in flames?
Book Club Party Menu
For the book club party menu, serve elegant appetizers inspired by the California Hollywood scene.
You May Also Enjoy
If you enjoyed this book, you'd likely enjoy these other fun book club picks from through the years: