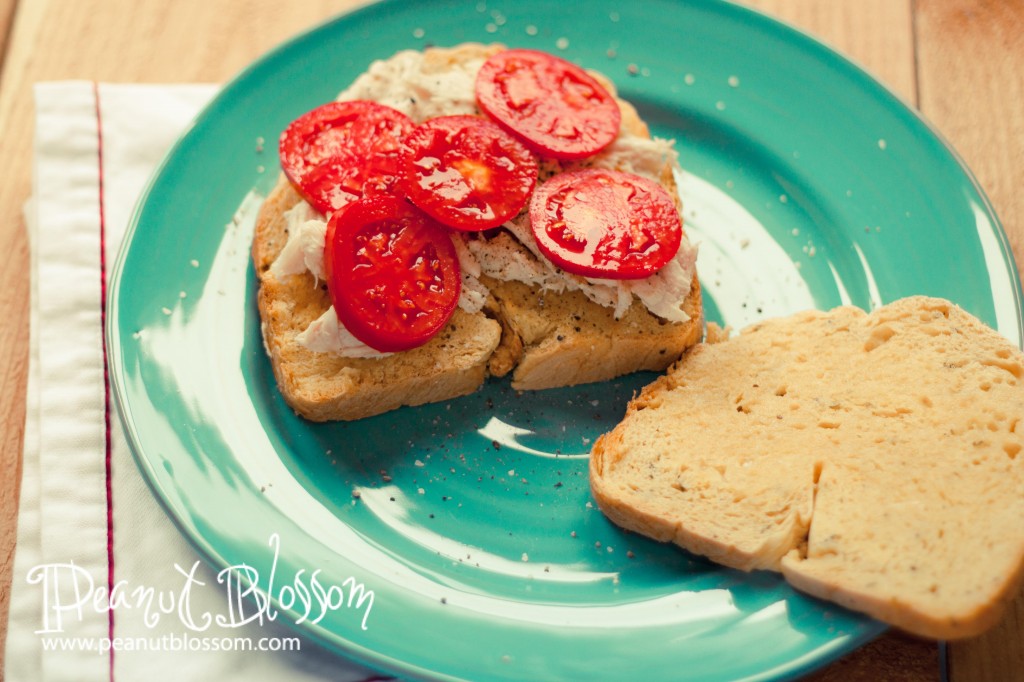 The key to the Best Ever Turkey Sandwich is all about the bread. You can't roast up a phenomenal bird only to slap it on store-bought cotton loaf. I knew I wanted a homemade  bread but wasn't sure where to start. When I found this recipe for Sweet Potato Onion Bread that involved my garden-fresh green onions and thyme, I knew I found the winner.
The crazy secret ingredient is jarred baby food. I couldn't believe it. Jarred sweet potato puree. It gives the bread a gorgeous yellow color with just little flecks of green from the herbs and onions. I actually feel like you couldn't taste the onions in the bread, next time I might go a little heavier handed with them. But both my girls devoured this bread. That says a lot since the Peanut is not exactly a bread fan to begin with.
The other trick to the Best Ever Turkey Sandwich? Don't muck it up with too many ingredients!!! No Mayo. No lettuce. Leave the darn thing alone. All you need is this amazing bread toasted with just a touch of butter, fresh roasted turkey, salt and pepper, and garden fresh tomatoes. Then take your masterpiece and Step Away from the Kitchen!
Normally I'd "pretty up" the photos with some greenery. I did not want to mislead you this time. What you're seeing is exactly what I ate for lunch. And then again for dinner. And then again for lunch the next day.
Do not mess with it.
p.s. This sandwich alone makes growing a tomato plant in your yard worth it. Even if you only got one tomato. (Which has actually happened to me in years past.) If you only get one tomato? Carry that precious red orb into your kitchen and make this sandwich.
________________________________________
Sweet Potato Onion Bread
from "The Complete Guide to Bread Machine Baking" by Better Homes & Gardens
Ingredients:
1 6 oz jar of sweet potato baby food (I used 1.5 4 oz jars because that's what I could find.)
1/3 cup water
1/3 cup sliced green onions
1 tbsp butter
3 cups bread flour
1 tsp sugar
1 tsp dried or 1 tbsp fresh thyme
3/4 tsp salt
1 tsp active dry yeas or  bread machine yeast
Method:
Add ingredients to the machine according to manufacturer's directions. Select the basic white cycle.
Makes one 1.5 pound (16 slices) loaf.