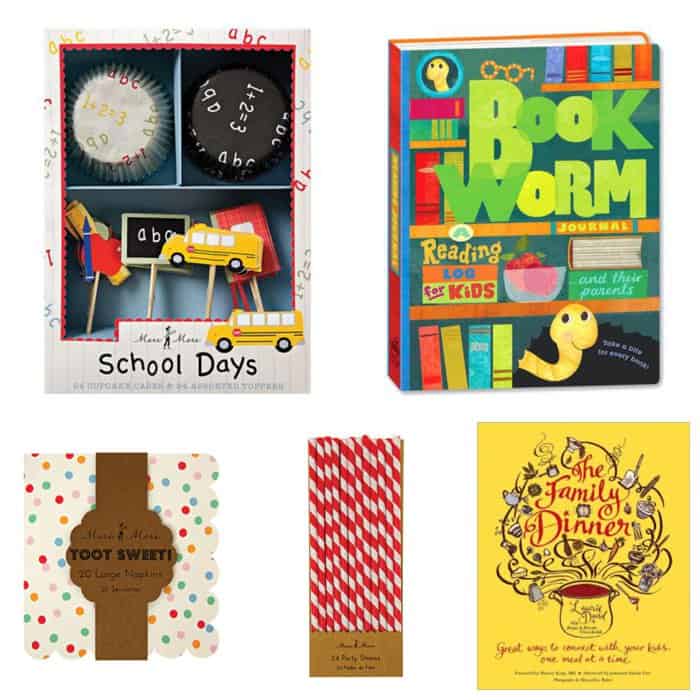 When I first purchased "The Family Dinner" by Laurie David I was so inspired to have more frequent dinnertime celebrations as a family. Life has been busy and I haven't made that quite the reality I wanted.
Today I was shopping on Zulily when I noticed this adorable School Days cupcakes kit and I am completely inspired to throw a little family bash to mark this special event. The Peanut is off to First Grade and Little Pea will be heading to her very first year of preschool. That is reason enough for some cupcake wrappers, yes?
My plan will be so simple: A few cupcakes. Maybe their favorite dinner (chicken legs & rice.) And some festive party napkins and straws. If I'm really going all out, maybe I'll pick up some fresh flowers for the table.
But the touch I'm most excited about? That adorable Book Worm reading journal! I ordered 2 copies, 1 for each girl. I'll wrap them in brown craft paper and tie it up with twine. What an adorable small gift to encourage all the reading they'll be doing in the coming years!
How about you? Any plans to mark the first day of school as a family?

P.S. I've linked everything above to Zulily wherever possible so you can source these items while they're on sale but if you miss the event you can find them on Amazon here:
The Family Dinner Cookbook
Book Worm Reading Journals
School Days Cupcake Kit
Party supplies by Meri Meri: Plates & Napkins set here, Red striped straws here
___________________________________________
This post contains affiliate links that help support this site. You may view my full disclosure here.