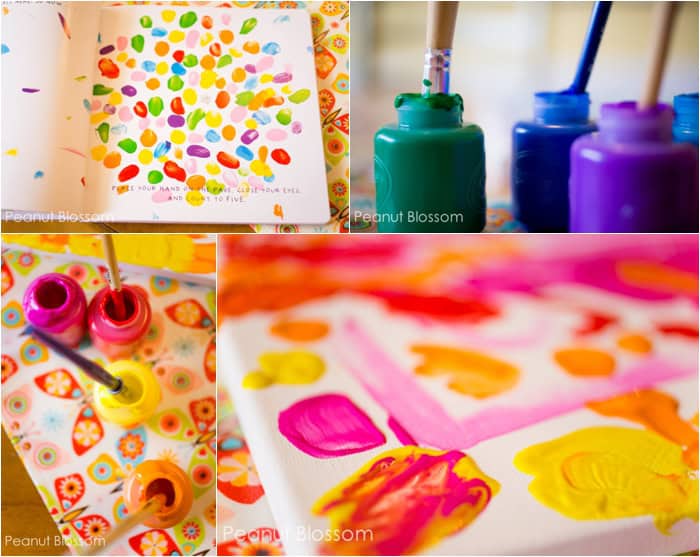 I have had a pair of plain white canvases sitting in our art supply stash for 2 years. I got them on deep clearance at Michael's and couldn't resist them. But once I got them home, I was intimidated by that big white space and had NO idea what to use them for.
I knew I wanted the girls to paint something, but I wanted it to be "special" and didn't quite know what I meant by that. So there they've sat, month after month, calling to me.
Then we went out of town and left the girls in the care of a pair of the best babysitters ever: Tim's Uncle Tod and Aunt Colleen, who just happens to also teach Kindergarden. They left behind copies of Herve Tullet's "Mix It Up!" and "Press Here" that my girls could not wait to share with me when we got home.
I've seen the eye catching covers of these books time and again but have never had the chance to actually read them. I can't believe I didn't make that happen sooner, both girls LOVE them.
We were all inspired by this particular page from Mix It Up!: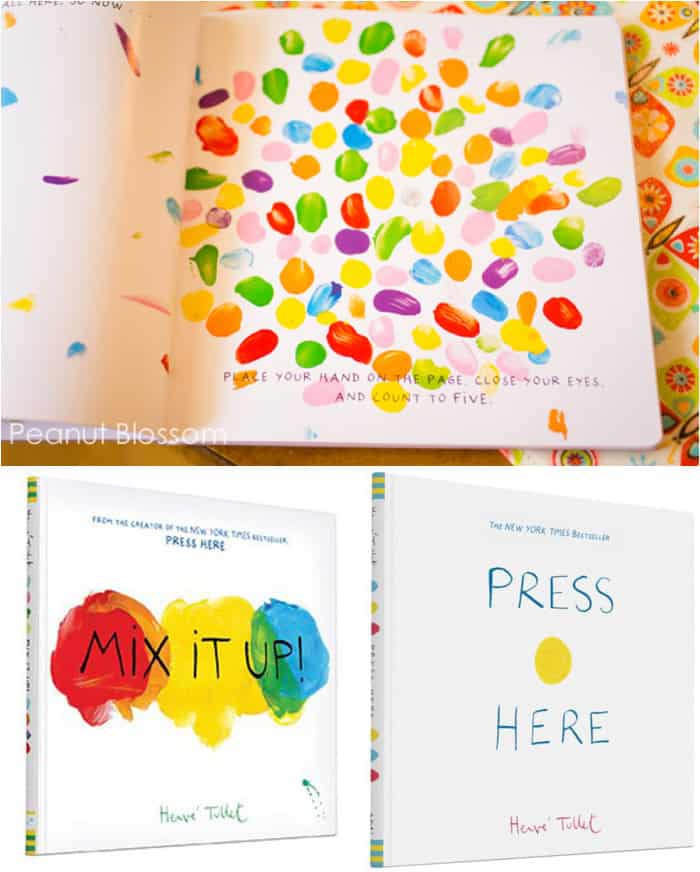 I loved the simplicity of the blotches, the mix of colors, that pretty white background. I knew instantly what we were going to do with our canvases.
On one of our snow day breaks from school, I covered our table with a drop cloth and gave one huge canvas to each girl.
I divided up the paint colors into warm and cool ones and gave one set to each girl. This came from the advice from my friend Zina over at Let's Lasso the Moon who warned me that if you give the kids ALL the colors to start, it will turn out a big brown mess.
We read our copy of the book before we started for a last bit of inspiration and then I set the girls free with their colors. Little Pea worked with the warm, the Peanut with the cool: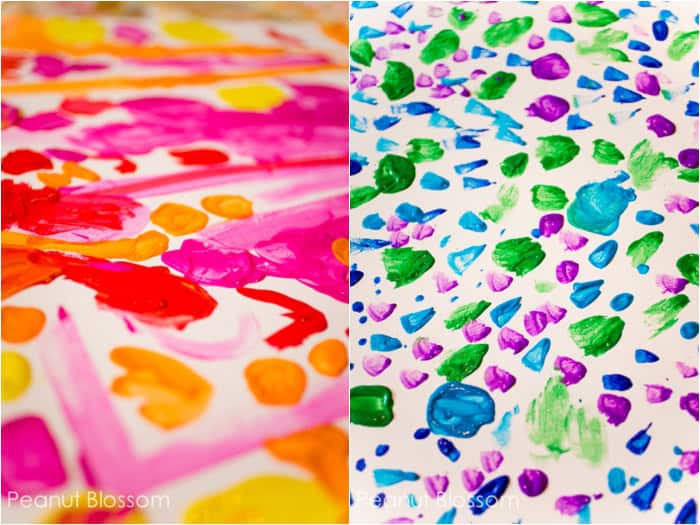 I love them. Little Pea's is wild and crazy and the Peanut's is structured and orderly. Just like both of their personalities.
Now that they are dry, I'm tempted to let them have a second round with the opposite color groups, but part of me loves them as is. We're still debating where to go from here.
But the experience with these books has left me wanting to share similar things with them during reading time. I've rounded up our latest favorites to help kick start your creativity!
Enjoy!


Our favorite art books for kids: