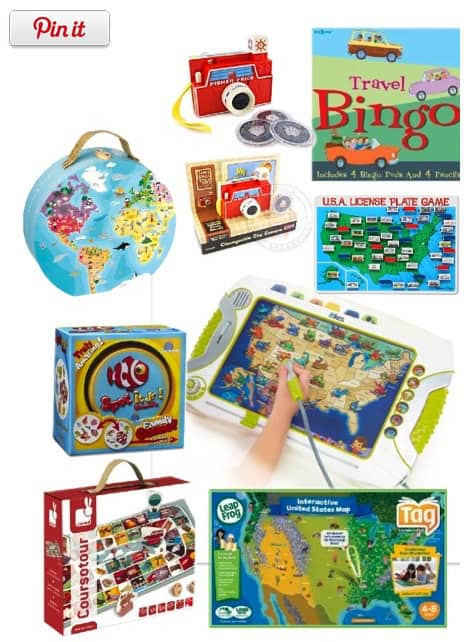 When we made our cross-country move this summer, I spent a fair amount of time looking for travel games for our car and map themed gifts for the Peanut so she could get a sense of where our new house would be and where our families live. I was pleasantly surprised by many of the options out there, some by toy  brands I've never heard of before.
For your little adventurer, I offer up this week's gift list:
1. Retro Fisher Price camera: For taking "pictures" along the way! Isn't this the cutest toy you've ever seen?? I want one for me!!
2. Travel Bingo: This game was a huge hit with the Peanut. She was able to play on her own (at age 5) because it is picture driven vs. words driven and didn't require her to be able to read. It was a lifesaver in our 2 day road trip to the new home and comes in a nice sturdy box for travel.
3. USA License Plate Game: I LOVE this toy. I was most excited to use this one during our move. At age 5 it was just a bit too tough for the Peanut but it is something she is definitely going to grow into. I can't wait for future road trips with both girls. It is a beautiful wooden toy by Melissa & Doug.
4. iTikes Map: This is a new-to-me brand of toys that look fantastic! This map can be played with on it's own but plugs into your iPad for extra features and interactive games. A little birdie tells me that Santa has his eye on this one for the Peanut.
5. LeapFrog Tag Map: We have the US version and I'm anxious to get the international one. It is a gorgeously illustrated map that interacts with your Tag pen. The Peanut loved tracking where her new state will be as compared to where both grandmas live.
6. Coursotour: This is another new-to-me toy that I discovered on a shopping trip with Little Pea a few weeks ago. I snagged it immediately for the Peanut. It is a beautifully constructed "shoots and ladders" type game with a travel theme. The little marker pieces have wooden bases and feature adorable illustrations.
7. Spot It Jr.: This is a lifesaver every time we go out to eat. I bought it before our move as a game to play at restaurants along the way. It comes in a metal tin that fits perfectly in my purse so it is easy to whip out and play for a few minutes while we wait for the food to come. At ages 2 and 5 both girls LOVED this game. Even Handyman Tim and I had fun playing it with them. Truly fun for the whole family. Perfect stocking stuffer size too!! They have other versions as well if you've got older kids to please.
8. Our Blue Round World Puzzle: This gorgeous puzzle has to be seen to understand how well constructed it is. It comes in a sturdy suitcase-feeling container with a fabric handle. The artwork is beautiful. The Peanut is crazy into puzzles lately, I can't wait to give this to her on Christmas morning.