Book Club Kit for America's First Daughter by Stephanie Dray and Laura Kamoie includes book club questions and party menu.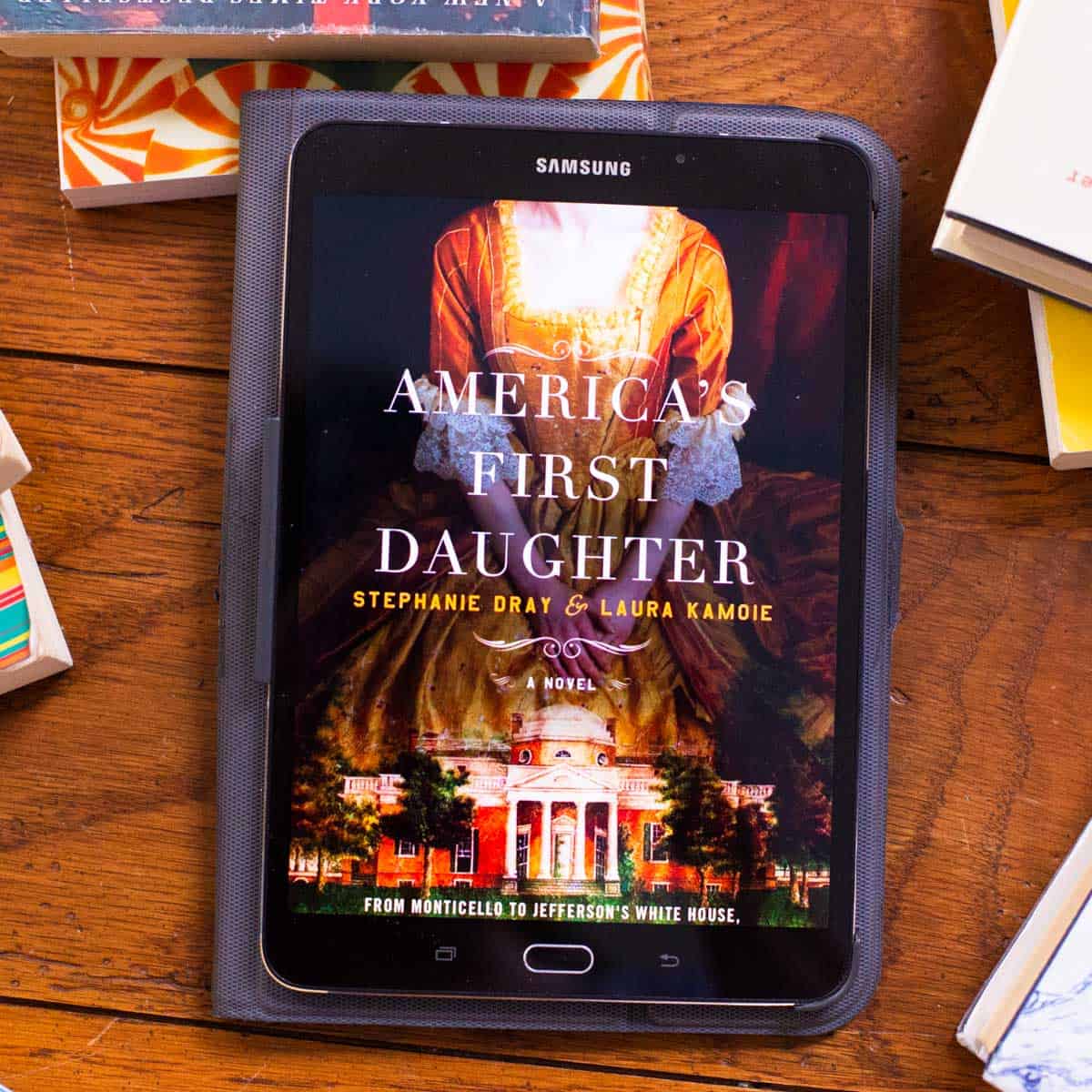 September brings back to school time for the kids so I thought it would be fun to mix things up a little bit and have a "back to school" themed pick for us moms for this month's book club pick.
The cover of America's First Daughter caught my eye while I was out shopping and once I read the back I knew it would be the perfect pick.
Peanut Blossom Book Club
This book was our official September 2016 pick for the Peanut Blossom Book Club.
Want to see what we're reading today? Check out our book club book list here.
Want Free Reminders for Each Book?
Sign up for my book club newsletter right here:
What is America's First Daughter About?
In a compelling, richly researched novel that draws from thousands of letters and original sources, bestselling authors Stephanie Dray and Laura Kamoie tell the fascinating, untold story of Thomas Jefferson's eldest daughter, Martha "Patsy" Jefferson Randolph--a woman who kept the secrets of our most enigmatic founding father and shaped an American legacy.
From her earliest days, Patsy Jefferson knows that though her father loves his family dearly, his devotion to his country runs deeper still. As Thomas Jefferson's oldest daughter, she becomes his helpmate, protector, and constant companion in the wake of her mother's death, traveling with him when he becomes American minister to France.
It is in Paris, at the glittering court and among the first tumultuous days of revolution, that fifteen-year-old Patsy learns about her father's troubling liaison with Sally Hemings, a slave girl her own age. Meanwhile, Patsy has fallen in love--with her father's protégé William Short, a staunch abolitionist and ambitious diplomat. Torn between love, principles, and the bonds of family, Patsy questions whether she can choose a life as William's wife and still be a devoted daughter.
Her choice will follow her in the years to come, to Virginia farmland, Monticello, and even the White House. And as scandal, tragedy, and poverty threaten her family, Patsy must decide how much she will sacrifice to protect her father's reputation, in the process defining not just his political legacy, but that of the nation he founded."
And then go grab a copy of America's First Daughter here.
America's First Daughter Discussion Questions
I believe the best book club questions to spark a lively discussion in your group help readers make personal connections to the story.
You can read about how to write the best book club questions on your own here, but hopefully these will get you started!
Question 1:
What did you think of this month's pick? Is it something you would have selected on your own?
Did you finish or are you scrambling to get to the end still?
Question 2:
Do you read books from the historical fiction genre or was America's First Daughter your first exposure to it?
How does this book compare to others you've enjoyed?
Question 3:
Did you ever pause your reading to look up additional facts about the story online? Which elements particularly piqued your curiosity?
If you didn't do additional research, did you feel there was enough information in the book to satisfy you?
Question 4:
I was thrilled to discover several portraits of the book's main characters while I was researching additional information on the facts from America's First Daughter.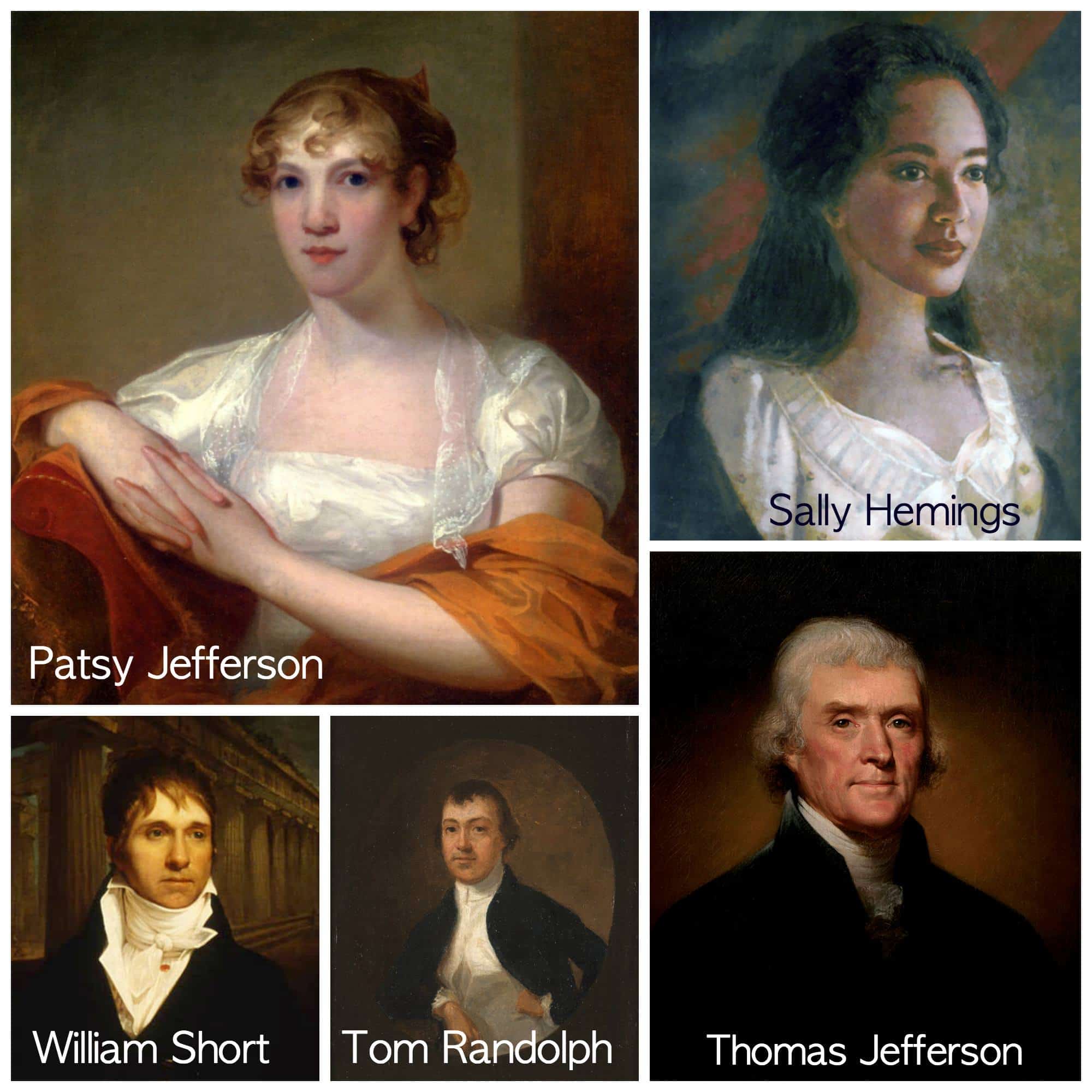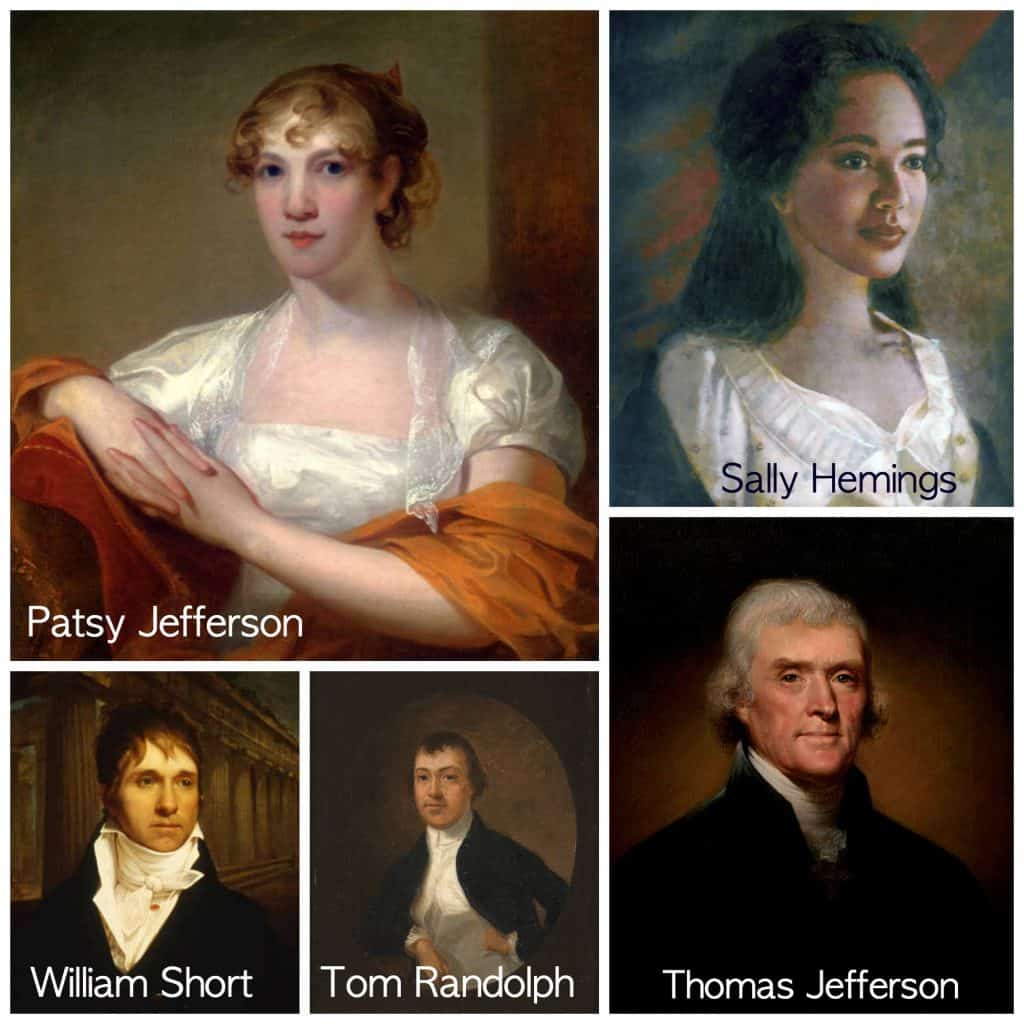 I especially love the ones of Patsy and Sally because it shows just how beautiful the two young women were.
Is this how you imagined the characters?
Question 5:
Have you ever visited Monticello?
I am desperate to go and see it in person.
The authors of the book described their own visit to both Monticello and Tuckahoe in the author's notes at the end of the book.
I laughed imagining their glee in seeing William Short's shaving kit that had a chocolate pot.
Question 6:
This week we saw the opening of the Smithsonian National Museum of African American History and Culture.
One moment during this momentous occasion was this embrace between Michelle Obama and George Bush.
The museum features an exhibition on slavery that covers the American Revolution time period.
This isn't so much a question as an open-ended opportunity to share your thoughts on this timely event
Question 7:
Did Jefferson's relationship with Sally through the years surprise you?
Would Sally have left Jefferson if she had her freedom or do you think by the end she might have chosen to stay? Were his feelings returned?
Question 8:
I found it difficult to read about the limited choices women had during this time period especially when it came to dealing with unhealthy marriages.
Was there a particular relationship in the story that frustrated you more than the others? Which one and why?
Question 9:
Do you think Patsy would have had a happier life if she had married William Short rather than go back to America with her father?
Or would it have been equally difficult but in other ways?
Question 10:
Watching Jefferson's rise to President and the political endeavors of the Randolphs and William Short highlighted that our country has had political conflict among candidates and voters from the very beginning.
Did you see any similarities to their elections and what we are going through today?
Question 11:
In what ways did Patsy shape her father's legacy? In what ways did she shape our own?
In what ways is she America's First Daughter?
Book Club Party Menu
For the book club party menu, why not have a menu inspired by "As American as apple pie" or a sweet cherry pie?
You May Also Enjoy
If you enjoyed this book, you'd likely enjoy these other fun book club picks from through the years: