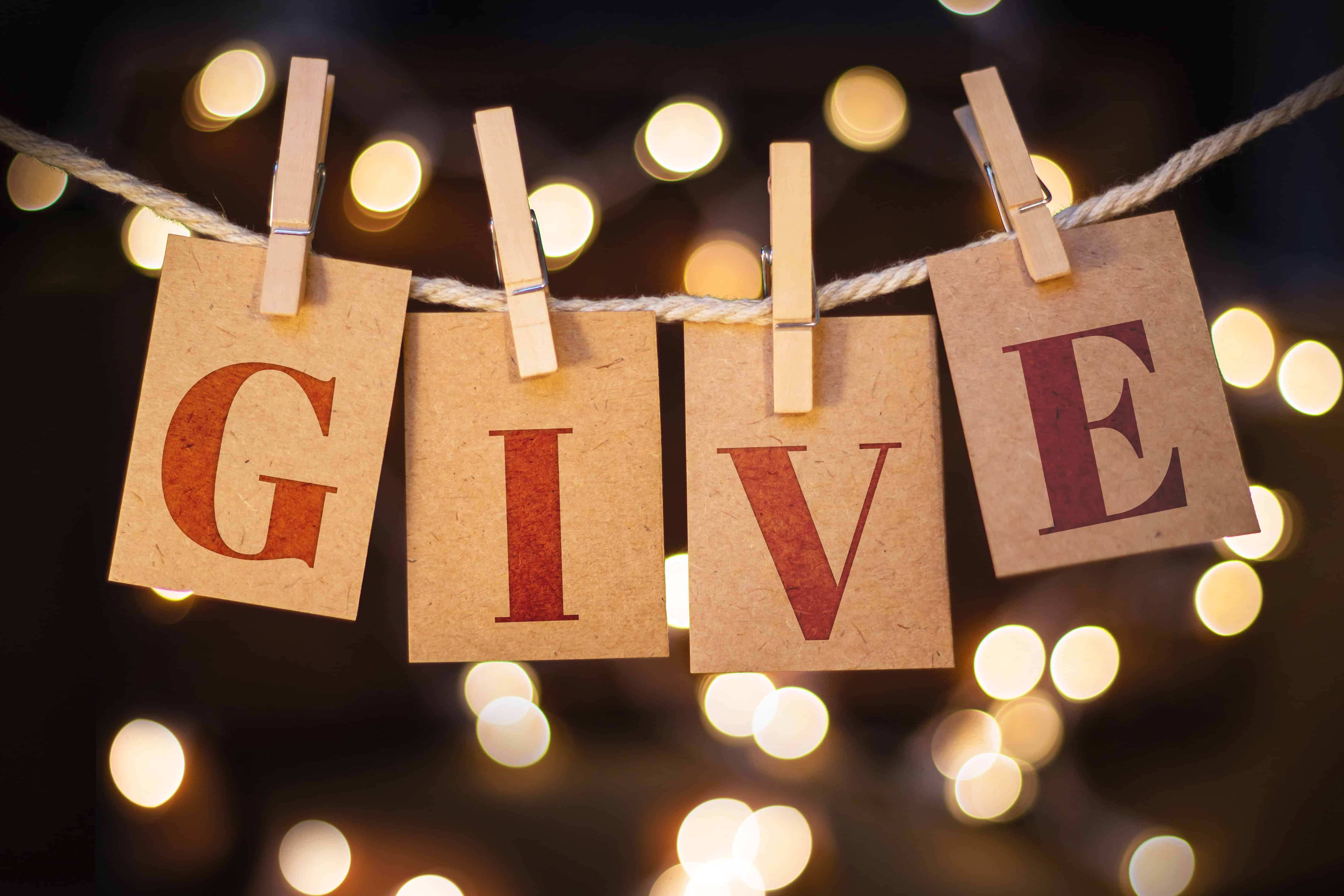 Raising nearly $7,000 for St. Jude Children's Hospital as part of Team Hot Pink Tutu is one of the proudest achievements in my life. It took six and half months of training and fundraising to meet that goal but I knew all along that I didn't want my support of the St. Jude Heroes to end after crossing the finish line of the 10K.
Since February I've been stumbling a bit trying to figure out what that next step should be. It's finally hit me that supporting a cause dear to my heart doesn't have to be so grand in scale. There are charities in this world doing amazing work that are so grateful for whatever kind of support we can give them, even of the non-monetary variety.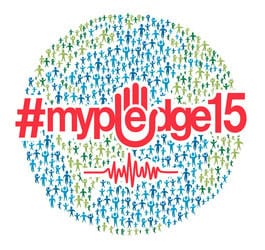 My friend Megan from Velveteen Mind recently shared one of the most inspiring posts I've read in a long time. She is pledging to support the American Red Cross this year by lending them her voice to help spread their message as part of a social media initiative facilitated by Beuerman Miller Fitzgerald (BMF).
The #MyPledge15 campaign is guided by BMF's slogan, "the strength to shout; the wisdom to whisper," and is designed to shine a light on how a simple action can move us to do good:
A small pledge can have a major impact. 
They are asking us to choose a cause, any cause!, that is important to us and make a simple pledge to do something in support of it this year.
I love the potential for amazing change this campaign can have and I'm proud to join in. For me, the choice of charity is clear: my heart belongs to St. Jude.
Our giving budget is tapped for now but that doesn't mean I can't still lend my support. I've gathered some of my favorite ways to support charity in the hopes you'll find one that resonates with you!
5 alternative giving ideas for charity:
1. Running: This is the obvious option for many who want to support a charity. Having done it myself, I can say it is a most excellent choice. There are countless runs all across the country that fundraise for specific organizations but you can also choose to run in honor of your preferred cause via training teams.
For St. Jude specifically, you can run with the St. Jude Heroes in the Rock N Roll Marathon or the St. Jude Memphis Marathon. You'll also find them participating in most runDisney races.
You can search their directory of runs here.
Time Investment: High
Financial Investment: Low
If you're a runner anyway, this option will cost you no more additional time than you're already spending for training but will require a bit more time for the fundraising element. If you do well enough with that effort, it won't financially cost you anything more than the gear you wear to the race.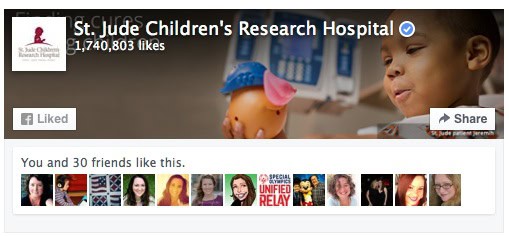 2. Social Media support: You do not have to be a blogger to make great change via social media. Supporting your favorite charity this way is so easy and so effective:
Find your cause on all the major social media channels you actively participate in.
You can find St. Jude on:
Facebook here
Instagram here
Twitter here
Engaging with the posts they publish helps ensure more people will see them. Simply "like" or comment on their posts when you see them. Share your favorites with your friends. Set up a reminder on your phone to visit their Facebook page once a month because their posts are likely getting filtered from your newsfeed. Engaging with them will get them into more news feeds of their followers.
Find and thank their big corporate sponsors with tweets or Facebook messages. Target and Chili's are two of St. Jude's major supporters and though they do it for excellent reasons, you can bet they are also interested to know that their customers are pleased. The best way to encourage more corporations to pony up some serious cash is to let them know you see their efforts and like what they are doing.You can quickly thank Target on Facebook here, and send Chili's a thank you note on Facebook here.
Time Investment: Low
Financial Investment: Low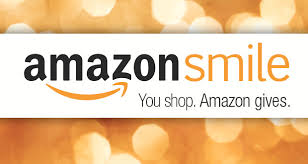 3. Amazon Smile: Did you know Amazon has a charitable giving option? You register your account and do your regular Amazon shopping at Amazon Smile. I have mine set to St. Jude Children's Hospital so that a portion of all my Amazon purchases is gifted to my favorite charity.
Time Investment: Low
Financial Investment: Low -- well, unless your Amazon purchases add up like mine do. But no additional money is charged to your account. You pay the same as you otherwise would for your items.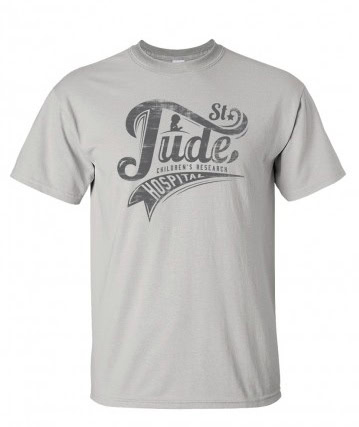 4. Wear a t-shirt: This may sound silly, but it is true. Find an article of clothing with a message of your charity and make a point to wear it to even just one of your kids' events in a month. You can find adorable t-shirts supporting St. Jude Children's Hospital at their online gift shop here. The proceeds of the purchase directly support the hospital and you now have a conversation starter for spreading the word in your community.
Handyman Tim loves to wear his St. Jude shirts on the weekends and to soccer practice with the Peanut. The more the name of your cause is out there, the more familiar it becomes to those who give financially.
Time Investment: Low
Financial Investment: Medium--the cost of the shirt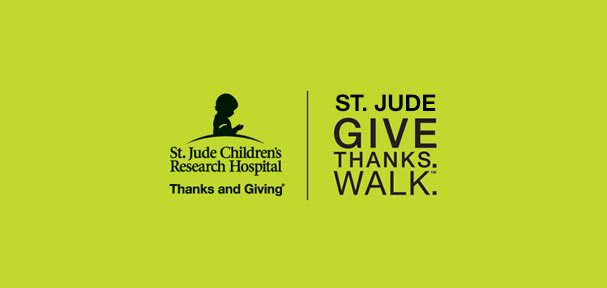 5. Teach gratitude to your children: You could dream up several ways to support your cause that would get your kids involved. They could help clean a park, write letters to soldiers, draw pictures for kids in the hospital, or even simply learn about your cause and tell grandma & grandpa about it. Our family wants to make a holiday tradition out of walking the St. Jude Give Thanks and Walk event every November. I think it is the perfect way to kick start a season of giving with a family centered event. We'll have matching shirts for the kids and they'll feel so important being involved right alongside mom and dad. Teach them to do what they can to support a cause and they'll grow into adults who are capable of even more greatness.
Time Investment: Low
Financial Investment: Low
Make A Pledge:
Are you ready to make a difference? Even with minimal time or money, you absolutely can make positive changes in the world. Visit #MyPledge15 and share your commitment. Be sure to check out the hashtag on Twitter to get even more inspiration of what others are pledging to do this year.
As for me? #MyPledge15 supporting St. Jude Children's Hospital is threefold:
I will dedicate my time to monthly social media support and help to spread their message to my lovely readers.
This fall I will publish a major post I am spending my summer creating. It will both support St. Jude and help my readers struggling with picky eating. I can't wait to share it with you.
As a family, we plan to walk the Give Thanks and Walk event in November.
So what's your cause? What's your pledge? Who do you want to help this year?

This post is brought to you by Beuerman Miller Fitzgerald (BMF). Peanut Blossom is proud to partner with them to bring positive change in our world in 2015!