A Vintage Affair by Isabel Wolff is the official May 2015 pick for the Peanut Blossom Book Club for Recovering Readers.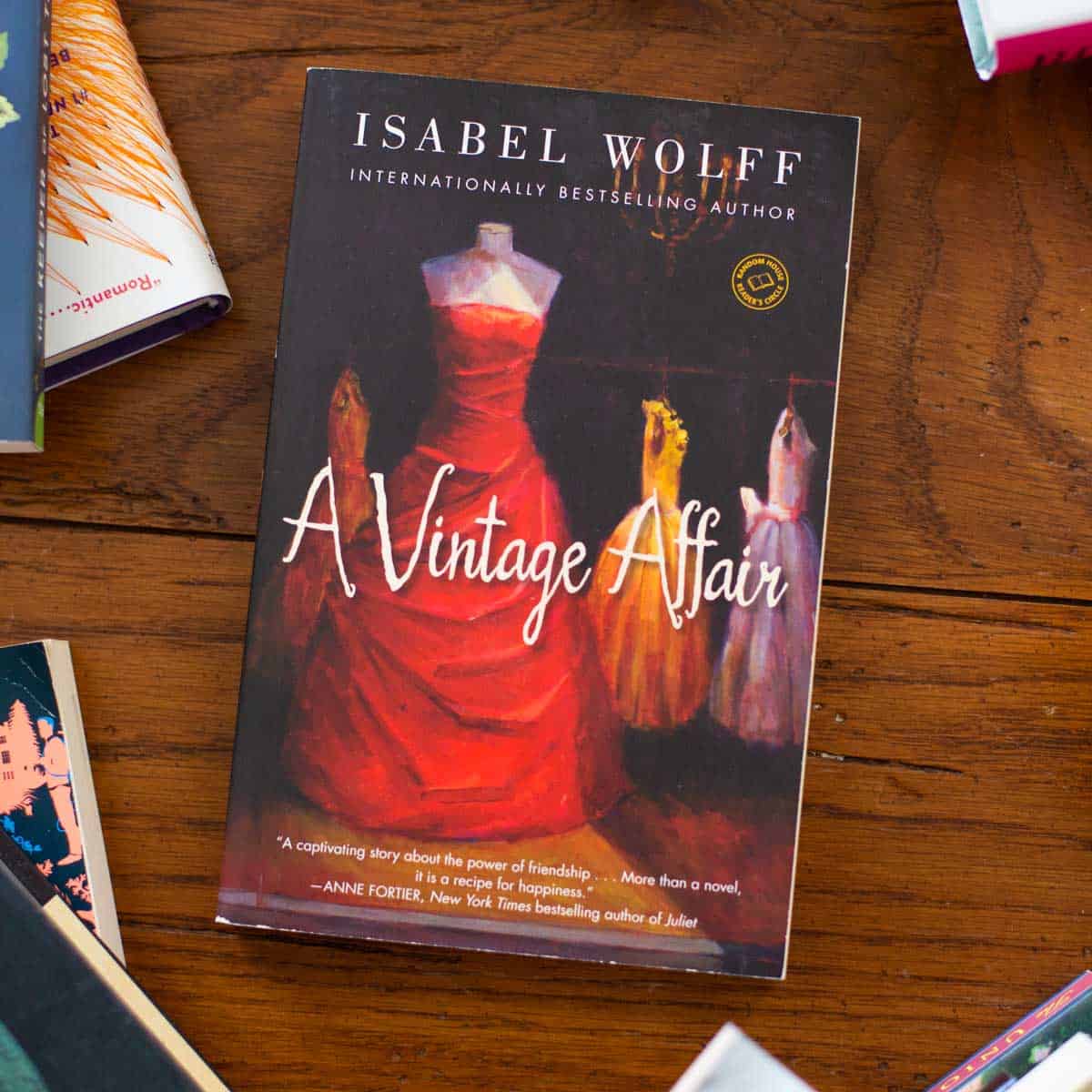 Welcome to the May event of the Peanut Blossom Book Club for Recovering Readers!
This month I'm pleased to welcome you to the discussion for A Vintage Affair by Isabel Wolff.
This was a new to me author that came recommended by a friend. I told her I wanted to have a lighter choice that maybe waded into historical fiction without being overly serious as many books from that genre tend to be.
When I read the description for this book, I knew it would be the perfect fit.
I knew nothing about vintage clothing or fashion before this book and I was pleasantly surprised at how interesting that topic was for me. The author manages to make human connections to those details that really personalized the story.
I loved the bits of back story that takes place during World War II and found that set of characters to be intriguing and memorable. I also appreciated being able to see where they ended up in modern times.
The romantic elements of the book kept me guessing right up until the end, I did not find them to be at all predictable. That said, I tend to not read much romance, so perhaps I'm not quite as jaded of a reader as a hardcore romance reader might be!
I'm looking forward to seeing what you thought of our book. If you are just finding this book club group, welcome!
Happy reading!
Peanut Blossom Book Club
This book club pick is one of the awesome books from our first year of book club.
We're still going strong! Want to join us?
You can get all the details on the club here:
Want Free Reminders for Each Book?
Sign up for my book club newsletter right here:
What is A Vintage Affair About?
"Every dress has a history. And so does every woman.

Phoebe Swift's friends are stunned when she abruptly leaves a plum job to open her own vintage clothing shop in London—but to Phoebe, it's the fulfillment of a dream, and her passion.
Digging for finds in attics and wardrobes, Phoebe knows that when you buy a piece of vintage clothing, you're not just buying fabric and thread—you're buying a piece of someone's past.
But one particular article of clothing will soon unexpectedly change her life.

Thérèse Bell, an elderly Frenchwoman, has an impressive clothing collection. But among the array of elegant suits and couture gowns, Phoebe finds a child's sky-blue coat—an item with which Mrs. Bell is stubbornly reluctant to part.
As the two women become friends, Phoebe will learn the poignant tale of that little blue coat. And she will discover an astonishing connection between herself and Thérèse Bell—one that will help her heal the pain of her own past and allow her to love again."
A Vintage Affair Book Club Discussion Questions
Question 1:
What did you think of this month's pick, "A Vintage Affair"? Was it easy to read or did you struggle with bits? Is it something you would have chosen for yourself or something new?
Question 2:
Have you ever purchased an item of vintage clothing? Have you ever been inside of a vintage clothing shop before? How familiar with the fashion terms from the book are you?
Question 3:
Which era of clothing that Isabel Wolff describes in "A Vintage Affair" would suit you best? What about it is attractive--the shape, color, fabric, or historical significance of the time? (Oh man, give me one of those cupcake dresses, PLEASE!)
Question 4:
Phoebe chases after her dream of opening a vintage clothing shop but does it only after becoming newly single. Do you think she would have undertaken this venture if she had stayed in her relationship? Can you still chase dreams and be attached?
Question 5:
Which of the three suitors presented in the book is the best match for Phoebe? Did she end up with who you thought she would? Do you think she made the right pick? Which man would you have chosen?
Question 6:
At age 34 Phoebe feels she still has plenty of time to settle down, get married, and have a baby. How old were you when you got married? Was it typical of your social circles or did you get married earlier/later than the norm in your area?
Question 7:
My favorite line in the book is when Val says to Phoebe: "Well, my gran taught me to sew; and she always said that if there's a fault on a garment, then don't just mend it -- make a virtue of it." How does Phoebe take this advice to heart and how does it apply to the rest of the book?
Question 8:
How did you feel about the flashbacks to Therese's part of the story? This book borders on historical fiction, are you a fan of that genre or did you find those elements distracting in this pick?
Question 9:
What did you think was going to be in Dan's shed? Were you surprised? If you had a shed in the backyard and an unlimited budget, what would you do with that bonus space?
Question 10:
I always love reading books by authors from the UK because of the charming colloquialisms. My favorite word of the day is now "Dodgy" and I'm looking for ways to use it in my everyday conversation. lol! Which phrases or mannerisms stuck out for you? For our UK friends, which of our phrases make you smile or shake your head??
Question 11:
How did you feel about the situation between Phoebe's parents? Do you think her dad did the right thing for the situation? What would you wanted to have done in their shoes?
Question 12:
What is your favorite article of clothing that you've ever worn and what story would it tell if it showed up on a vintage clothing store's rack in 20 years? 
Fun Addition to the Conversation:
Since the focus of the book is on vintage fashion, have book club members share photos of the beautiful dresses they've worn for their weddings, as a bridesmaid, or favorite prom dresses.
Want to take a peek at my wedding dress?
You can view the fun vintage dress sharing thread here.
Book Club Party Menu
A vintage tea party theme would be fun for the nibbles for your book club party menu.
Pair easy blueberry scones or blueberry crostini bites with simple sausage rolls for a savory dish.