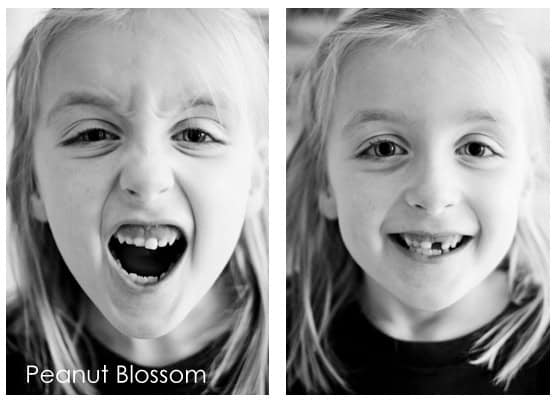 I was out running errands with Little Pea when I got the call from Handyman Tim:
"The Peanut is at the nurse's office, she's freaking out about her tooth and needs you to come get her."
It shouldn't have surprised me. That front tooth has been wiggling and causing problems for a couple days. She couldn't even eat her dinner last night. Yet, it was one of those mommy moments that had me stumped. Do I go get her over a wiggly tooth? She has missed so much school this last month due to a nasty bug. Then Tim gave me the best advice ever:
"Yes. You go get her and you let her know that you'll be there for her no matter what and that you'll do your best to make it better. Hopefully next time she'll be confident that we're there for her and be strong enough to handle it on her own."
Well dangit. When did he get so darn smart?
When we got to school, the nurse told me that the Peanut was so scared she wouldn't answer any of her questions until finally she asked, "Do you want me to call your mom?" With big fat tears in her eyes she nodded, "I want my mommy." I nearly burst into tears right there.
Tim was so right. "Just" a wiggly tooth or not, my baby needed me.
And you know what? She got home, walked in the door, and darnit if she didn't just go and pluck the darn thing out of her mouth. She was so proud of herself. So confident. Not a tear was shed. We high fived and turned right back around and went out for celebratory frozen yogurt.
We're going through a shy and clingy phase with her lately but I trust she'll get through it. I'm convinced now more than ever that she just needs a little extra home comfort once in a while.
And Little Pea?? OH my drama queen. Look who insisted on having photos of her teeth taken too:
She was so worried about the Peanut on our drive to school. Gave her big sister comforting pats and insisted on high fiving after the tooth in question was finally out.
These two sure keep it interesting around here.