Book Club Kit for A Study in Charlotte by Brittany Cavallaro includes book club discussion guide and party menu.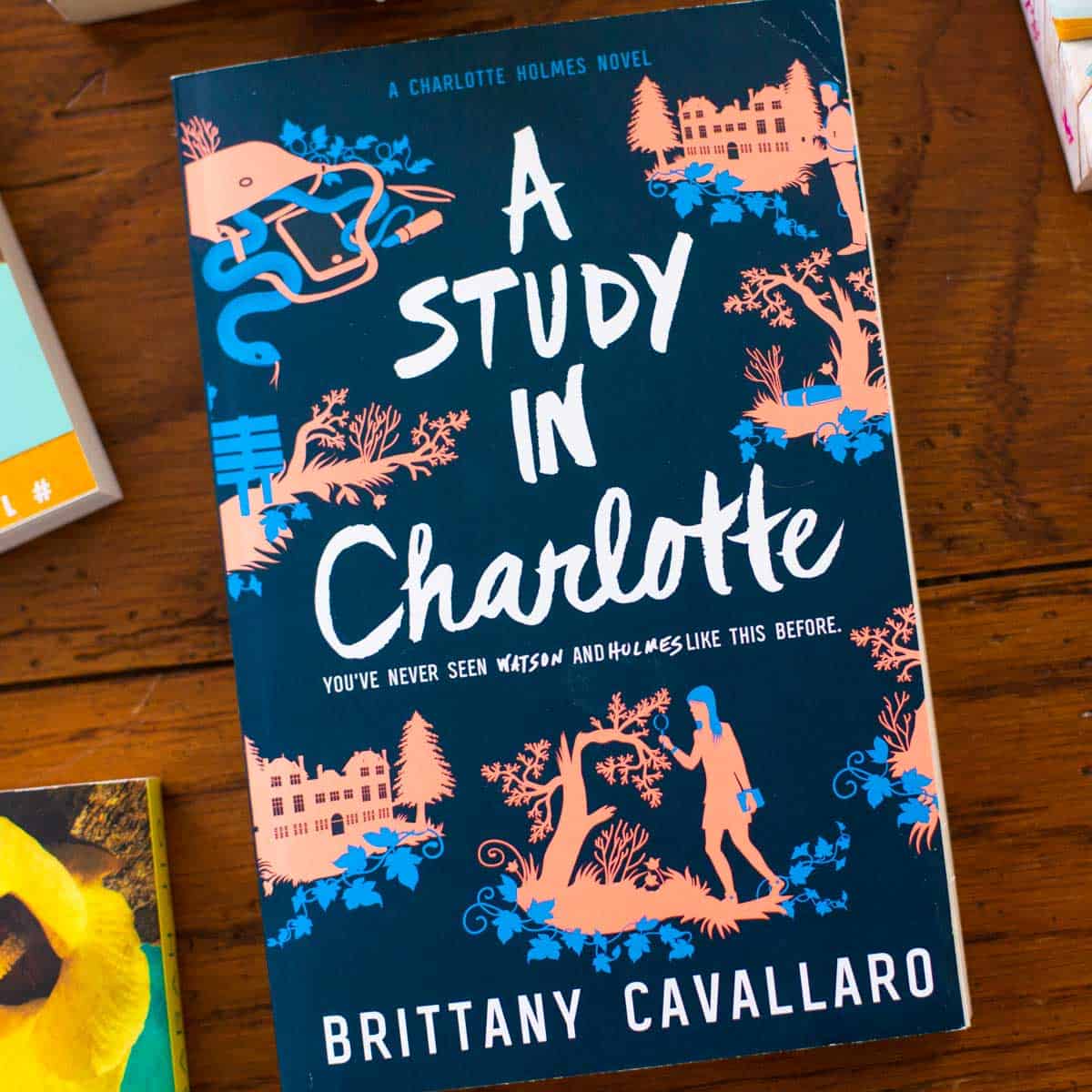 Every fall I try to pick something a little more suspenseful for our Halloween season October read.
When I spotted this month's book at Target, I was immediately drawn to the title because we're obsessed with Sherlock Holmes in our house right now.
This fun, modern spin-off about a world in which descendants of Holmes and Watson have their own adventures is the just-right pick for "spooky season."
Peanut Blossom Book Club
This book was our official October 2018 pick for the Peanut Blossom Book Club.
Want to see what we're reading today? Check out our book club book list here.
Want Free Reminders for Each Book?
Sign up for my book club newsletter right here:
What is A Study in Charlotte About?
Here's what Amazon had to say about the book:
"The first book in a witty, suspenseful new series about a brilliant new crime-solving duo: the teen descendants of Sherlock Holmes and John Watson. This clever page-turner will appeal to fans of Maureen Johnson and Ally Carter.
Jamie Watson has always been intrigued by Charlotte Holmes; after all, their great-great-great-grandfathers are one of the most infamous pairs in history. But the Holmes family has always been odd, and Charlotte is no exception. She's inherited Sherlock's volatility and some of his vices—and when Jamie and Charlotte end up at the same Connecticut boarding school, Charlotte makes it clear she's not looking for friends.
But when a student they both have a history with dies under suspicious circumstances, ripped straight from the most terrifying of the Sherlock Holmes stories, Jamie can no longer afford to keep his distance. Danger is mounting and nowhere is safe—and the only people they can trust are each other."
A Study in Charlotte Book Club Questions
I believe the best book club questions to spark a lively discussion in your group help readers make personal connections to the story.
You can read about how to write the best book club questions on your own here, but hopefully these will get you started!
Question 1:
What did you think of this month's pick? Would you have picked it up on your own?
Question 2:
Have you read the original Sherlock Holmes stories?
How familiar with the characters were you before you began this book?
Have you seen any of the Sherlock Holmes television shows or movies?
My husband and I just finished "Sherlock" with Benedict Cumberbatch and it was soooooo good!
We also just watched the movie "Mr. Holmes" with Ian McKellen as 93-year old Sherlock over the weekend.
Question 3:
Jamie "began wondering if there was some kind of Watsonian guide for the care and keeping of Holmeses."
It made me laugh out loud to think of generations of these two families having such similar personality traits that there could possibly be a whole guide written about it.
Even funnier still was Jamie's father responds with at 12-page document just of this sort.
Do you think families have such definable attributes?
Do you take after your parents? Do your kids take after you?
How would you define your family traits?
Question 4:
Most of the Holmes' ability to solve mysteries is their super-powered ability to observe the tiniest details of people and situations.
How observant would you say you are? Do you enjoy "people watching"?
Do you note the small details of people you encounter?
Or would you say you're more distracted with other things?
Book Club Party Menu
For the book club party menu, serve some yummy fall munchies to fuel the chat.
Make my easy seasoned pretzels in your favorite flavor and pair them with this simple raspberry mustard dip for dunking.
For a fun fall treat, try my caramel apple pizza or easy pumpkin spice Cheerios bars.
You May Also Enjoy
If you enjoyed this book, you'd likely enjoy these other fun book club picks from through the years: