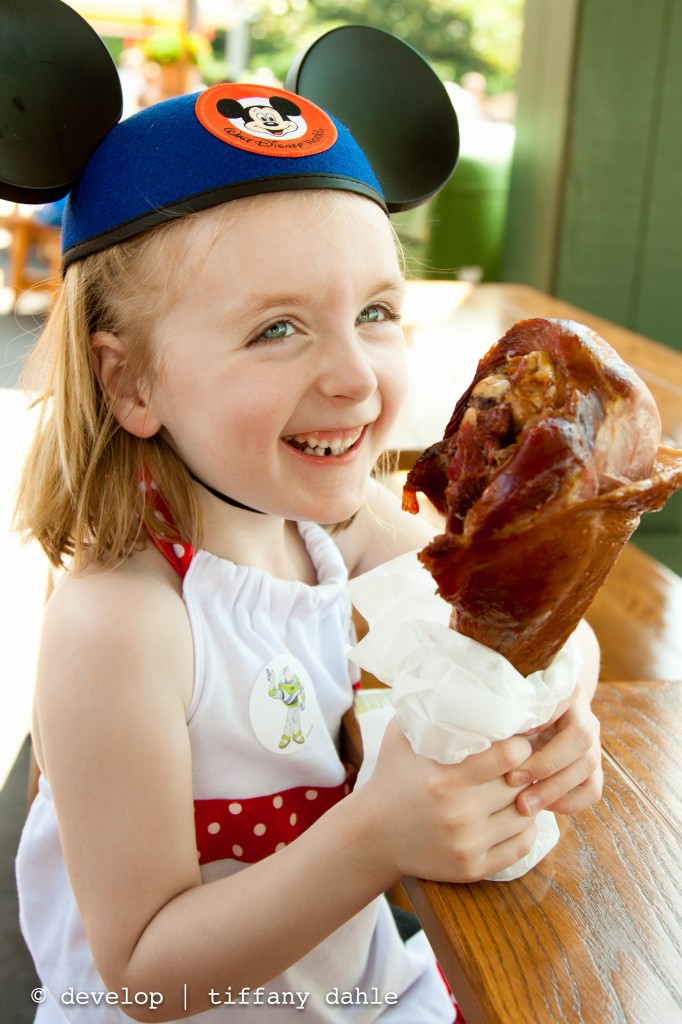 To give your vacation album a little texture, try capturing photos of the special treats your family consumed. When we are on the road, I'm always actively on the hunt for unique food items unavailable to us at home. Experiencing new foods is part of the joy of traveling for me and I'm trying to instill that sense of culinary adventure in my girls.
During the research I did before our trip to Disney, I stumbled on a blog dedicated to the unique treats that can be found in the Disney World parks. This was a totally new concept to me, I had only expected hamburgers & chicken nuggets type fare. The thing that was most intriguing to me was the giant turkey legs the author mentioned. I made a mental note to search out this snack for the Peanut because I knew she would find it absolutely hysterical to eat a turkey leg as big as her head. Sure enough, that meaty photo prop is one of the more vivid memories she has retained in the weeks following our trip.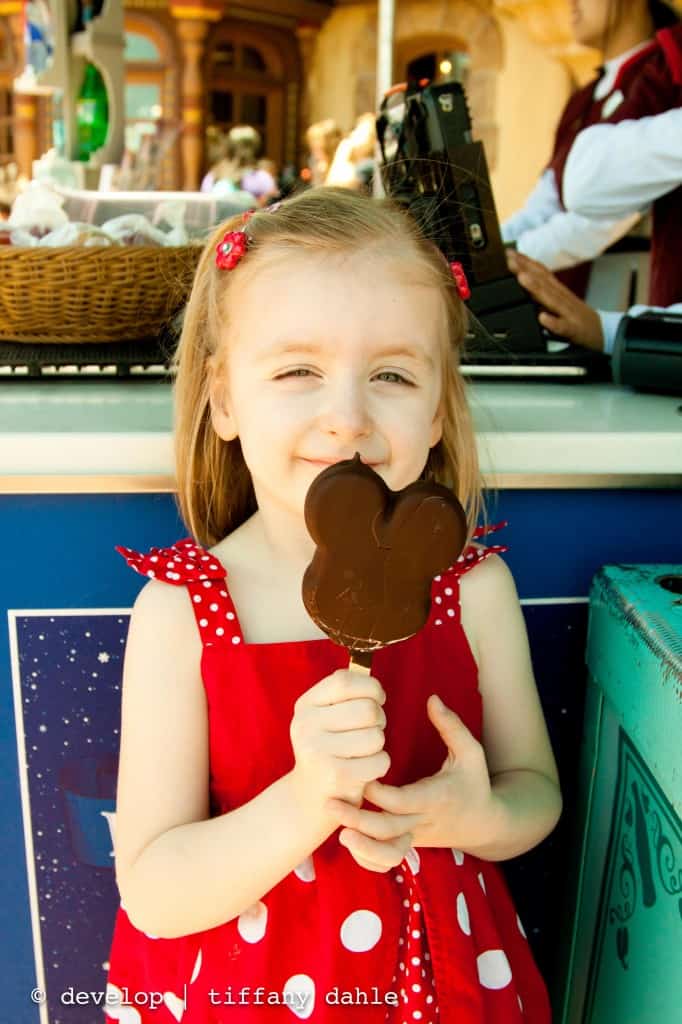 While the traditional Mickey Mouse ice cream bar may be a familiar sight to many, this frosty treat was a complete revelation to my 5 year old. Before this, she hadn't even imagined they could create such a popsicle and this was a thrilling highlight to her day. Out of our hundreds of vacation photos, this is one she actually asked me to take of her and the one she wanted to print out and bring for show and tell to school.
I regret not capturing more of the treats from our trip like the pineapple Dole Whip my husband hunted down for me at Magic Kingdom. I was too excited to try it myself, the camera stayed at my hip while I devoured it quickly as we waited for the afternoon parade to begin.
5 simple tricks for capturing yummy looking food while on vacation:
1. Turn off your flash & use natural light if at all possible: Flash washes out the color of your food and makes it appear unappetizing.
2. Don't capture someone mid-chew: This is just a terrible unflattering pose for anyone. Aim for before the food hits their mouth or afterwards with a big smile.
3. Take a shot of the food towards the beginning of the meal: Freshly plated or with just a few bites missing is more appealing than a plate that looks dirty and almost finished.
4. Don't be afraid of messy mouths: The exception to rule #3 involves your kids post-treat. I have several shots of my girls covered in chocolate and grinning from ear to ear.
5. Don't zoom in too closely to the food: You don't need to be able to count the spaghetti strands in a photo. Up close and filling your camera frame with the subject is great but try to leave just a little breathing room so the viewer doesn't feel like their face is being shoved in the plate.
So tell me, have you captured vacation food shots? Any special Disney treats that your family adores that I should remember for next time??

This post is part of my ongoing Disney vacation photography series:
Interested in reading more? You can see the whole Disney photo tips series here.