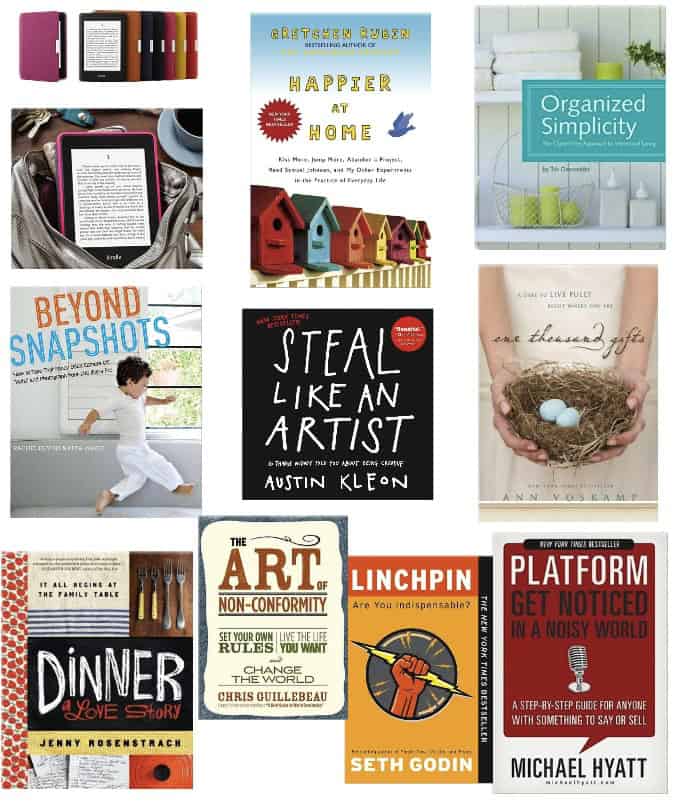 There is just something about this time of year that gets me to goal setting, dreaming, scheming, and list-making. I think it has something to do with the fact that my planner has 2 weekly pages left before I get to crack the binding on a fresh blank planner for the new year.
Am I the only one who still loves school supply shopping? Ummm the smell of a fresh notebook and a Sharpie. . .
With today's funky futuristic feeling date, it just seems like the perfect time to share with you my favorite inspiration resources for 2013. If you'd like to take your new year resolutions list beyond the health variety, you're sure to find a title here that will get your creative juices flowing.
1. Kindle Paperwhite: Oooh friends, this was number 1 on my Christmas wish list this year. It seems they were in high demand so I asked Handyman Tim to order early if he planned to get this for me. I'll skip the comedy of errors story and tell you I've actually been using it for a couple weeks already. I love it. I'm planning on setting some serious reading goals for myself next year (it started all because of this book!) and this is going to be a huge helper tool toward that goal. While you're at it, snag a bright colorful cover for it. I have the orange! LOVE.
2. Happier at Home: Gretchen Rubin is known for her first book The Happiness Project. This follow up has gotten great reviews and will be on my January reading list. I love the idea of finding ways to make everyday life less stressful and filled with more happiness.
3. Organized Simplicity: I devoured this book last year. Written by Simple Mom Tsh Oxenreider, it is the perfect little step by step guide for getting your home and life in order. I definitely need a refresher course since I'm still struggling with that since our move.
4. One Thousand Gifts: I've been following Tracie Stier-Johnson's documenting of her Joy project and I'm very very tempted to start my own in 2013. The project idea stems from this book by Ann Voscamp and I'd love to focus on my blessings and gratitude in a more meaningful way in 2013.
5. Steal Like an Artist: This is another title that will be on my bedside table early next year. I've got some personal goals I'm not ready to share just yet but this is just the kick in the pants I think I need!
6. Beyond Snapshots: If improving your photography is on your goal list for 2013 you could not start with a better resource than this book. It is an amazing introduction to shooting in manual and filled with inspirational tips on capturing your family. I love that the photography industry is finally recognizing mom photographers--especially those with no plans to go into business. Your images are priceless and they are worth capturing to the best of your ability. Finally there's a book that speaks to you in a way that is easy to understand without being condescending. LOVE this book, highly recommend!
7. Dinner: A Love Story: Yes this is like the 5th time I've written about this book. I love it. If getting back to feeding your family healthy dinners is one of your goals this is a fantastic resource, too. Every mom should have a copy of this book.
8. The Art of Non-Conformity: This book should top absolutely any New Year's list. It gives you permission and inspiration to follow your dreams and to look at your life through very analytical glasses. Not happy with something? Change it! This book is one of the sole reasons this blog even exists. It is definitely the reason you see pretty food photography here. I'm forever grateful to the lessons learned from it.
9. Linchpin: I read this at the same time as Art of Non-conformity. They go hand-in-hand for me. Are you indespensible? One of Seth Godin's best books in my opinion.
10. Platform: Get noticed in a noisy world? How?! There is so much competition for new bloggers (or even older ones!) This book was intended for those who want to publish a book but the lessons are valuable for anyone looking to get their voice heard. My only complaint is that he does not discuss Pinterest but the other lessons and thoughts are invaluable for anyone creating online content of any sort. If you're a blogger looking to up your game or considering jumping in fresh, this is a fantastic place to start.
What are your new year goals? Is there a book you're looking to for inspiration that I missed? I always love recommendations! Feel free to leave one in the comments below.